Oh, you've lost that lovin' feeling this Valentine's Day? Don't worry ... in this edition of #WeWant we have you covered with some of the best therapy inducing products and ideas on this day of love.
Whenever things don't go so well
And you want to hit the wall and yell
Here's a little dammit doll,
That you can't live without.
Just grasp it firmly by the legs
And find a place to slam it.
And as you whack the stuffing out
Yell Dammit! Dammit! Dammit!
Not feelin' it in the bedroom? Try a little
maca
. This root vegetable has been cultivated for thousands of years in the Andes Mountains. Related to the radish, it has a vaguely sweet butterscotchy odor. And it's known for its very special powers oft used to arouse sexual desire (it's also used to varying degrees in the treatment of erectile dysfunction). Bonus: it can also boost your immune system.
The love is gone, and you just need a place to take out your frustration? Take it out on this little guy who will gladly accept every single stab you make at him. Cook yourself a nice dinner while you're at it. It will make you feel oh-so-much better.
Wanna bite
his head
off? Feel free. No, really.
Read it: positive statements on divorce
Why is it that every time someone says they're getting a divorce people immediately look crestfallen and say that they're sorry? The majority of the time, this is good news – the end of something that was meant to end and, finally, the chance to start fresh. Comedian Louis CK said it best: "Divorce is always good news. I know that sounds weird, but it's true because no good marriage has ever ended in divorce. That would be sad. If two people were married and ... they just had a great thing and then they got divorced, that would be really sad. But that has happened zero times." So next time someone tells you they are getting un-hitched, don't be sorry, just give them a hug or a high five .... and a drink.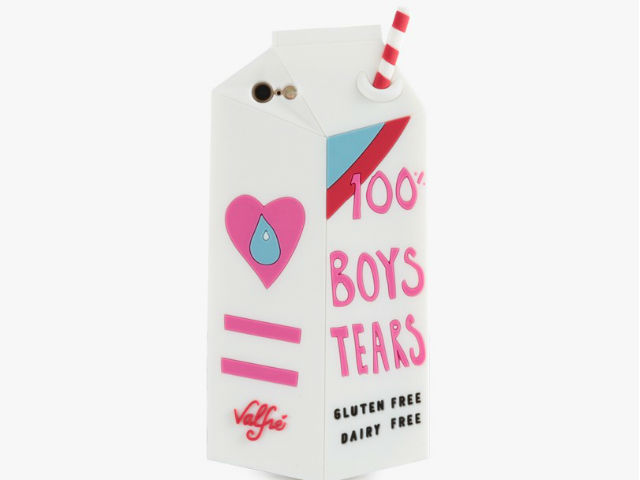 He dumped you? Acht. That's not the story you need to tell the other girls. Sip the tears of the one who got away with this
handy dandy case
that's the perfect fit for your iPhone 6.
OhMiBod
just may be the future of the vibrator. Powered by your iPhone/iPod, this snazzy device vibrates to the beat of your favorite tunes, making it the perfect accompaniment to your next breakup. After all, it will make even the saddest of Adele tunes into far more than a simple tearjerker.