HAVEN – The Straits course at Whistling Straits opened in 1998 to much fanfare, a Pete Dye creation across a landscape that was once flat farmland, and then an army training facility. The earth has moved in the last 15 years along the shores of Lake Michigan, with the water breaking below and wind sweeping across the top. Dirt shifts, and the roots of the fescue grass fairways and rough move with it.
The high fescue and bunkers remain largely maintained by the elements, though man has helped with some changes, from the dramatic to the cosmetic, along some holes and the winnowing of the fairways to 22 total acres.
Unlike traditional Midwestern golf courses, layouts often dotted with trees, the Straits has matured uniquely. There are trees, but they're few and far between the hundreds of bunkers and the bluffs and dunes. It has matured in its playing history, too, having hosted the 2004 and 2010 PGA Championships and the 2007 U.S. Senior Open as preparation for the 2015 PGA Championship and the 2020 Ryder Cup.
"It's been a pretty neat thing to see the golf course mature and the property mature and everything come together," said head professional Mike O'Reilly, who began working for Kohler golf when he was a freshman in college in 1996 and became an assistant pro on the Straits in 2000.
"Championship caliber courses, it's common to do course changes as they grow. Maybe you move a bunker here, put a bunker there, put a new tee box here. Certainly, some of that has been done over the years to the golf course.
"And, with the way this golf course was designed, a lot of dirt was moved and a lot of bunkers were added. So, with moving that amount of dirt and piling it up, some of the ground has settled. So we've had to build it up again, or rebuild a bunker because it washed out. We figured things out. Maybe we wanted a bunker here, but with the way the land has changed over the years we can't put it there. It's more that the golf course has settled in, I guess."
Since Martin Kaymer won the 2010 PGA in a playoff with Bubba Watson, some vistas have been improved for dramatic effect on all players, and some modifications have been made for tour-caliber players. Such modifications include the addition of a mound in front of the championship tees on the par 5 fifth hole that will force players to hit into the fairway, as opposed to bombing it over a pond for an easy eagle opportunity. A deep bunker was added within the horseshoe of the sixth green to catch any wayward approach on the short par 4.
The course, though very difficult, is incredibly playable – even for the high handicapper. Tee suggestions are provided on the scorecard and the mandatory caddies gently enforce the walking-only course's pace of play policy. I encourage you to play the right tees. Your game is put to the test, especially around the greens, but it increases your enjoyment level. You will likely be faced with awkward stances if you miss a fairway, forcing you to take your medicine with a wedge back to the fairway – but that strategy, coupled with experienced caddies helping you read the greens, can allow for par saves.
Those associated with championship venues the ilk of The Straits may not like the idea of classifying "signature holes," but the average player will find one – especially when nine of them border Lake Michigan, including all four par 3s which range in length from 99 yards (No. 12, white tee) to 249 (No. 17, black tee). They are tremendous tee shots and certainly intimidating, especially if the wind is blowing hard in any direction.
That wind, and those championships, will help guarantee that while the Straits is settling in, it will never settle.
"Things change," O'Reilly said. "That will be the case forever, really. If you talk about any river bed or any lake shore, things change, it's erosion, it's life. It's certainly something we'll always be aware of."
Where will a scratch player struggle to make par? Hole number 4. Yup. Well, the length, number one (494 yards from the black tees). It's a long par 4 with a difficult tee shot. The landing area is about 270, 275 yards out, the narrow narrows to about 20 yards. Beyond that, if you can carry it that far, it starts to widen, but most can't. The fairway is very narrow and if you miss to the right a little bit you're in a series of bunkers that makes it virtually impossible to make par. You're going to punch it out from those bunkers and then you have to get up and down from 150 yards. Then if you miss it left, again there are some bunkers and thick rough. Even if you do hit the fairway in that landing area, you still have between 185 and 210 yards in. It's just a tough hole, a tough hole all around.
Where can a double-digit handicapper make a par? I think 13 – it's a shorter par 4 (364 yards from the green tees), downhill tee shot and second shot. You don't really need to hit a driver. You can hit a 3-wood off the tee and leave yourself a short to mid-iron that overlooks the lake, but it's straight downhill. You can usually take one club less – it could be 9-iron distance and you take your pitching wedge, and if you leave it short it'll run on to the green. The length of the hole, the fairway is generous and the downhill nature of the second shot a lot of time favors the 12 to 15 handicapper.
What is your favorite shot on the golf course? The tee shot on 17, the par 3. It's a stunning golf hole. Every time I get on the hole, it's not as intimidating because I've played it multiple times, but it's intimidating for most players. What I really like about the hole is there is a big pot bunker on the right hand side and kind of protects the right hand side of the green and makes it look like there's no room over there. But if you carry that pot bunker, just by a little bit, you're going to land and roll out and you're going to be fine on the green. But it doesn't look like that on the tee. It forces you to want to play left of that, and you've got the lake and the huge drop off left of the green. It's a lot of fun to play. It's a really cool shot. We usually play the blues, it's a 200-yard shot, so it's no pitching wedge in there. It's a demanding, demanding golf shot. But, it's a little easier than it looks like if you can get over that bunker on the right hand side.
What is a bit of local knowledge that might be helpful? There was a guy that came out here and counted all the bunkers and we've changed the golf course a little bit since then, so his number isn't accurate, but let's call it 1,000 bunkers on the golf course. A lot of those bunkers, a majority of those bunkers, are not in play. You look on the first tee and there's bunkers that are 90, 100 yards left of the fairway. And the same thing on the right hands side of the fairway. But they're there to visually intimidate the player. So, get on to the first tee, take a look around, understand that you're visually intimidated, and get over it and understand that it's a fair golf course.
Along the same kind of line, is the fairways are generous, but it's important you hit the fairway. I's the most important shot on the golf course. If you can keep the ball in the fairway off the tee, you're going to be just fine. If you don't, you're going to have a long day. You'll find the ball – It's not like some golf courses where if you can't find the fairway it's in 3-foot long grass that you can't see your ball or if you miss the fairway it's in a river – you'll find your ball, but you won't like the lie. It'll be a tough bunker shot. Or it'll be a tough shot with a sidehill lie. Something like that. You've got to keep the ball in the fairway. If you hit the fairway, you're going to be just fine.
This course has hosted multiple majors, and will host many more. A lot has been written about it. What is something people think they know, but maybe they don't really? The wind. In the spring and fall, it's almost always windy in April, May, June – when the seasons are changing. Then you get into the fall, late September, October, when the seasons change again, it starts to get windy again. It's a common misconception here that it's windy here every day. During the summer months, when the air temperature is warm and the water temperature is warm there's not as much wind. We can certainly get windy days, some breezes off the lake, some storms that generate wind, but generally in the July and August months the wind is a little bit lighter.
KOHLER – A few minutes south down Highway Y from The Straits sits the "grand daddy" of the Kohler courses, Blackwolf Run. A year removed from hosting the U.S. Women's Open for the second time, the River and the Meadow Valleys sit nestled among mature trees and veteran waterways, a stark contrast from the often windswept vistas provided by the Straits. The two layouts sprung from the original, championship Blackwolf Run routing, which is celebrating its 25th anniversary in 2013.

The original 18 is the championship venue that hosted the 1998 and 2012 U.S. Women's Open and is made of up holes 10 through 18 of the Meadow Valleys course and River holes 1-4 and 14-18.

That routing is not always available to the public to play since it requires the closure of so many other holes, but sometimes it is, more often in the spring than any other time in the year, so players are encouraged to call and ask if that routing may be available when they are planning their trip.

"People, with the championship course, that's the first course they played here and they've got a lot of memories of that golf course," head professional David Albrecht said. The original routings were opened in the springs of 2004 and 2007 and again in 2010. "The years that we've hosted championships. It's not a done deal, (to do it in 2015) but that's what we've done in the past. It's very popular in the spring when we open that up."

Following Pete Dye's creation of that original 18, nine holes were added to the Meadow Valleys in 1989 and the River had nine holes added in 1990. Some of the world's finest players have teed it up and won tournaments on the grounds, including 12-time PGA Tour winner and Madison resident Steve Stricker, four-time major champion Ernie Els and two-time major champion Greg Norman. It's a challenging play, with many on and off site considering the courses at Blackwolf Run to be a tougher round than even that on the Straits.

The threat of a lost ball looms on many holes with heavy woods and water in play everywhere, coupled with Dye's signature deception on tee and approach shots.

Unlike many championship-quality courses, not much has been done to Blackwolf Run since the last bit of land was moved 25 years ago.

"They kind of got it right the first time," Albrecht said, noting the rediscovery of a bunker on the 17th hole of the Meadow Valleys and expansion of greens to their original size and shape. "There's really not a bad hole on any of the golf courses. People might have their opinions on some, but really there wasn't a lot of need for change."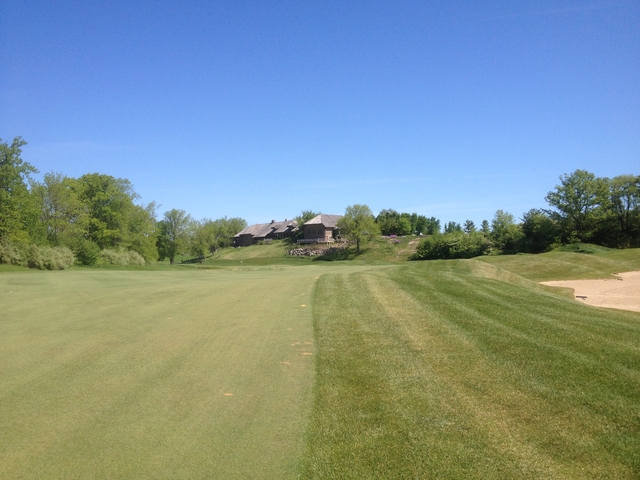 The approach on the 18th hole of the River course.

Where will a scratch player struggle to make par? On the River, there is trouble lurking at every point, with every swing that isn't quite perfect. But, there's bailout areas. This is kind of our 'Amen Corner' so to speak – 11, 12 and 13. A great hole is (the 621-yard, par 5) No. 11. It just kind of follows the contour of the river around to the right, so the river is there to gobble anything up. From the back tees 12 is like 475 yards. The river follows it, again, along the right. The green is right on the river. On 13 (the 231-yard par 3) there are some trees on the left bank. You actually have to shoot right down the river to the green. It's a pretty hard three hole stretch.

Where can a double-digit handicapper make a par? 15 on the River. It's a shorter hole, like 340 yards (par 4 from the green tees). You can get away with a hybrid or a 3-wood off the tee. The shorter holes (Dye) protects with bunkers and things like that. The first hole on the Meadow Valleys (349-yard par 4 from green tees) is a good starting hole, but there is a pond on the right. They're difficult – I don't want to scare anybody – yet fair. They reward good shots.

What is the one shot you need out here? With any player, my philosophy with teaching is be brilliant off the tee and be good from 80 yards and in. If you can be patient – you don't need a driver on a lot of holes out on the River. Depending on the tees you play, the driver is not a (play). I would say control is a good thing to have. If you're going to come out to the River and hit driver every hole, you better be pretty good with it. I'm not scaring people, you just have to have a great tee game to hit driver every hole. The green tees are 6,500 yards (on both courses). If you hit a driver 250 you'd maybe use driver five, six times. I don't know if you really need it any more than that.

What is your favorite shot on the golf course? I like any shot with a right to left wind! Seriously, there are certain winds out there that the courses are more fun to play with. It could be tougher on some holes, but I prefer a northwest wind on the Meadow Valleys. With that, the ninth hole at Meadow Valleys, there's a pond lurking on the right – Pete Dye always puts those ponds on the right – but that's a good golf hole. It's all set up with a good tee shot and you've got 200 plus yards for a second shot, 175 to 210, into the green with the green sitting right on the water.

Always a fun tee shot is on No. 8 on the River. With Pete Dye, he puts things (that) are so visually demanding, but once you play it a few times it's not as difficult as it appears, but everybody who plays it, they look out and are like 'whoa.' Then the visual part changes their swing. But, once you play it a few times you realize there may be a little bit more room out there. It's a great tee ball. You're up high. It looks like you've got a chute to go through but really it's wider than that. When they added the yardage a few years back, they added 12 yards to that tee, but I will say it's the longest 12 yarsd because you actually lose sight of the fairway from where the black tee used to be to where it is now. It's only 12 yards.

What is a bit of local knowledge that might be helpful? I would recommend either a caddie or forecaddie. We have more forecaddies here. The golf courses can be walked here. There's a few areas on the River where we'll probably give a ride to people from 4 to 5 and from 13 to 14, but very walkable. Most people ride here, but I would recommend a forecaddie for the experience. They run out to 200, 225 and find your ball for you, give you yardage. That's really the best way to play.

The other thing they should do, because putting is at such a premium here, is you can't just look behind your golf ball for what the putt is going to do. It literally might break two or three times. I would say hey, stay in play off the tee, which is every golf course, but survey your putts and what they do, and focus on speed.
Jim Owczarski is an award-winning sports journalist and comes to Milwaukee by way of the Chicago Sun-Times Media Network.
A three-year Wisconsin resident who has considered Milwaukee a second home for the better part of seven years, he brings to the market experience covering nearly all major and college sports.
To this point in his career, he has been awarded six national Associated Press Sports Editors awards for investigative reporting, feature writing, breaking news and projects. He is also a four-time nominee for the prestigious Peter J. Lisagor Awards for Exemplary Journalism, presented by the Chicago Headline Club, and is a two-time winner for Best Sports Story. He has also won numerous other Illinois Press Association, Illinois Associated Press and Northern Illinois Newspaper Association awards.
Jim's career started in earnest as a North Central College (Naperville, Ill.) senior in 2002 when he received a Richter Fellowship to cover the Chicago White Sox in spring training. He was hired by the Naperville Sun in 2003 and moved on to the Aurora Beacon News in 2007 before joining OnMilwaukee.com.
In that time, he has covered the events, news and personalities that make up the PGA Tour, LPGA Tour, Major League Baseball, the National Football League, the National Hockey League, NCAA football, baseball and men's and women's basketball as well as boxing, mixed martial arts and various U.S. Olympic teams.
Golf aficionados who venture into Illinois have also read Jim in GOLF Chicago Magazine as well as the Chicago District Golfer and Illinois Golfer magazines.