Every Milwaukeean has a Lake Michigan story and for the next seven days OnMilwaukee will share as many as possible during "MKE Lake Week," sponsored by the Harbor District. Love our lake? You're in the right place.

For years, I've noticed the flyers posted on the bulletin board just inside the door of the Frank P. Zeidler Humanities Room on the second floor of the Milwaukee Public Library, 814 W. Wisconsin Ave. They'd advertise talks or other events organized by the Wisconsin Marine Historical Society.
Filed away in the back of my mind was a reminder to investigate. But it wasn't until I received a perfectly timed email from the group's president Carl Eisenberg that I found myself in the humanities' workroom learning more.
Tuesday is volunteer day and the workroom at the Great Lakes Maritime Collection is buzzing with activity, in stark contrast to the quietude of the humanities room itself.

A view of the Milwaukee lakefront and Jones Island.
(PHOTO: Great Lakes Maritime Collection/Milwaukee Public Library)
Fueled by a box of Dunkin' Donuts, one man is entering information on a large collection of slides into a database, while another is working on the society's quarterly newsletter. At least a half-dozen other folks are quietly chipping away at a sea of work.
The collection they're working on is a legacy of Herman Runge, a longtime coal clerk at the Milwaukee Road. Though Runge's paycheck came from the railroad, his heart was on a lake schooner.
He began collecting information on ships when he was 14 and his collecting really throttled up after he retired in 1933. He visited all the major Great Lakes ports every year, collecting data, recollections and historical and other information from port workers, government agencies, shipping companies and others.

Herman Runge with his collection. (PHOTO: Great Lakes Maritime Collection/Milwaukee Public Library)
Upon his death in 1958, Runge bequeathed his vast collection – including more than 17,000 photographs, and index file cataloguing 35,000 vessels, more than 1,200 books, plus magazines and newspapers and more – to the Milwaukee Public Library.
A group of interested – and thankfully wealthy – men, including Edmund Fitzgerald, formed the Wisconsin Marine Historical Society to administer the collection.
Though there are objects – including some oil paintings that are on view in the humanities room – in the collection, the index file is the heart of the Great Lakes Marine Collection.
"If we have information or a photograph, we create a file," says MPL's Suzette Lopez. "To give you an idea of what that's like, here's a sample of the data sheet, and there's just one line on it because we only had a photograph which ... not all photographs are great, but a photograph is still a photograph, right?
"So, a file can have one line and a photo, or it can have something like the Alabama here, which has 16 folders to the file, or there can be an entire box that's one file. So, the Christopher Columbus has its own box, Milwaukee Clipper has its own box, and so it just depends on what we have been able to gather on each vessel. And then we have the Marine Subject Files which is basically anything that's not a ship. So, it would be people, lighthouses, port views, ship builders, whatever."
The Shipshape database – searchable by anyone – was created using this information.
"And then we have the primary source books, and we have manuscripts, and newspaper extracts, some log books, and then we have our 3D items," says Lopez. "(Volunteer) Chuck Sterba has donated his collection which he's been collecting for 50 years. 20, 50 years. It has everything from china from the boats that have the logos on it, stateroom keys, commissioning fliers, the little flags for the companies, letterhead, stock. He just collected anything that's Great Lakes."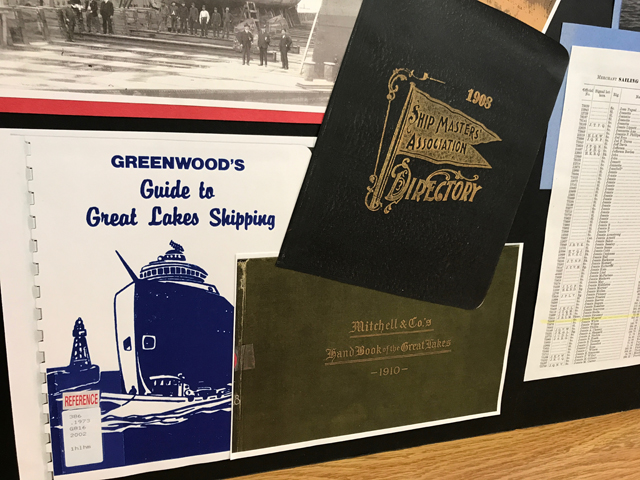 The historical society hosts events and programming for members, as well as the printed newsletter and a regular email blast, but it's main job is administering the archive, which is owned by Milwaukee Public Library.
Eisenberg tells me that he and his colleagues are working on a new website, but also on potential fundraisers and other forms on income to help fund all this work.
These days a large portion of the effort goes toward digitization, says volunteer – and my former Milwaukee Sentinel colleague – Dan Patrinos.
"We've digitized a number of resources that we had that previously were just on paper, and so now that we've got that, it's terrific," he says. "However, there's a lot more to go. But we are working on it.
"One of the things we want to do is seek grants so that we can begin either buying the equipment we need or the software. It's not that we're paid for the people to work here. This is all volunteer. However, we do want to be able to make the stuff accessible to the public, otherwise it becomes inaccessible.
"You want to be able to go through things yourself to see what you got, and it might be that serendipitously you find something that you don't really ask a librarian for unless, of course, you can look at it yourself. We're interested in genealogy and genealogists want to look at that stuff online, particularly if they're someplace outside of Milwaukee."
If you want to get involved, there are numerous ways you can do so. You can join the Wisconsin Marine Historical Society or attend an event. The modest fees help fund the society's work. You can make a donation of money or objects relevant to the collection. Or you can volunteer on Tuesdays at the Central Library to help with the ongoing work on the collection. (You'll get a donut!)
You are also, of course, encouraged to use the collection. That's what it's there for. Otherwise, it's just papers and old photographs stashed away in boxes.
Born in Brooklyn, N.Y., where he lived until he was 17, Bobby received his BA-Mass Communications from UWM in 1989 and has lived in Walker's Point, Bay View, Enderis Park, South Milwaukee and on the East Side.
He has published three non-fiction books in Italy – including one about an event in Milwaukee history, which was published in the U.S. in autumn 2010. Four more books, all about Milwaukee, have been published by The History Press.
With his most recent band, The Yell Leaders, Bobby released four LPs and had a songs featured in episodes of TV's "Party of Five" and "Dawson's Creek," and films in Japan, South America and the U.S. The Yell Leaders were named the best unsigned band in their region by VH-1 as part of its Rock Across America 1998 Tour. Most recently, the band contributed tracks to a UK vinyl/CD tribute to the Redskins and collaborated on a track with Italian novelist Enrico Remmert.
He's produced three installments of the "OMCD" series of local music compilations for OnMilwaukee.com and in 2007 produced a CD of Italian music and poetry.
In 2005, he was awarded the City of Asti's (Italy) Journalism Prize for his work focusing on that area. He has also won awards from the Milwaukee Press Club.
He can be heard weekly on 88Nine Radio Milwaukee talking about his "Urban Spelunking" series of stories.