Order a brandy old fashioned anywhere outside Wisconsin and, odds are, the bartender will look at you askance. But, by the same token, inside the Badger State, you'd better chime in quickly if you want bourbon or other whiskey instead.
Wisconsinites love their cocktails and they've put such unique twists on to favorites that originated in other places that these unique versions have become Wisconsin inventions.
Author Jeanette Hurt, who has written a number of books about food and drink, including most recently, "The Joy of Cider" and a cauliflower cookbook, has dug deep to find the who, what, when, where and why of these changes and tells the stories in her new hardcover, "Wisconsin Cocktails: Brandy Old Fashioneds, Beer Chasers and Other Favorites Unique to America's Dairyland."
There's the story of the bloody mary and its beer chaser, the brandy old fashioned, grasshoppers, hot toddies and more, all in a slim but stylish and handsomely illustrated tome that's also dosed with some great cocktail recipes.
It's published by the University of Wisconsin Press and has an introduction by Milwaukee native Robert Simonson, who writes about cocktails for The New York Times and other publications.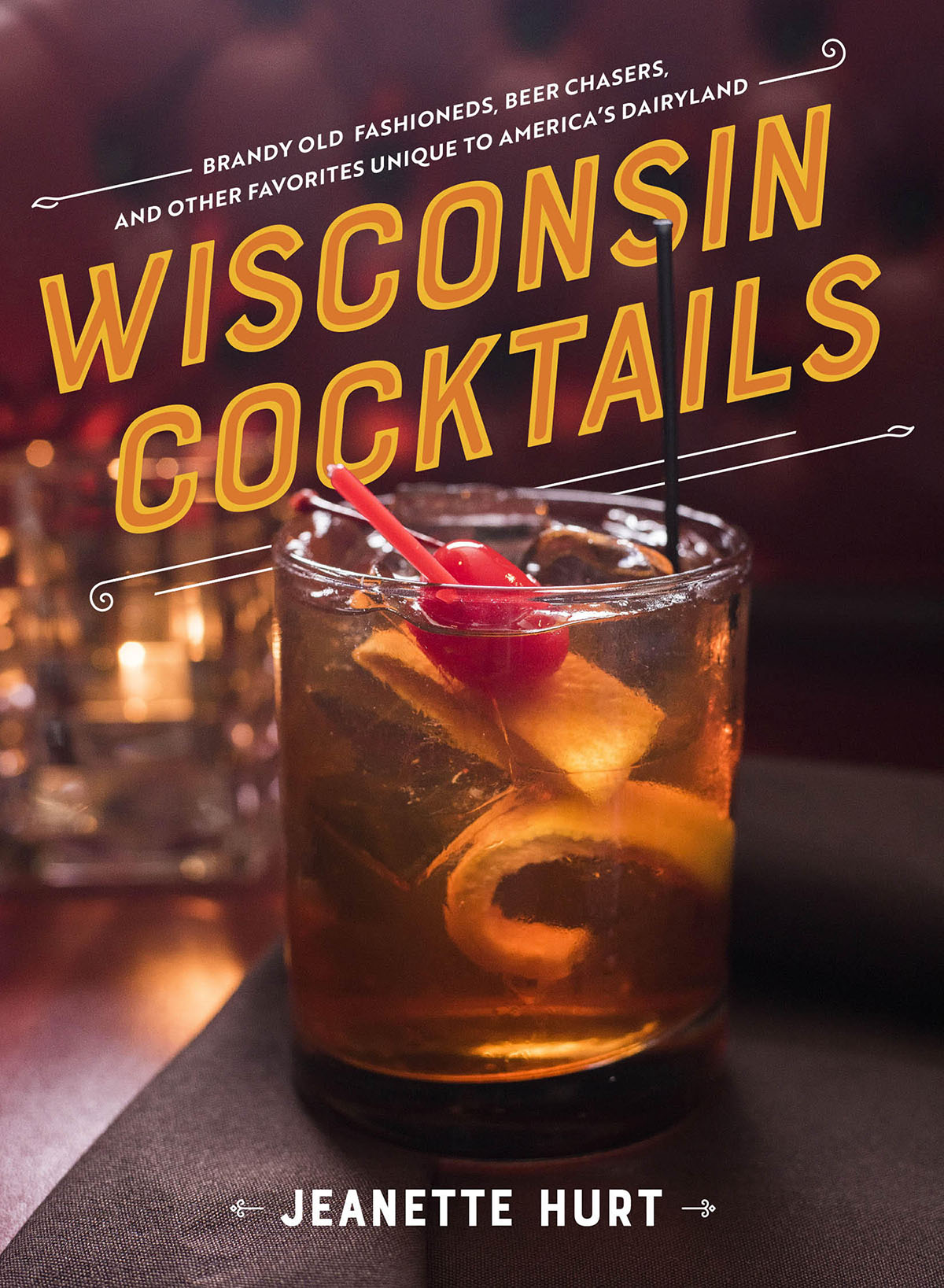 We caught up with Hurt to ask her about the book, the drinks that make Wisconsin different and about what else she's working on:
OnMilwaukee: The new book is a beautiful thing. It's also packed full of fun cocktail history rabbit holes. Did you have a favorite one to research?
Jeanette Hurt: I spent almost two months going down the rabbit hole that is the brandy old fashioned…and I discovered much of what we thought to be true was just cocktail lore and not the real story.
But the lore – that Korbel exhibited at the Columbian Exposition in Chicago in 1894, and the German immigrants of Wisconsin fell in love with its brandy – isn't what happened.
Once upon a time, more than a century ago, we drank old fashioneds…the way everyone else did. We drank them with whiskey, bitters and a bit of sugar. So, I had to figure out what happened and when…and that rabbit hole was really, really interesting.
Did you learn anything that especially surprised you or debunked something you had previously thought?
We actually started drinking more brandy after World War II, not before. That is really interesting and surprising.
In the end, did it turn out that any of the "Wisconsin cocktails" were actually invented here or were they more typically our own variations on existing cocktails?
A lot of our cocktails are twists on other things … but the twists are so big, they're really different cocktails entirely.
That, of course, includes the brandy old fashioned – the fact that we make old fashioneds with brandy instead of whiskey and that we muddle fruit and top them with soda – our old fashioneds are entirely different from those made in the rest of the country – and the world, for that matter.
Our ice cream drinks – well, they're ice cream drinks – they're not made with cream or half and half, they're made with ice cream – and that makes a grasshopper here something entirely different than a grasshopper in New Orleans, where it was actually invented.
Same with our bloodies – we have an entire meal on top, and we serve them with beer chasers, which are meant to be poured into the cocktail as we drink it down.
But also, I have to point out our sweet martinis – they weren't invented here, but they are not going out of style, and there are bars and supper clubs and resorts where they are SO popular.

Once we like something, we like it, and we don't care if it's gone out of style someplace else.
Are there any parts of the state where whiskey is preferred over brandy in an old fashioned?
Whiskey is growing in popularity, and one sign of this is that in Wisconsin, new whiskey makers make a point of distributing to our state.
I think it still is more popular in our bigger cities, but we also are a testing ground for rye – and that's up in northern Wisconsin – which I find really interesting.
I've kind of wondered if whiskey is edging back in among younger drinkers that see it as a way to break with their elders. Have you seen that, too?
It is, but what I find even more interesting is that it's becoming more popular among middle age drinkers. Just this past weekend, I met a woman who – after visiting Kentucky – became a bourbon drinker. I just find that interesting.
But I think there remains a point of pride to drink brandy because it's a Wisconsin thing, and one of the things I find really interesting is that there are some really fine brandies making their way to Wisconsin.
Now, I also have to say, I interviewed the maker of an exclusive California brandy, and the two makers were from California and New York, and the one founder was surprised when I told him to market it in Wisconsin – I was like, you don't have to explain brandy drinking to us – you just have to bring the brandy here.
It's also interesting to note that we drink a lot of vodka, too – much of it in Bloody Marys, but also in other cocktails.
What do you think is the quintessential Wisconsin cocktail? You've got a cocktail lover coming to Wisconsin for the first time. What must they order?
I think the brandy old fashioned has to be tried, but have it made with a really, really good brandy or a cognac, and have it made with club soda instead of sweet or sour soda.
But, I think to answer this question – you also have to ask – what time of year is this person coming? If this person is coming in summer, then try a brandy slush, try one of our sweeter cocktails, but if it's winter, then you've got to try a Tom and Jerry or one of our hot toddies.
And if you're going to a supper club, then you need an ice cream drink for your dessert.
Do you have a favorite recipe in the book?
That's kind of like asking who your favorite child is.

I'm a big fan of all the riffs on the old fashioned – I think they're really creative and fun.
I also like the "new classics" that bartenders are creating and hoping that they become new classics.
One drink that really stood out to me, though, is the Cheel's version of the brandy Alexander. They make amazing drinks at this little Thiensville restaurant and bar, but this was one of the few drinks I actually finished when I was tasting. They infuse their brandy with chai tea…which, come to think of it, would probably make for an interesting twist on the old fashioned, too.
Because you always seem to have a couple books going at once, I'm wondering what else you're working on at the moment.
I've got a book coming out next year called "The Unofficial Aldi Cookbook." I'm doing book edits on that now.
I'm also mulling some other cocktail and spirit-related ideas, but I don't have a contract or a fleshed out proposal yet.
I'm also trying to publicize "Wisconsin Cocktails" during this pandemic, and I'm also trying to encourage people to ask for it at their favorite, independent bookseller. I want these stores to survive. I'm also encouraging people to support our local distilleries – the craft distilleries also need our support.
Born in Brooklyn, N.Y., where he lived until he was 17, Bobby received his BA-Mass Communications from UWM in 1989 and has lived in Walker's Point, Bay View, Enderis Park, South Milwaukee and on the East Side.
He has published three non-fiction books in Italy – including one about an event in Milwaukee history, which was published in the U.S. in autumn 2010. Four more books, all about Milwaukee, have been published by The History Press.
With his most recent band, The Yell Leaders, Bobby released four LPs and had a songs featured in episodes of TV's "Party of Five" and "Dawson's Creek," and films in Japan, South America and the U.S. The Yell Leaders were named the best unsigned band in their region by VH-1 as part of its Rock Across America 1998 Tour. Most recently, the band contributed tracks to a UK vinyl/CD tribute to the Redskins and collaborated on a track with Italian novelist Enrico Remmert.
He's produced three installments of the "OMCD" series of local music compilations for OnMilwaukee.com and in 2007 produced a CD of Italian music and poetry.
In 2005, he was awarded the City of Asti's (Italy) Journalism Prize for his work focusing on that area. He has also won awards from the Milwaukee Press Club.
He can be heard weekly on 88Nine Radio Milwaukee talking about his "Urban Spelunking" series of stories.