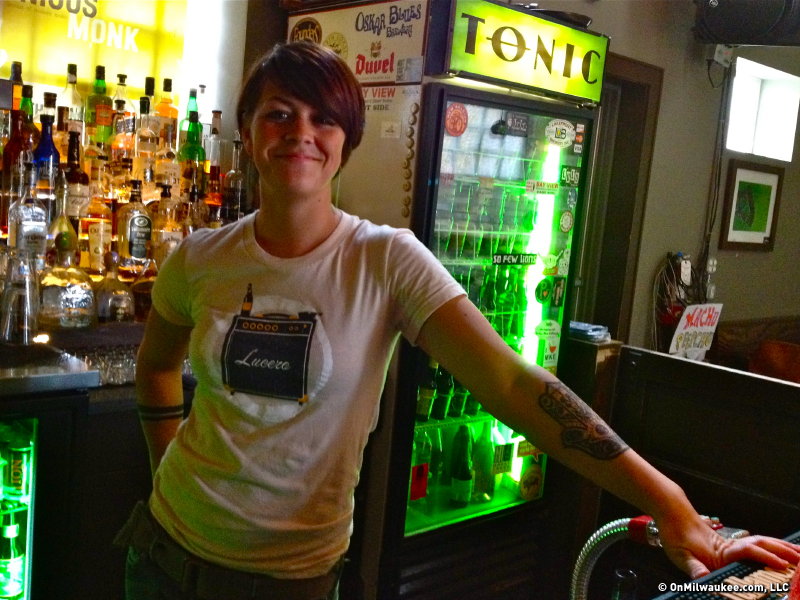 Featured bartender: Aubrey Jensen of The Tonic Tavern
Aubrey Jensen hasn't been bartending for that long, but she knows what she likes. She makes a good Old Fashioned (because she likes them) and doesn't mind making a Bloody Mary (also because she likes them). The bartender at Tonic Tavern, 2335 S. Kinnickinnic Ave., comes from Appleton but does her drinking in her current neighborhood, Bay View.
We caught up with Jensen in this latest bartender profile.
OnMilwaukee.com How long have you been tending bar?
Aubrey Jensen: Collectively, about five years. I started in Appleton and worked there at my first bartending job when I was 21. I also worked at MillerCoors.
OMC: You bartended at MillerCoors?
AJ: Kind of. My first job there was at the tour center and working at their corporate pub. I was kind of the beer girl. I worked at Brocach for a month, and I was not really a good waitress. So here I am.
OMC: Do you have a signature drink?
AJ: I guess an Old Fashioned.
OMC: What's your least favorite drink to make?
AJ: I don't like to make weird gross shots, like the Slippery Nipple. They're dumb.
OMC: What's the most ridiculous thing you've seen in this bar?
AJ: It was probably on St. Patrick's Day, when we were closing up. One of the regulars was screaming at people in Vietnamese, but he's not Vietnamese, nor does he speak it.
OMC: Have you ever had to break up a bar fight?
AJ: No, but I had to break up a political rant. I told them that this is not what we talk about here. You can go somewhere else.
OMC: Do pickup lines work in bars?
AJ: No.
OMC: Who are better tippers, men or women?
AJ: That's a toughie. Anyone in the service industry is a good tipper, but I'd have to say probably women.
OMC: What's the best tip you've ever had?
AJ: I received a $40 tip on an $80 tab.
OMC: Have you ever served any celebrities?
AJ: I guess, kind of. I didn't know who he was, but when I was working in Appleton, this guy walked in. He said he was a football coach, and I guess he was the old coach for the Bears who got fired.
OMC: Mustache guy?
AJ: Yeah.
OMC: Dave Wannstedt, maybe?
AJ: That's all I know.
OMC: Where do you drink when you're not working?
AJ: I drink at The Newport, Blackbird, Tonic. We usually keep it in Bay View.
OMC: Do you drink on the job?
AJ: Yes. It makes the job easier. It's really weird: you can drink a lot, surprisingly, when you're moving around. It really doesn't affect you.
Talkbacks
TosaJim | Jan. 8, 2013 at 4:30 p.m. (report)
I don't drink much anymore...but she's sooooo cute...I may have to start again. :)
Facebook Comments
Disclaimer: Please note that Facebook comments are posted through Facebook and cannot be approved, edited or declined by OnMilwaukee.com. The opinions expressed in Facebook comments do not necessarily reflect those of OnMilwaukee.com or its staff.