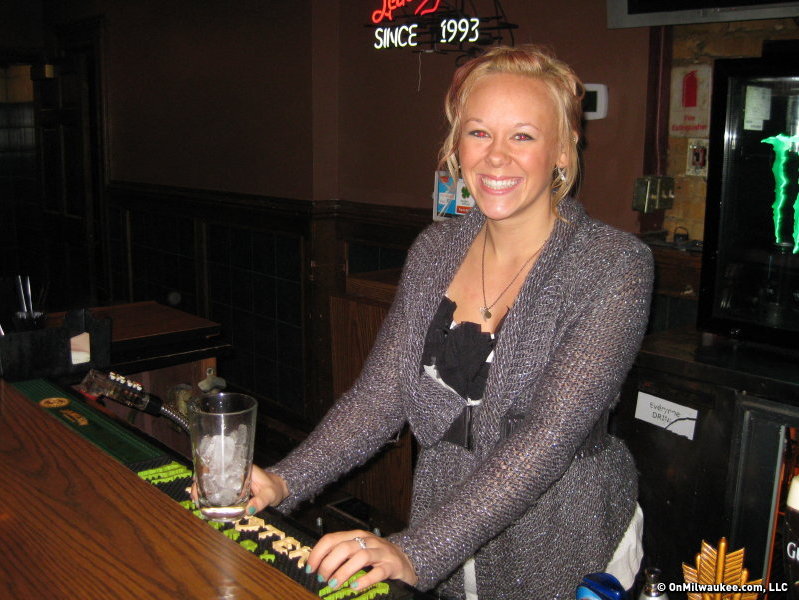 Featured bartender: Danielle Allen at Murphy's Irish Pub
"Bar Month" at OnMilwaukee.com is back for another round – brought to you by Aperol, Pinnacle, Jameson, Fireball, Red Stag and Avion. The whole month of February, we're serving up intoxicatingly fun articles on bars and clubs – including guides, the latest trends, bar reviews and more. Grab a designated driver and dive in!
Danielle Allen may be a student in the classroom, but she's a veteran behind the bar. Allen has been serving up tasty beverages for Oshkosh and Green Bay natives since she was a teen. Now a senior at Marquette University, the pre-med student helps her fellow students kick back and relax after a long week of studies at Murphy's Irish Pub, 1613 W. Wells St., where she's been dishing out drinks for the past two years.
Somehow, in between her three jobs, a busy class schedule and preparing for a post-graduation move to Arizona, Allen found the time to chat with us.
OnMilwaukee.com: So you still go to school now?
Danielle Allen: Yup. I'm actually graduating in May.
OMC: Congratulations! As what?
DA: Biomedical science. I'm a pre-med student so I'm applying to med school this spring.
OMC: Is it hard balancing a job like this with something as strenuous as med school?
DA: Yes. I actually have three jobs. I know; I'm insane. This is my total fun, don't have to think about anything job, whereas I work at a hospital for my other job. So it's quite a bit different. And then I'm a Pure Romance consultant. That's my moneymaker. It's a little scandalous but a lot of fun.
OMC: Do college kids tip well?
DA: That really depends. Sometimes they need reminders, but we make decent money working four or five hours on a weekend night. They do tend to think because they're poor, they shouldn't tip the bartender, who's also poor.
OMC: Who tips better: older people or younger?
DA: Definitely older. Everyone looks around when we have older people coming in here, and they're wondering what's going on, but us bartenders are jumping up and down, thinking, "This is going to be great! They're gonna love that we have cheap drinks, and then they're gonna tip really well." And it works out exactly like that.
OMC: Do older people come in a lot? And is that strange for a college bar?
DA: Alums will come in a lot, and they'll come in around 10 and wonder "Why is it really slow here? When I went to school here, it was crazy," and I'll explain that nowadays, it doesn't start getting busy until around midnight. By the time all the kids start coming in here, the older people are already out.
OMC: Is it kind of weird because Marquette decreased the number of bars that it has on campus?
DA: Yeah, it's kind of hard because students then want to go Downtown, so that's why we don't get busy until around midnight. They want to go downtown and then end the night at either Caff's (Caffrey's) or Murph's. So it definitely decreased our business during happy hours and earlier evenings. And kids don't want to have to go all the way down there because you're paying for a cab, and you're walking in this freezing weather, so I think everyone would appreciate a few more bars on campus. I wish Marquette wouldn't have changed everything up. Hopefully, they'll go back to having more than one or two.
OMC: Yeah, but that green space is pretty great though ...
DA: The green space is good for throwing up in at three in the morning when you're walking home, but I don't know how much other college students really love it.
OMC: So what really brought you down to Milwaukee?
DA: I actually came here in eighth grade for a field trip to check out all the Milwaukee schools. My first thought was that I'm never going to a school with a religious background.
OMC: That worked out.
DA: Yeah, when you're in eighth grade, you think you're so cool. I applied here, but I also applied up at St. Norbert because I was getting recruited to run track up there. I thought that would be fun. It was a D-III school, so it would be less pressure, and I thought I could do real well with it. But then I hurt my back and couldn't run anymore, so I wanted to try moving to a bigger metropolitan area, and Marquette just seemed like a lot of fun. It was a lot different than Oshkosh, and it was time to get out of the north.
OMC: Can I ask what happened to your back?
DA: I injured my SI joint, which is your sacroiliac. It connects your hips to your spine. I was a jumper and hurdler, so when you're putting that much pressure and having to run on it that often, there was just no getting better.
OMC: Do you ever drop a bunch of medical terms when an annoying guy is hitting on you while you're bartending?
DA: All the time. A couple of us kind of have a medical background, so we'll joke about it. Kids will be like, "Oh, what's your major? Are you a communication major?" I wish!
OMC: Do you get hit on a lot?
DA: Yeah, especially with the kids who are in here quite often. We always make some smart-ass comment back to them, though. We're all good friends behind the bar, and we're all used to it, so unless it's someone we're interested in, we just turn around and give them a smart-ass comment. We love getting the napkin numbers or the numbers on the receipt; those are my favorite.
OMC: Have you ever called any of them?
DA: No, we always just leave them here for Jimmy, and in case he gets lonely, he can make those calls.
OMC: Is it the older college kids or the younger ones who do most of the hitting on?
DA: I think it's mostly the older ones. The young ones just come up and are say, "We want 16 shots of Rumple Minze" and then they run away from the bar.
OMC: You must work some killer hours then.
DA: By the time we're done cleaning and stuff, it's probably about 3:30 or 4. Often, I have to work at the hospital the next morning at like 6, so I have to think, "Okay, I can get, like, two hours of sleep, and then I'll try to sleep afterwards."
OMC: Have you ever gone to the hospital hungover?
DA: Oh my gosh, yes. I have bad hangovers, so I had a Sunday that I was there, puking like seven or eight times throughout the day. It makes it difficult when you're running out of patients' rooms to cure your hangover. I said it was the stomach flu.
OMC: What's your favorite drink to make?
DA: I love making Loopy Bombs. It's Three Olives Loopy, Red Bull and a little bit of Sprite. Kids are always like, "What is this," and then they taste it, and it tastes just like Fruit Loops so they're like, "This is awesome!" We keep it pretty simple here at Murphy's. No martinis or anything like that really. It's not that classy so ...
OMC: Do you get fancy when you're on your own?
DA: Yeah, I've had to make decent drinks and stuff like that before, so when I'm home, I love making dirty martinis. That's definitely my favorite. It's a good end-of-the-night relaxer. Nothing too crazy, I guess. I definitely never go to bars and order complex drinks now because you feel bad for the bartender if it's busy. Unless they're slow, then I totally will.
OMC: I don't know if you've been keeping up with this whole Applebee's tip situation with the waitress posting the bad tipper's receipt online. Do you ever wish you could do that?
DA: Sometimes. I'm kind of sassy in that I'll turn around sometimes and be like, "Really? You didn't like my service?" I know that's not perfect customer service, but sometimes at 2:30 in the morning with Marquette students, you just want to slap them across the head and say, "Listen, this is a $50 tab, and you gave me a dollar. I kind of want to shove this in your ear right now."
They'll try the whole "I'm a broke college student!" argument, but you just spent $50 at Murphy's. You are not broke. Then they'll pull out the "But daddy only gave me so much money for the bar tonight" line. That's my favorite. Make sure you budget us in next time.
Facebook Comments
Disclaimer: Please note that Facebook comments are posted through Facebook and cannot be approved, edited or declined by OnMilwaukee.com. The opinions expressed in Facebook comments do not necessarily reflect those of OnMilwaukee.com or its staff.