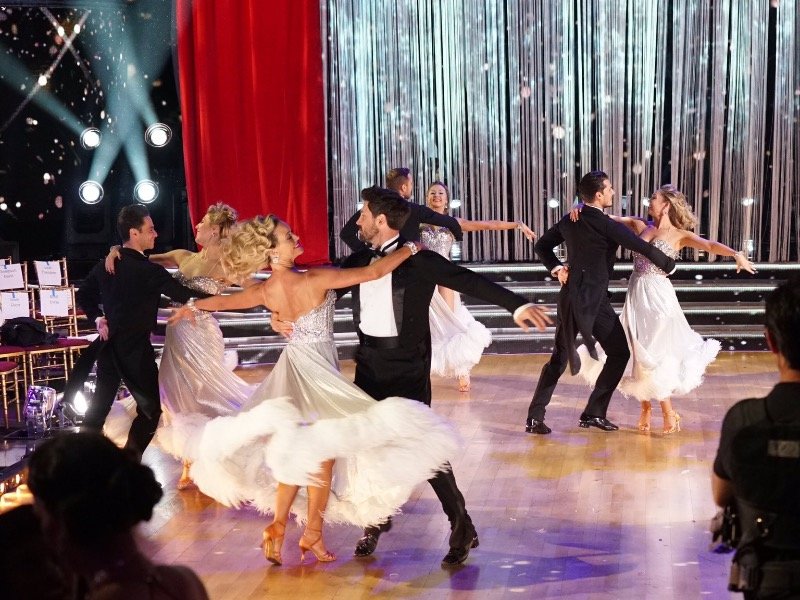 "Dancing with the Stars": Double eliminations and dance-offs
Movie Night on "Dancing with the Stars" ended up being quite the eventful and exciting blockbuster. Dance-offs! Double eliminations! Perfect scores! Farts to the face! Erin Andrews calling Nick's partner Peta Murgatroyd a MILF! Truly an explosive episode worthy of the start of summer movie season.
But the most important plot development: Nick Viall has finally left your television screens.
Indeed, it turns out my reverse psychology picking skills proved their worth, because the one week I took Nick out of the bottom was the week he was finally shown the door, the more predictable of the two eliminated celebs. The other, slightly more unexpected exit was Nancy Kerrigan, but this was no Heather Morris elimination shock. Kerrigan had been OK without being spectacular on the show, and her personality during the practice bits was becoming repetitiously stressful.
Neither one of these two is a complete loss, and both went out on pretty high notes, their final routines showing growing personality and capable dancing. Plus, in Nick's case, he got a lot further than he should've.
And with that, goodbye Nick Viall. At least for a while. I give him a month before he ends up on "Shark Tank" or "Celebrity Family Feud."
While Nick may be gone, however, the show must go on. The judges got their say last night – both in the solo dances and the dance-off (which desperately needed fewer edits and more static shots showing the two competitors side-by-side). But what did we make of Movie Night? Grab some popcorn and butter topping that's definitely not actually butter, and let's find out.
5. Bonner Bolton
Dance: Paso doble
Judges' score: 29 out of 40
Our score: You're going to make it very difficult for me to keep up my running gag of messing up your name if you keep unexpectedly and undeservedly staying on, Blue Bonnet Butter! His turn on the show was commendable for a while, but now that he's overtly the worst dancer while other better dancers get knocked off, it's gotten old – especially after last night's paso-doble-free paso doble.
One might have thought the bull rider would pair well with the dance of the bullfighter, but instead, the Western-themed routine felt like it was entirely shtick with very little actually dancing. At this point in the contest, there's not a lot of charm in that – and he's not exuding enough personality during his dances to make up for that.
Luckily for him, despite an obvious spinout, his rumba dance-off played into his strengths – he has an odd smoothness and strength on slower dances, and also it's hard not to come off favorably compared to Nick. So that's an extra two points for him, plus he has an audience somewhere that loves him. Is it crazed country fans? The rumored love story with his partner? His romance novel cover good looks? No matter the reason, I'm ready for him to leave ... but I'm not completely convinced next week will be the last of Breakin' 2: Electric Boogaloo.
4. David Ross
Dance: Salsa
Judges' score: 32 out of 40
Our score: There was something very satisfying about watching a former Cubs player take a fart to the face (courtesy of his partner). Unfortunately, his dance was less so.
The routine wasn't all stinky; the sci-fi choreography was fun, and Ross always dances his butt off, putting all the personality he can musk muster into his numbers. He's always putting all four cheeks into his performance, and that is certainly no hot air. But it often felt like there was barely a sniff of salsa in his dance, and what steps there were, Ross was often flatuent-footed. Uh, I mean flat-footed. To add to his pungent evening, he was blown off the stage by Rashad in the dance-off, looking gassed while missing some moves – especially in the beginning.
Luckily for Ross, he's got loads of Cub voters that still think he's cool beans, so he should breeze through to the next week – even after taking a toot-toot fastball to the smell hole.
This has been dancing commentary from a very mature and adult person.
3. Rashad Jennings
Dance: Paso doble
Judges' score: 37 out of 40
Our score: I'm scared for Rashad Jennings – and not just because his theme last night was horror. Despite the high marks from the judges, last night's paso doble was not one of the footballer's finer numbers. It actually looked startlingly clunky, with what looked like some missed steps along the way. I also don't think the inherent stiffness and rigidness of the paso went well with the impressive smoothness we've seen from Jennings before on the dance floor.
Lucky for him, the judges liked the dance more than I did, and he did himself some extra favors by winning his jive dance-off with David – not a difficult feat, but a win is a win, one that hopefully helps keep him around for another week.
2. Simone Biles
Dance: Charleston
Judges' score: 37 out of 40
Our score: Even though it was just two weeks ago, it feels like it's been a while since Simone's been at the top of the leaderboard – both ours and the judges'. Still, the Olympian's been delivering top-notch dances in the past few weeks, topped off by last night's blissful Charleston set to a silent movie theme. The dance is notoriously a tough one, but the gymnast's short yet stacked figure and obvious expertise with acrobatics were up to the task. The final result was playful, bouncy and fun, with a genuine skip in her shoes and pleasant amount of personality radiating through. Combine that with her win in the dance-off against Nancy – she was definitely sharper – and she should be safe on through to the final four. Deservedly so.
1. Normani Kordei
Dance: Argentine tango
Judges' score: 40 out of 40
Our score: After last night's perfect Argentine tango – a sultry, slinky, smoothly perfect number that sold an impressive story despite the incredibly vague theme of "Foreign Film" – Normani Kordei sealed the deal as the best dancer of the remaining bunch. And if she did all of that with some sort of sprained back situation, that's somehow even more impressive. If that's what she dances like when she feels unprepared, I'd love to see what a fully equipped version of that dance looks like.
And yet, if she hadn't scored immunity last night thanks to her perfect score, I'm not sure Normani would still be around. She's been in the bottom before, and I'm not sure the generally younger fan base for Fifth Harmony watches "Dancing with the Stars." If they do, awesome; she's clearly the best on the show right now. But if not, even with a perfect score, I'm not sure she can survive the other contestants' seemingly more vocal viewers. Plus, we all remember what happened to the last person with a perfect score this season ...
zwursasf
Facebook Comments
Disclaimer: Please note that Facebook comments are posted through Facebook and cannot be approved, edited or declined by OnMilwaukee.com. The opinions expressed in Facebook comments do not necessarily reflect those of OnMilwaukee.com or its staff.