Keith Urban and the rest of Day 2 roar through the rain at Country Thunder
Day two of the Country Thunder lineup was stacked with unbelievable talent, like almost unreal. From old school, long-established favorites like Restless Heart, to newbies including Michael Ray and Frankie Ballard, to what's new but hot in the form of Dan + Shay, and finally the incomparable Keith Urban, some serious chops were set up for Friday's main stage show, right?
For sure.
Michael Ray took the stage shortly after a weather-related abbreviated, but still great, set by Restless Heart. His set was amazing, crazy upbeat, musically beautiful. Next up was Frankie Ballard, who pulled out his hits plus added in everything from Johnny Cash to some hard rock.
Towards the end of Ballard's set, the rain started in earnest (Restless Heart's delay had been due to lightning.) By the time Dan + Shay took the main stage at 8 p.m., what was a survivable, modest rain turned into an absolute deluge. It's a good artist that can push through weather to create a decent set. It's a great artist who can embrace the weather and create an epic set.
Enter Dan + Shay.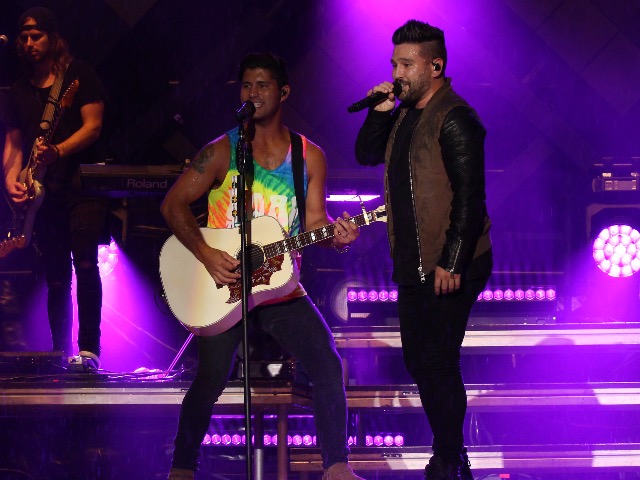 These guys took the stage and did not fear the water. I mean, hey, some people do, but these guys, I swear if there had been a slip and slide on the catwalk, they would've been the first ones taking runs at it. They said somewhere in the middle of their almost 90-minute set that Country Thunder's show on Friday was their best show ever … in their lives. And I gotta say, we, too, had a blast. Everything they played, the crowd knew and sang – to from "All Nighter" to Bon Jovi to Cee Lo Green to Rascal Flatts, all the way back to "19 You + Me."
All of it during a Noah's Ark-style storm complete with lightning and thunder. Their set would have been fantastic without the rain. But the rain made it outstanding, epic even. Seriously, the boys were soaking wet on fire. Probably my favorite moment of the Dan + Shay set was the reboot of "From the Ground Up." They played the song and were so moved by the perfection of the crowd singing it in the pouring rain with lightning in the background, they rebooted the song and filmed it for social media.
When Dan + Shay wrapped, my partner today looked at me, and we both said pretty much at the same time, "Keith Urban is gonna seriously have to bring it in order to top Dan + Shay."
Enter Keith Urban.
Keith was weather delayed. The cables running from the sound board to the stage had to be pulled from under the catwalk because they were starting to sit in the water. Electricity plus water, not a good combo.
Despite the half hour delay, Urban hit the stage with a bang literal on both fronts (his music and the actual thunder). The lightning streaking across the sky, plus the absolute pouring rain, again, created a set that will never be replicated. Ever.
Opening with "Gone Today (Here Tomorrow)" and then launching right into "Long Hot Summer," Urban changed up the lyrics to sync with the rain. He later commented, "You guys are crazy! This is why we come back to Wisconsin. It's been bucketing rain … all night … and you guys don't give a crap!"
Which was true. No one did. It's also true that rain is nothing new at Thunder. And the mud creates and adds to the fun (it really does, I promise). So no one did care. Plus, we are, as he said, from Wisconsin. It's rain. It was 85 degree rain, not 45 below, sideways ice pellets. Even then, we probably would have stayed put.
My notes say that watching Urban on the video screens was sort of like watching an actual music video with the rain in front of him, or soaking him, depending on where he was. Plus there's the whole, tight t-shirt, wet Keith Urban thing that I'm pretty positive played well with every single (and married) woman in the Thunder Bowl.
But it was Urban himself and his music that carried the deluge off into the epic evening. I expected a lot of ripping banjo and guitar, and he gave that, plus so much more. His songs are appropriately weighted with both. But Friday night, we were treated to extended versions of a lot of his songs featuring Urban's wicked guitar skills. I'm shaking my head because I can't even adequately describe it all.
Oh, but I can say that he passed along one of his insane electrics to a little boy, maybe 8 years old. Urban walked off the catwalk and made his way back to what he called "the masses" in the lawn seats where he stood on a four foot retaining wall and sang directly to them without the encumbrance of the lighting tower blocking the mainstage. When he was done, he sang that he wanted to give his guitar away. And this little, blonde boy was jumping up and down trying to get Urban's attention. When the boy got the guitar, I totally thought he'd fall over from the weight, but he picked it up like it had always been his and started to fake play it. Just brilliant.
Urban added another sweet family moment towards the beginning of his show, as well. His eye was caught by Olivia, age 10, holding a sign "Blue Ain't Your Color." We'd met Olivia earlier in the day when we were shooting photos in the pit. Someone told us that she came every year and had gotten a ton of mainstage artists signatures. At any rate, Urban knelt down and brought Olivia up to the catwalk, where he then mini-interviewed her whole family. Olivia has four siblings which prompted Urban to burst out with, "Where's Dad? I bet he's exhausted!" Olivia and Urban took a quick selfie. While it would have been cool at any time in any concert, the fact that he stopped the show in the pouring rain, continuing to get soaked himself to talk to little Olivia, well that was just so…dad-like. So sexy dad-like.
Urban's almost 90-minute set didn't contain one song that the audience didn't know. Even all the new stuff from "Ripcord" was a sing along … well, except for the song where Urban forgot the words, which I'm pretty sure was "Sun Don't Let Me Down." He jokingly sang about it later, saying, "I forgot the words, but you forgive me because I gave it a shot!"
Closing his set by earnestly saying that tonight was "a blessed cheesehead baptism and we felt honored," it's safe to say that Urban and his band are welcome in Wisconsin anytime.
So, hey Keith! When are you coming back to Wisconsin?
Setlist - Keith Urban
"Gone Tomorrow (Here Today)"
"Long Hot Summer"
"Break on Me"
"Somewhere in My Car"
"Good Thing"
"Blue Ain't Your Color"
"Put You in a Song"
"Where the Blacktop Ends"
"Little Bit of Everything"
"You Look Good in My Shirt"
"Sun Don't Let Me Down"
"The Fighter"
"Cop Car"
"Somebody Like You"
"John Cougar, John Deere, John 3:16" (with mashup "Jack & Diane," (John Cougar cover) "No Woman No Cry" (Bob Marley cover), "So Lonely" (The Police cover))
"Wasted Time"
Encore
"But for the Grace of God"
"Raise 'Em Up"
Setlist Dan + Shay
"All Nighter"
"Nothin' Like You"
"Stop Drop + Roll"
"You Give Love a Bad Name" (Bon Jovi cover)
"Road Trippin'"
"Parking Brake"
"Show You Off"
"From the Ground Up"
"I Like the Sound of That" (Rascal Flatts cover)
"Lately"
"How Not To"
"Mr. Brightside" (The Killers cover)
"Obsessed"
"Around the Clock"
"Forget You" (Cee Lo Green cover)
"19 You + Me"
Facebook Comments
Disclaimer: Please note that Facebook comments are posted through Facebook and cannot be approved, edited or declined by OnMilwaukee.com. The opinions expressed in Facebook comments do not necessarily reflect those of OnMilwaukee.com or its staff.