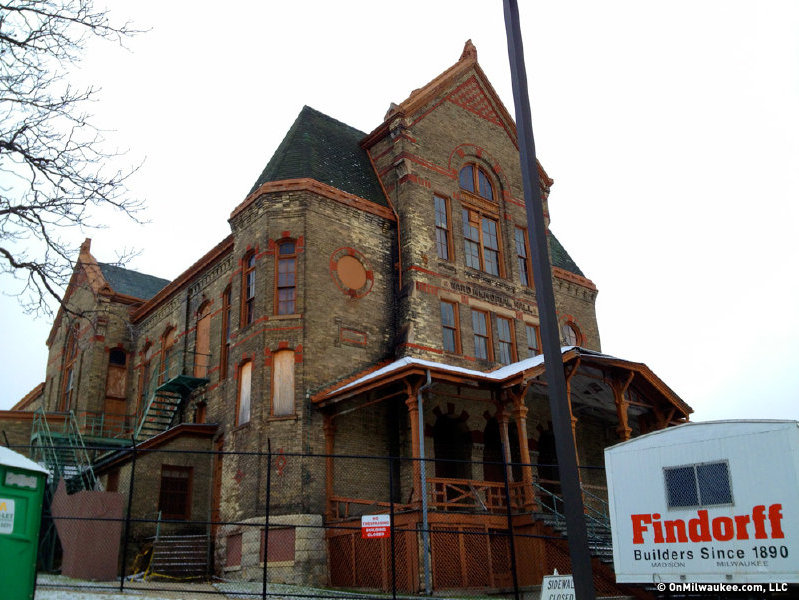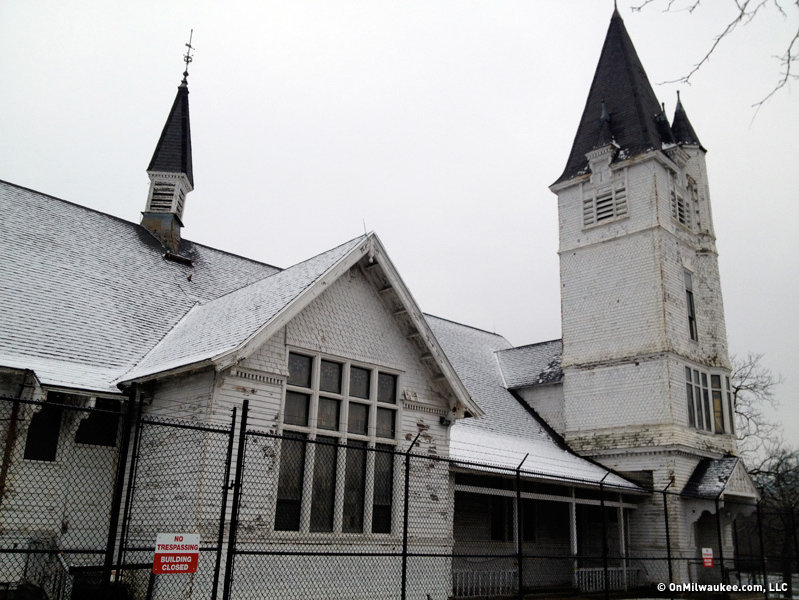 Repairs will finally begin on a number of historic buildings on the sprawling grounds of the Milwaukee Soldiers Home Historic District -- which I featured in a spelunking story last year -- The National Trust for Historic Preservation and the Milwaukee Preservation Alliance (MPA) announced today.
Milwaukee VA Medical Center (VAMC) will soon begin work on Henry Koch's gorgeous 1881 Ward Theater (Building 41), the Old Hospital Building (Building 6) and the Barracks Buildings (Buildings 5 and 7). 
The entire complex has been designated a National Historic Landmark.
"These repairs are much-needed improvements in the district and demonstrate important progress," said Genell Scheurell, senior field officer with the National Trust for Historic Preservation, in a statement.
"We also look forward to continuing to work with the VA to address the critical need for a long-term solution that will return the district's vacant buildings to the service of veterans."
Unfortunately, repairs on three of the site's most recognizable buildings, Edward Townsend Mix's towering 1869 Old Main (Building 2) -- which is easily spotted from I-94 and from Miller Park -- the Power Plant (Building 45) and Koch's shingle-style 1889 non-denominational chapel (Building 12) remain on deferment as funds for the necessary fixes are sought.
These structures are in urgent need of repairs. For example, a major roof collapse at Old Main that led to the vacating of the building was fixed two years ago, but other remaining gaps are allowing nature to do further damage.
Fences continue to surround Old Main and the chapel, which on the outside at least, appears to be in fairly rough shape.
"Over the past few years, the VA has made great strides toward making changes that will positively impact the future of the Soldiers Home District," said Scheurell. "However, the sense of urgency remains. The VA must receive the necessary funding to protect this National Historic Landmark District."
Meanwhile, the vacant Ward Theater will get a new roof and repairs to its wooden porch and exterior masonry. 
The Old Hospital -- built in 1879 and later used as a barracks and currently housing VA offices -- will be re-roofed, its wood re-painted, and windows and doors repaired.
Also of note is the fact that the building's distinctive brick chimney will be rebuilt and decorative wrought-iron cresting repaired and, as necessary, replaced with newly fabricated parts.
The Barracks Buildings will be tuckpointed and painted, its gutters and downspouts repaired, its extensive porches repaired and painted, and shingles replaced as needed. These buildings, too, house VA offices.
"We are excited about the work being done on many of the District's buildings," said Dawn McCarthy, president of the MPA Board of Directors. "Visitors will see a noticeable difference in the appearance of some of these historic buildings."
Info on a free downloadable walking tour of the site is here.
Facebook comments
Disclaimer: Please note that Facebook comments are posted through Facebook and cannot be approved, edited or declined by OnMilwaukee.com. The opinions expressed in Facebook comments do not necessarily reflect those of OnMilwaukee.com or its staff.
Recent Articles & Blogs by Bobby Tanzilo