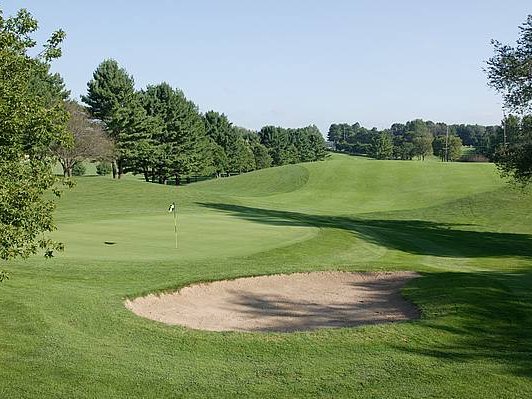 WISCONSIN DELLS – There is plenty of great golf to take advantage of in Wisconsin Dells, especially championship-caliber venues that can stretch your mental and physical abilities, but Coldwater Canyon – now part of the Chula Vista Resort – is a must play for travelers and residents alike.
The front nine was built 91 years ago as a daily fee course, and when the back nine was added nearly a decade ago, it had yet to be absorbed into the resort. Once it was, it didn't lose its attraction as a "local" golf course and it offers those staying on the grounds a different feel than typical "resort" golf.
Just looking at the scorecard, a player might lick their chops. The course is short (less than 5,700 yards, but some new tee boxes will push it over 6,000 next year) but you need to control your tee shots. And on the front nine, you also need to be able to shape them in order to have excellent approaches into contoured greens that are more slippery than you'd expect.
You can definitely post a career-best round there, which can be exciting, but you can also walk off the 18th green shaking your head, wondering how in the heck you posted the high numbers that you did.
But that's what makes Coldwater Canyon such a gem.
There are no tricks, and no surprises. It's all out in front of you, offers some room to recover, but it can beat you down if you make bad decisions.
What also makes Coldwater Canyon a treat for a resort player is that front nine, built along its namesake. It stands on its own, so if you've only got a couple hours to kill while the kids nap or the spouse hits the spa or water park, it's worth a spin.
Off the course, a full driving range with grass tees is available to you, which is an underrated part of the resort experience. It gives you a chance to shake off the cobwebs built up on the swing (or from the night before), and there is a green to chip and putt on as well.
New PGA professional and Director of Golf Jason Boaz will welcome you, along with assistant director Shawn Wenkman, like an old friend.
Boaz worked at Grand Geneva Resort in Lake Geneva, and knows all about the resort player and providing excellent service. Wenkman is a local, and knows the course inside and out. If you need any tips, especially on those front nine greens, ask him – you don't make the turn under 30 like he has if you don't know the course's secrets.
If you head up this year, you'll see those two and their staff working out of a trailer due to a fire in the clubhouse, but that only sets you up for a return in 2014 that will feature some added length to the back nine and a new space to enjoy your pre- or post-round beverages.
Too often the average golfer gets wrapped up in total yardage, or believing their game is better than it is. The end result is often a frustrating round on a difficult course played from the wrong tees. Coldwater Canyon takes all of that out of your hands (and your brain) the moment you push the peg into the first tee box. It's something to enjoy, and I can't recommend it enough.
Facebook comments
Disclaimer: Please note that Facebook comments are posted through Facebook and cannot be approved, edited or declined by OnMilwaukee.com. The opinions expressed in Facebook comments do not necessarily reflect those of OnMilwaukee.com or its staff.
Recent Articles & Blogs by Jim Owczarski