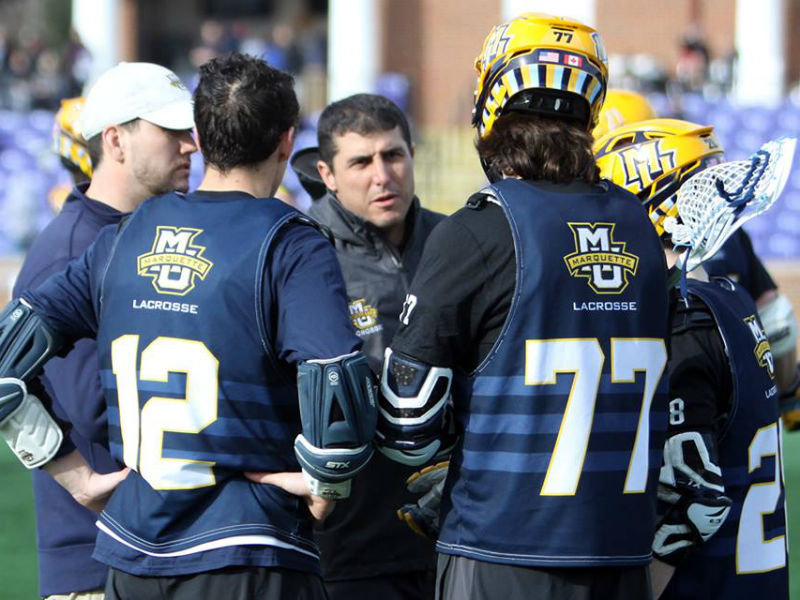 Nonexistent to NCAA tourney in four years? Marquette lacrosse credits culture
Talk to members of the Marquette men's lacrosse team, and you'll hear about the culture. A lot. It might as well be written on the backs of the jerseys.
But four years ago, that culture was just an ambiguous concept, something that needed to be developed from nothing, an identity to be forged in a program that didn't yet exist in order to build what it could potentially, hopefully, become in the future.
And so Liam Byrnes, B.J. Grill and 20 other overlooked athletes woke at sunrise every morning for practice, hit the weight room every afternoon after class and stayed in at night while their friends partied, enduring the fierce intensity of a head coach who kept barking about excellence and culture. All for a team that would not play any games that season.
"I don't know how else to say it besides it sucked – not having games, nothing to look forward to and waking up early for practice five days a week," says Byrnes, one of several players who has been with the Golden Eagles since 2011-12.
About half a dozen of the original 22 players quit, which left coach Joe Amplo with a core, committed group that bought in, really believed and shared his vision for what Marquette lacrosse could and would be.
"That's how the whole culture of this program started," says Byrnes. "We could have taken it easy that first year, practiced a few days a week, gone out and socialized more, but coach Amplo set in stone what this team was going to be.
"Working together, the guys that stuck through, we were like, 'All right this program's going to be good. We've put in too much time and effort not to win.' We set that tone early. That first year was hard but it set the program up for a good start."
With the demanding Amplo emphasizing accountability and instilling a mindset of confidence, a bunch of kids no one else wanted began to form an identity.
"We were a lot of guys that weren't recruited to these big-time schools, so it's not like we had any arrogance to us – we had to play with a chip on our shoulder to prove that we can hang with the big dogs of D-1 lacrosse," Byrnes says. "It's not going to be easy; we're going to have work, practice, hit the weights, not go out as much as you'd like. But there's commitment. You've got to make sacrifices if you want to be a good team."
The first couple years, they weren't a good team, at least in terms of wins and losses. But improvement came swiftly and steadily.
In 2013, their first season of competition, the Golden Eagles went 5-9. In 2014, they were slightly better, going 6-10, including 4-2 in the Big East, as Amplo was named the conference's coach of the year. Last year, the Golden Eagles' record jumped to 10-6 and at one point they were ranked as high as No. 9 in the nation.
And now they're looking to take the next step. The campaign begins Saturday against Bellarmine, their first home game at the university's Valley Fields after playing previously in Hart Park. With preseason All-Big East selections Byrnes and Grill anchoring the defense – Byrnes was also named the conference's preseason co-defensive player of the year – a veteran Golden Eagles squad is hoping its culture of dedication and hard work pays off and produces the program's first NCAA tournament appearance.
At least that's Byrnes' expectation.
Amplo, who is passionate and charismatic but stresses day-to-day consistency and incremental progress, has a more macro, coach-spoken mantra.
"I think it's just to sustain that high level of excellence we've come to expect," Amplo says of his team's goal this season. "Whether that means we compete in the NCAA tournament or not, time will tell. I think we feel like we can compete with the best teams in the country."
The energetic Amplo became the first Marquette men's lacrosse head coach after spending a decade as an assistant at Hofstra, where he'd been an All-America player in 1999. He's led the Golden Eagles' rapid rise from nonexistent to nationally ranked – their appearance in the Top 20 last year after just 31 total games was believed to have been the fastest a school had gone from inception to the polls in NCAA Division 1 lacrosse history – and he attributes it to (what else?) the culture that's been constructed.
"That's been the most important thing to us; that's how we wanted to build this thing, because it's sustainable," he says in the Al McGuire Center arena. "You can't go and redo culture. You can go and get better players, but you're not going to redo who you are or what you stand for as a program."
Of the 49 players on Marquette's roster, 30 are upperclassmen, including an NCAA-high 19 seniors. Amplo says the increased maturity of his team, growing with the fledgling program, has been instrumental to the team's early success. "I find myself not having to worry about the littlest details like we did earlier on with these guys," he says, such as discipline and practice habits, which allows him to concentrate on bigger coaching issues, like recruiting.
Marquette is the only school in the state with an NCAA lacrosse program, and it's one of the few in the Midwest – Notre Dame and Detroit are the nearest others. And while most of the top prep players choose to play at traditional powerhouse programs on the east coast, Amplo says Marquette's geography and novelty actually help him find the exact type of kid he wants.
"For us it's an instant clearinghouse, because you're either interested or you're not. And if a kid comes and visits, we know he's really interested in the school and the program, so it's made that part of the recruiting a lot easier," Amplo says. "They take the time to visit Marquette, we know that if we do a good job, we can capture them. They're on board. They're in. They've done their research."
Less than 20 percent of the squad is from the Midwest, with most hailing from out east, where lacrosse is still much more popular – though the high school game is expanding in Wisconsin and US Lacrosse claims it's the fastest-growing sport in the country.
One player who certainly hasn't regretted his decision to come to Marquette is senior attackman Conor Gately, a New York native who is the school's career scoring leader, with 106 points in three years. Another preseason All-Big East selection – senior midfielder Kyle Whitlow is the Golden Eagles' fourth conference honoree – Gately has treasured his experience.
"It's been unbelievable; it's been awesome," he says. "It's just been great to see something go from birth to where it is now, and kind of leave with a footstep in the foundation of this program is pretty cool."
Gately is particularly excited about the new indoor athletic performance center, a $120 million facility on campus that was announced in January and will house the lacrosse program's locker room and offices. He says he's noticed a change in awareness of and attention on the team among students. Last year, more than 4,000 fans showed up to Hart Park to watch Marquette play Duke, and the Golden Eagles hope their relocation to the Menomonee Valley will keep attendance strong all season long.
Byrnes agrees there's more buzz around the team than ever before – certainly more than there was four years ago, though he says the fans aren't the only ones that appreciate how far Marquette lacrosse has come.
"I think we appreciate it even more now that you can finally see what this culture is all about, what coach Amplo was talking about originally. That if you put in the work now, down the road you'll reap the benefits, and that's finally coming to fruition," Byrnes says. "So that makes it all worth it, knowing that coach Amplo knows what he's talking about and that'll help bring kids here in the future, getting better players. He was able to take a bunch of guys that weren't getting recruited anywhere, and now we're a top 20 team.
"That helps to establish coach Amplo's credibility, that this system, the program and the process, he has it down to a science almost. We're all excited to get the season going and hopefully hit the field running. Long-term, we're thinking NCAA Tournament, but week by week it's just do the little things right, beat that team, on to the next one."
Talkbacks
ryancj962 | Feb. 18, 2016 at 10:11 a.m. (report)
Both MSOE and Carthage are NCAA lacrosse programs in the state of Wisconsin albeit Divsion III but still NCAA programs.
Facebook Comments
Disclaimer: Please note that Facebook comments are posted through Facebook and cannot be approved, edited or declined by OnMilwaukee.com. The opinions expressed in Facebook comments do not necessarily reflect those of OnMilwaukee.com or its staff.