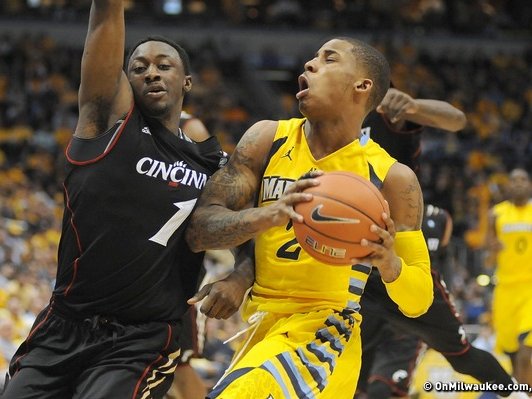 "It's time to win championships."
Sitting on a folding chair, facing the north end of the Al McGuire Center on Marquette University's campus, Vander Blue found himself framed by the banners of past Golden Eagles glory. The visage of McGuire – the legendary coach who led Marquette to the 1977 NCAA Championship – hung high from the rafters just over his shoulders.
He looked up at the greats of seasons past, like Bo Ellis, George Thompson and Dwyane Wade.
The primary reason those players are revered is not because they went on to find success in the NBA, it's because they contended for titles wearing the gold and navy blue of Marquette.
Blue knows this.
The 20-year-old Milwaukee native is entering his third season with the Golden Eagles, and he has two Sweet 16 appearances already under his belt.
"How many guys have done that?" Marquette coach Buzz Williams said. "What is the number of those guys? It's very few. How he responds, how all the guys respond relative to our new team, will determine whether or not we can do it again."
To Blue, however, that isn't nearly enough.
He came to Marquette out of Memorial High School in Madison after three state championship appearances and one title. Blue was also rated as one of the country's top 40 players, ranked as high as No. 24 in his class by one recruiting service, which led to his inclusion on the USA Basketball U18 National Team. There, he scored 13 points in the FIBA Americas U18 championship game, winning a gold medal.
For the now-veteran guard, it's time for Marquette to reach such heights.
"We're not number one in the country so we are underdogs and that's where we want to be," he said. "Sweet 16 is all hoo-rah-rah and everybody goes crazy and pats our backs but that's still not good enough. I play this game to win championships. That's what it's all about. I'm going to try my best this year to do everything I can in my will to help this team get over the hump so that we can get to the Elite Eight and the Final Four and distance ourselves from other teams.
"People might say last year was the best team Marquette's ever had, or the team that Dwayne Wade's been on at the Final Four. It's time to win championships. Sweet 16 is getting old now. I've been two of 'em. A lot of players have been to two. It's time to get to the Elite Eight, the Final Four, and be one of those last teams standing."
Williams has lower expectations, at least for the start of the season due to a difficult non-conference schedule. But, he allows for the fact that during his time at Marquette the team has always exceeded preseason prognostications, both as a team and with individuals.
The 2010-11 squad was a No. 11 seed in the NCAA Tournament before reaching the round of 16 and finishing ranked in the top 25.
Jae Crowder didn't receive a single preseason all-Big East vote last year, but ended as its Player of the Year. Jimmy Butler wasn't an all-Big East first or second team player as a junior but was a first round pick in the NBA the next year.
For his part, Blue is expected to become a more prominent figure for the Golden Eagles this year. His minutes per game increased from 19 as a freshman to just under 26 last year as he started 34 games. His points per game increased from 5.1 to 8.4, and his assists from 1.6 to 2.6.
"It sort of reminds me of Madison Memorial again," he said. "Freshman year I really didn't get an opportunity to play as much. Sophomore year I played a little bit with Jaron (Schaffner), played solid that year. My junior year is really when I got comfortable and exploded. That's how I'm feeling this year.
He continued: "I know what I can do. I mean, I'm only 20 years old and I'm out here playing with grown men and I'm getting better every single day. I feel like this last year was preparation. All through the Sweet 16, that whole process I went through - I actually came along a little bit in the Big East, played better in the Big East – and just working as hard as I can this summer, I think I'm definitely in the position right now to do what we gotta do this year."
For Blue, setting sights on a national title is a realistic aspiration. Not because of talent, because of recruiting class rankings, or even coaching. Surrounded by banners of Marquette greats, Blue looked around the court and sees greatness in his teammates because of what they have put in.
"I don't want to promise anything, but I just feel like the way we work I think we deserve it," he said. "We go about everything every single day as hard as we can on and off the court. We present ourselves as men and we fight every single day. All of us have been through so much in our lives that people don't know about and I feel that shows a lot on the court with how we play with so much passion and courage because of all the things we've been through. It's all coming out."
atcyuvxswusxuqrvuqcyyyasazbtfzz
Talkbacks
High_Life_Man | Oct. 17, 2012 at 12:42 p.m. (report)
Hahaha...what a putz. He won't amount to much. It won't be a championship OR a sweet 16 this year.
TosaJim | Oct. 17, 2012 at 11:10 a.m. (report)
Wasn't Blue one of the players arrested last year? Whatever happened with that?...Nothing? - What a surprise.
Facebook Comments
Disclaimer: Please note that Facebook comments are posted through Facebook and cannot be approved, edited or declined by OnMilwaukee.com. The opinions expressed in Facebook comments do not necessarily reflect those of OnMilwaukee.com or its staff.