Nick Berg is an uber Milwaukeean who has proven his undying love for his city time and time again. In 2015, Berg won OnMilwaukee's "come up with a new toast for the city" competition by submitting "414 let's have one more." To this day, Mayor Barrett uses Berg's line when he's making a public toast.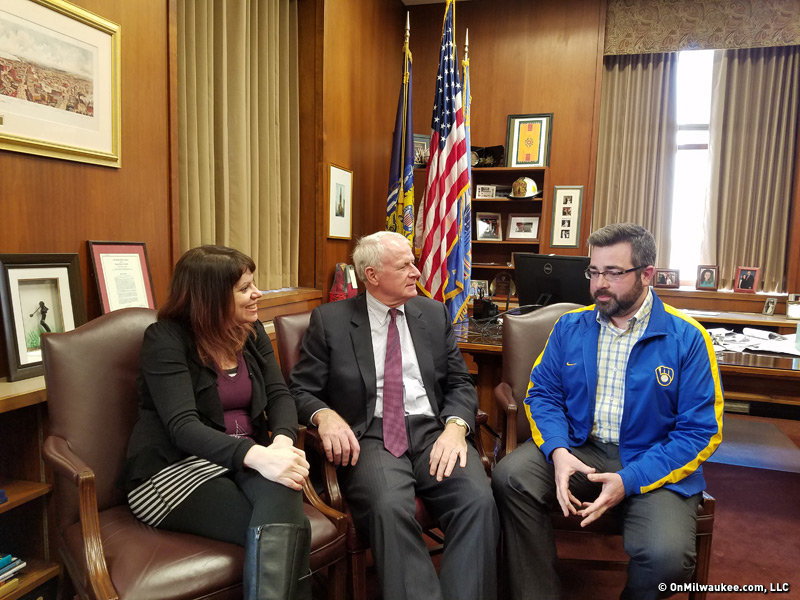 Then, Berg won OnMilwaukee's fish fry eating contest – the first competitive fish fry eating contest in the world – and although it wasn't pretty, it was pretty impressive. (I am still a little sore about losing that one. I like to think I came in a distant second.)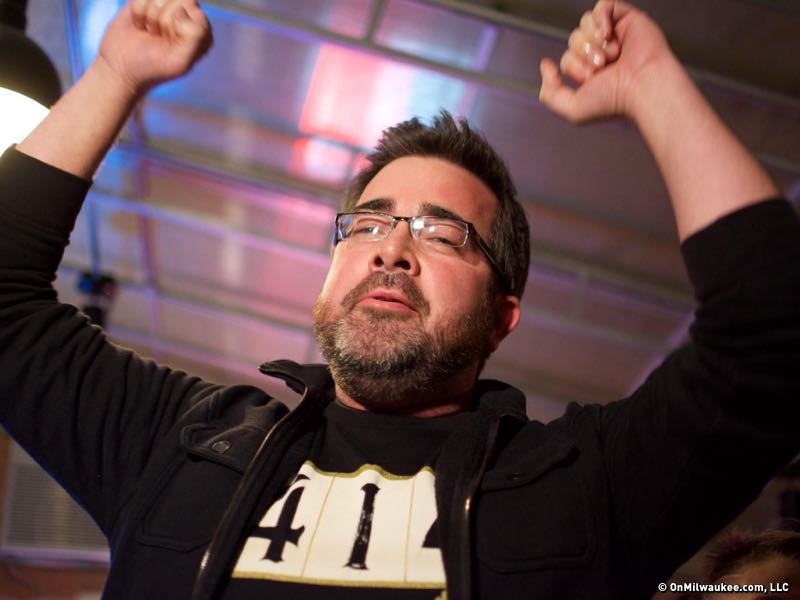 So it's no surprise that Berg's latest Milwaukee shenanigan – which he pulled off yesterday for 414 Day – is as decadent and devoted as it gets in this area code. Berg, with the assistance of his wife, gathered local, iconic food items from 10 different Milwaukee establishments located in different parts of the city.
It was important to Berg that he chose foods that he enjoyed eating, but also that represented Milwaukee's strong blend of cultures.
He called the meal "The Tour of Milwaukee" and this is what it included:
Usinger's bratwurst on a Sciortino's roll
George Webb burger
Wong's Wok egg roll
Saz's sour cream and chive fries
El Rey tamales
Glorioso's arancini with marinara
Speed Queen BBQ ribs
Real Chili
Sprecher root beer
Kopp's frozen custard
Berg says he picked up all the items over the course of a couple of days.
"We picked up bits here and there. The frozen custard, for example, I could pick up a few days early and keep in the freezer. I just asked for some of their cups and wafers to recreate the authentic look," says Berg.
He carried out the fresh and fried foods the day of to preserve flavor and consistency.
Why did he do this?
"It's been a tough year, and I'd been feeling determined to get out and have an adventure," says Berg. "My wife and I had decided that we would visit a Milwaukee culinary institution as part of our 414 Day celebration, but we had a difficult time picking just one. The idea grew from there, and I may have taken it a few steps further."
So how is he feeling this morning after his Brew City buffet?
"Accomplished," says Berg. "Although, I must say we did not eat everything. We have plenty of leftovers."

Molly Snyder started writing and publishing her work at the age 10, when her community newspaper printed her poem, "The Unicorn." Since then, she's expanded beyond the subject of mythical creatures and written in many different mediums but, nearest and dearest to her heart, thousands of articles for OnMilwaukee.

Molly is a regular contributor to FOX6 News and numerous radio stations as well as the co-host of "Dandelions: A Podcast For Women." She's received five Milwaukee Press Club Awards, served as the Pfister Narrator and is the Wisconsin State Fair's Celebrity Cream Puff Eating Champion of 2019.