In one of its in-depth historic designation reports, the City of Milwaukee Historic Preservation Commission called the Prospect Avenue home that architect Eugene Liebert designed for maltster Fred Kraus, one of two of Liebert's, "finest surviving residential designs," along with the Harnischfeger mansion.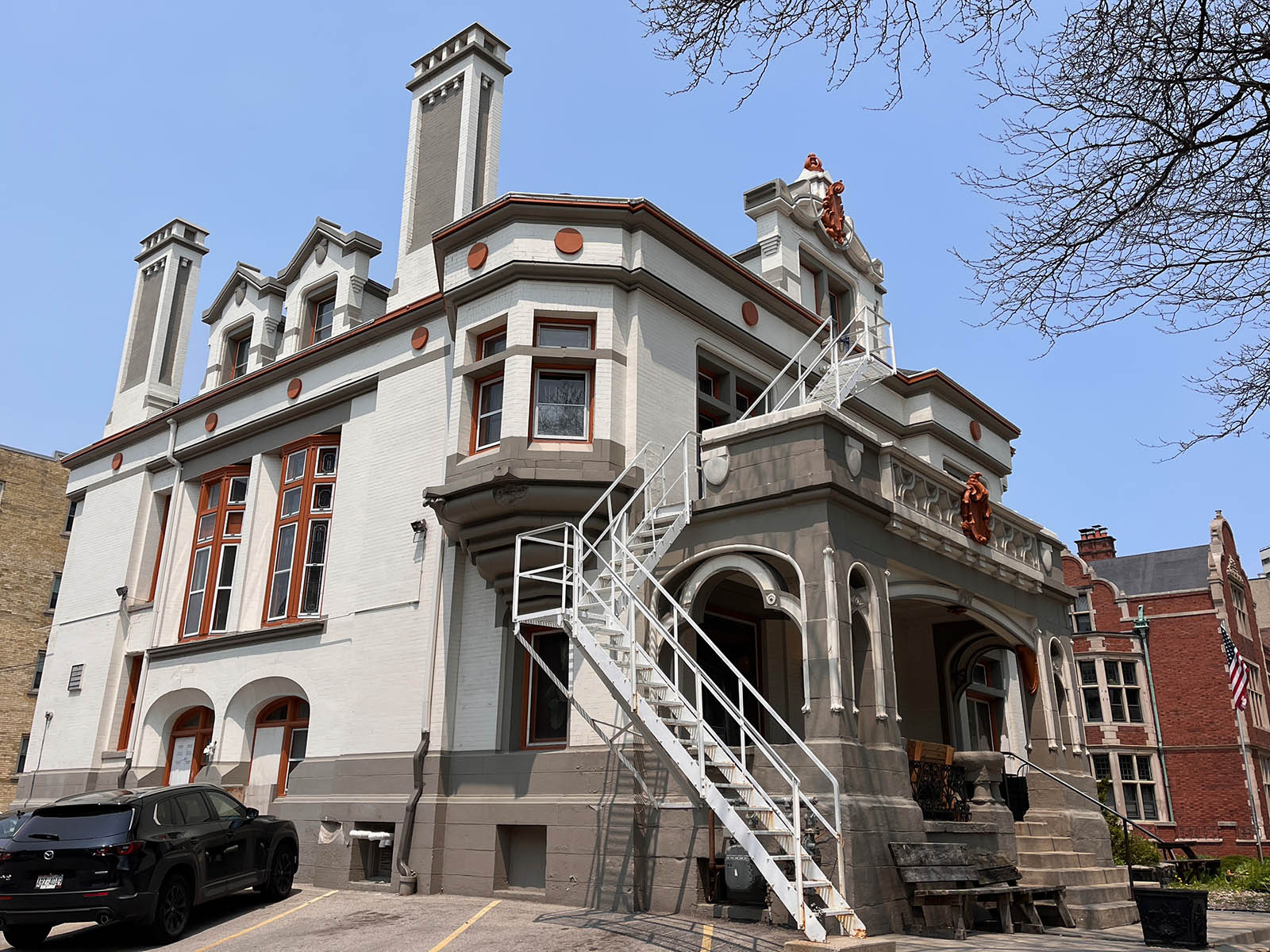 While Kraus, sadly, never got to live in his new house at 1521 N. Prospect Ave. – dying just as it was nearing completion in 1903 – the home's longest owner has not only benefited from its charms and amenities, but so have countless Milwaukeeans in need.
The house has been home to the Alano Club, a recovery center and clubhouse, for 73 years, providing an inclusive place for folks battling addictions of all kinds.
The Milwaukee Alano Club was founded in 1946 and is among the longest-running clubs in the country, providing alcohol and other drug abuse recovery programs, its web site notes, "in a safe, sober, and vibrant atmosphere."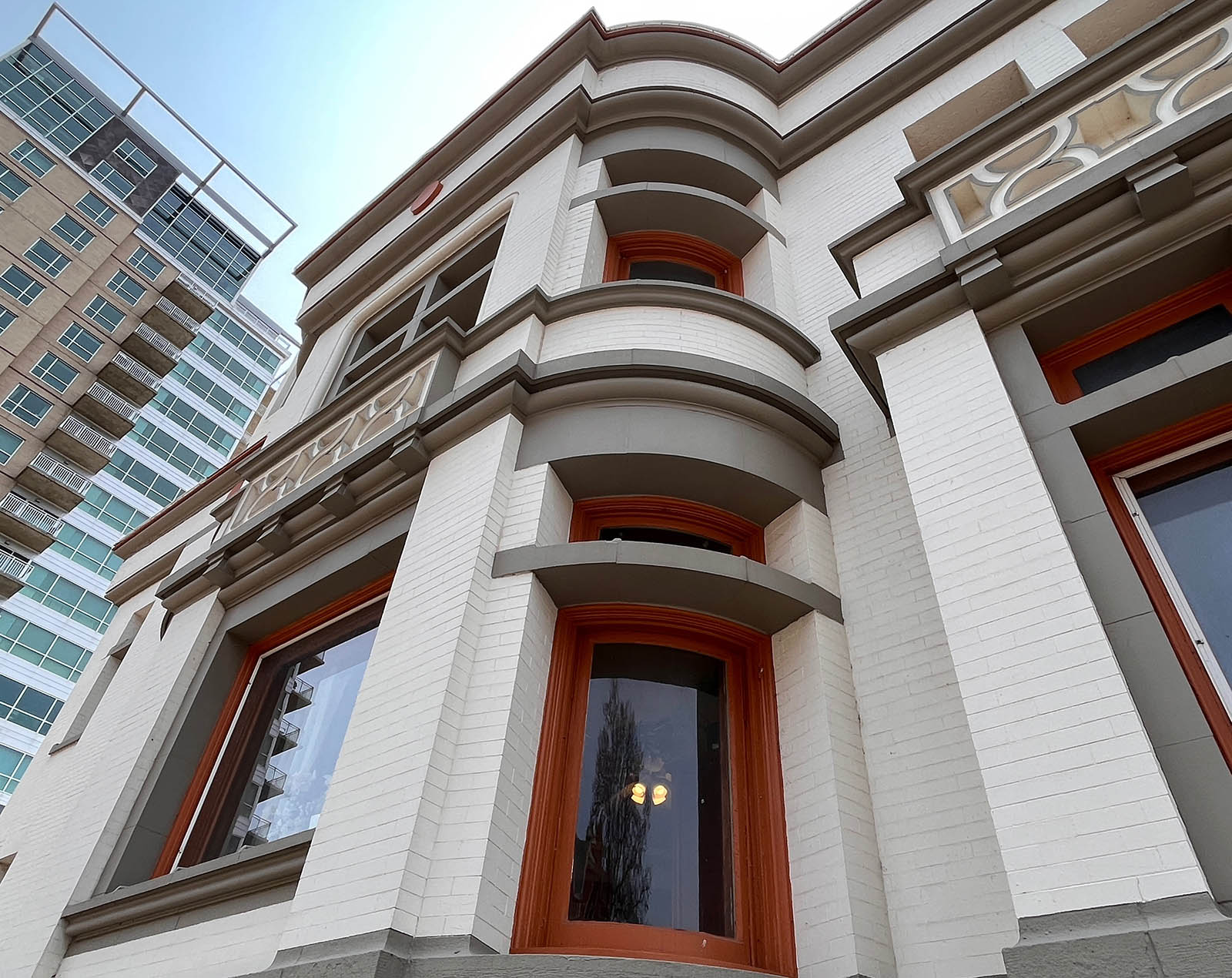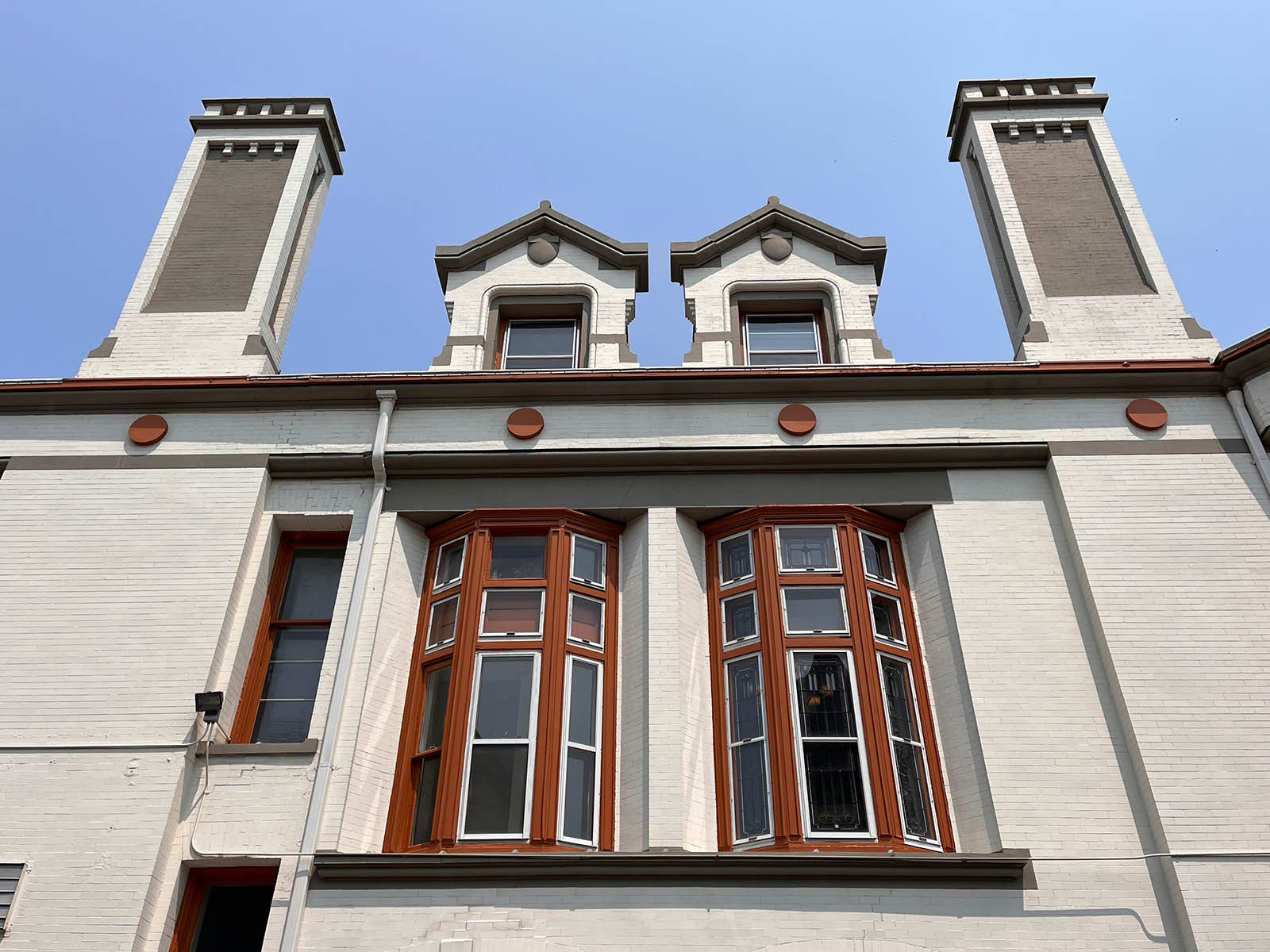 "We have 36 meetings per week," says volunteer Dave F., who asked that we not use his surname. "Everything from AA (Alcoholics Anonymous) to CA (Cocaine Anonymous) to NA (Narcotics Anonymous), LGBTQ-friendly meetings. We even have meetings that aren't 12-step like Dharma Recovery. So it's pretty diverse."
The meetings held there are considered autonomous groups that operate independently and The Alano Club and Foundation are separate from Alcoholics Anonymous, Al-Anon and other groups, the website explains.
The club also operates a full-service with sober bar in the Kraus' old dining room, with coffee, cold brew from The Daily Bird and of other beverages.
"This is a good place to come so that you can figure out what you're going to do with your time," says Dave F. "Play cards, look for a job, build a resume for yourself, and try to get your life back together. Then have other sober people around you to give you ideas, to encourage you, to help you get going on that.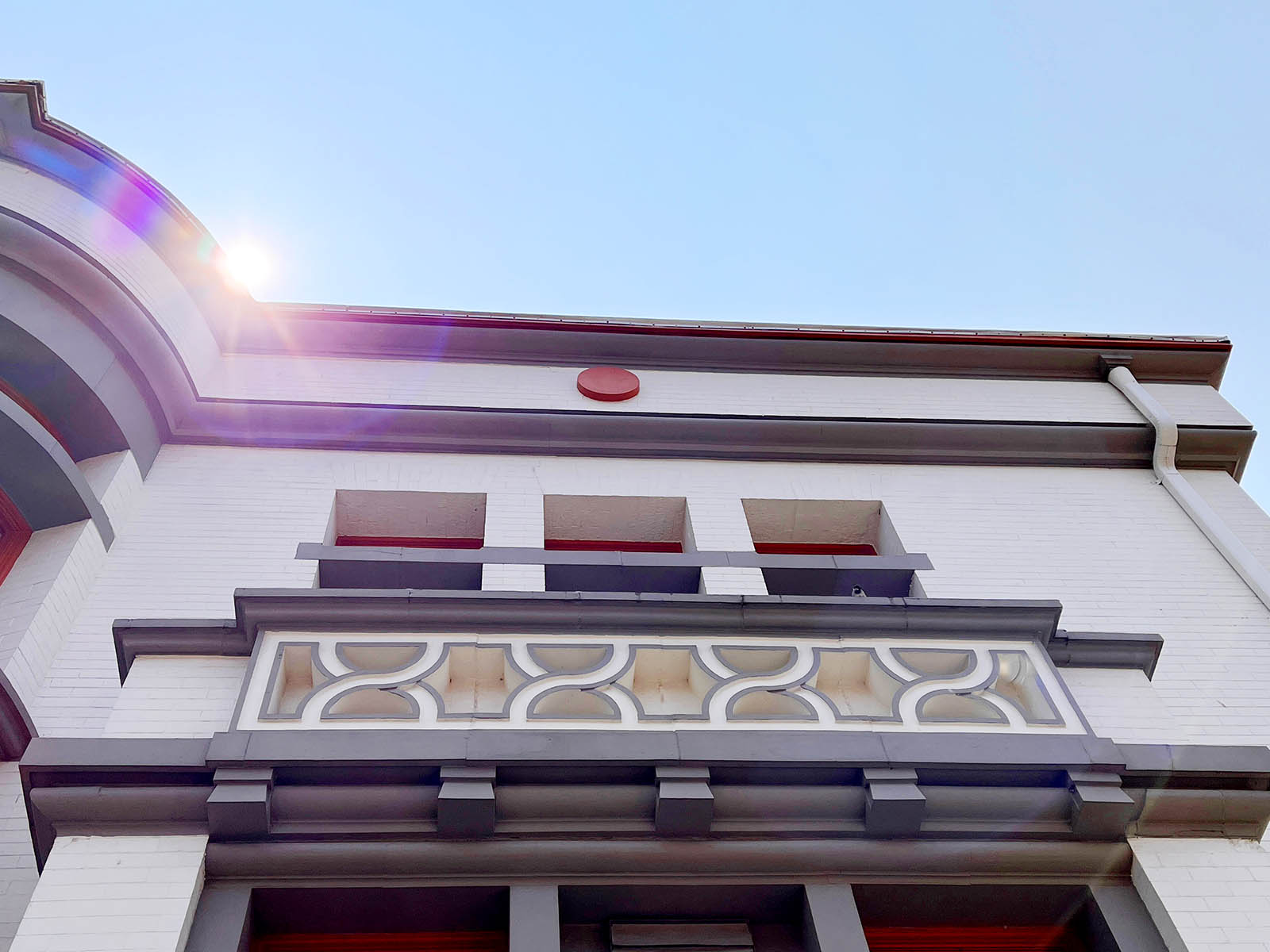 "There's a lot of love there, and a lot of those people really pretty wonderful. If you give yourself a chance, you can do a lot to save your own life."
All in one of the loveliest buildings in the Prospect Avenue Mansions Historic District, added to the National Register of Historic Places in 1990.
A little history
Frederick Kraus was born in Neuhaus Braunschweig, Germany on Dec. 23, 1843 to Karl Kraus and Wilhelmine Juliane Thiele.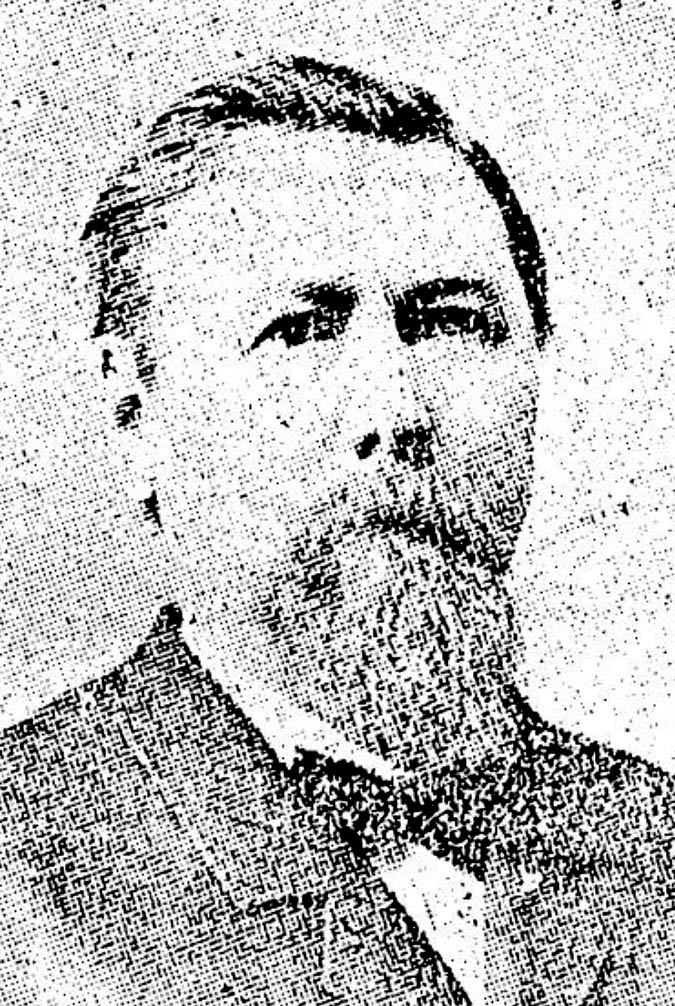 The Kraus family, which also included Fred's older sisters Henriette, Augustine and Julia (a fourth sister was born in Wisconsin), arrived in Milwaukee in 1849, settling first at Golden Lake in Jefferson County and then moving to Granville.
It's possible – but unknown with certainty – that, like many at the time from the region, the family was fleeing retribution in the wake of the 1848-9 revolutions.
In 1854, Juliana Kraus married August Gallun, who had recently arrived from Osterwick, Prussia and set up the Trostel & Gallun Tannery with Albert Trostel. The couple settled on Milwaukee's lower East Side, first on Jackson Street and later on Prospect Avenue.
After finishing his education in Milwaukee Public Schools in 1858, Frederick entered the booming grain commission business of another brother-in-law, E. Solomon, working as a clerk. By 1878 he was a partner in the grain commission firm of Asmuth & Kraus.
When his partner retired in 1880, the company was renamed F. Kraus & Co.
By that time, Kraus had already served as an alderman, from 1872 to '75, and a school commissioner, (1875-77). Kraus was also active in a number of clubs and societies, including the Odd Fellows, Knights of Pythias, the Shriners, the Masons, the Calumet Club, the Old Settler's Club and the Deutscher Club.
He was also among the founders of the Northwest Side Kindergarten – among the first in the city – on 7th Street.
In 1882, Kraus started the Kraus-Merkel Malting Co. and served as its president for 12 years before resigning.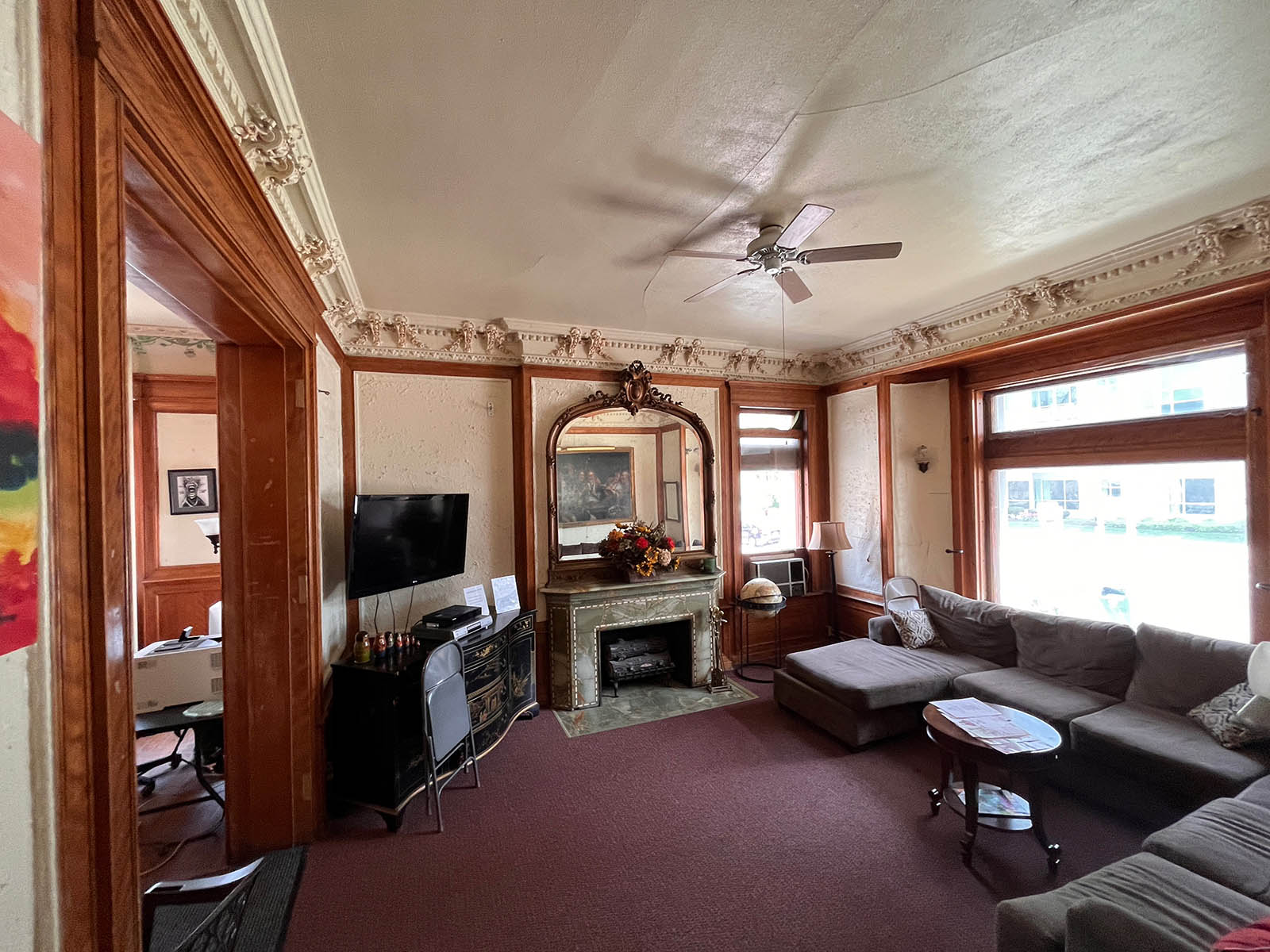 In the meantime, in 1890, with $150,000 in capital, he'd launched the Faist-Kraus Milling Co. – with William Faist – after, according to a newspaper report, he took a trip in 1885 to Europe where he investigated the malting processes being used there.
On his return, Kraus reportedly brought back the first Galland-Henning malting drums used in the U.S. According to one source, Kraus-Merkel partnered with Galland-Henning to manufacture the drums here.
In 1894, the Kraus-Merkel Malting Co. occupied an impressive complex on South Water Street, some of which still survives today. Later, it would be renamed the American Malting Company.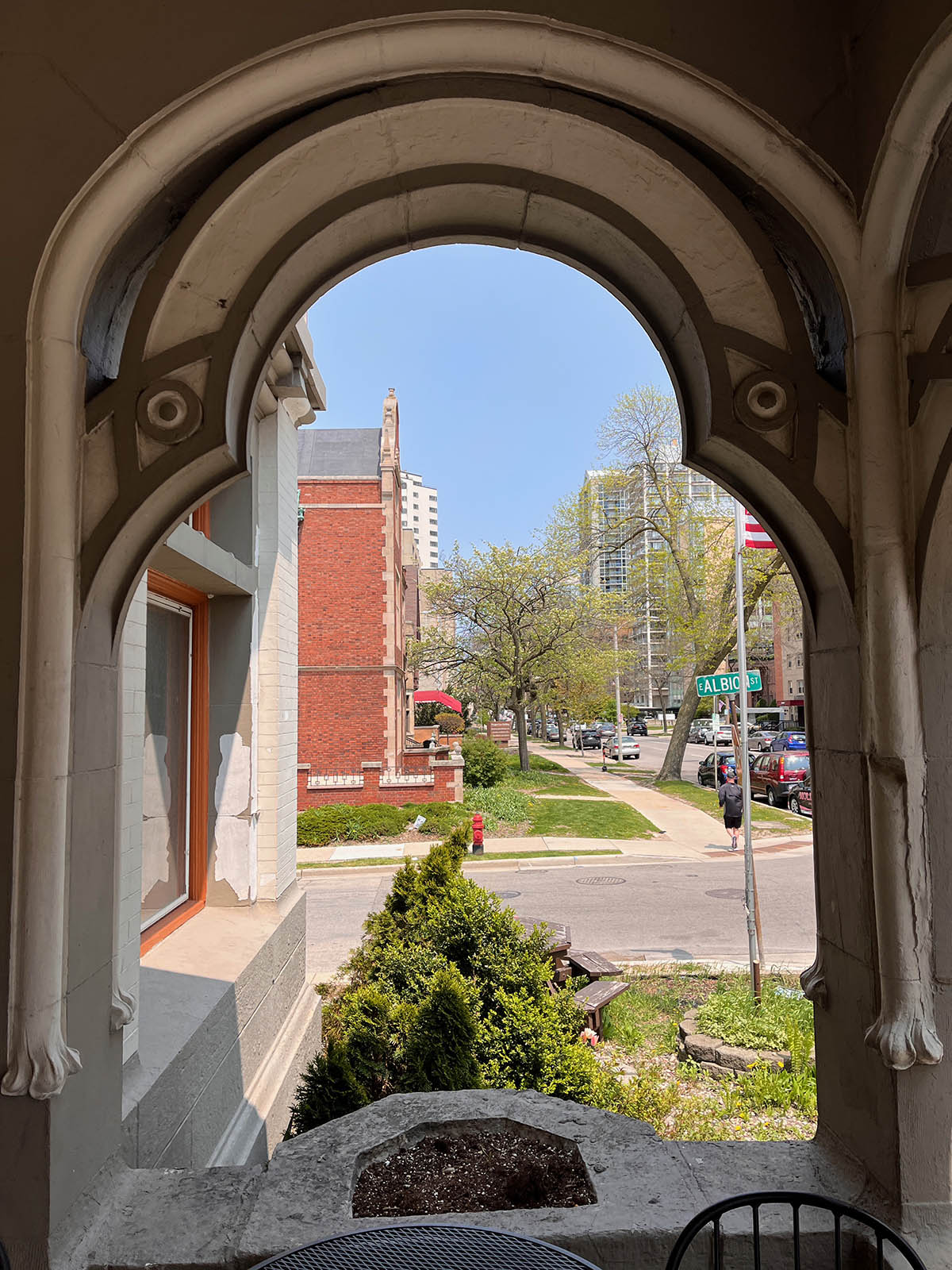 Living on the lower East Side, Kraus had amassed enough wealth by 1892 that he could make an offer of $80,000 on the vacant 1886 mansion that had been built for Elizabeth Plankinton but which she never occupied, near 15th and Wisconsin.
That deal didn't happen – perhaps because his offer was a low-ball based on the $100,000 asking price – and Kraus remained in his Prospect Avenue home (the second house off the southwest corner of Brady), which that year was valued at a measly $30,000.
By then, Kraus had married Martha Eiring and the couple had two daughters, Anella and Paula. A son Carl, who is buried with them at Forest Home Cemetery, and another child died in infancy.
As the decade (and indeed the century) came to a close, Kraus wanted a new home and he hired no less than Eugene Liebert, a well-respected local architect who had been in partnership with Herman P. Schnetzky.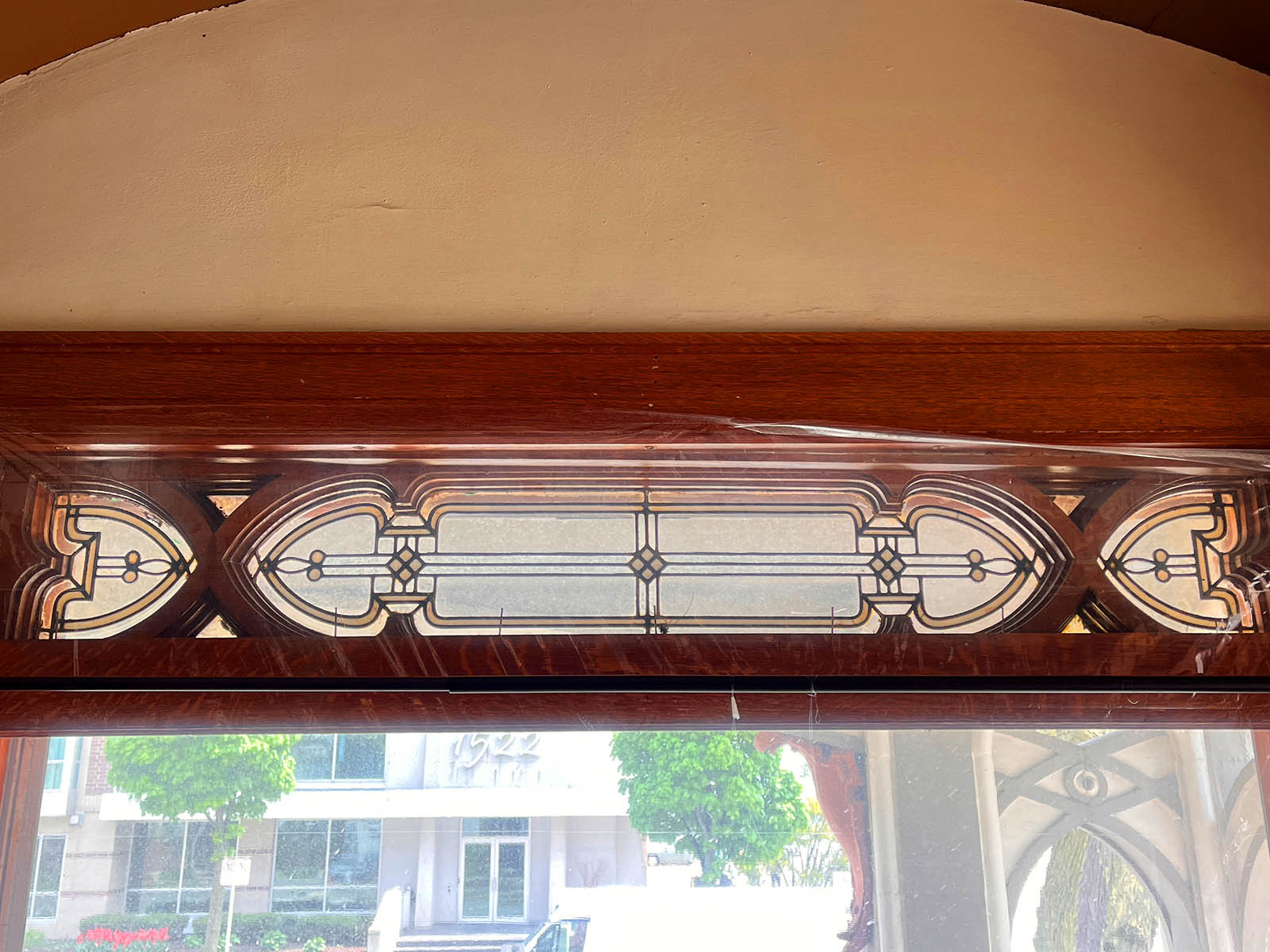 The two German-born architects met while working in the office of Henry C. Koch, and when Schnetzky struck out on his own, he hired Liebert in 1887 as a draftsman. The two became partners in 1891, parting ways in 1897.
Kraus' hiring of Liebert may have been due to familial ties. Liebert's mother, like Kraus' brother-in-law, was a Gallun.
(Interestingly, later, Kraus' daughter Paula would marry architect Armand Koch – son of Liebert's old boss Henry – who designed the Wells Building, Grace Lutheran Church, part of the former Boston Store complex Downtown and the Milwaukee Athletic Club.)
The professional relationship with Liebert predates the design of the house.
According to a notice in the Journal on Aug. 19, 1899, "Architect Liebert has drawn plans for a well-appointed saloon to be erected for Fred Kraus on South Water and Park Streets at a cost of $5,000."
The location was the site of Kraus' American Malting Company, suggesting he was providing a tavern for his workers.
By that time, in his mid-50s, Kraus' family was living on Prospect, between Knapp and Keene (now Curtis), just steps from the site of his future home. He was still active in business, being an investor in the new $5 million Canada National Railway and Transportation Co., based in Toronto, which aimed to create a lake and rail line between Great Lakes ports and Montreal.
On Dec. 6, 1902, Kraus pulled a permit to build a $25,000 residence on the corner of Prospect and Albion, and less than a year later, the home was nearly complete, according to an article with a photo in the Evening Wisconsin.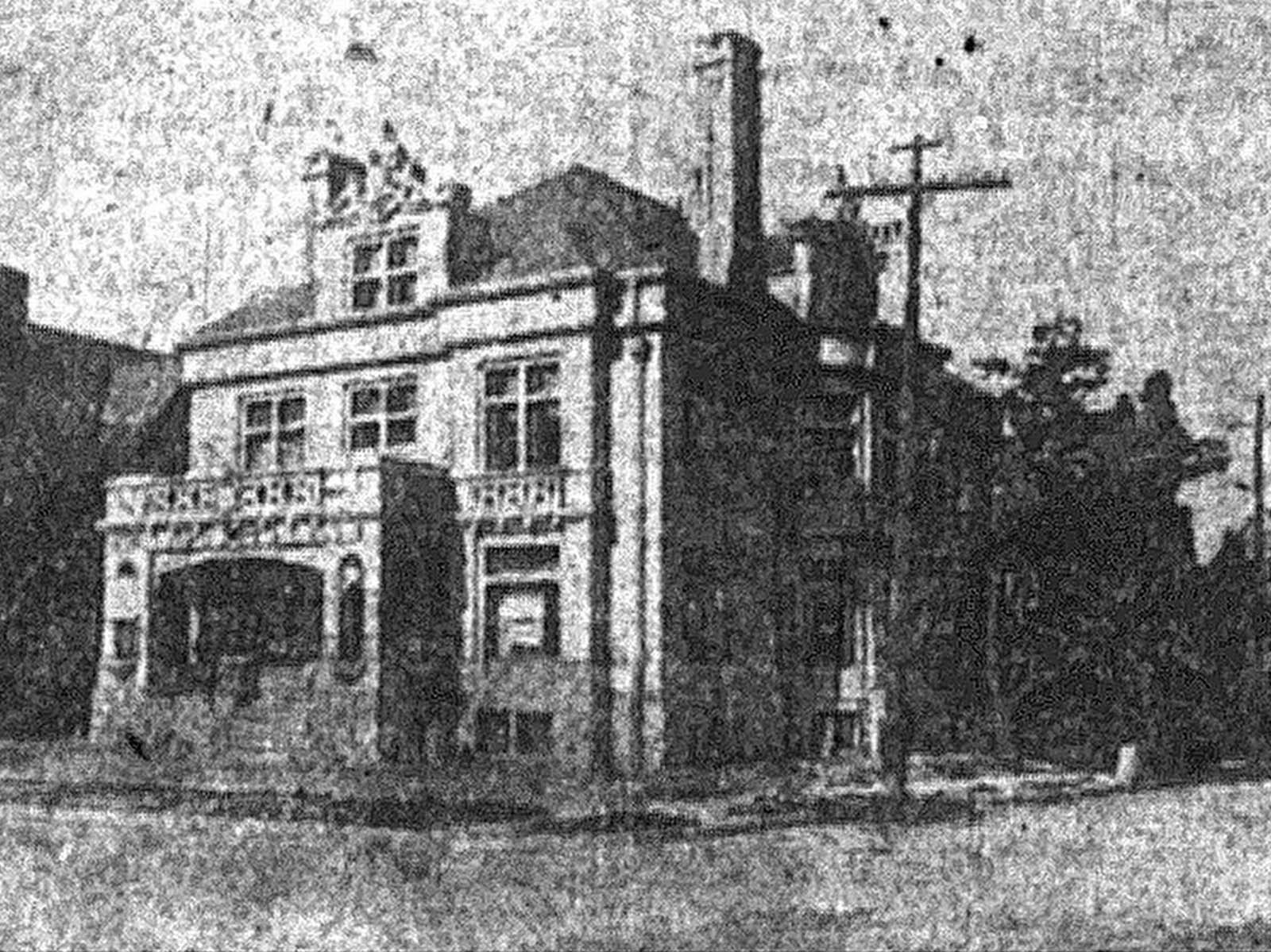 The brief article offered an in-depth description of the place and so is worth including here in its entirety:
"The residence being erected for Fred Kraus at the southwest corner of Prospect Avenue and Albion Street will have an exquisite arrangement of rooms which is, in a measure, suggested by the exterior. The apartments will be beautifully and tastefully decorated, the whole work of designing the residence and decorating being in the hands of architect E. R. Liebert. The house is built of buff colored St. Louis brick, trimmed with terra cotta of the same shade. The porch floor and roof are of concrete. The roof is of slate. The whole is according to the modern renaissance style.

"On the first floor there is a vestibule leading into a vaulted hall 30 feet long, off which open the parlor, reception room, music room and dining room. Sliding doors connect all of the rooms. The hall has a wainscoting eight feet high of quarter-sawed oak. The parlor and music room are finished in curly birch and the walls are to be hung with gold silk. The ceilings are to be richly decorated. The dining room is wainscoted eight feet high with mahogany. A frieze of green leather adds greatly to the finish of the room. A sideboard 10 feet wide with glass cabinets at either side is built into the wall. On the first floor there is also a butler's pantry and kitchen.

"The second floor is reached by a broad staircase. It has five bedrooms and two bathrooms. On the third floor there is a banquet hall, 30x40 feet, and two rooms for servants. There is also a bath and a cedar room. The house will cost, when finished, in the neighborhood of $30,000."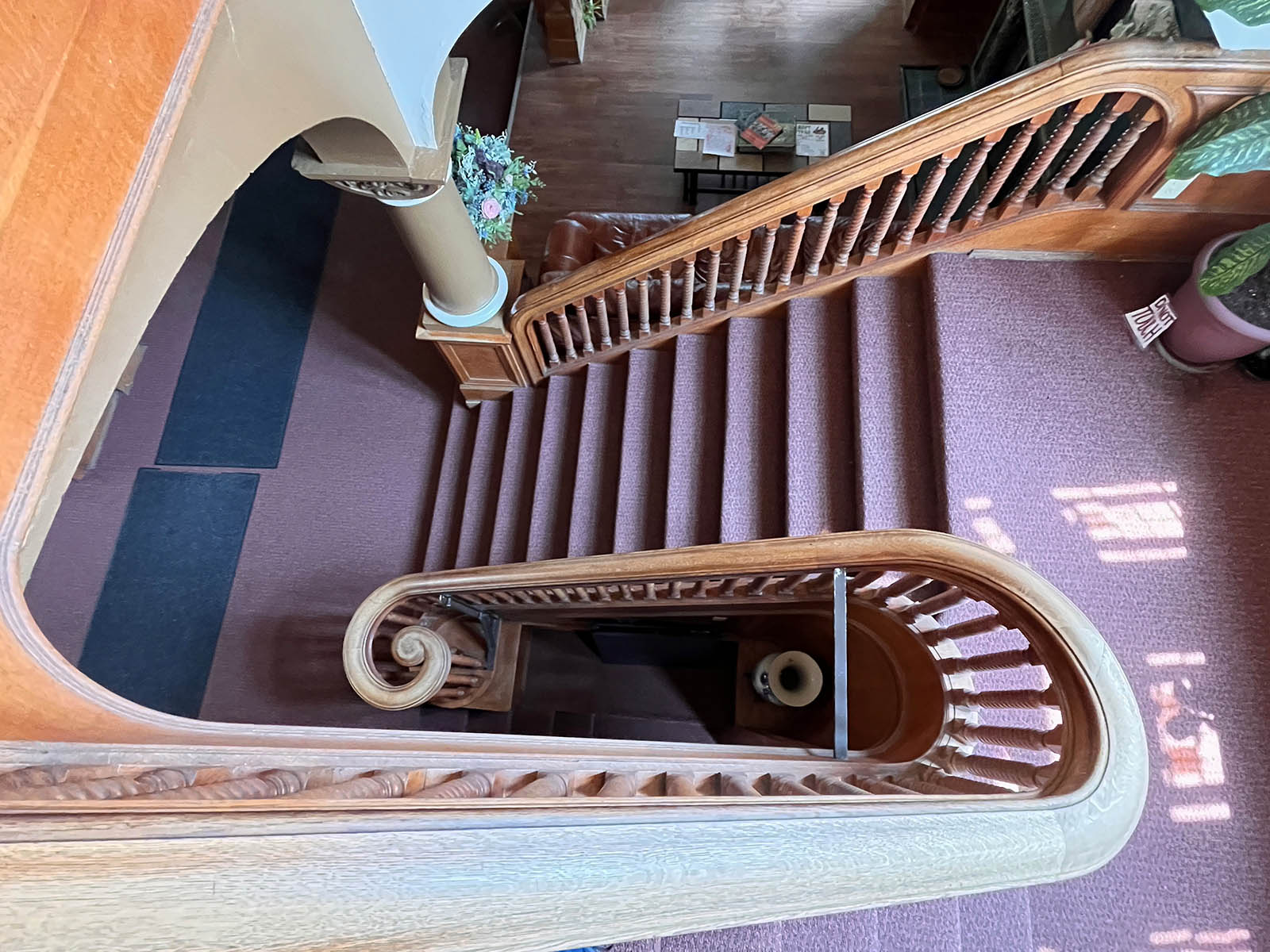 But, sadly, the very next day, the Journal reported that Kraus, then 59, was gravely ill, being cared for at his daughter Anella's house on Cambridge Avenue.
On Sept. 30, the Journal reported that, "Mr. Kraus has been seriously sick ever since the funeral of William Faist, the miller, a warm friend, who expired early in the year after a long illness. He acted as one of the pallbearers at the time and shortly after was himself confied to his home. His ailment is said to be Bright's Disease."
Kraus died at the Cambridge Avenue house, suggesting he never left it after falling ill, on Oct. 25.
Though the daily newspaper reported that Kraus was sick for about four months, having, "contracted the illness" at Faist's funeral, his death certificate cites the cause of death as prostate cancer, which he'd had for about a year.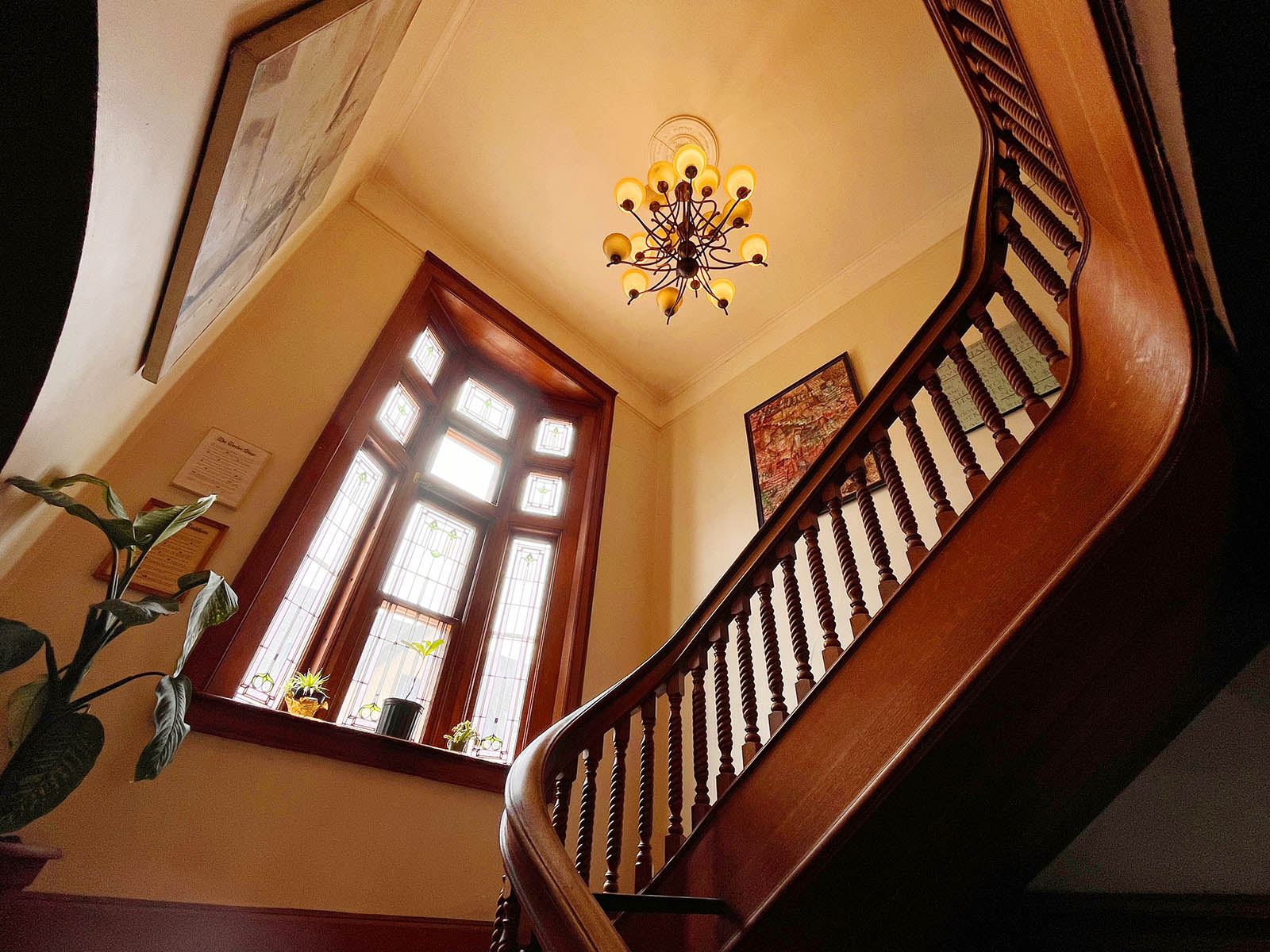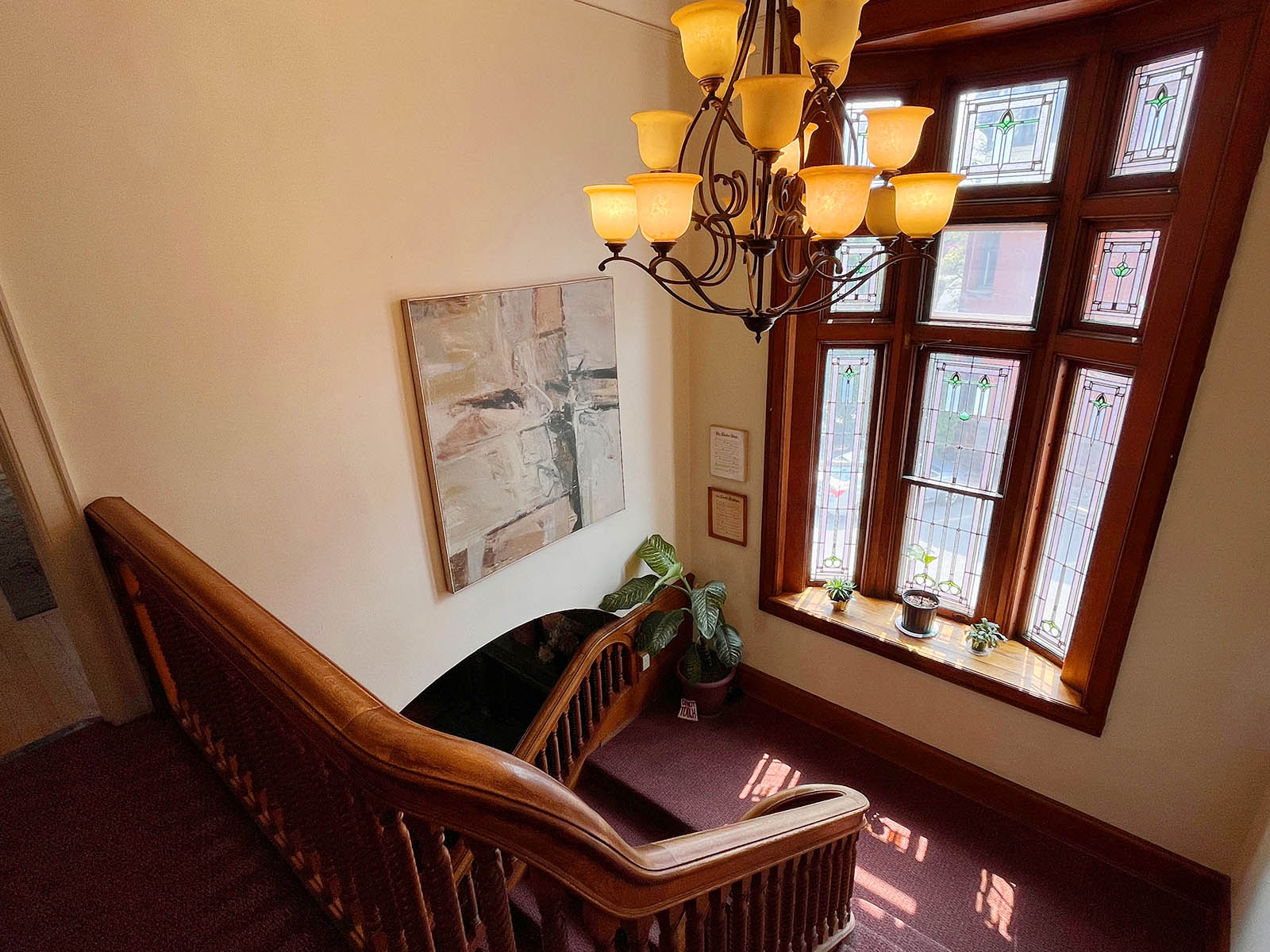 Though Kraus didn't get to enjoy his house, his family did move in.
In 1910, Martha and Paula lived there with a 25-year-old servant named August Schroeder.
In 1920, nearly two decades after Fred's death, his widow Martha lived there with their daughter Paula and her new husband Armand Koch, who had been married in New York City in 1911.
According to the Aug. 10 Milwaukee Sentinel, Kraus and her mother had just returned from, "an extended trip abroad this week and were joined in New York by Mr. Koch," whence the wedding took place.
By 1930, Paula had been dead for four years and Martha lived in the house alone, with two servants: 50-year-old Caroline Weisflow and 64-year-old Amelia Spaltner. But Martha would pass away in 1932 at age 88 and soon after the building had new occupants, if not quite yet a new owner.
In the 1930s, former Milwaukee County District Attorney John William Wegner – who had prosecuted the 1886 May Bay View Rolling Mills uprising cases – lived there with his wife and three daughters.
One of those daughters, Getrude DeMarth, ran a school of massage and hydrotherapy out of the address, too.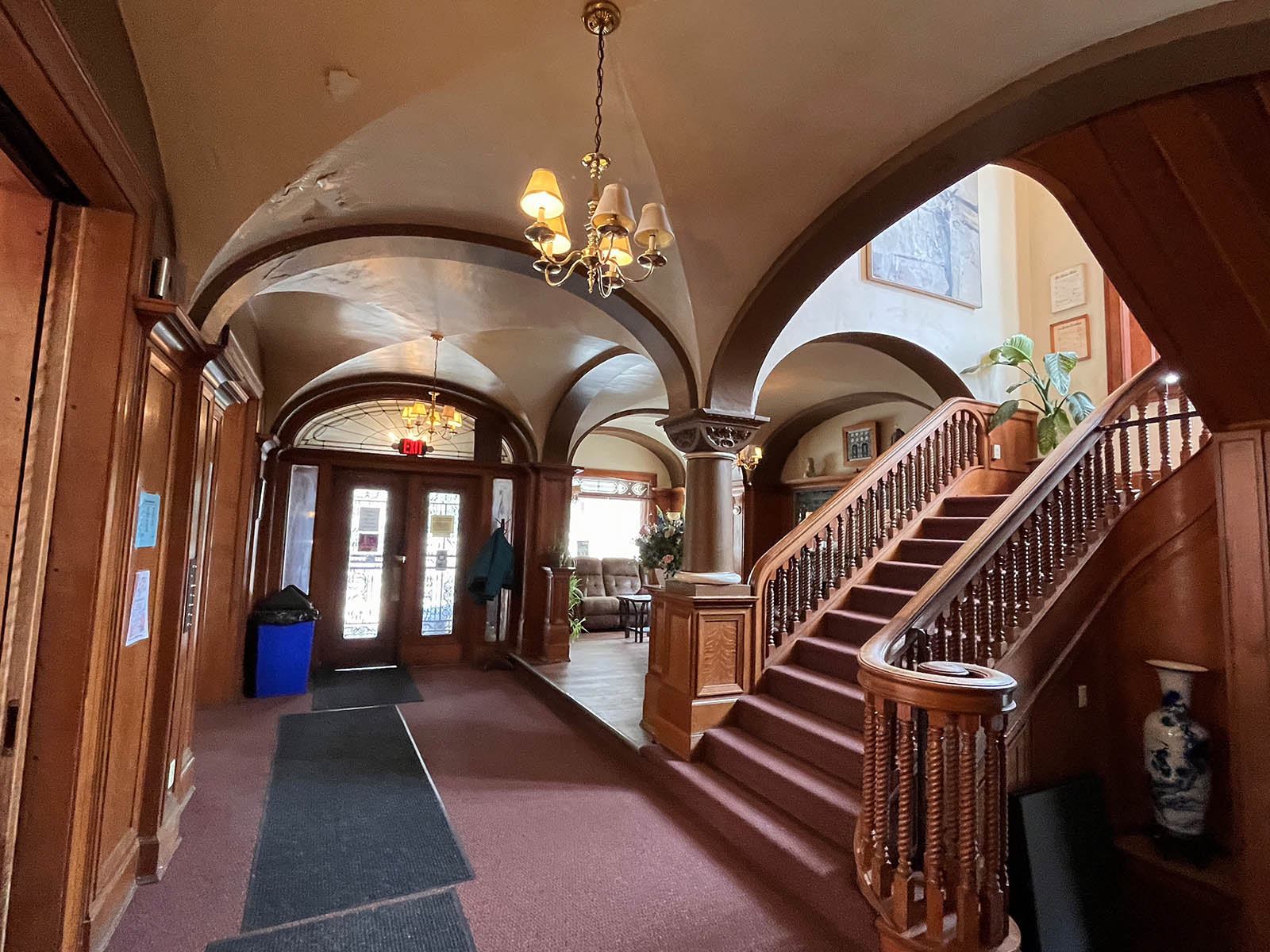 Wegner died there in 1935.
In 1936, Annetta sought permission to create a rooming house and the home seems to have served that purpose for a few years, as records show a number of folks came and went.
In 1936 Max Otto and Anna Schlick lived in the house, and the following year, "widely known Milwaukee accountant" John M. Paddock collapsed at home there and died a few hours later of a cerebral hemorrhage at St. Mary's Hospital.
In 1939, 18-year-old resident Warren Wieskoff, a recent German immigrant who got a suspended sentence for passing a streetcar on the wrong side. He told the court he was unfamilair with our traffic laws.
The same year, 1939, Amelia Mueller, a teacher at University School and the German-English Academy for nearly 50 years, died at home there.
For a brief period a restaurant operated in the home, too, indicated by a series of newspaper classified ads seeking waitresses and other staff, and by the fact that in August 1937, a city inspector warned that it was an illegal use and must be closed or legal action would ensue.
But, of course, the operators knew that already because in February, an application for a certificate of occupancy for a restaurant was denied due to the home's residential zoning.
But by 1940, the house's first and second floors had a new use, serving as the Prospect School of Commerce, which opened that September, offering accounting and business classes to men. The school's advisory board boasted Matthew Carpenter of Carpenter Baking, execs from AO Smith, Allis-Chalmers, Plankinton Packing Co. and others.
It was a male counterpart to the Prospect Hall secretarial school for girls – which occupied an 1896 Colonial Revival mansion just down the street at 1437 N. Prospect.
Within a couple years, with the United States embroiled in World War II, the school branched out and began teaching day and evening classes in blueprint reading, shop mathematics, handwriting analysis and machine parts inspection, presumably to boost the war effort.
While the owners claimed in a letter to the city that it was no longer a rooming house in 1940, there were still three tenants in the house that year. And it seems there were still rooms for rent there into the early '40s, when some folks – Charlotte Wiese, Russell C. Matthewson and others – still claimed the address as their own.
By 1944, however, the building had become home to the Milwaukee Academy of Music, which endured for the next six or so years, sharing the place with the Florence West Dance Studio
In March 1950, the building was listed for sale by realtor Walter Kassuba, who bought it from Anella to flip it. And he found a buyer quite quickly.
Less than two months after the first listings, the Journal reported that, "The building at 1521 now housing the Milwaukee Academy of Music and Allied Arts will be purchased soon by the Alano Club, a social group of member of Alcoholics Anonymous.
"The club voted Wednesday night to buy the building for $26,500. It now has offices on the third floor of a building at 1012 N. 3rd St. They are not large enough for the club's 350 members. The academy so far has not made any plans for new quarters."
A few days later, the paper added that the property sold for $90,000 and that there were no immediate plans to remodel.
In his book on Liebert, architectural historian H. Russell Zimmermann wrote that the house has, "a certain connection to (modern renaissance style), but here Liebert begins to venture into the Jugendstil, or Germany's version of Art Nouveau.
"This can be seen in the sinuous lines of the front dormer and the front porch arches. The tendril-like braces under a side balcony and the delicate wrought iron railing on the front porch underscore the style. But there is always a crispness and regimentation that separates the Germans from the fluidity seen in French and Belgian work."
Zimmermann added that in addition to the exterior, Liebert's hand could be seen in the interior detailing and decorating, too.
And, fortunately, much of that detailing survives.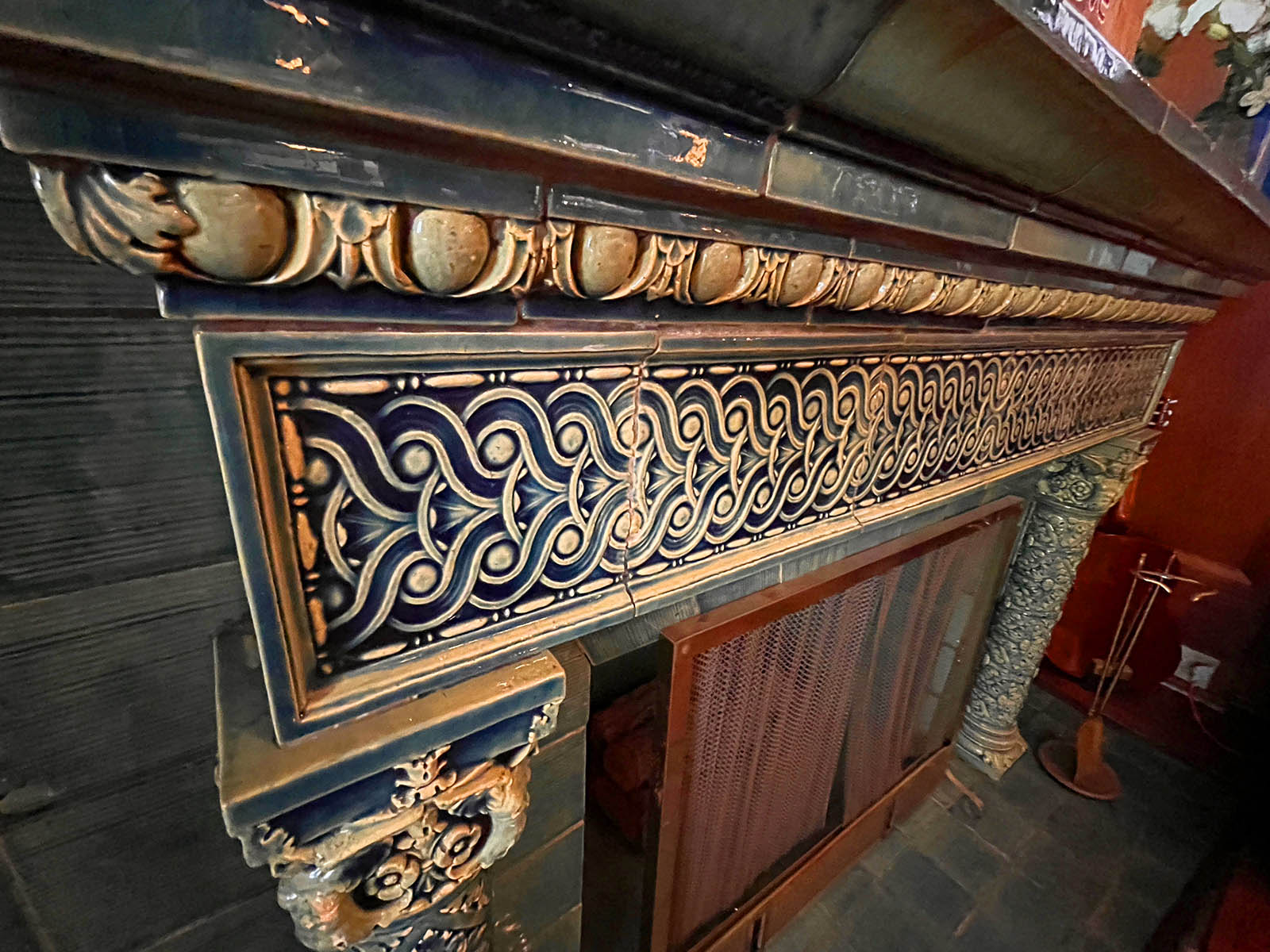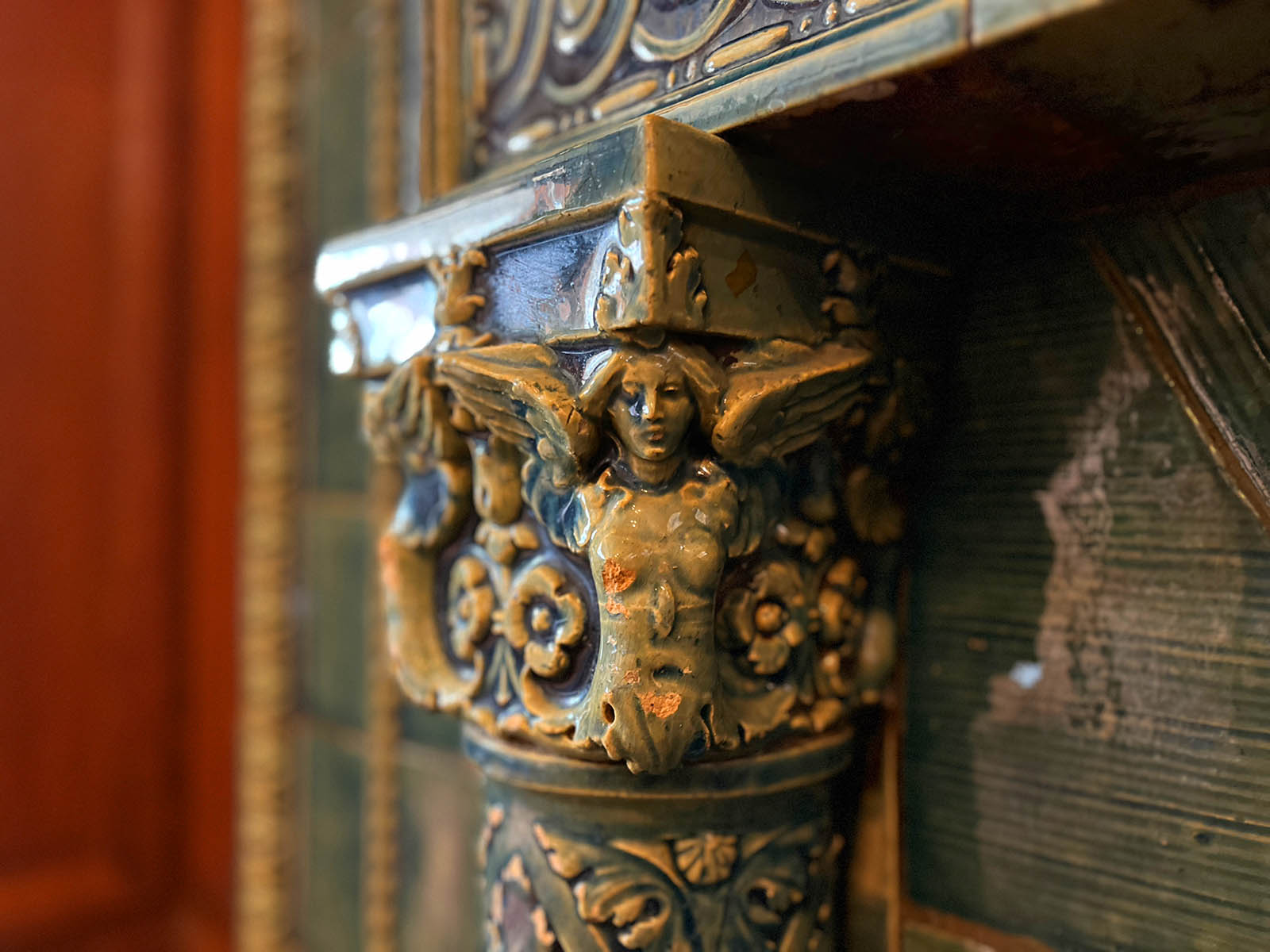 A look inside
Entering, one sees vaulted ceilings, that beautiful wainscoting described by the Evening Wisconsin, a gorgeous grand switchback staircase with turned balusters, leaded glass in the windows, a broad fan light above the door, a stout pillar supporting one of the meeting points of the ceiling arches and other fine details.
Illuminating the staircase from the landing level is a tall, nine-panel leaded glass window bay with colored glass highlights, executed in an almost Prairie Style. (I wouldn't be surprised to hear that they are the work of George Mann Niedecken, though I have not heard that.)
Straight ahead, just beyond where the staircase heads off to the left, is an apse with a center door flanked by arched alcoves.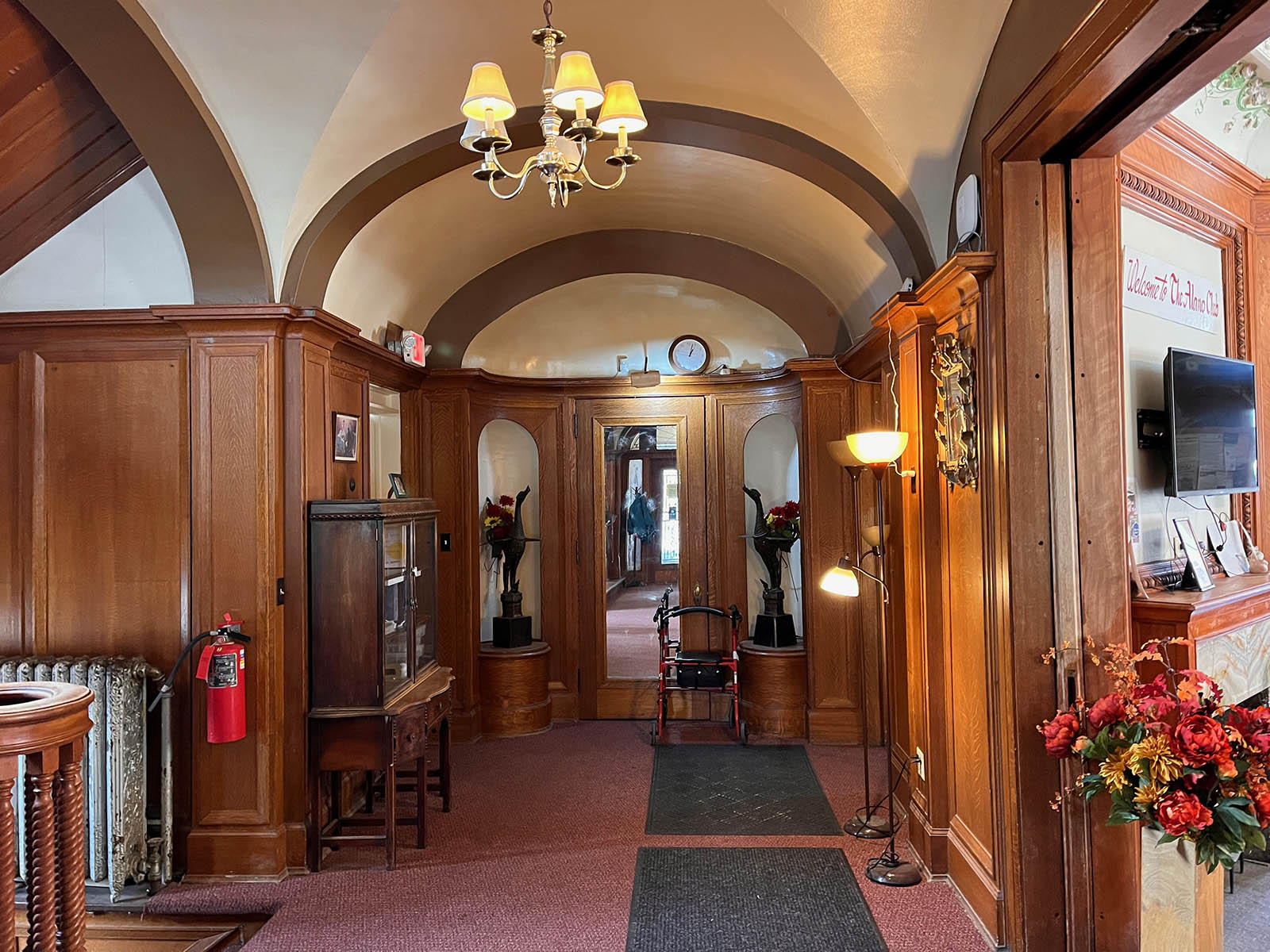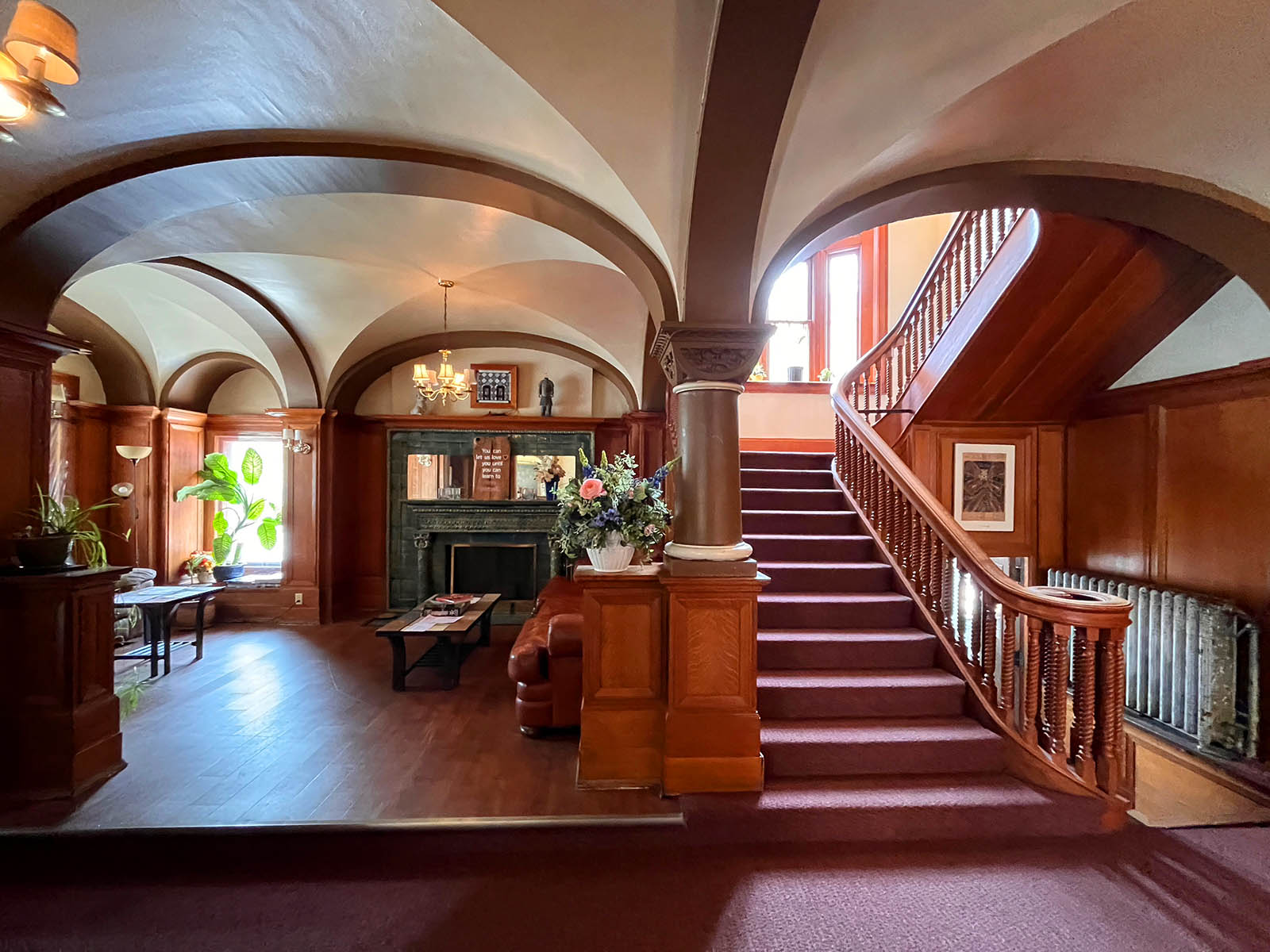 Right inside the main entrance, to the left is a raised sitting area with a stunning Jugendstil fireplace surround in green tile. On the right are a series of rooms, with fireplaces, crown moldings and woodwork, separated by pocket doors.
The former dining room has a large built-in on its south wall, providing the perfect spot for the Alano Club coffee shop.
Upstairs are the bedrooms, one of which, at the front, has a lovely bay window and a slightly elevated space in the bay that almost feels like a small stage.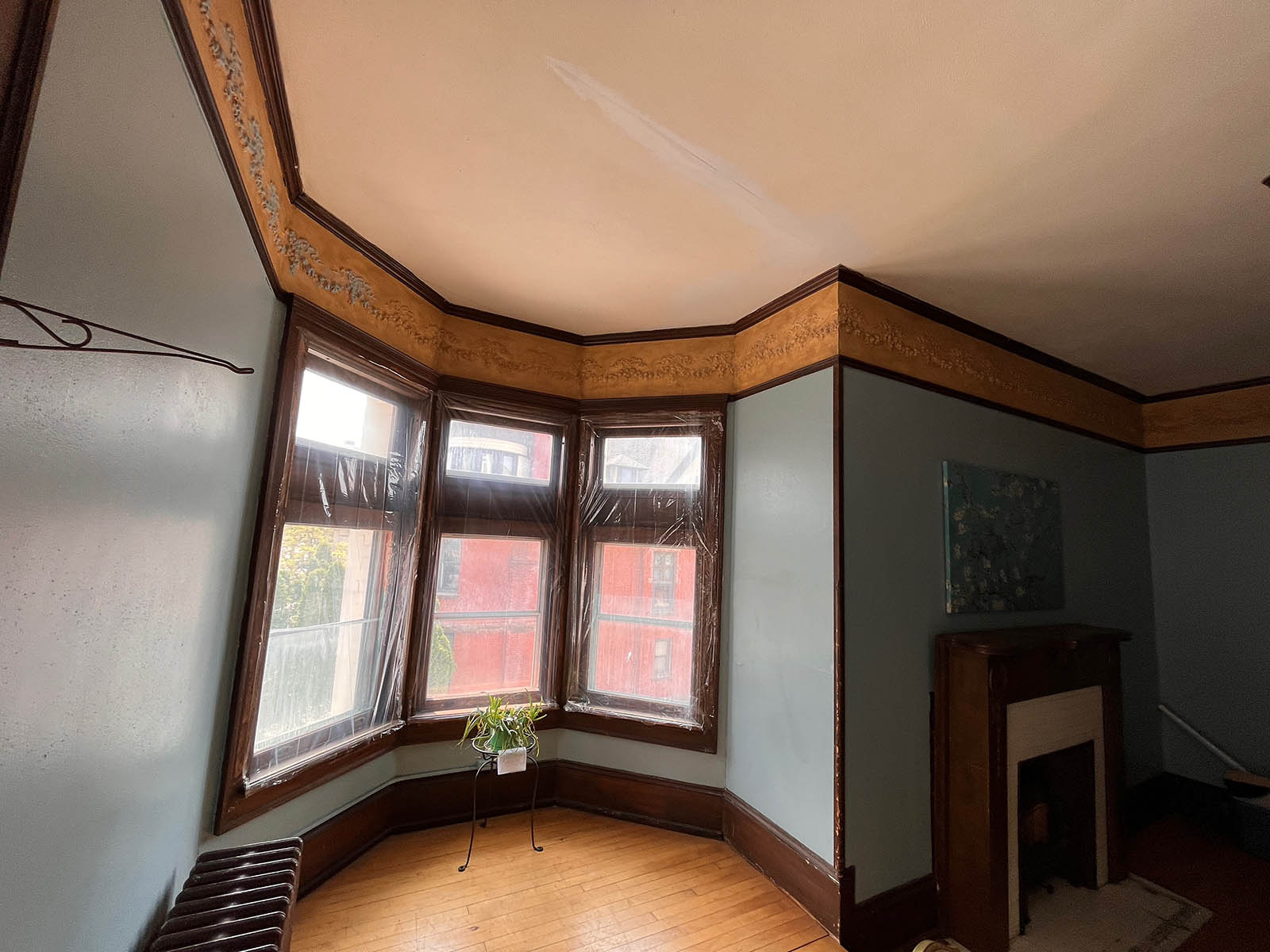 In another, leaning against a wall, there's a copy of Francisco de Zurbarán's haunting portrait of a hooded St. Francis, the original of whi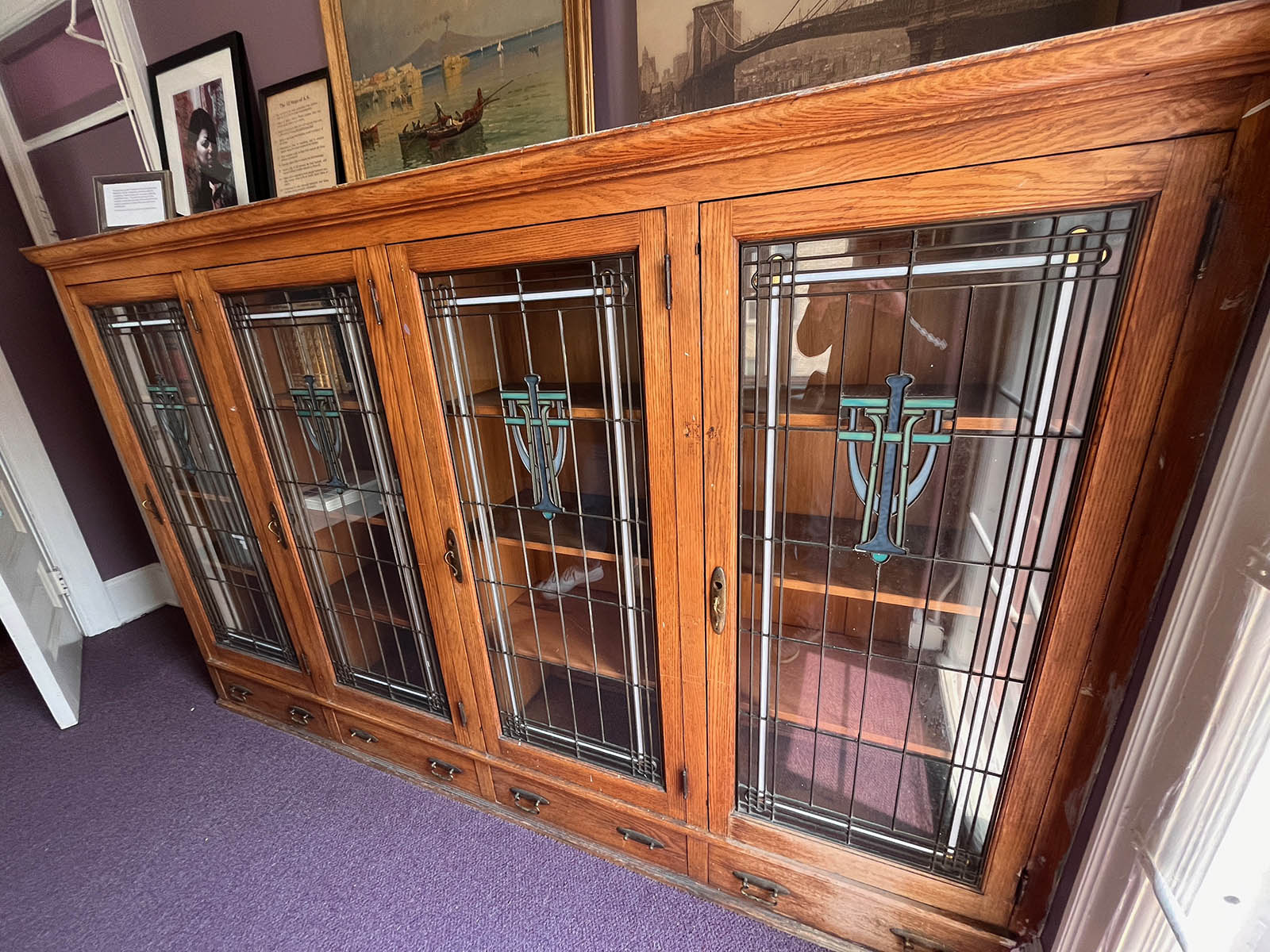 t Milwaukee Art Museum.
Out in the hallway is a built-in cupboard at the end with an adjacent dumb waiter, and off that is a bedroom that has a stunning built-in with leaded glass doors in a style similar to the windows on the staircase landing.
This room also has a cupboard in the wall with an arched opening with double-doors.
The rooms here have fireplaces and transom windows.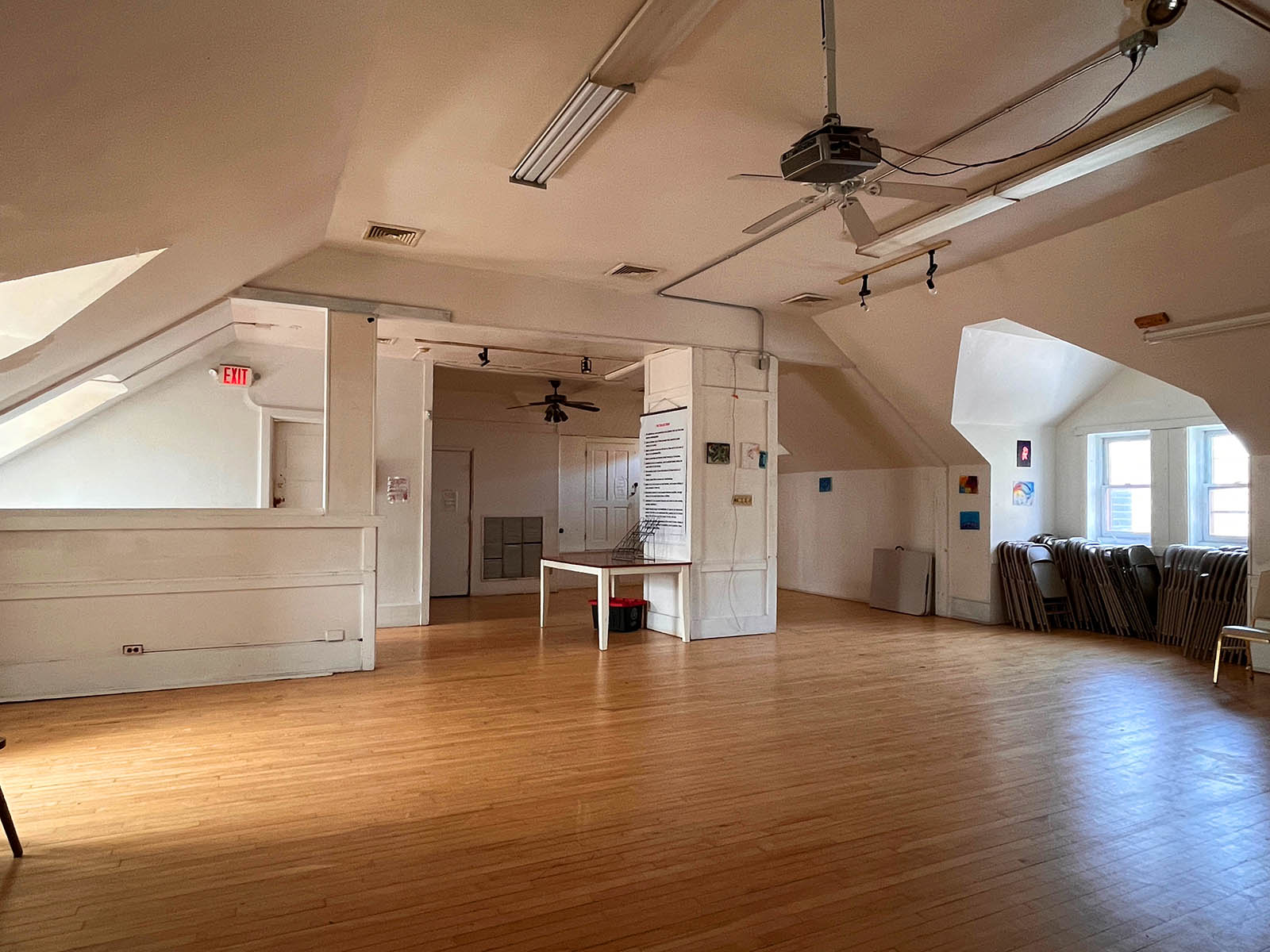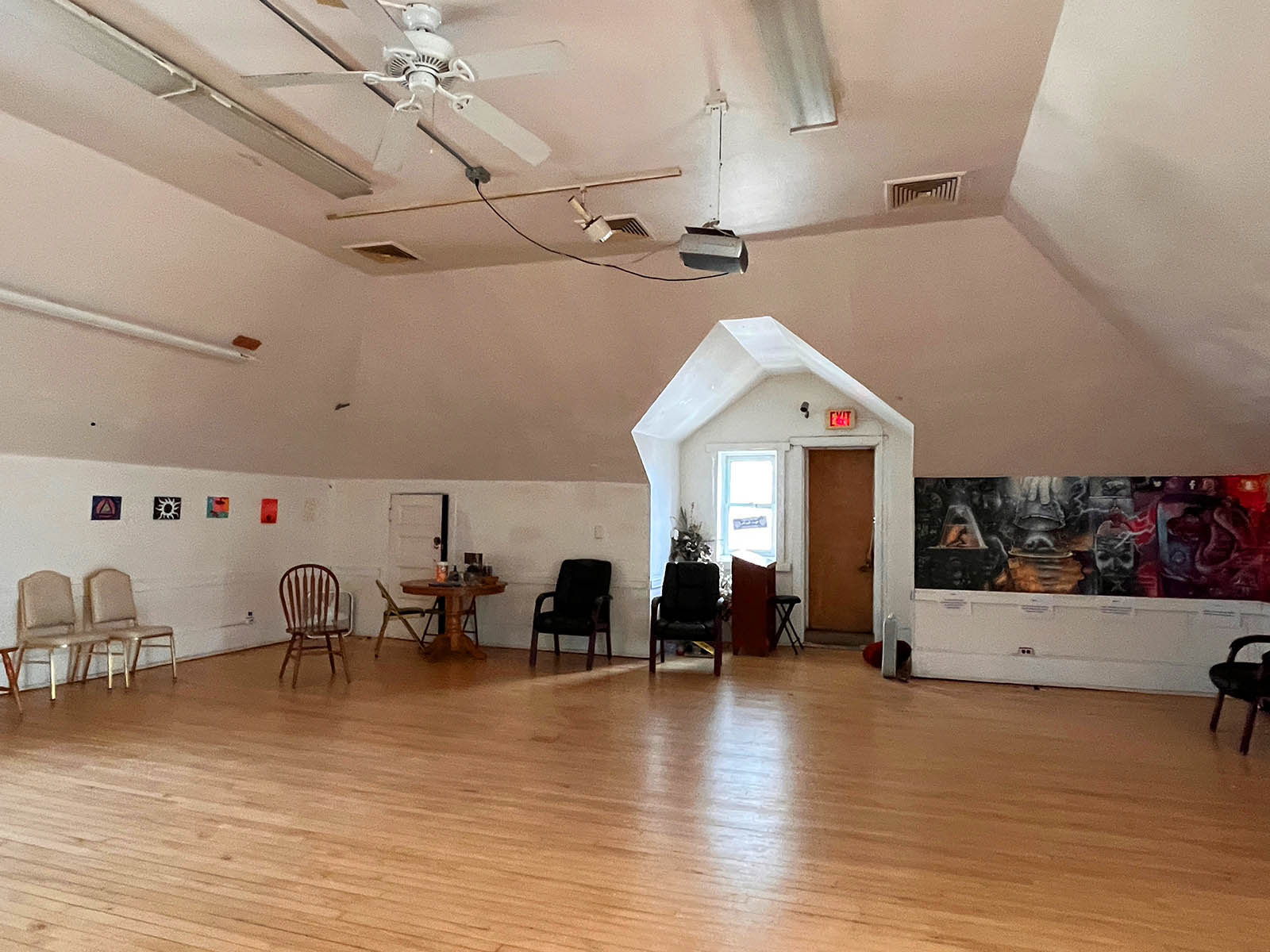 Up a narrow staircase is the third floor ballroom which, as is typically the case, seems much bigger than you'd expect from looking at the exterior of the building. A number of small doors around the ballroom open to storage spaces.
Dormers admit copious light and there's a fine hardwood floor. One has to guess that the 1940s dance studio occupied this space.
In one corner, there's an evocative L-shaped mural painted by artist JBird that depicts the 12 steps to recovery in a very colorful way.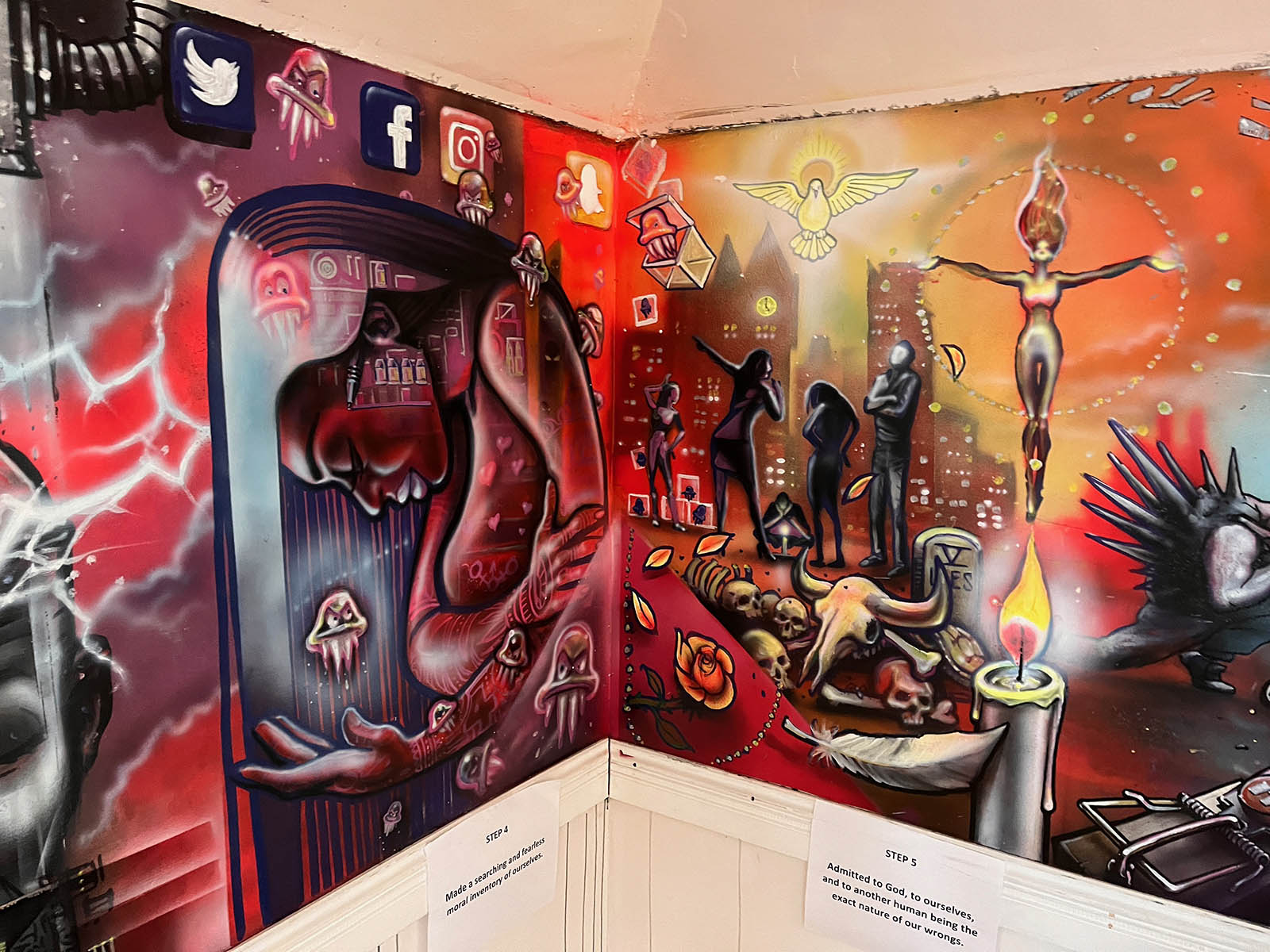 "We all communicate in different ways on different levels, and sometimes you need to have it drawn out for you," says Dave F.
"(JBird) is a friend of the club and he has been for so many years," says Dave F. "He wanted to do a little service work. So we said, 'Here, take a piece of the wall'."
When I arrived for my visit with my Radio Milwaukee partner Nate Imig, a man enjoying the sunshine on the porch named the mural as the one thing I really needed to see inside. His pride was well justified.
Born in Brooklyn, N.Y., where he lived until he was 17, Bobby received his BA-Mass Communications from UWM in 1989 and has lived in Walker's Point, Bay View, Enderis Park, South Milwaukee and on the East Side.
He has published three non-fiction books in Italy – including one about an event in Milwaukee history, which was published in the U.S. in autumn 2010. Four more books, all about Milwaukee, have been published by The History Press.
With his most recent band, The Yell Leaders, Bobby released four LPs and had a songs featured in episodes of TV's "Party of Five" and "Dawson's Creek," and films in Japan, South America and the U.S. The Yell Leaders were named the best unsigned band in their region by VH-1 as part of its Rock Across America 1998 Tour. Most recently, the band contributed tracks to a UK vinyl/CD tribute to the Redskins and collaborated on a track with Italian novelist Enrico Remmert.
He's produced three installments of the "OMCD" series of local music compilations for OnMilwaukee.com and in 2007 produced a CD of Italian music and poetry.
In 2005, he was awarded the City of Asti's (Italy) Journalism Prize for his work focusing on that area. He has also won awards from the Milwaukee Press Club.
He can be heard weekly on 88Nine Radio Milwaukee talking about his "Urban Spelunking" series of stories.