Years ago, in writing a story on the former Judge Jason Downer mansion, 1201 N. Prospect Ave., I touched on the foundations – literally – of All Saints Cathedral, which has stood at 818 E. Juneau Ave. since the late 1860s.
So, it only seems right that after all this time I follow up with a story on the congregation's Edward Townsend Mix-designed church. And what better time than while All Saints is celebrating its 150th anniversary?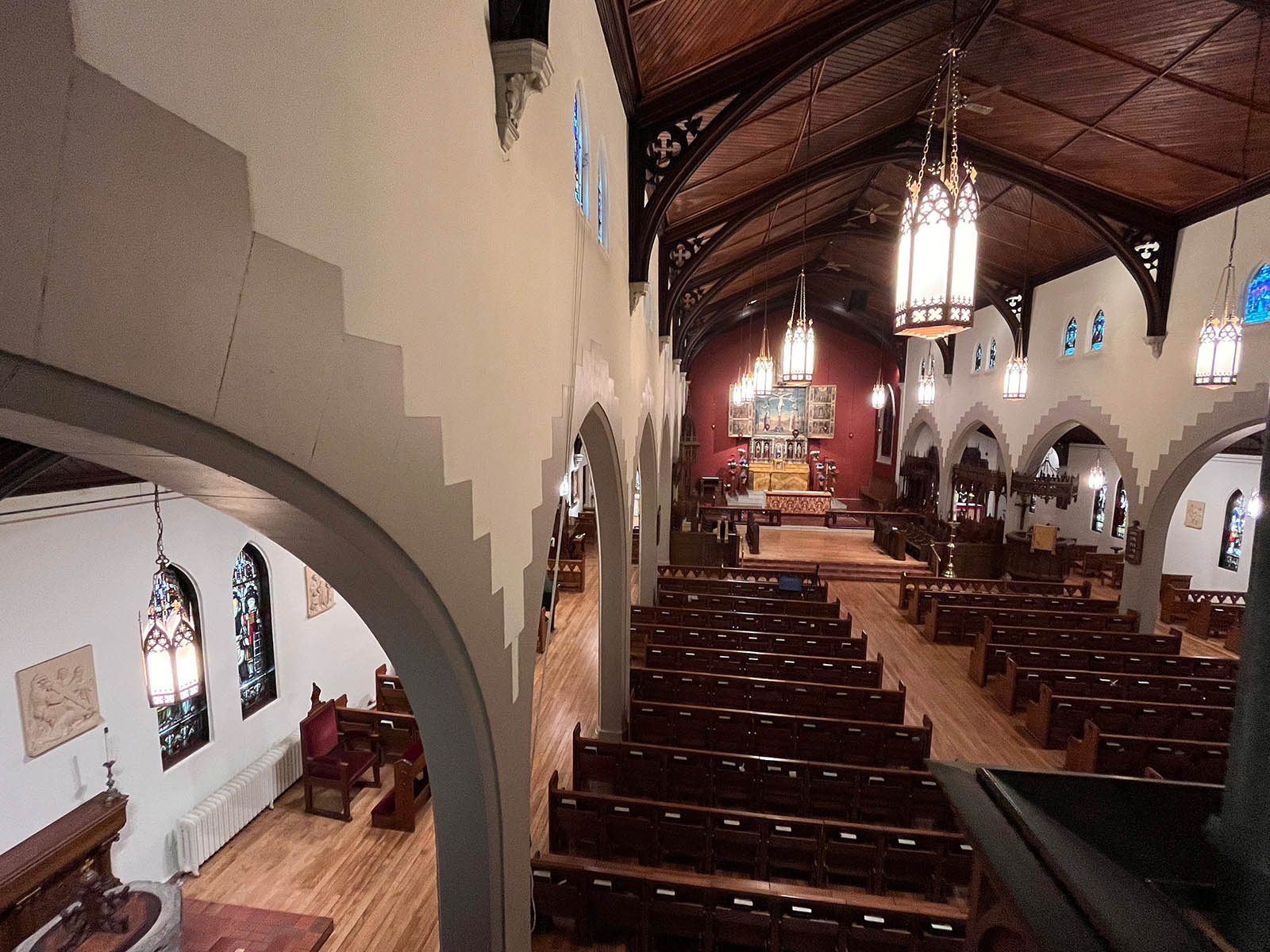 For a quick recap, from that article linked above, the story begins with The Free Church of Atonement mission founded in 1857 by the Right Rev. Jackson Kemper, according to Father Kevin Carroll, dean and rector at All Saints Cathedral.
The congregation worshipped in a wooden church on Jackson Street and for more than a decade, Kemper worked toward establishing a cathedral, which would be one of the first in the American Episcopal Church. Land was purchased on Prospect and Juneau and a cornerstone was laid.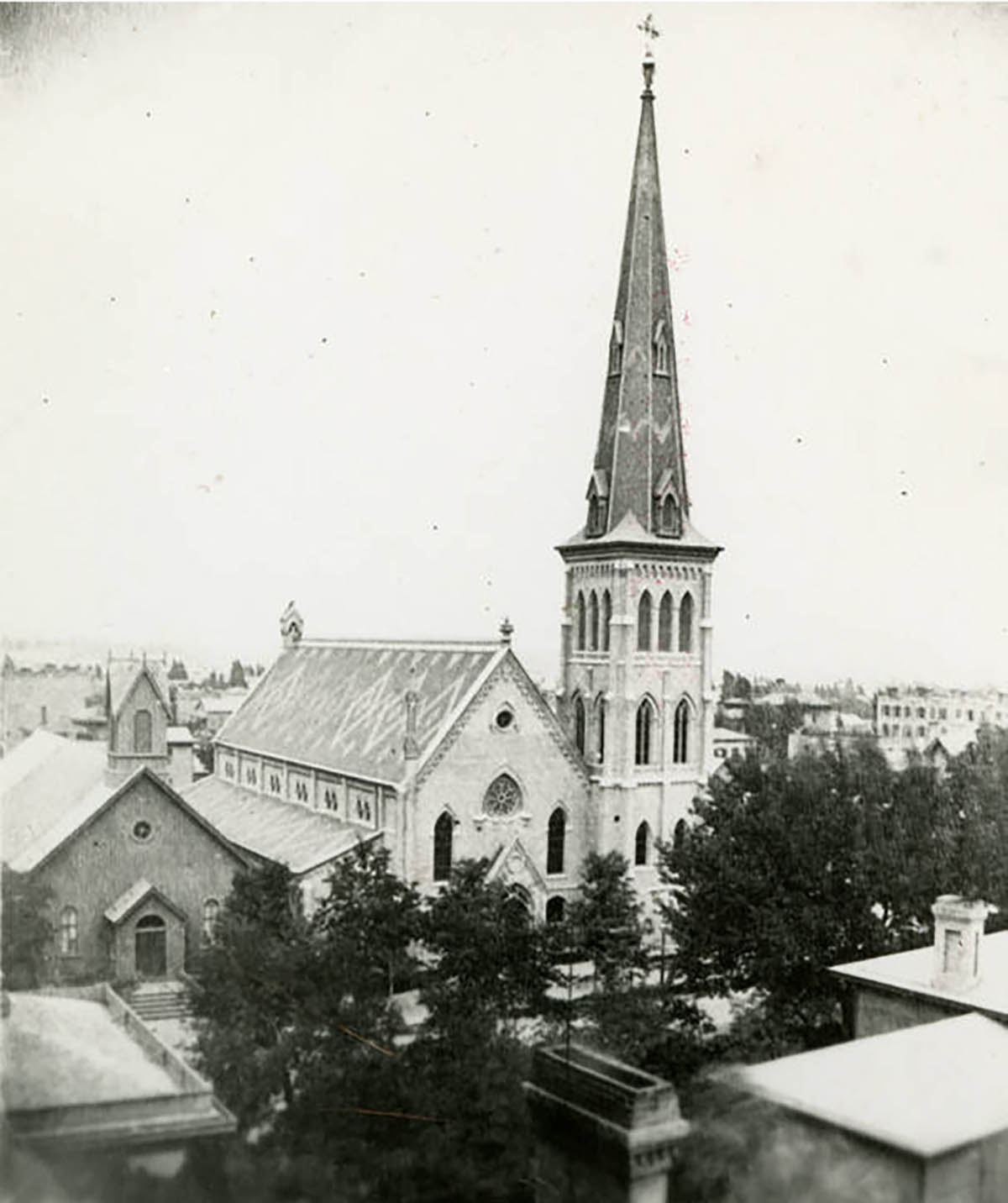 But there was no money and project was abandoned. The land was sold to Downer, who built his mansion and in 1871 the church bought some land on Juneau and Cass and moved its wooden church there.
That same year, Olivet Congregational Church was moved to sell its new cream city brick church and All Saints, whose wooden church stood right next door, jumped at the opportunity, and moved in in 1873, remaining there ever since.
You can read more in-depth about the mansion and its connection to the church here.
The complex
There are three buildings in the All Saints complex, which is designated as a historic district by the City of Milwaukee. They form a U-shape around a central green that is where the old wooden church stood. The green is a unique respite in a largely densely developed neighborhood.
The church, as we've noted was designed by Mix, who also designed Downer's mansion up the street on the old cornerstone, and who had his own house between the two.
The church was built by Jacob Blum with mason John Bentley and has a soaring spire that rises nearly 200 feet above the sidewalk.
The design is based on old Medieval English parish churches – a perfect fit for an Episcopal church, which is linked to the Church of England.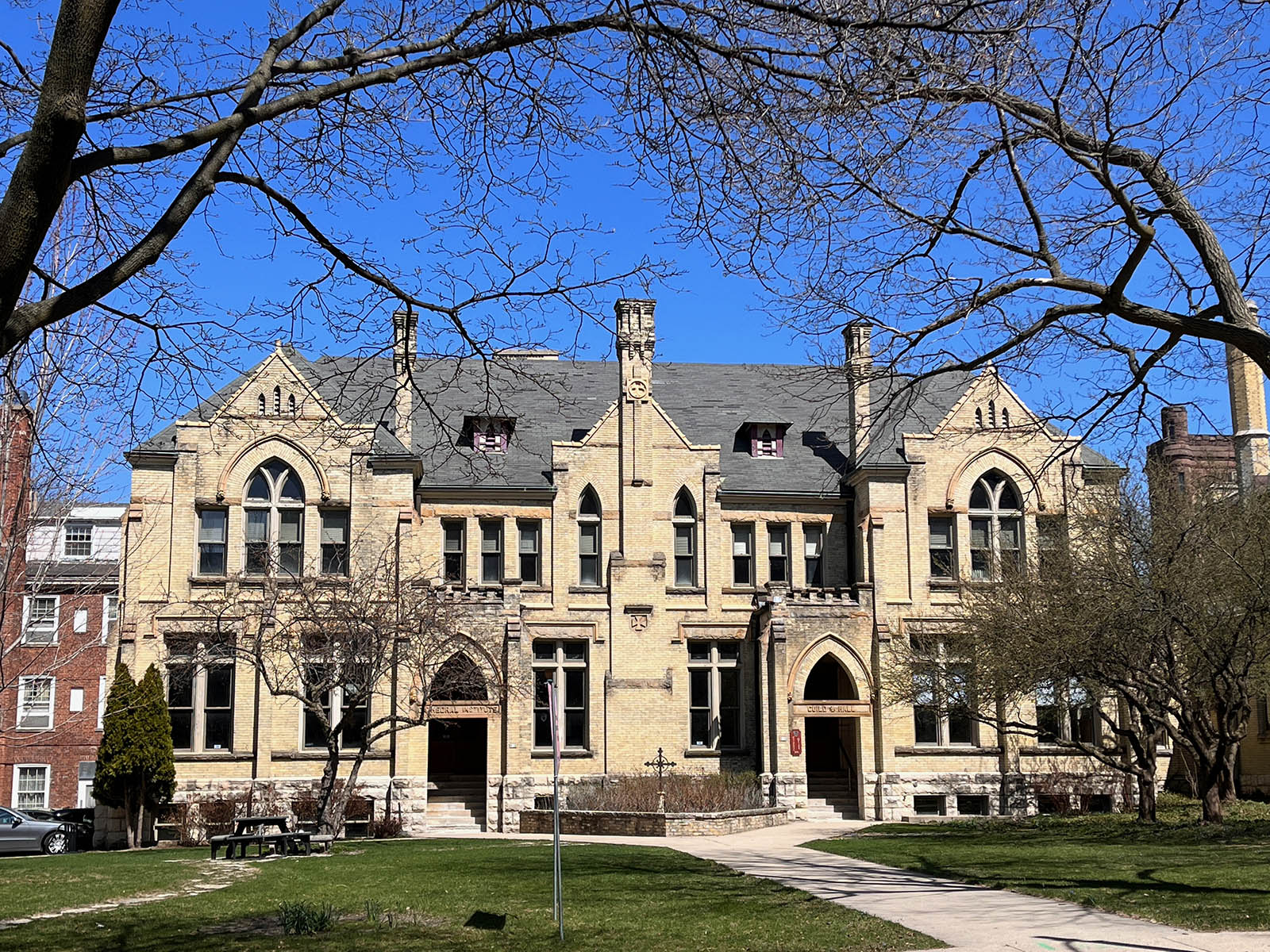 Next door, at the bottom of the U is the Guild Hall, designed by William D. Kimball, and built by Patrick Dunn. It housed the church's meeting hall and offices – and still does – as well as a school called the Cathedral Institute that has long since vacated the premises. According to sexton John Semon, the upper floor was, for a time, a residence for nuns.
On the corner of Cass and Juneau, completing the U, is what is called the Bishop's House (also known as Nicholson House), which was drawn by architects Kirchhoff and Rose and constructed in 1902-3.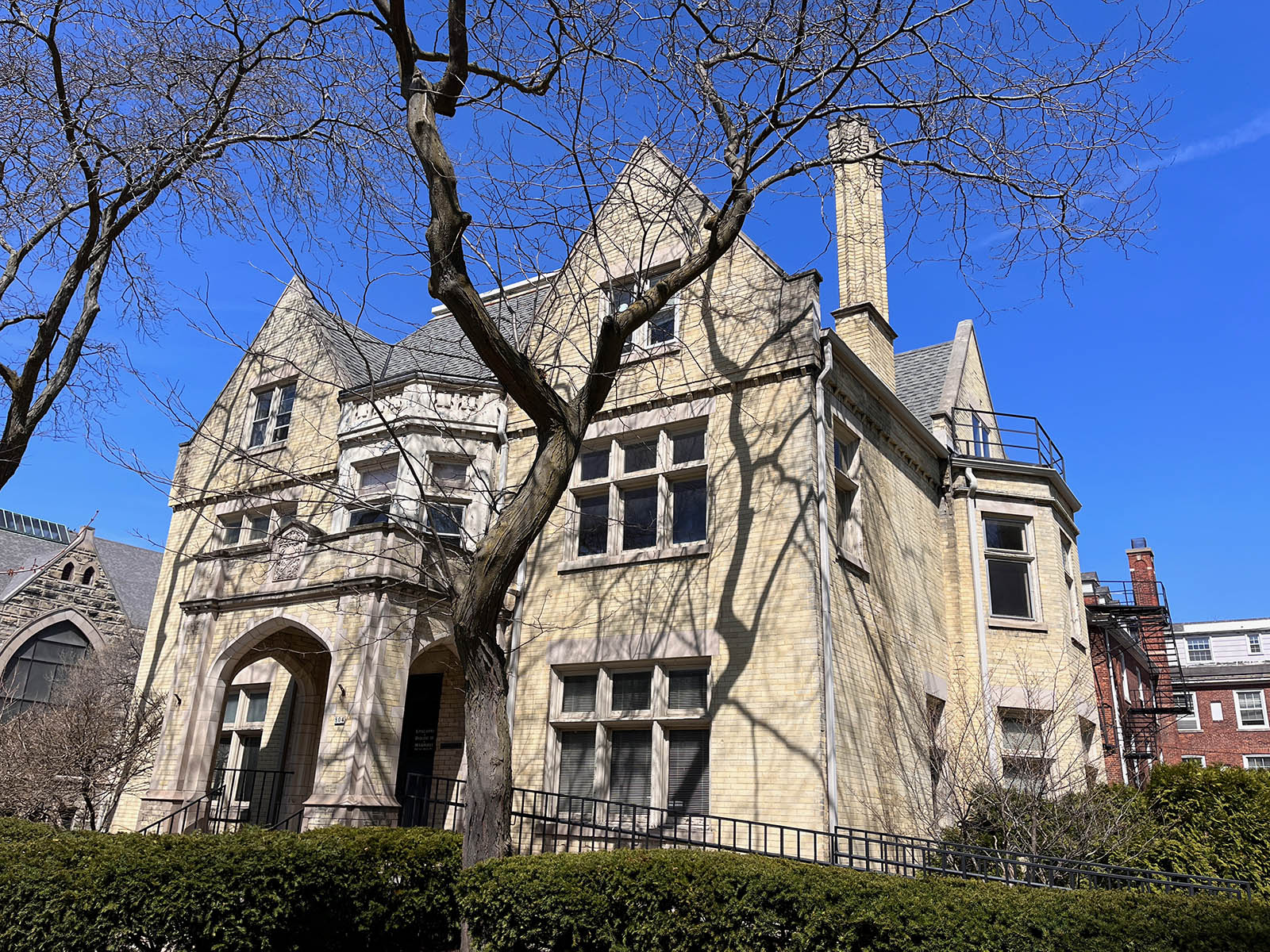 It is a Jacobean-inspired gem of a house that isn't technically part of the church complex, according to Semon, being occupied instead by the offices of the regional Episcopal Church.
On the outside, these buildings haven't changed much over the decades, except to be cleaned, which has rendered them quite a sight to behold, glorious in their cream city yellow.
The church has seen some changes over the years on the interior, however.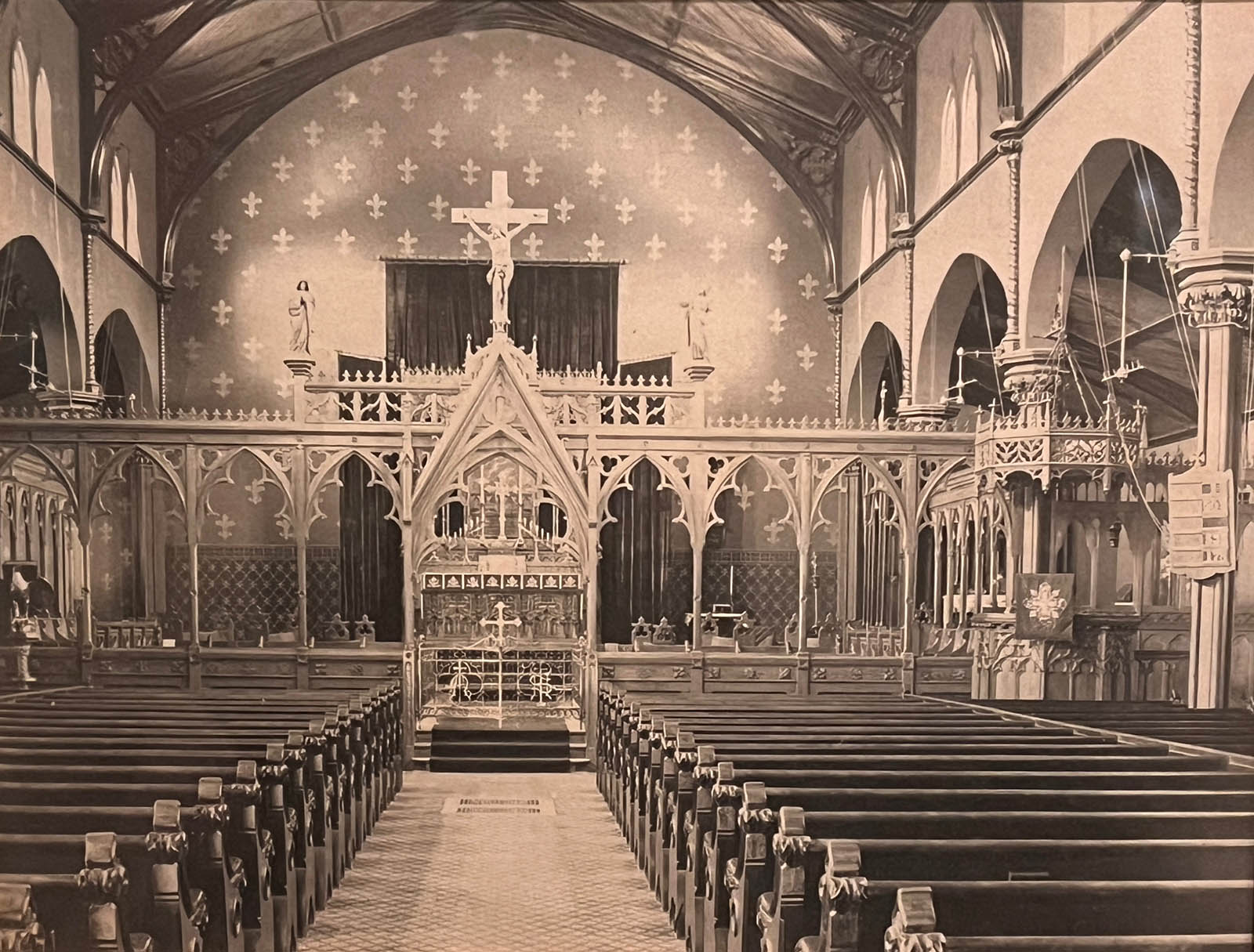 For example, the rear wall of the altar was moved back 14 feet to enlarge the sanctuary in 1908 and was lengthened again in 1944 by swallowing up some of the chancel area.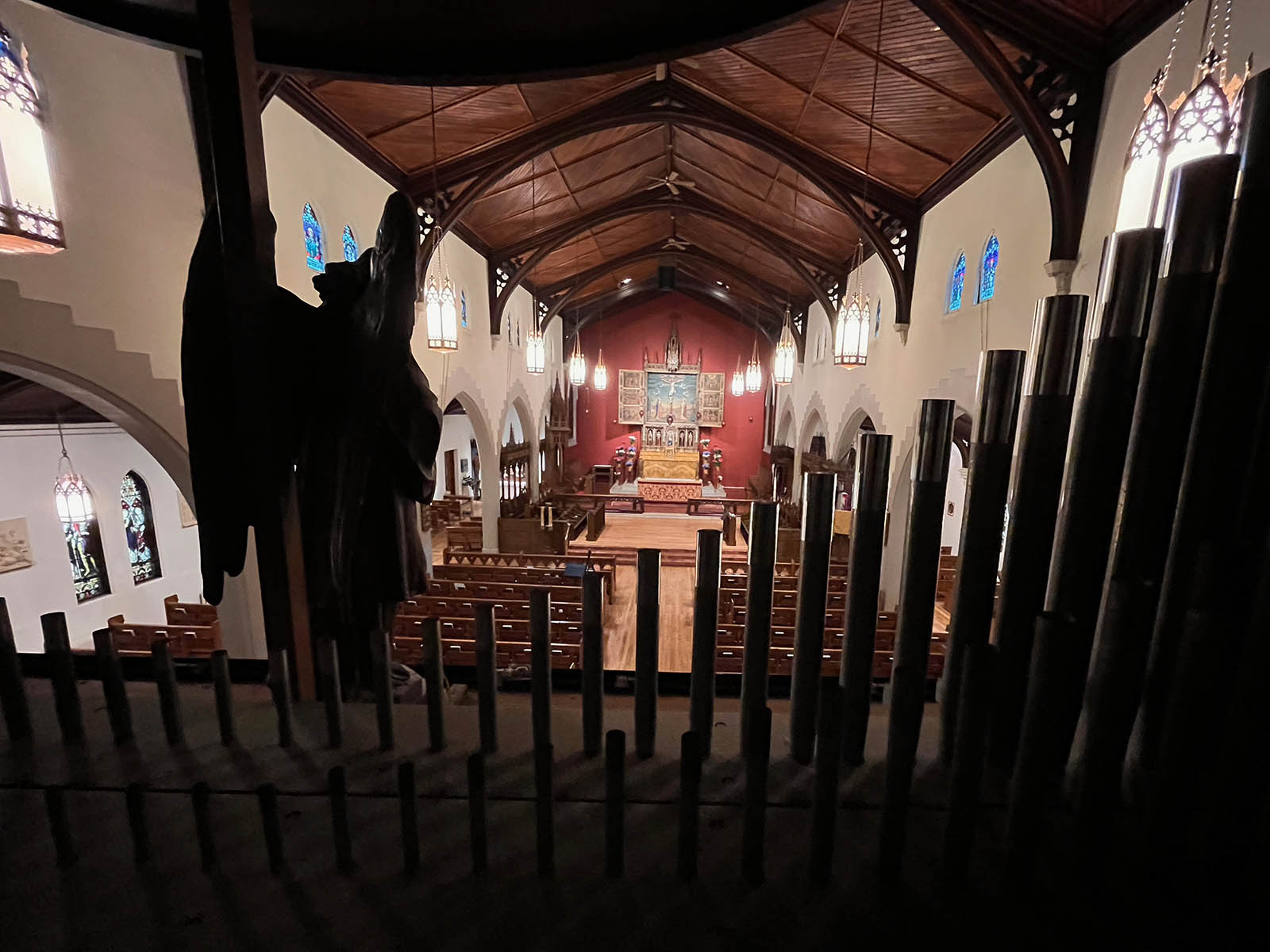 A wooden altar screen was removed and over time, a number of organs have been used in the space. The current organ is ever-growing and in fine shape thanks to the efforts of the church's dedicated organist. Lee Erickson.
There's quite a bit to say about the windows, and if you're interested, you should visit. The church has a booklet that goes into detail about their subject matter, manufacture and installation, which is a bit lengthy to dive into here.
A look behind the scenes
The church is a lovely one and in a refreshing contrast to many area churches I've visited – where financial challenges have had a visible impact on historic sacred structures – it is in good condition.
When I visited, Semon gave me a behind the scenes tour.
First, we made a beeline for the tower.
Up an easy flight of stairs, we were in the level just above the entrance. You can identify the space from the outside as being the first level with two Gothic pointed windows.
To get to the next level, one needs to scale a wooden ladder, likely fabricated on site, that I'd estimate rises perhaps 15-20 feet. I've been notified in advance that we would not be climbing it up to the bells on the next level.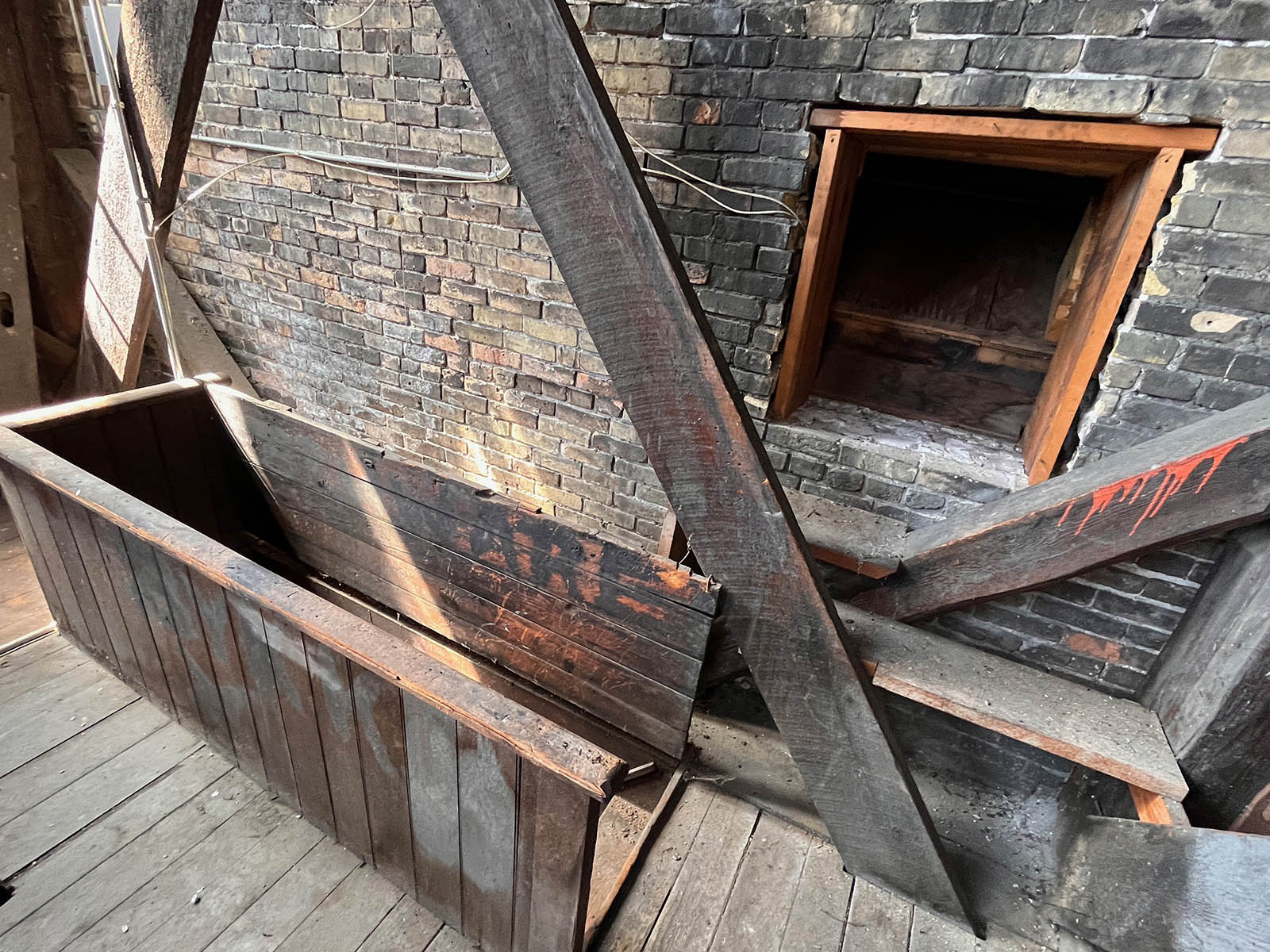 While I wouldn't have minded going up, I have a feeling I'd have had to steel myself for coming back down.
Above that is yet another ladder reaching the level with the three windows on each side. Then, there's a much narrower space, with a might tighter and likely more vertical ladder that leads up to a hatch almost near the peak.
I didn't see those for myself.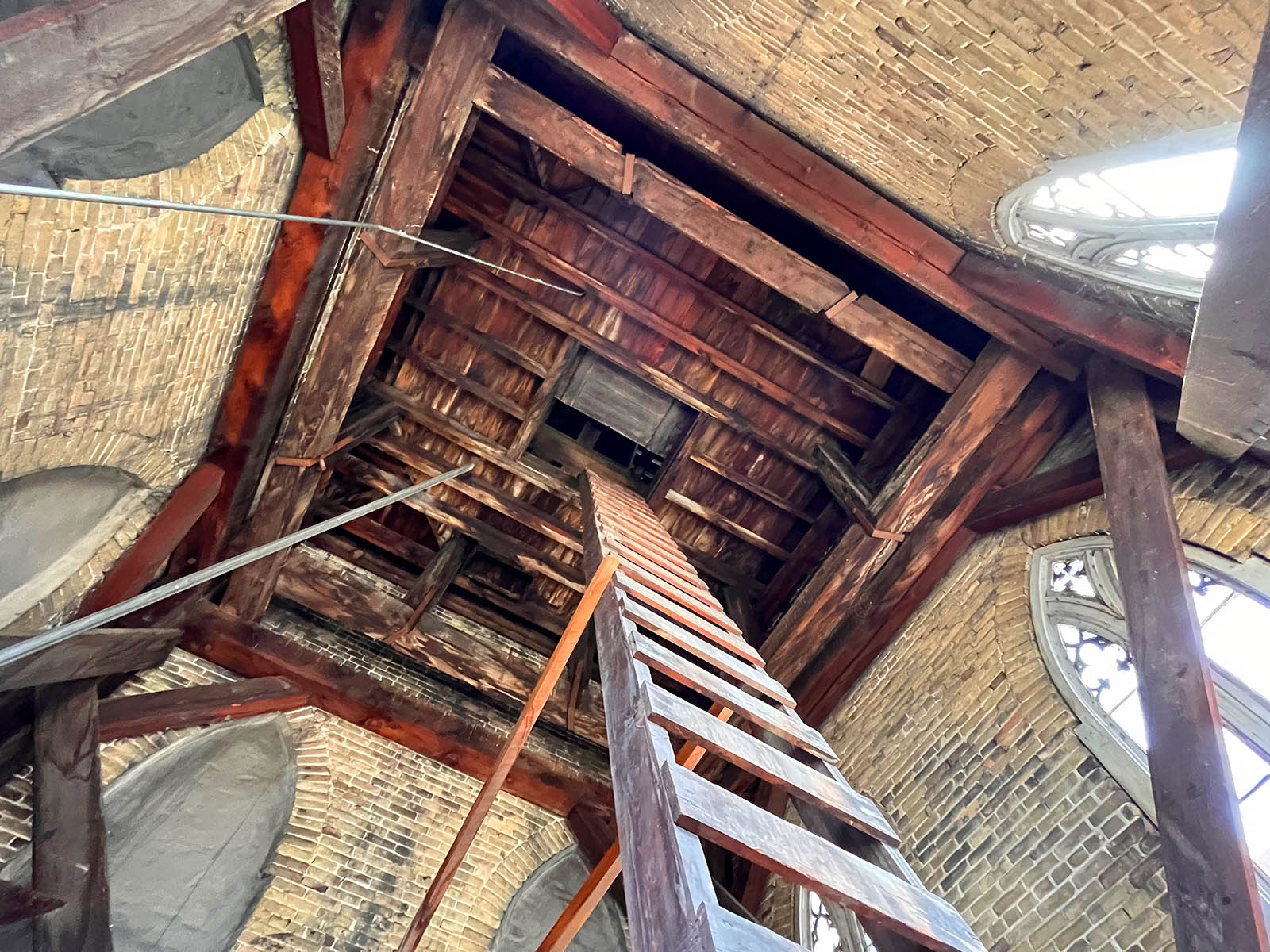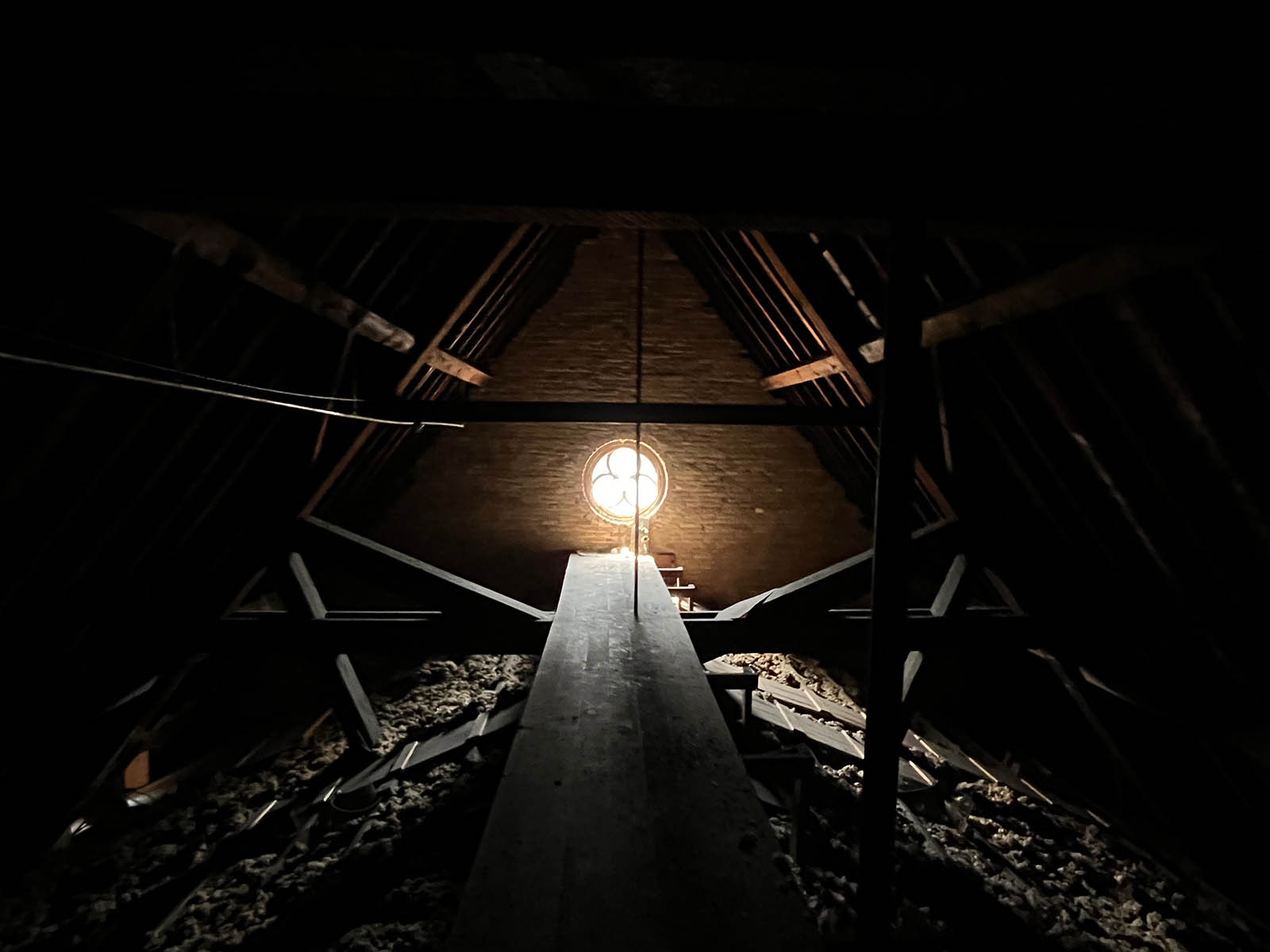 However, next to the staircase, I spy a small, framed-out opening in the wall and Semon says it leads into the attic above the sanctuary, where there is access for changing out light bulbs, etc.
He gives me the nod and I slide myself through on my belly (I never, ever dress up for these visits), where I find a relatively steeply pitched wooden surface with strips of wood tacked every two or three feet to grip onto.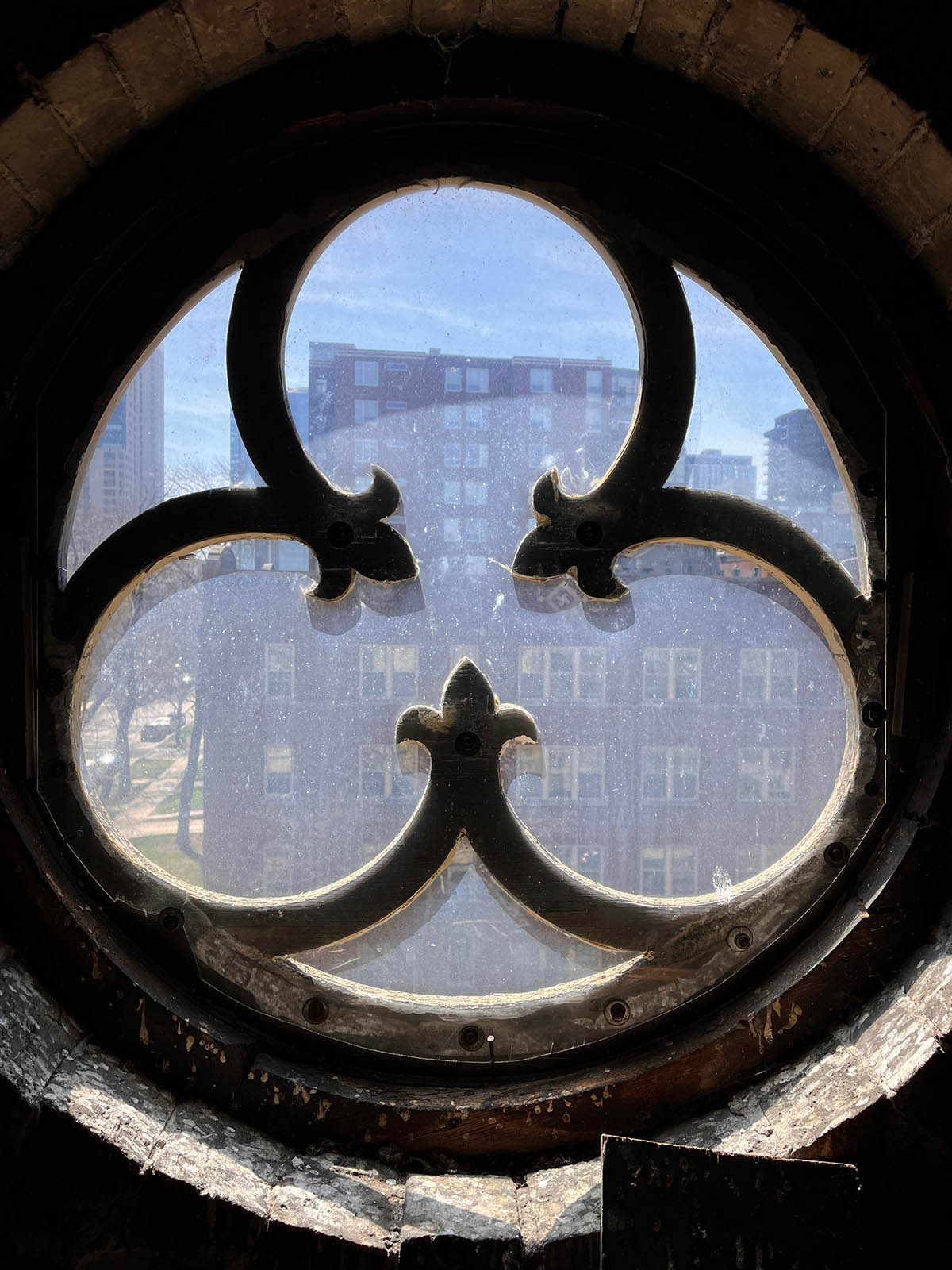 I crab walk my way up to the catwalk, where I can peek out the oculus you can see above the rose window above the main entrance, and walk the catwalk ... because why not, right?
Up in the tower is a large bell cast in Pittsburgh in 1867, that tolls the hour. Five other bells, cast in 1866 in East Troy, New York, were originally installed at St. John's Episcopal Church on 26th and Mineral.
They came to the tower in 2007 as "The Bells of Remembrance and Hope" and they peal in a 60-second sequence at noon and 6 p.m. daily, "in remembrance of Sept. 11, 2001 and all the victims of terrorism, in hope of a world free of violence."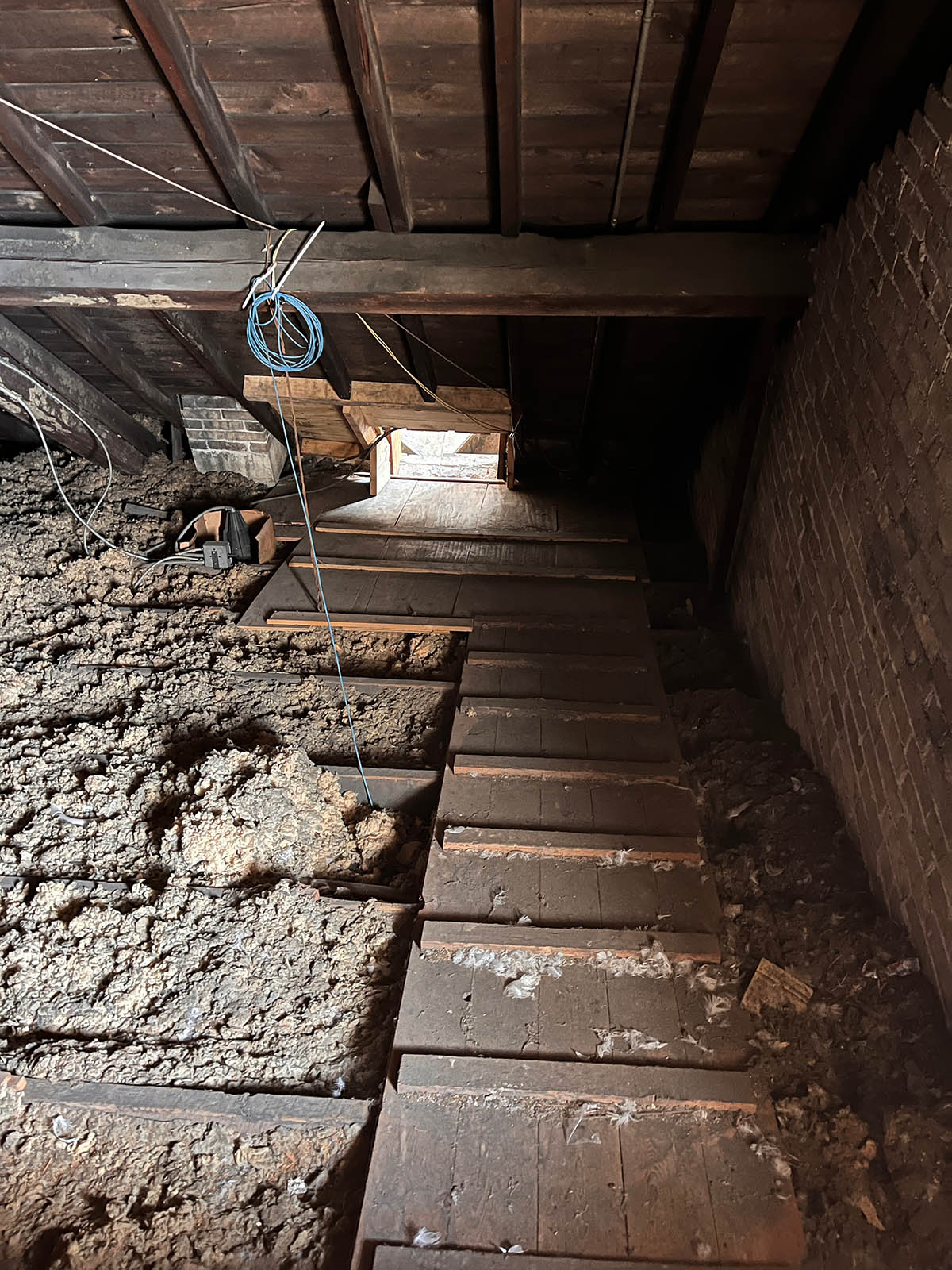 Back down the steps, we go through a door with gloriously old-looking glass to check out the organ, which has now pretty much entirely taken over the former choir loft, thanks to the hard work and dedication of Erickson, who has added numerous ranks of pipes and other features.
He even rescued some of the pipes from the organ at St. James, just before it was sold after closing in 2017.
I ask about the basement and Semon says it's basically a crawl space but takes me there to see it anyway.
The basement, like the one at St. James, is unexcavated, though you can stand up in at least some of it, so I nose around. It looks a bit like the catacombs in Paris or Rome, but without the bones.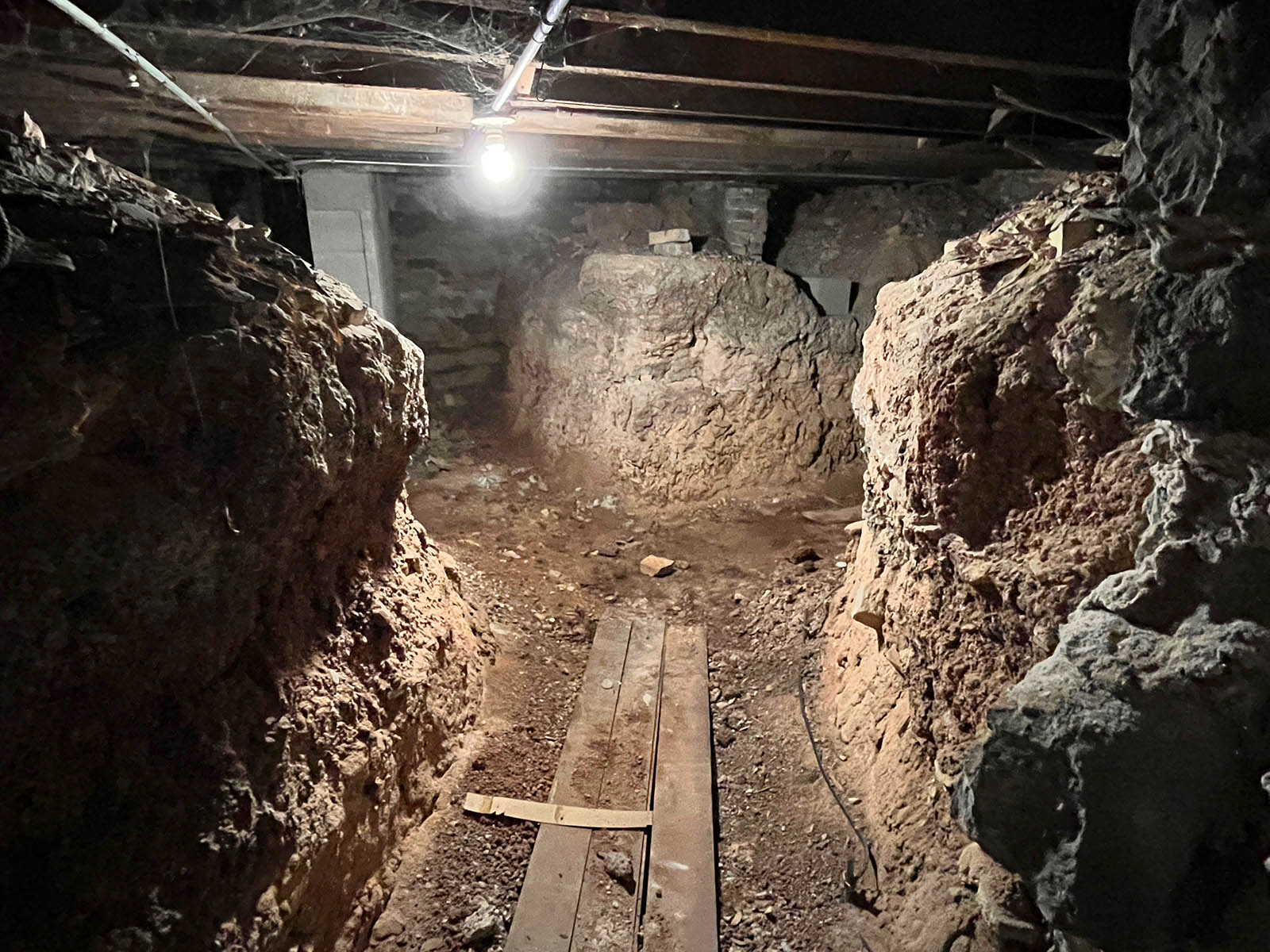 In the southeast corner there appears to be rock jutting four or five feet out of the ground. Walk between and you can see there's a staircase tucked back in the corner that leads up to the narthex.
In the main open area are piles of bricks and other stuff that looks like it might have been leftover building material left in place in 1868, though it's hard to be sure.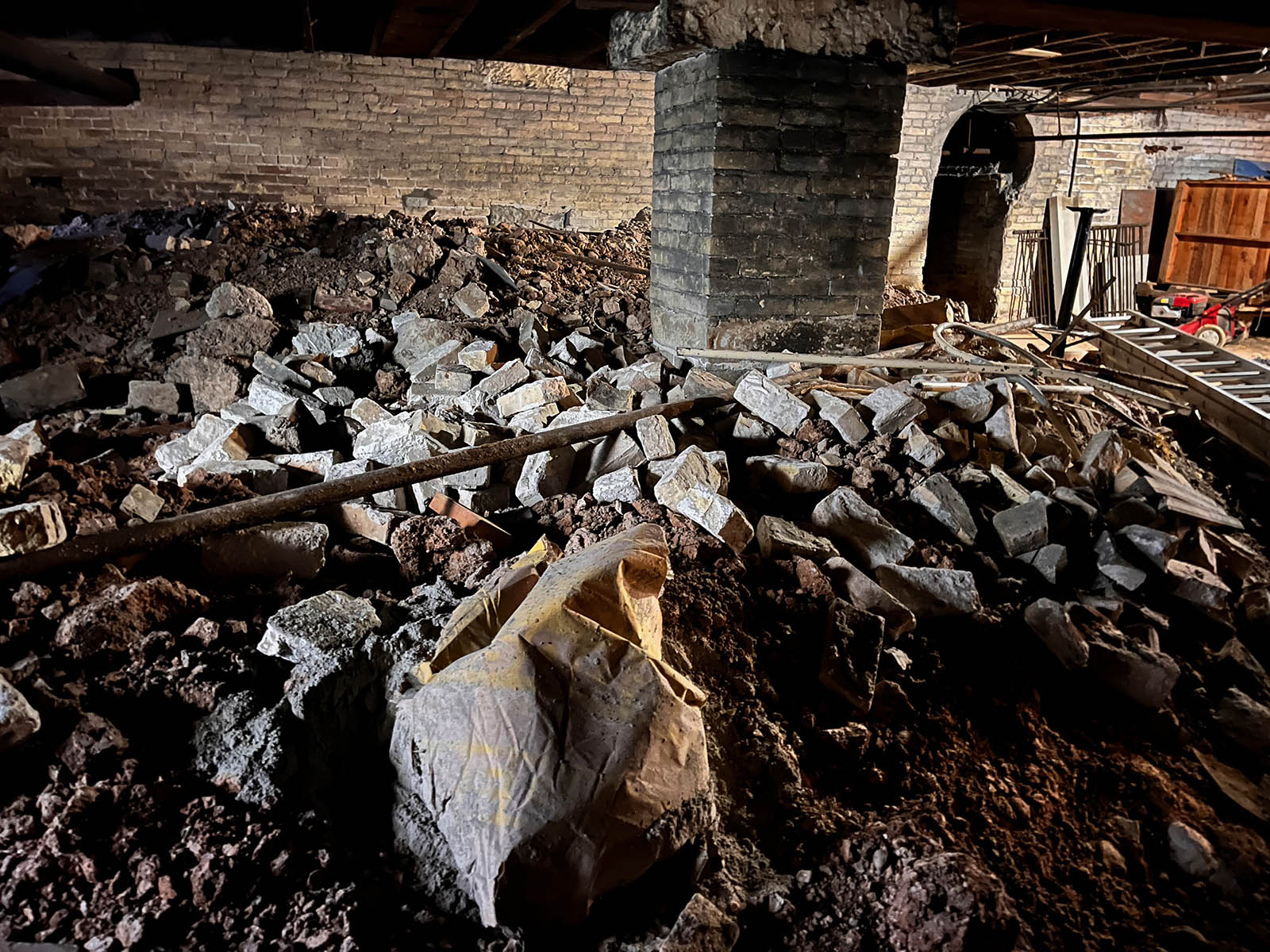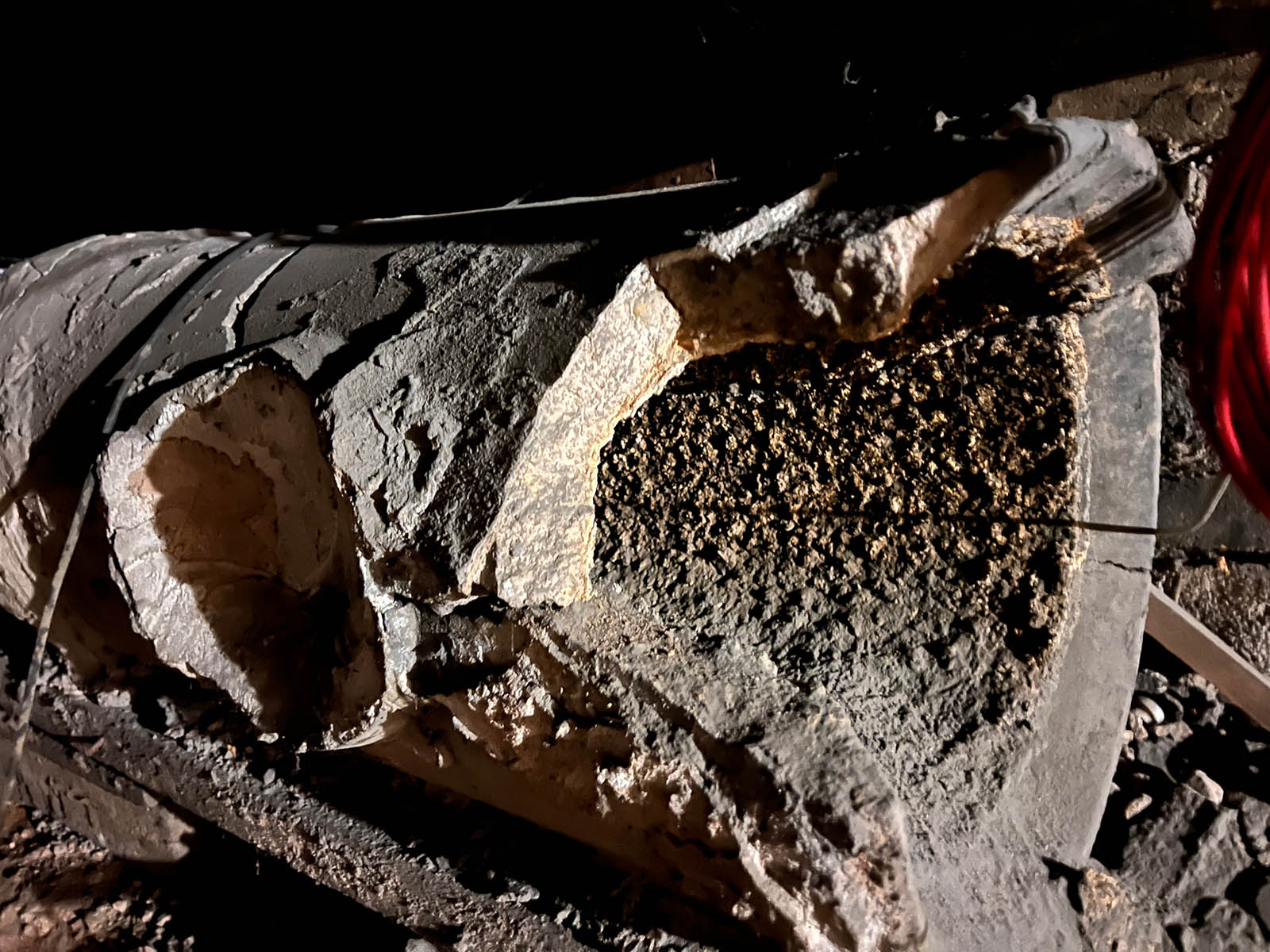 Heading north, the floor starts to slope up toward the ceiling and I decide not to get back down on my belly to go further. In this area, however, is a long disused clay pipe, though Semon can't name its original purpose.
But discussion of it leads to talk of boilers, so we go back outside to head over to the basement of the guild hall. Out on the central green, confronted with a side view of the Bishop's House – which we can't check out because it's locked and not really Semon's place to enter with an unannounced guest – Semon enthuses about how beautiful it is inside.
He says there's a nice chapel on the landing of the main staircase, that's worth seeing, and I hope to get to some day.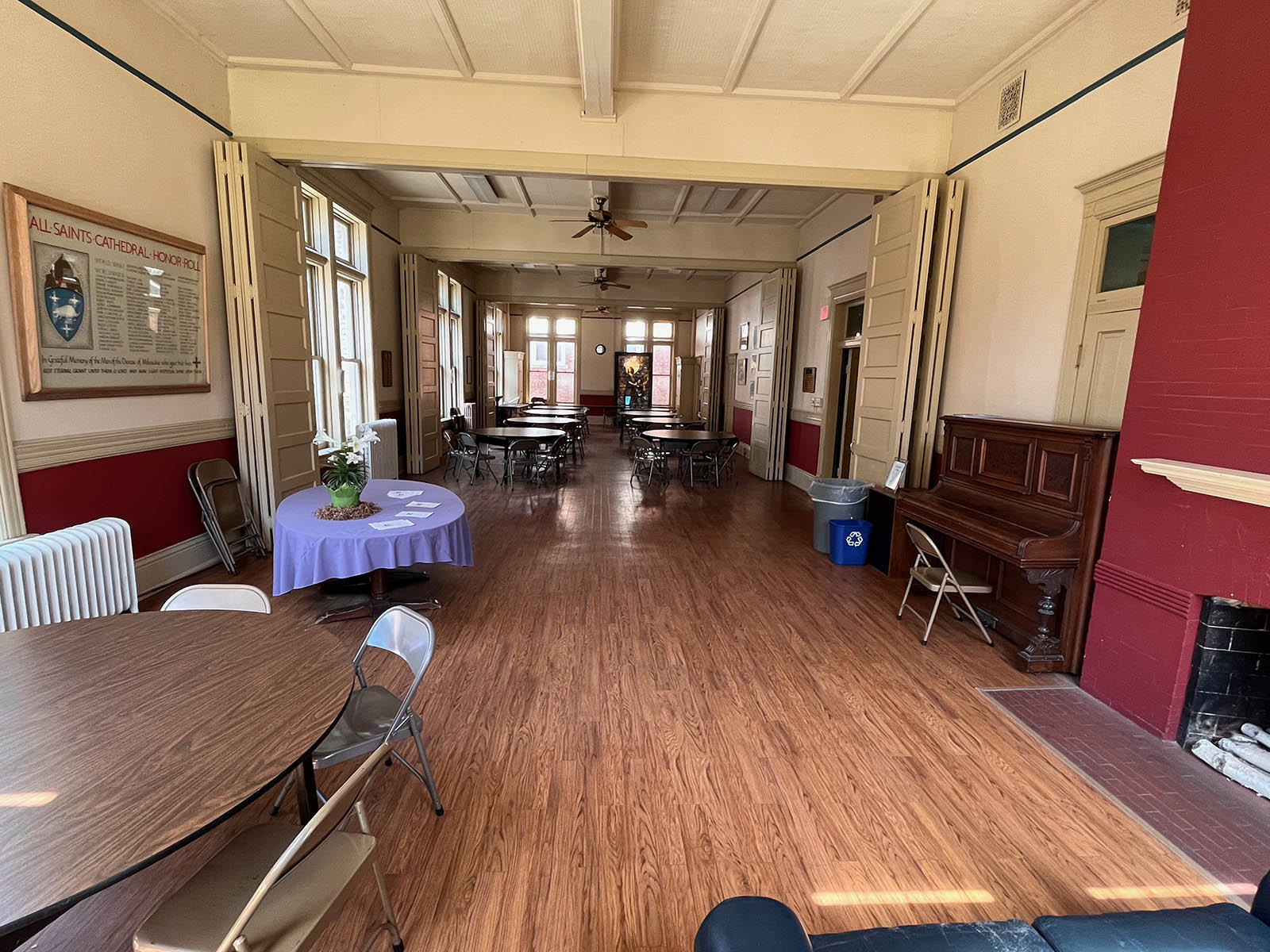 But passing through the hall – where services were held during a renovation of the sanctuary a while back – we go downstairs where we find two old Kewanee boilers bricked into place.
They're long unused, however, because the complex is now on city steam.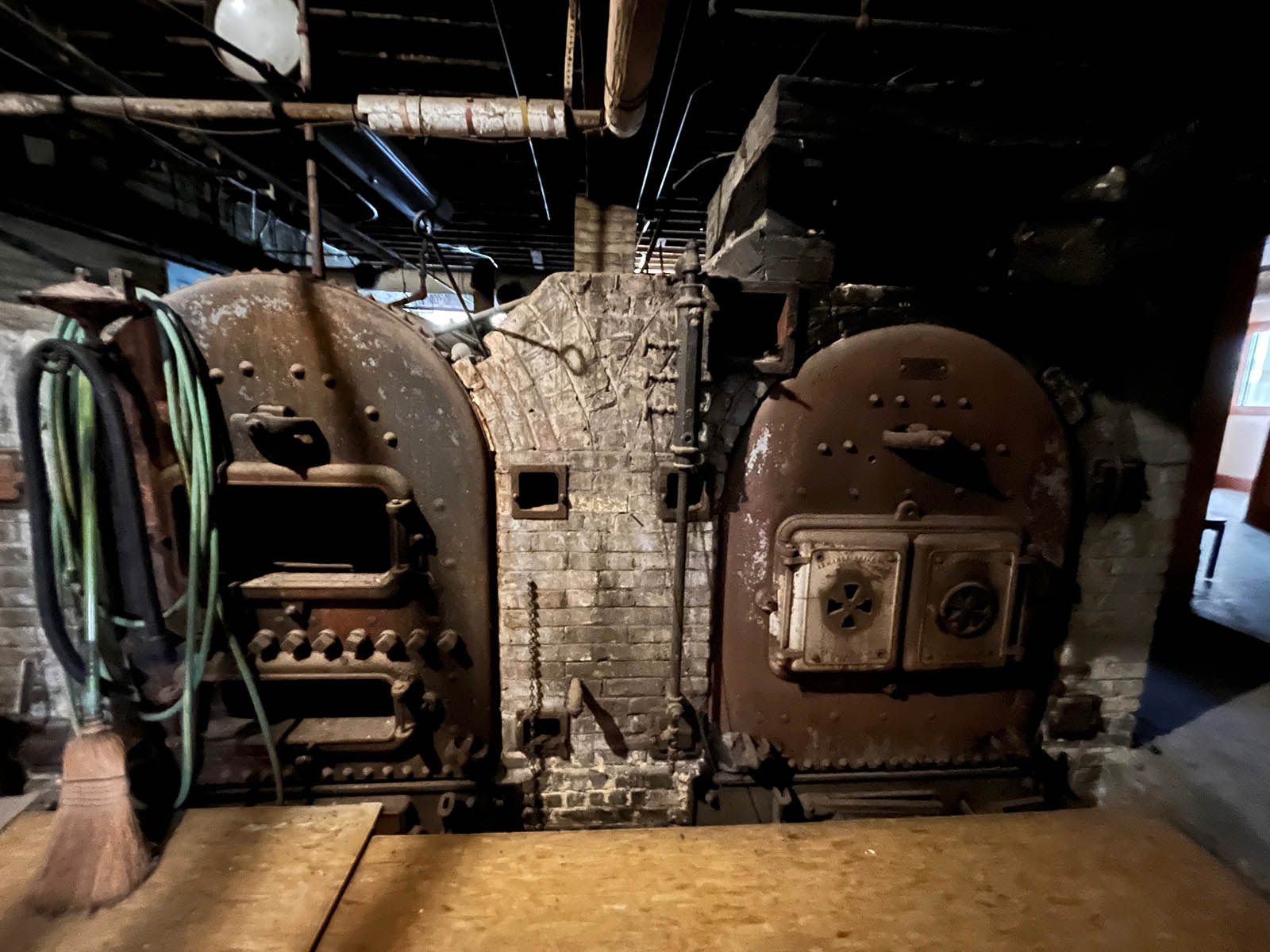 Adaptation
Back upstairs, I find the Rev. Carroll and parishioner – and old friend – Denise Callaway waiting to talk.
I start by asking how All Saints has managed to maintain its fine complex when so many other city churches have struggled to keep up with the work that big old, historic, sacred buildings demand.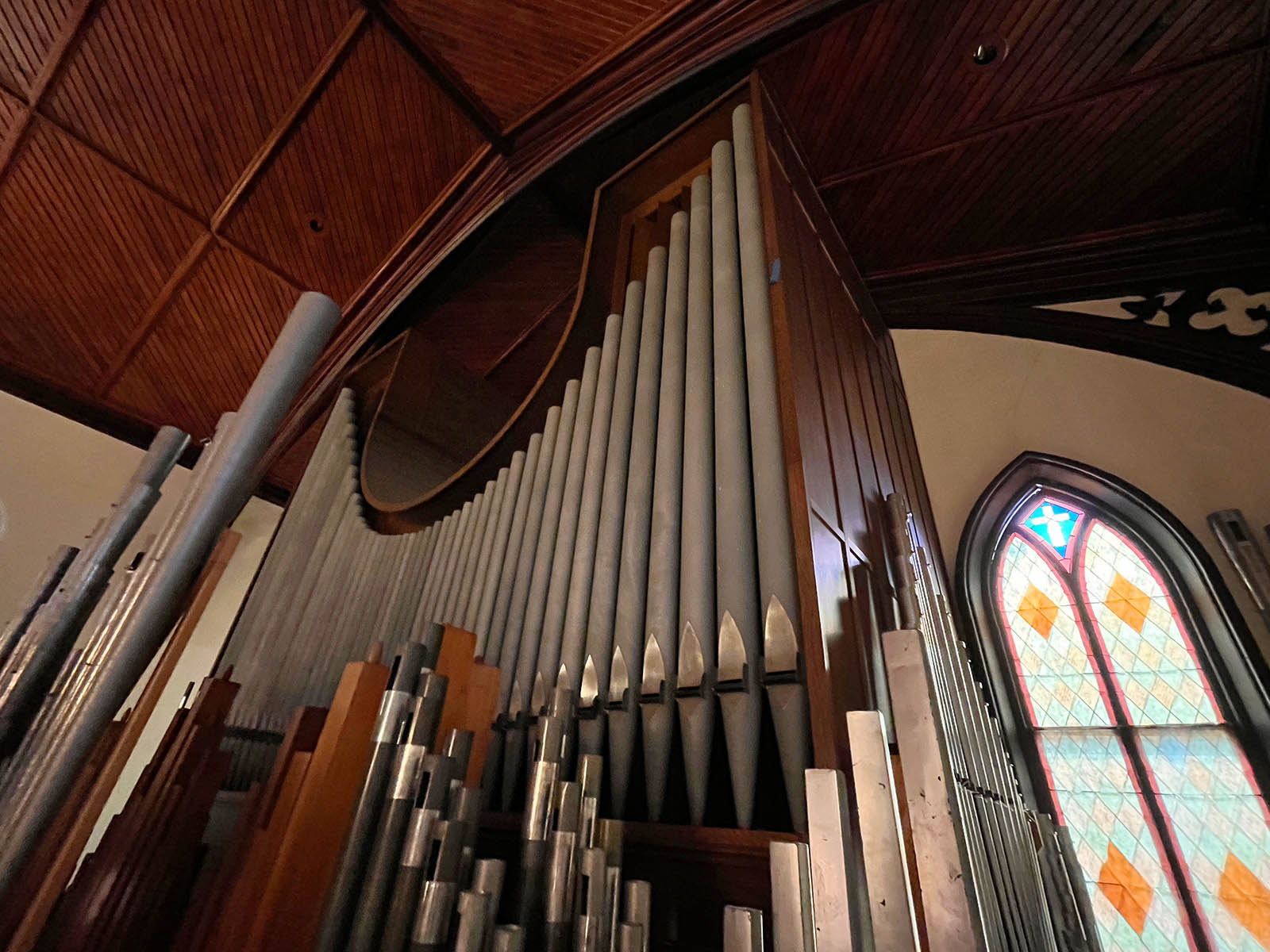 "Well there's two parts to that," says Carroll. "There's the ongoing life of the community that resides here. And we're facing the same pressures that every other denomination is with shrinking membership and membership that's skewing older, and all the societal things that come along with it. People are apprehensive about organized religion. Everything that's been happening since the '60s and '70s is really catching up.
"But I like to think that we're open, that we're in as inclusive as possible, that we have beautiful traditional liturgy, but we have a very contemporary look at the world. We were the first Protestant denomination to start ordaining women in the mid-'70s. We were one of the first Protestant denominations to approve blessings of same sex marriages. We give people a very wide swath to make their own moral and ethical decisions. Our task is the church is to help inform them so that they didn't make those decisions. We don't tell people what to think."
Carroll says that about half the church's membership lives outside the neighborhood and travels there for services. Since COVID, however, when All Saints pivoted to streaming services, in-person attendance has dipped.
But, the weekly streaming service continues to be a draw.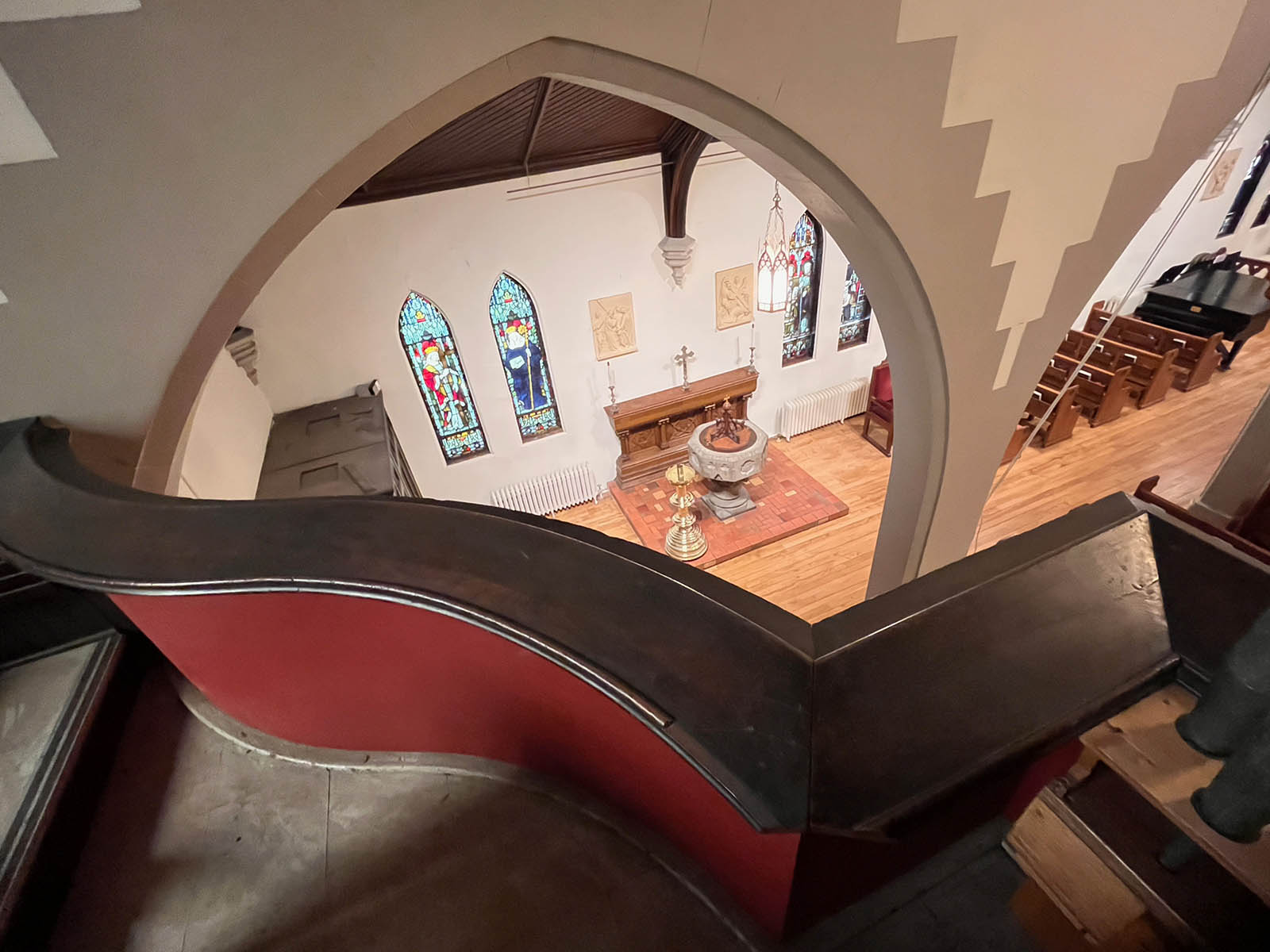 "We're living in the Netflix generation, right," says Carroll. "People want to see what they want to see when they want to see it, where they want to see it. They want to worship and they want their service to be the same way. So if the church doesn't adapt to that, they're going to die. That's just how we are as society."
So, All Saints is embracing it, and installing new cameras, new A/V equipment and more to improve the quality of the streaming services.
It is choosing adaptation over death.
"I think the patterns of people's lives have shifted and for a lot of people for various reasons, coming to church at 10 o'clock on Sunday morning doesn't work for them," he says. "Whether it's a single parent who's exhausted by Sunday or people working, or whatever, all kinds of reasons.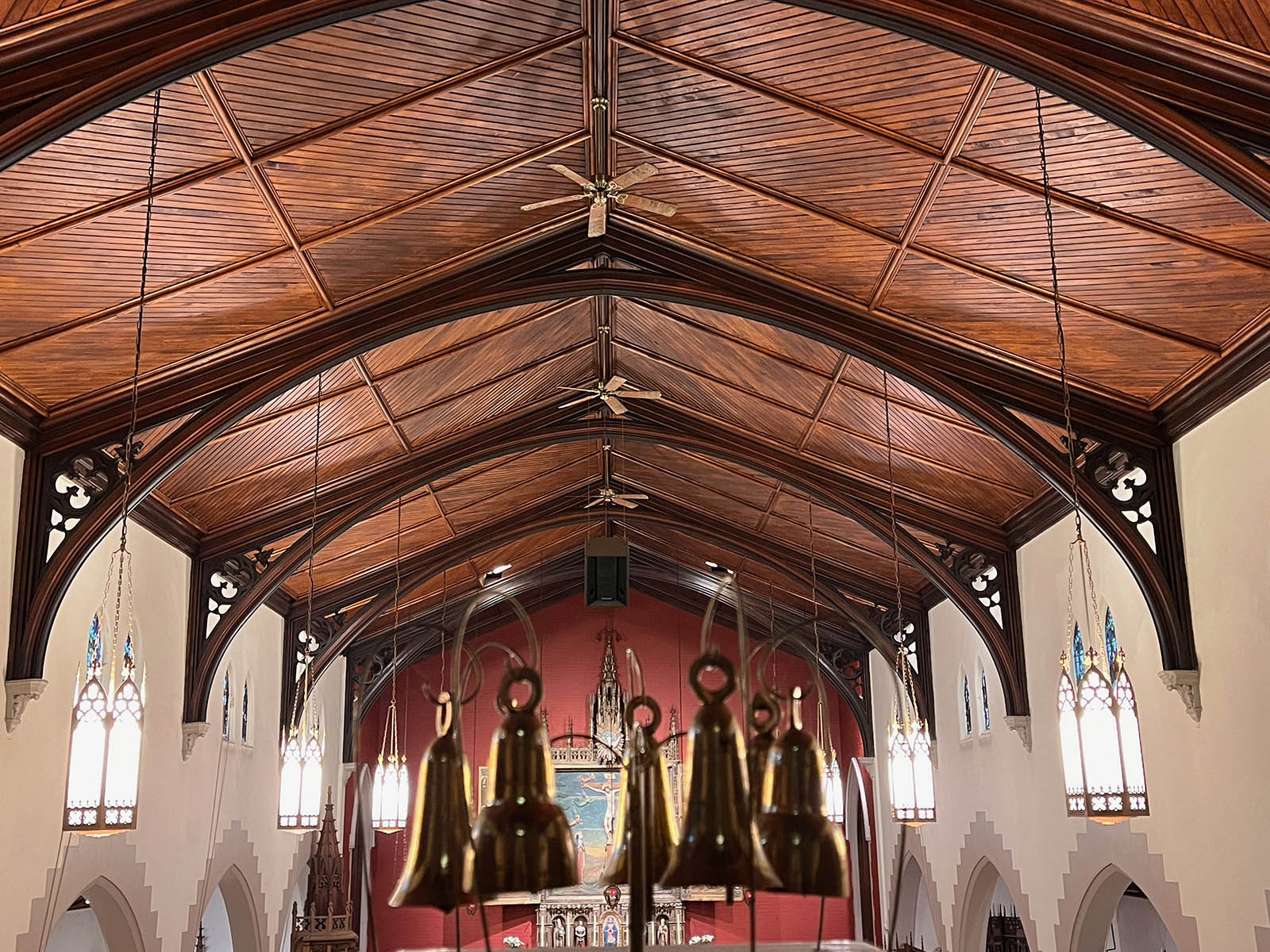 "I know that when we watch our livestream on Sunday morning on YouTube and on Facebook, we might have 10 or 15 people watching it live, but by the end of the week, there's several hundred people who have clicked on it.
"Last year, we had like 2,500 people in church on Sundays through the first of the year. We had 7,500 people watching online. It is a statistically important number."
But Callaway says there's more to it than that.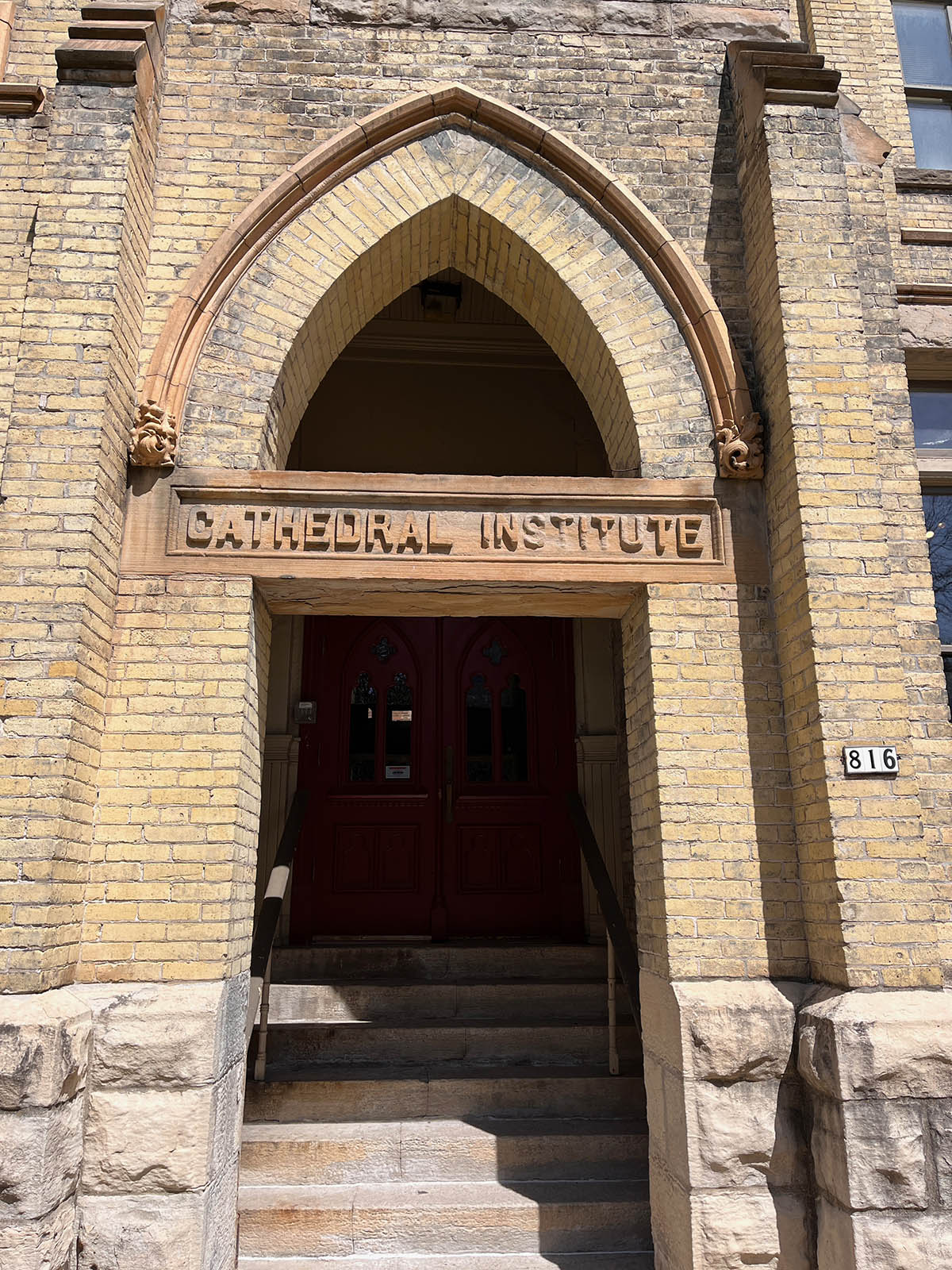 "There's also something that's very special about the way this church continues to find ministries that serve," she says. "I think that that's something that's really important. There really is a place for everyone here.
"And then Kevin won't say this and we'll talk about him like he's not here (laughs), but you know, Kevin is not only very down to earth and approachable, which I think makes a big difference when you want someone who you can talk to about anything, whether it's religious or to do with their spiritual growth or spiritual crisis, or if it is what you, it's happening to you in the world.
"But he's also a really fantastic preacher."
All Saints will host a number of 150th anniversary events this year and the next one is a Spring Tea, slated for Saturday, May 6, 2 p.m. It's $15 in advance, $20 at the door. Reservations and more info, by calling (414) 271-7719.
Then, in August, look for the return of the popular book sale in the Guild Hall, an event that's been going for more than 30 years now.
Born in Brooklyn, N.Y., where he lived until he was 17, Bobby received his BA-Mass Communications from UWM in 1989 and has lived in Walker's Point, Bay View, Enderis Park, South Milwaukee and on the East Side.
He has published three non-fiction books in Italy – including one about an event in Milwaukee history, which was published in the U.S. in autumn 2010. Four more books, all about Milwaukee, have been published by The History Press.
With his most recent band, The Yell Leaders, Bobby released four LPs and had a songs featured in episodes of TV's "Party of Five" and "Dawson's Creek," and films in Japan, South America and the U.S. The Yell Leaders were named the best unsigned band in their region by VH-1 as part of its Rock Across America 1998 Tour. Most recently, the band contributed tracks to a UK vinyl/CD tribute to the Redskins and collaborated on a track with Italian novelist Enrico Remmert.
He's produced three installments of the "OMCD" series of local music compilations for OnMilwaukee.com and in 2007 produced a CD of Italian music and poetry.
In 2005, he was awarded the City of Asti's (Italy) Journalism Prize for his work focusing on that area. He has also won awards from the Milwaukee Press Club.
He can be heard weekly on 88Nine Radio Milwaukee talking about his "Urban Spelunking" series of stories.