Milwaukee may not be known for its hot weather, but that doesn't mean that the Brew City can't bring the heat – namely from the kitchen. That's why Senior Developer Nick "Power Palate" Barth and Pop Culture Editor Matt "Powder Puff Palate" Mueller are on a journey, burning their buds and torching their tongues across town to find the city's spiciest dishes. Grab your fork and a fire extinguisher – this is Burning Through Brew City.
MKE Lava chicken wings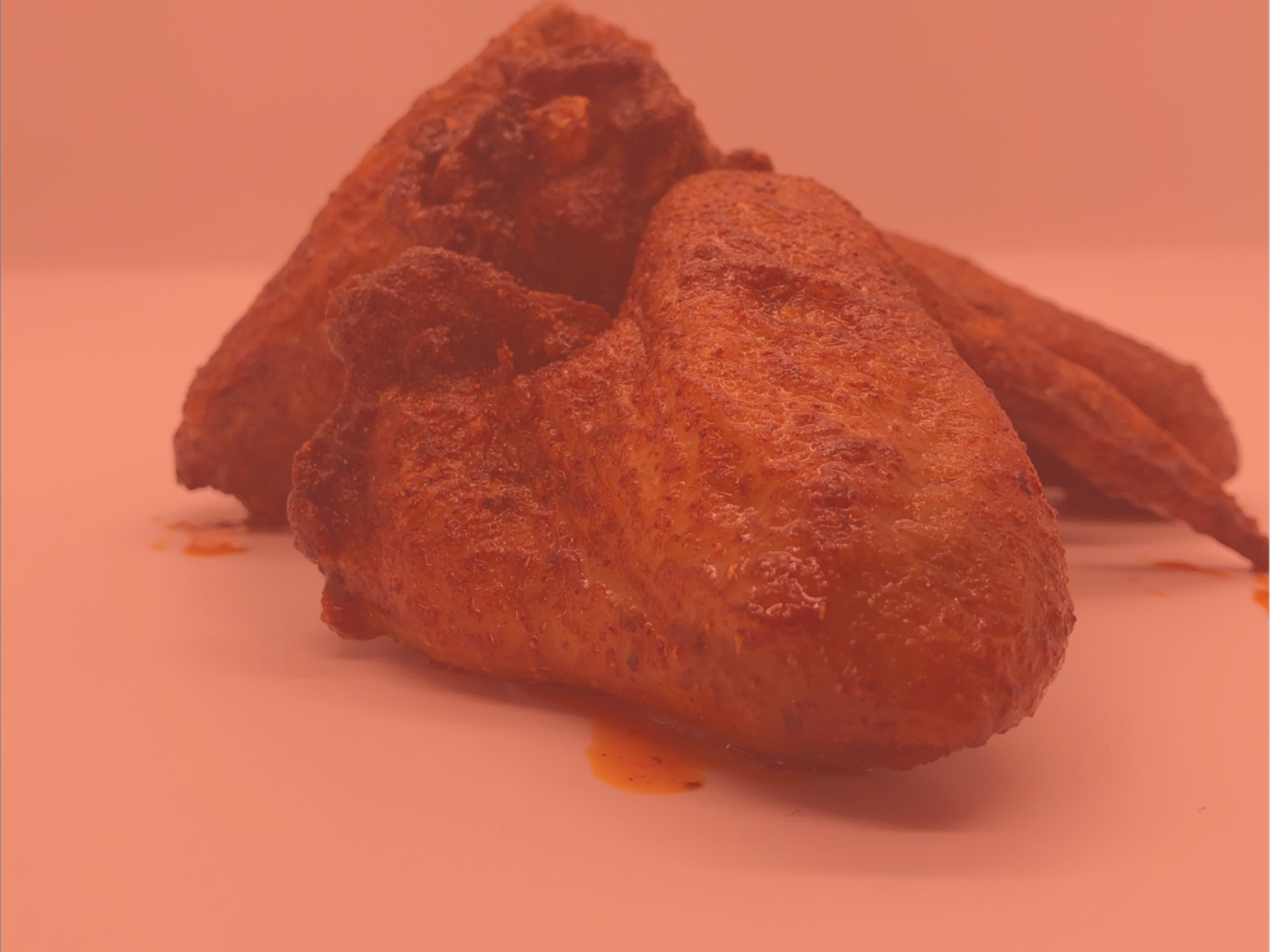 Crafty Cow
2675 S. Kinnickinnic Ave.
(414) 808-0481
craftycowwi.com
It only took a once-in-a-generation global pandemic, but Burning Through Brew City is back, baby!
Indeed, while we may social distancing, Nick and I just had to come together (virtually, of course) for a brand new spicy food challenge – and what a spicy food challenge it is, coming with a side order of rubber gloves and a cautionary disclaimer. Because when you're living through a public health crisis, what better way to relax and take your mind off things than to eat a batch of chicken wings that require a waiver?
The capsaicin-coated contest comes courtesy of Crafty Cow in Bay View, whose next-door sister restaurant Hot Head had already torched our taste buds twice before. First, we stopped by to sample their take on Nashville hot chicken, which was delicious without being too devious. They took that as a challenge, however, and came back with a new spicy sauce: 414 Fire, which still holds a spot in our top ten spiciest dishes in Milwaukee two years after we dug into those napalm-coated bites.
But apparently Crafty Cow wasn't done.
Looking for a way to bring some heat to your time stuck at home, the restaurant introduced a new virtual wing eating challenge. The full list of requirements and rules can be found here, but the contest essentially asks daredevil diners to knock back three chicken wings as fast as possible – which doesn't sound like that killer of a challenge until you discover the wings are covered in a brand new (and evil) blend of ghost peppers, Carolina Reaper peppers and cayenne peppers, aka an unholy trinity ready to drag your taste buds to hell.
So how'd Nick and I do with this mouth-charring challenge? Welp, see for yourself:
Thanks for making me look bad, Nick! Ever heard of solidarity!?
If you thought this was just a cute gimmick during desperate times, you thought very wrong. These MKE Lava chicken wings easily register as some of the spiciest food we've ever battled in Brew City. Within seconds of my first bite, my mouth was burning, and I began significantly hiccuping from the heat. Forget eating three wings as fast as I could: I just wanted to get through one wing with my dignity intact and my mouth still able to taste. And speaking of taste, these weren't merely stunt wings, blowtorching your taste buds with little regard for anything else. The MKE Lava coating – surprisingly more of a dry rub than a traditional wet wing sauce – brings some legitimate flavor to go with the fire, the cayenne providing some smoky warmth while the two star ingredients offer a satisfying peppery bite that gives your tongue something else to taste beyond its fiery demise.
In the end, if we were ranking these wings on our Burning Through Brew City master list, they'd land as the second spiciest dish in Milwaukee – just behind Jonny Hammers' Too Hot For A Normal Person wings, which arguably registers closer to pepper spray than food. So consider this a more-than-respectable silver medal.
If you think you can beat Nick's time (or at least my time, which isn't particularly difficult) or are just craving some uniquely combustible cuisine during quarantine, Crafty Cow's MKE Lava virtual hot wing challenge is still open and looking for hungry victims participants, running through May 14 with the winner announced on May 18. For more information on the rules, read more here or at Crafty Cow's Instagram page – and for the rest of Crafty Cow's delicious (and significantly less bud-brutalizing) menu, visit the restaurant's website.
And as always, Milwaukee, stay safe, stay healthy – and if you're trying out this competition, stay stocked up on milk.
As much as it is a gigantic cliché to say that one has always had a passion for film, Matt Mueller has always had a passion for film. Whether it was bringing in the latest movie reviews for his first grade show-and-tell or writing film reviews for the St. Norbert College Times as a high school student, Matt is way too obsessed with movies for his own good.
When he's not writing about the latest blockbuster or talking much too glowingly about "Piranha 3D," Matt can probably be found watching literally any sport (minus cricket) or working at - get this - a local movie theater. Or watching a movie. Yeah, he's probably watching a movie.