Milwaukee may not be known for its hot weather, but that doesn't mean that the Brew City can't bring the heat – namely from the kitchen. That's why Senior Developer Nick "Power Palate" Barth and Culture Editor Matt "Powder Puff Palate" Mueller are on a journey, burning their buds and torching their tongues across town to find the city's spiciest dishes. Grab your fork and a fire extinguisher – this is Burning Through Brew City.
The next stop on their capsaicin-rich quest?
World's hottest jerky on-a-stick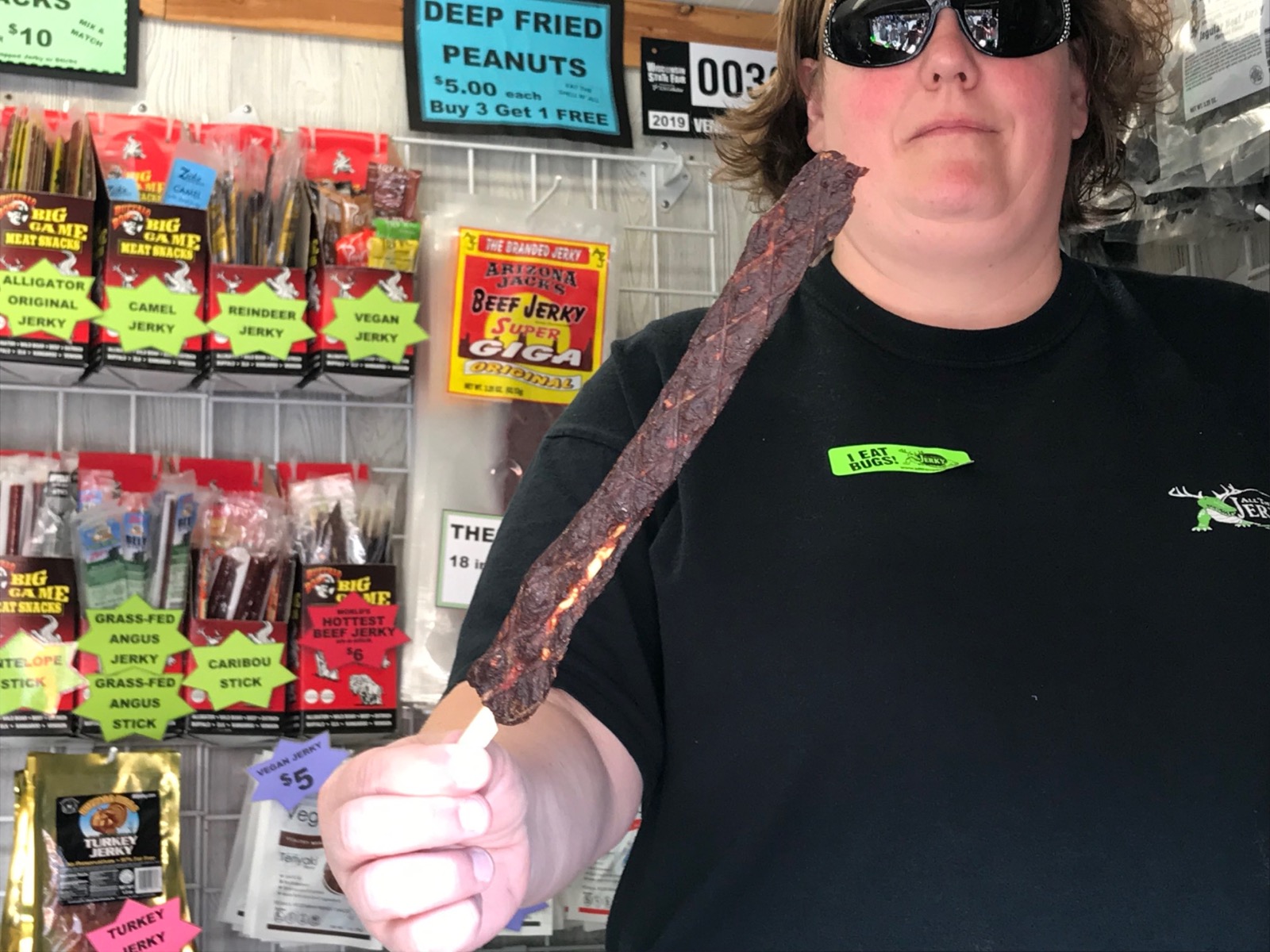 All Things Jerky
South Grandstand Avenue at the Wisconsin State Fair
allthingsjerky.com
When it comes to finding fiery foods at State Fair, it's been the best of times, it's been the worst of times, it's been the deep fried of times on a stick.
The first year we dropped by the Fair in search of food on fire and found ourselves at All Things Jerky to try chowing down on its Carolina Reaper meat snacks. As it turns out: easier than expected! While the beefy bites were tasty, they also left Nick and I pretty frosty when it comes to heat. The following year, however, we dropped by Exotic Meat Grill, All Things Jerky's next door neighbor and sibling shop, for a double feature of freaky food: a camel cheeseburger that just happened to ALSO be the world's hottest camel cheeseburger. Oddly specific? Yes. Accurate? A sizzling, mouth-crying yes – one that landed the Desert Heat Burger in our Burning Through Brew City top five.
So our tongues had gotten frosty and gotten fried courtesy of these local stands – with three locations found at Appleton, Eagle River and Minocqua as well as a website, for those who weren't able to feast on their meaty oddball foods and unique jerky options during the Fair. What would the third trip to the late summer spectacular have in store for Nick and me?
Unsurprisingly, it came on a stick.
For this year's festival, All Things Jerky – in addition to its usual lineup of unusual meats, including alligator, ostrich, kangaroo and more – cooked up an extra special (or extra cruel) snack for the State Fair: the world's hottest jerky on-a-stick, a blend of meat, peppers and nightmares. Would the third time be another charm – or would it simply char our mouths to a degree that even a speedy open-mouthed zip down the Giant Slide couldn't extinguish the blaze? Let's dig in!
Heat
Nick: The heat level is no joke. At first, I thought we were going to have another dud, but as Matt pointed out, by the time it came to swallow that first bite ... there was hesitation. You can taste the burn before you feel it. Once you do, your whole mouth is aflame. The high heat level doesn't come with that biting sharpness a lot of the super hots seem to have, which made it a much more pleasant ride.
Matt: We've eaten a lot of tasty, delicious meals over the past year for Burning Through Brew City – but frankly not a whole lot of spicy ones, registering at just above Milwaukee hot at most. But our cold streak has come to a fiery, hiccup-y end thanks to the Wisconsin State Fair and All Things Jerky.
Shortly after the first bite, the fuse quickly lit and the heat – complements of more Carolina Reaper as well as a batch of other bud-prickling peppers blended into the jerky meat – quickly ratcheted up, engulfing my entire mouth in spice and and my senses in a five-alarm fire that managed to powerfully singe without stinging. It's one of the more quality, full-mouth, satisfying yet scary burns I've nommed in a while – at the Fair or anywhere else. You can find plenty of foods on a stick at the State Fair, but only one will melt your face off like this.
Longevity
Nick: Sweaty temples are a good sign. That effect kicked in pretty early, and though the mouth burn subsided pretty quickly, it made way for a belly burn I could feel even outside on a hot, sunny day. Like the immediate heat level, the longer-lasting effects weren't uncomfortable or painful, but enough to hum Johnny Cash for awhile.
Matt: The heat off the world's hottest jerky lasts about as long as a fresh cream puff in my refrigerator – which is to say that it doesn't. You'll have a good spicy rush while chewing, but much like the State Fair itself, it'll be gone before you know it.
Flavor
Nick: Jerky isn't a complex foodstuff. Salty, chewy, meaty? Check. For my money, I liked that the jerky had been marinated and mixed with actual peppers instead of sprinkling/dipping it later. It had great chili flavor throughout. The jerky itself was good and dry – chewy but not shoe leather chewy.
Matt: I'll admit a bias toward meatier, thicker jerky. But while this snack is more like a Meat Fruit Roll-Up than the tender steaky bits that I prefer, what it lacks in beefiness it more than makes up for in taste. The napalm-esque heat was to be expected – and did not disappoint – but what I didn't see coming was the full-bodied flavor, with sweetness from the peppers blended into the meat and that classic salty, savory, addictive chew from the beef itself. It may just look like a thin strip of meat on a stick, a mere snack, but it's bringing a full meal's worth of flavor.
Overall
Nick: This may or may not be the hottest jerky I've ever eaten, but it's definitely the hottest jerky I've ever eaten on a stick. Two for $10 is not a bad deal as State Fair food goes, either. It's clear All Things Jerky is out to make great tasting, legitimately spicy food – their menu is full of it – and their effort shows. Selfishly, I wish more restaurants would put that kind of thought into their spicy dishes, but I know that I'm looking for a pretty niche product – and frankly it's not worth the trouble for most places. In the meantime, I'll delight myself with the world's hottest jerky on-a-stick and whatever else they come up with.
Matt: Congratulations, All Things Jerky; you've totally redeemed yourself. Two years after we sampled the stand's literally lukewarm Carolina Reaper jerky and left disappointed, we happily discovered these true sticks of culinary dynamite (on a stick) that bring some of the most fiery heat we've gulped down in quite some time on Burning Through Brew City. This may not be the world's meatiest jerky ... but that's not what the packaging says. The packaging says world's hottest jerky on-a-stick – and they're not lying.
And, as a special treat – or cruel trick – Exotic Meat Grill offered us a bonus test: ragin' Cajun alligator legs. Gator meat on the bone wasn't entirely my jam – a little fatty and unctuous for my taste, the meat definitely having the taste of something that calls a swamp home – but the sauce was sweet and savory barbecue deliciousness. Plus, my colleague in capsaicin vanquished both orders in record time, so put that down as another win for these two stands. I nominate them for fairest of the Fair – or, in the case of the jerky, the most ferocious of the Fair. Fair-ocious?
Burning Through Brew City heat index
Jonny Hammers' Too Hot For A Normal Person wings
Leff's Lucky Town's ass kickin' chicken wings
Asian International Market's papaya salad
Cantina's tacos
All Things Jerky's world's hottest jerky on-a-stick
Exotic Meat Grill's Desert Heat Burger
Hot Head Fried Chicken's 414 Fire fried chicken
Tangled's Chong Qing Beef Noodle
Kim's Thai's 10-pepper beef larb
EE-Sane's papaya salad/hot and spicy beef
The King Crab Shack's crazy cajun crab legs
Margarita Paradise's Diablo burrito
Red Rock Saloon's TCB ghost pepper wings
Hooligan's homemade habanero hot wings
The King & I's Volcano Chicken
O'Brien's Sweet Reaper wings
Guadalajara's Chile de Arbol salsa
Glorioso's Italian Market's Human Torch sandwich
Kawa's Hell Fire ramen
Cafe India's Trouble Chicken
Merge's Volcano Korean fried chicken
Hot Head Fried Chicken's Nashville hot chicken
Wisconsin Cheese Mart's spicy cheeses
Stone Bowl's yook-gae-jang/jjampong
O Yeah Chicken and More's Nashville hot chicken
Jackson's Blue Ribbon Pub's Tough Guy chicken wings
Huan Xi's hot pot
All Things Jerky's Carolina Reaper beef jerky
Shaker's Cigar Bar's jammin' jerk pulled pork tacos
Guadalajara's Bistec en Chile de Arbol
As much as it is a gigantic cliché to say that one has always had a passion for film, Matt Mueller has always had a passion for film. Whether it was bringing in the latest movie reviews for his first grade show-and-tell or writing film reviews for the St. Norbert College Times as a high school student, Matt is way too obsessed with movies for his own good.
When he's not writing about the latest blockbuster or talking much too glowingly about "Piranha 3D," Matt can probably be found watching literally any sport (minus cricket) or working at - get this - a local movie theater. Or watching a movie. Yeah, he's probably watching a movie.