Milwaukee may not be known for its hot weather, but that doesn't mean that the Brew City can't bring the heat – namely from the kitchen. That's why Senior Developer Nick "Power Palate" Barth and Pop Culture Editor Matt "Powder Puff Palate" Mueller are on a journey, burning their buds and torching their tongues across town to find the city's spiciest dishes. Grab your fork and a fire extinguisher – this is Burning Through Brew City.
WMSE's Rockabilly Chili Fundraiser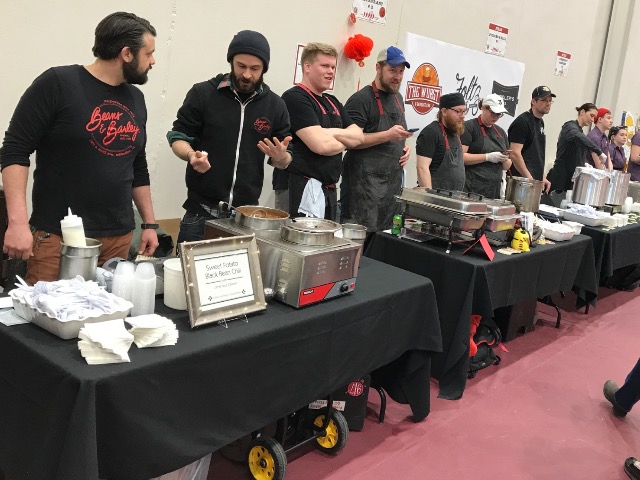 WMSE's Rockabilly Chili Fundraiser
MSOE's Kern Center
wmse.org
I've run into a lot of firsts thanks to my Burning Through Brew City quest with Nick. The first time I tried papaya salad. The first time I did a hot pot. The first time I tried a ghost pepper. The first time I ate something so spicy that I questioned whether fire extinguishing fluid was edible and I saw the face of God because it briefly killed me and then brought me back to life. Fun times.
But this past weekend, for a Burning Through Brew City Bonus, I got to indulge in my favorite first thus far on this spice-centric adventure: my maiden trip into the beans bonanza that is WMSE's Rockabillly Chili Fundraiser.
For sixteen years, WMSE has hosted this chili competition, pitting tasty bowls of meat and beans from restaurants across the city against one another – and against your hopes of having a calm, regular trip to the bathroom for the following several days. And for the past fifteen years, I'm ashamed to say that I've missed this Milwaukee staple – partly because of my typically avid hatred of beans. But for the event's sweet sixteen, I decided to put aside my bitterness toward beans and finally chow down on some delicious chili in the name of science and also burning my throat real good.
Luckily, I had a veteran Rockabilly Chili connoisseur to guide me into the beefy wilderness in Nick, who told me some of the very important basics to not looking like a total noob while patrolling for samples Sunday afternoon. The most important rule: Bring a cupcake tin. Do not forget this. That way, instead of bounding back and forth from table to table, the cupcake tin nicely holds all of your samples so you can grab maybe a dozen little cups of chili at a time and then make one big feast of your findings. So the morning of, I grabbed the tray from my kitchen – plus my own big metal spoon, because like I was going to look like a REAL CHILI CHAMPION at my first gathering – and went down to the Kern Center to meet my spice sensei, my Rockabilly Chili chaperone Nick.
Who, of course, forgot his own cupcake tin. My fearless leader.
Thankfully, neither of us forgot our appetites – both for food and for singing our mouths with Milwaukee's spiciest dishes. But would we find any truly combustable chilis on the Rockabilly floor? Or would it all just be cool beans? Let's dig in and see what our ballots rank best!
Best heat
Nick: I politely, but vehemently, disagree with the voting here. Lakefront Brewery won the audience's award on this one with a delicious, balanced and very hot entry. If Lakefront offered it on the menu (it offers a veggie chili, but it looks like this version isn't available), I'd eat it.
But Good Harvest's was a true (and tasty!) punch in the face. Loaded with pulled pork and fresh peppers – so many peppers. Just ... so ... many – I got to enjoy a tasty green flavor for a second until those fiery peppers came riding in. If it's on the menu, I'm dragging Matt out there for a video, which will mostly be us sweating and doing that deep exhale thing where you're not sure you can take another bite. I'm not sure I'd make it through a whole bowl. It was devastating.
Matt: Lakefront Brewery makes easily my favorite beer in the city (Riverwest Stein), has one of my favorite fish frys and delivers a delightful beer tour. I am very much, inarguably a fan.
So as a fan, let me declare that you'd have to be drunk to vote this the best heat at the Rockabilly Chili contest.
Sure, it brought some solid flavorful spice – I'd argue it was possibly hotter than returning champ McBob's version this year. But compared to the Hooligan's chili with its outrageous sauce? Or to even Station 8's Elvis-inspired "Burning Love" bowl? Or to the obvious winner, Good Harvest, with its punishing pile of peppers ranked at a five – but deserving to be a six? Actual absurdity. The beans went to your brains, people! This was more of a victory for Lakefront Brewery's placement – right in the main row when you walked in, as compared to Good Harvest's spot tucked away in the corner on the second floor – than its chili's heat.
Best meat
Nick: Competition chilis are notoriously overdone to give judges the most bang for their spoonful – great for a taste, but nothing you'd eat for a meal. Hector's had a great take on chili that I'd definitely order a bowl of, a little different with a rich mole flavor but rooted in a tomato base that tasted like it'd been slow-cooked for days. Rich, meaty, simple and damn near perfect, it got my vote – but didn't take the win. I'm not mad about Kettle Range Meat Company taking this one. Its entry was another that I'd be glad to sit down to.
Matt: I decided to treat the best meat category as my best overall chili competition – as you'd expect a tough contest. I enjoyed the flavor surprise of Hue, but it was a little soupier than I'd prefer; unless I'm plopping it on some spaghetti to soak up the juices, I like my chili to have some heft on the spoon. Dandan was also a contender thanks to its tongue-tinglingly good Szechuan version, but since it'll likely pop up again in this article (*wink, wink*), I wanted to spread the love around – which also clipped Good Harvest's scintillatingly spicy chili off my list.
One chili, however, stood out from the pack during the day – even though it came pretty late in my perusing, battling with a busted belly and a well-tested tongue – and has stuck with me ever since the weekend, and that's Hector's. The Tosa Mexican restaurant's take on chili was so rich in flavor – chocolate and peppers and tomato and heat – likely thanks to a mole base. It tasted like they'd been slowly boiling and simmering this sauce ever since last year's Rockabilly Chili competition – and the effort paid off.
Best veggie chili
Nick: Truth be told, I didn't try a lot of the veggie chilis. Of the ones I had, Company Brewing's impressed as another with long-cooked flavor and Beans & Barley, the eventual winner, was a well-rounded chili that soothes the classic chili palette – and best yet, I'm pretty sure is available on its everyday menu.
Matt: Veggie ... chili? I don't understand the category, and I won't respond to it.
Most unique
Nick: I absolutely agree with the crowd on this one. Dandan's chili was well within the classic chili universe (just say no to white chili!) but with a delightful new take. Its Szechuan chili used its namesake peppercorns to deliver a light touch of flavor and that trademark cool, numbing sensation. How the Szechuan peppercorn manages to be both hot and cold at once is a source of continual joy and wonder. Pleasantly hot and uniquely flavored, I'd definitely seek this out if it were offered on its menu.
Matt: Vanguard deserves a lot of credit for its chili contribution, which featured a crispy chicharron quietly tucked away inside its meaty, delicious chili. "Crunch" is not typically a word synonymous with chili – unless something's gone gravely wrong and you REALLY overcooked the bad boy – so to bite into that little nugget of crispy texture was a delightful surprise.
But if we're being honest, that's more of an achievement for the topping rather than the chili itself, so I give this trophy to Dandan for its bold Szechuan chili, which immediately popped off the spoon thanks to its signature mouth-numbing fiery yet frosty peppercorns. We tried these little guys before on the Burning Through Brew City trail thanks to Huan Xi's hot pot, but thanks to the classic long-simmering chili process, that special sensation was hyper-amped up in this tiny bowl. It gave me the tingles for all the right reasons – so more of this ASMR in a bowl, please, Dandan!
Best display
Nick: I wish more vendors would go hard for this one. I feel like displays have been toned down continually over the years, but maybe I'm just getting old. Whatever it is, there wasn't much to look at as far as this category goes. Repeat winners Brewed Cafe took it with its giant poster display and matching cat costumes. It definitely had the most fun with it. I'd love to see bigger, more fun displays in the future, but then again I don't have to build them, so ...
Matt: I, too, wish this category had a little more noteworthy competition. It's sad, for instance, that McBob's is my winner only because it hung a big happy Irish flag and gave me a sticker – and since I am actually a 6-year-old, that gets my vote. But next year I want more stands to really go for this award. I want fireworks ... even if you get more than enough fireworks of a different variety the day after.
As much as it is a gigantic cliché to say that one has always had a passion for film, Matt Mueller has always had a passion for film. Whether it was bringing in the latest movie reviews for his first grade show-and-tell or writing film reviews for the St. Norbert College Times as a high school student, Matt is way too obsessed with movies for his own good.
When he's not writing about the latest blockbuster or talking much too glowingly about "Piranha 3D," Matt can probably be found watching literally any sport (minus cricket) or working at - get this - a local movie theater. Or watching a movie. Yeah, he's probably watching a movie.