Milwaukee may not be known for its hot weather, but that doesn't mean that the Brew City can't bring the heat – namely from the kitchen. That's why Senior Developer Nick "Power Palate" Barth and Pop Culture Editor Matt "Powder Puff Palate" Mueller are on a journey, burning their buds and torching their tongues across town to find the city's spiciest dishes. Grab your fork and a fire extinguisher – this is Burning Through Brew City.
The next stop on their capsaicin-rich quest?
Bistec en Chile de Arbol
Guadalajara
901 S. 10th St.
(414) 647-2266
milwaukeemexicanfood.com

In our last blazing bite through Brew City, Nick and I received a challenge from a familiar face: Hot Head Fried Chicken, where we had already given its tongue-roasting rendition of Nashville hot chicken a run. Apparently the Bay View eatery was not content with merely low-key torching our taste buds and concocted a new, even spicer sauce: the 414 Fire, which brought all the scorching heat of Nashville hot chicken but with none of the mercy. Safe to say I was giving thanks for the invention of milk afterwards.
This week's new spice adventure, however, brought a challenge recommended to us from an even more familiar face – one right from our very own office.
In the middle of a recent OnMilwaukee editorial meeting, food writer extraordinaire Lori Fredrich handed me a list of places to add to our Burning Through Brew City quest. And when a professional food expert hands you a list of restaurants to try, you listen. So today takes us to the first location on her list, Guadalajara, for this signature spicy dish: bistec en chile de arbol.
Located a block off of National at 901 S. 10th St., Guadalajara has been a Mexican food staple in town for three decades, opening in 1987 when Genoveva and Felipe Losada brought themselves and their freakishly flavorful family recipes to Milwaukee up from – you guessed it – Guadalajara, Mexico. 30 years later, their modest but mesmerizing Mexican cooking is still a quiet culinary gem in Milwaukee, especially their green salsa, steak tacos and easily some of the best flan in the entire city.
But we were not at Guadalajara to sate my sweet tooth (though we definitely got flan for dessert). We were there to put its bistec en chile de arbol to the test, a delicious plate featuring thinly sliced steak simmered until tender in a sauce made with chile de arbol, a popular Mexican chili pepper that scores around the same Scoville scale rating as Serrano peppers (and above the jalepeño). Guadalajara serves this spicy stewed meat with a helping of rice and refried beans, plus some authentic warm tortillas to assemble some tasty tacos for yourself.
Just before sitting down in the restaurant's homey dining room, however, I got a twist via text message from Lori. In addition to the bistec, Lori advised that we should also order Guadalajara's chile de arbol salsa, a secret off-the-menu spicy treat that would add a bonus challenge to our trip – as long as we knew the secret code to get it. Spoiler alert: The secret password ... is politely asking your waitress, so we ordered a small stone bowl of the blisteringly red salsa to go with our meal. Because apparently one spicy heat challenge is just not enough torture in a week for Pobre Mateo.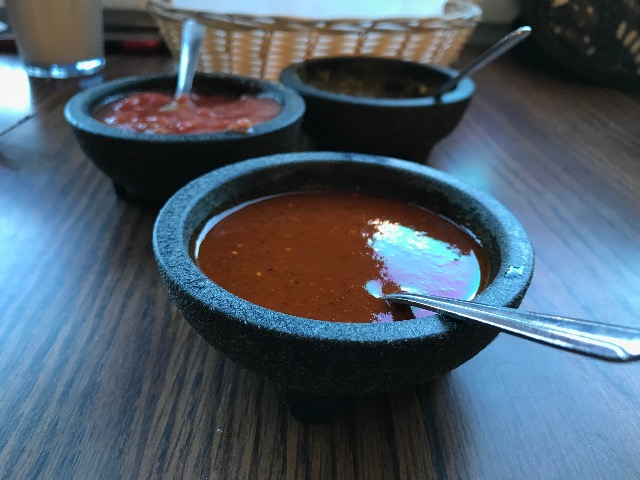 So did the two devilishly spicy dishes spell double trouble for Nick and me? Let's dig in!
Heat
Nick: The bistec's chili de arbol sauce is pretty mild, more chili flavor than chili heat. It builds a little as you make your way through the meal to a pleasant warmth, just enough to make itself known. The salsa, though, has a sharp bite that kicks in immediately.
Matt: The bistec is delicious – the steak slices are delectably meaty yet tender, and the sauce is rich with flavor – but in terms of Burning Through Brew City, it's more spice flavor than actually spicy. It builds up over the meal to a decent taste bud sizzle, but still nothing horribly potent, as I was able to scarf down the entire plate with pretty much no hesitation or issues – and then wipe the plate clean with my soft tortillas like some idiotic Mexican food noob.
This salsa, however, brings the fire. According to our very friendly waitress, the salsa condenses the chile de arbol flavor much more than the bistec dish – and you can tell, as it comes in immediately with a sharp heat. No wonder they keep this stuff secret: It's a surprisingly sinful burn.
Longevity
Nick: Chili de arbol is not a burn-through-your-whole-life kind of pepper. It burns quick and bright, then fades. No belly burn or long-term discomfort to speak of.
Matt: To be honest, it's hard to judge the longevity of the bistec versus the salsa since we were gobbling both down at essentially the same time. But either way, I left Guadalajara as comfortable and cool as I did coming in – just with a much more full and satisfied stomach.
Flavor
Nick: Both the salsa and the sauce have a pretty straightforward chili flavor. They're each well-matched to their use. The salsa is a bright and lively way to snack while you look over the menu. The sauce comes a little more rounded and serves as a good pair to the steak without overwhelming it.
Matt: As I noted before, the bistec is more about the chili and spice flavors rather than being merely spicy. So what it lacks in burn, it makes up for with a lot of rich, flavorful and complementary heat in the steak's sauce. Meanwhile, the salsa definitely cranks up the heat but also the flavor. It doesn't have the satisfying meatiness of the bistec, but that chili fire flavor is all the more present. I guess what I'm trying to say is that I liked them both a lot, and why are they not in front of me right now?
Overall
Nick: Sometimes you don't want a spectacle, just good food with a little heat. Guadalajara's chili de arbol offerings fit right in that spot. The flavor is good and the heat satisfying enough while maintaining balance with the rest of the meal. Paired with a glass of horchata and some friends, it makes for a satisfying meal.
Matt: If you're looking for a soul-scorching meal, Guadalajara isn't your stop. But if you want a really scrumptious and flavorful plate of food – with some salsa on the side for a bonus surprise kick – you can't go wrong here. The bistec, plus the salsa for a bonus surprise kick, won't give you a burn to remember for the ages, but you will certainly remember it next time you've got a craving come lunch time.
Oh, and make sure you order the flan. If you forget the flan, you will have burned yourself.
Burning Through Brew City heat index
As much as it is a gigantic cliché to say that one has always had a passion for film, Matt Mueller has always had a passion for film. Whether it was bringing in the latest movie reviews for his first grade show-and-tell or writing film reviews for the St. Norbert College Times as a high school student, Matt is way too obsessed with movies for his own good.
When he's not writing about the latest blockbuster or talking much too glowingly about "Piranha 3D," Matt can probably be found watching literally any sport (minus cricket) or working at - get this - a local movie theater. Or watching a movie. Yeah, he's probably watching a movie.