Milwaukee may not be known for its hot weather, but that doesn't mean that the Brew City can't bring the heat – namely from the kitchen. That's why Senior Developer Nick "Power Palate" Barth and Culture Editor Matt "Powder Puff Palate" Mueller are on a journey, burning their buds and torching their tongues across town to find the city's spiciest dishes. Grab your fork and a fire extinguisher – this is Burning Through Brew City.
The next stop on their capsaicin-rich quest?
Nashville hot chicken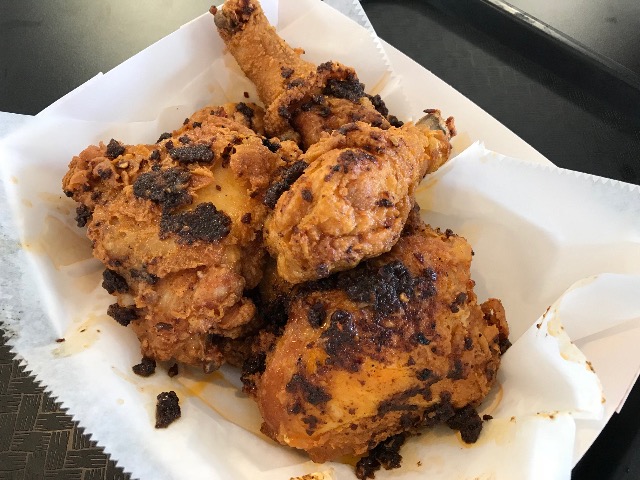 O Yeah Chicken and More
3322 W. Loomis Rd.
(414) 916-9324
oyeahchickenandmore.com

In the pantheon of restaurants that share their name with a fruit drink mascot's favorite wall-smashing catchphrase, O Yeah Chicken and More is definitely the best.
There's much more to enjoy about this new Greenfield eatery beyond its kooky name, of course, starting as soon as you walk in. Decorating the brick walls of the restaurant – opened just this past summer in a former Pizza Hut location by owner and head chef Adnan Bin Mahfouz – are amusing carnival-style caricature drawings of celebrities ranging from The Rock to Michael Jackson, all complete with the wide-eyed O Yeah chicken head logo (save for a sketch of Bin Mahfouz himself who gets to keep his smiling face).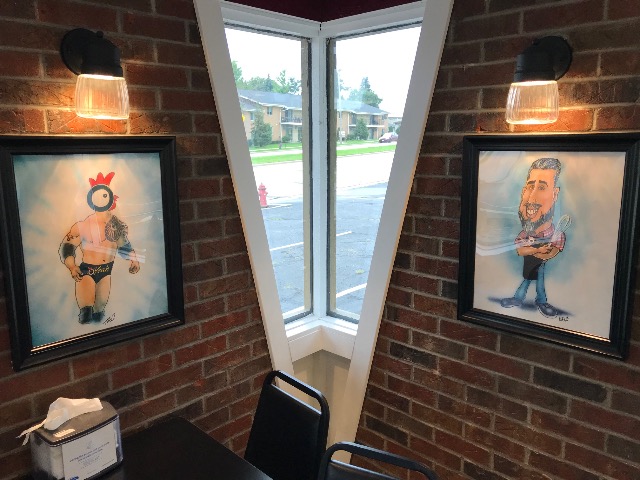 The fun doesn't stop at the decor, however. The homemade menu definitely lives up to the "more" at the end of its name, offering an eclectic mix of flavors and cultures from Chinese-American favorites like fried rice and sesame chicken, to Mexican cuisine including tacos, street corn and quesadillas, and Americana favorites like burgers and Philly cheesesteaks – all picked up, according to Bin Mahfouz, from his travels across the globe as a businessman with an inquisitive palate.
And then, of course, there's the restaurant's namesake and star dish: the fried chicken, complete with classic soul food sides like coleslaw and mashed potatoes.
But it wasn't just the fried chicken that caught Nick's and my eye for Burning Through Brew City; it was the Nashville hot chicken, that sizzling Southern specialty with the blazing red color and even more blazing heat. Would O Yeah's rendition of the famously spicy Music City treat have us bursting through brick walls yelling "OH YEAH!" – and our scorched stomachs yelling "Oh no"? Let's dig in!
Heat
Nick: The oil looks a mean red, but it's all bark and no bite. The slow-building cayenne burn is pretty mild, hot enough to warn Milwaukeeans (aka Milwaukee hot) but not enough to seek out for heat alone.
Matt: Maybe I've been spoiled by having authentic Nashville hot chicken from Music City itself in recent years (shoutout to Hattie B's and Pepperfire), but when it comes to the recipe's travels up to Milwaukee, the dish's drop in temperature is almost as drastic as the weather's. The signature cayenne in O Yeah's take brings a nice warm texture to the flavor, but it's a slow-burn spice at most. Maybe kicking up the usual vinegar-based hot sauce brought to the party would leave a stronger impact.
No matter the case, all palates should be able to keep eating without a care – which, considering how tasty the chicken is, maybe shouldn't qualify as a complaint.
Longevity
Nick: No stomach burn to speak of and no, ahem, other lasting effects.
Matt: To put it in sophisticated culinary terms, cayenne is a jerk. The spice is all about warm seductive flavor at the beginning, but slowly builds and eventually does all of its evildoing in your boiler. Or at least that was my case, in which I definitely felt a few flames in my gut several hours after eating – nothing too rough, and certainly tame by Nashville hot chicken standards, but nevertheless a mildly roaring reminder of my tasty meal.
Then again, I also swallowed a straight spoonful of the flaming red oil during the meal because I am, to use another complicated culinary word, dumb. It didn't help my stomach's cause, but it certainly helps O Yeah's.
Flavor
Nick: Winner winner (feed me) chicken dinner. The fried chicken itself, of which we tried both regular and Nashville hot versions, was fantastic – made to order, crispy skin, juicy chicken, perfect. From the chicken to the potatoes to the coleslaw and biscuits, everything's made from scratch – and it's more than worth going back for. I had leftovers for lunch the next two days and now it's gone and I'm sad.
Matt: The good thing about fried chicken is that IT'S FRIED CHICKEN. If it's made well, even if it falls short on the heat of Nashville hot chicken, it's still delicious. And O Yeah's fried chicken is mighty delicious – addictively juicy and succulent and salty and crunchy and meaty and could somebody bring me some now please?
Overall
Nick: Friendly owners serving up made-to-order food from scratch at a good value. The Nashville hot wasn't so spicy, but everything else was really well done. A solid addition to the dining-out rotation.
Addendum: I'm only supposed to talk about the chicken – fine, did that. But it would be truly unfair not to mention that I saw the words "waffle peach cobbler" on the menu and that pushed O Yeah to the top of the list. We ordered it for dessert, and it. Was. Amazing. With the same scratch-everything formula as the fried chicken – scratch waffle, peach cobbler (with a delightful crumb topping), scratch ice cream, scratch caramel sauce on the ice cream – it's a star. Whatever you get and whenever you go to O Yeah, GET TO THE COBBLER!
(But for cobbler.)
Matt: Much like Hot Head's Nashville hot chicken, this is more of a polite freshman introductory course to the spicy Southern specialty than the masterclass in fiery food you'd find in Music City. Call it Milwaukee hot chicken – but also call it really tasty, the kind of scrumptious fried chicken that has you digging into your meal like a feral dog, picking at every scrap and letting the juices and sauce drip off your face. So yeah, maybe not date night food – but certainly damn good food.
Burning Through Brew City heat index
Jonny Hammers' Too Hot For A Normal Person wings
Leff's Lucky Town's ass kickin' chicken wings
Asian International Market's papaya salad
Cantina's tacos
Exotic Meat Grill's Desert Heat Burger
Hot Head Fried Chicken's 414 Fire fried chicken
Kim's Thai's 10-pepper beef larb
EE-Sane's papaya salad/hot and spicy beef
The King Crab Shack's crazy cajun crab legs
Margarita Paradise's Diablo burrito
Red Rock Saloon's TCB ghost pepper wings
Hooligan's homemade habanero hot wings
The King & I's Volcano Chicken
Guadalajara's Chile de Arbol salsa
Glorioso's Italian Market's Human Torch sandwich
Kawa's Hell Fire ramen
Hot Head Fried Chicken's Nashville hot chicken
Wisconsin Cheese Mart's spicy cheeses
O Yeah Chicken and More's Nashville hot chicken
Jackson's Blue Ribbon Pub's Tough Guy chicken wings
Huan Xi's hot pot
All Things Jerky's Carolina Reaper beef jerky
Guadalajara's Bistec en Chile de Arbol
As much as it is a gigantic cliché to say that one has always had a passion for film, Matt Mueller has always had a passion for film. Whether it was bringing in the latest movie reviews for his first grade show-and-tell or writing film reviews for the St. Norbert College Times as a high school student, Matt is way too obsessed with movies for his own good.
When he's not writing about the latest blockbuster or talking much too glowingly about "Piranha 3D," Matt can probably be found watching literally any sport (minus cricket) or working at - get this - a local movie theater. Or watching a movie. Yeah, he's probably watching a movie.