As body art has grown increasingly popular, one trope has bubbled to the top of dining culture: the image of the tattooed "hipster" chef. And it's no surprise; after all, kitchens are one of the places where you are not judged for the art on your hands, your biceps, your neck or your chest. Chefs are hard-working, creative, emotional beings whose work is intensely personal. Their senses of humor are often fabulously twisted. And those are just some of the things that make the stories behind their tattoos so engrossing. This series is a tribute to chefs and their creativity, both in their kitchens and on their skin. Click for a look at the other articles in the series.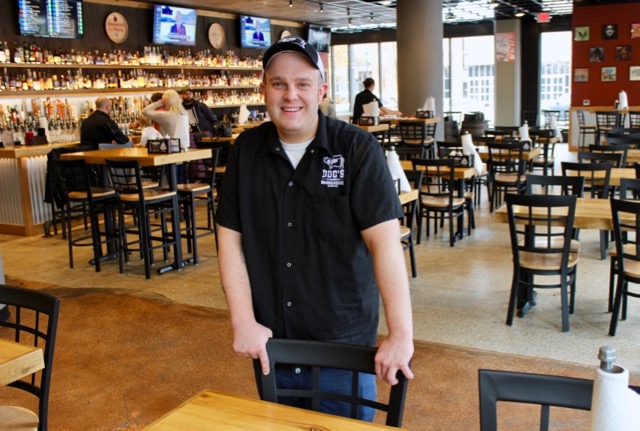 "Tattoos are a way to say who you are," says Sous Chef David Loper of Doc's Commerce Smokehouse. "And no one can negate what you've said. It's on my body. And it's a meaningful thing. Some of mine are really sentimental … and I think they look really badass."
Loper says he got his first tattoo just after he turned 18.
"At the time, I was working at a Subway that was across the street from a tattoo shop. The guys from the shop would come over for lunch and we got to be friends. At one point I mentioned I'd been thinking about getting a tattoo, and they said they'd set me up."
Loper says he didn't think terribly hard about what he'd get for a tattoo; however he knew he wanted something that paid tribute to Milwaukee, the place he grew up.
"I love Milwaukee. And my dad is a salvage monitor for State Farm. He's a handy guy, and he'd always used Milwaukee power tools for work. I fell in love with the logo. So, I told them what I wanted – the state of Wisconsin, a star where Milwaukee was, and something like the Milwaukee power tools logo. They came up with this tattoo."
"I didn't talk to anybody about it. It was like I'd gone to the store to buy a soda. At lunch, they brought over a drawing. I looked at it, and then I went over and did it after work. And then I hid my arm from my parents for three or four days."
Loper says it wasn't a regret tattoo, per se. However, these days he says he wishes he'd put a bit more thought into it.
"In the end, I don't regret the tattoo; but I regret doing it so quickly. It may have turned out totally differently if I'd taken more time to think about it."
And that's exactly what he did when he got his second tattoo about two years ago.
"At the time, I'd moved to Texas for work; I was one of the supervisors at the 024 Grill at the Westin Hotel in Houston. I told an artist friend of mine that I wanted a cow piece, and she drew it up. We went back and forth on the design, and ultimately we decided to incorporate the fruits and vegetables. There's a beet, a radish, pineapple, watermelon, a carrot and a strawberry."
As the design progressed, the meaning behind the tattoo grew more and more complex.
"The original cow idea came in part because I was involved in the culinary world; I've always really loved their faces and thought they were really cool. As a kid, I remember we'd drive out of town, and you always saw cows. They were always synonymous to me of getting out of town for the weekend. But, it was also for my grandmother. She had all these little knickknacks at her house. And she always had these little cow figurines in the window. It was one of the first things you saw when you walked into her house. So, in a way it's for her too."
"The strawberry is for my grandmother on my mom's side. She always had a strawberry patch at her house, and I had such fond memories of going over to her house and helping her pick them. And she'd always yell at me because I'd eat more than I'd bring back. I was 23 when she was diagnosed with Alzheimer's Disease. And we knew she was sick because she stopped keeping up with the garden. In the end, I really wanted to find a way to keep that memory with me forever."
Loper says he's certain he'll get more tattoos in the future. But he says he's taking his time and waiting until inspiration hits.
"Now that I know that culinary is the path I'm taking, I'd like to incorporate more culinary themed tattoos … maybe fruits, vegetables … My mother absolutely hates full sleeves. But, I'd really like to put tattoos all the way up my arm starting at the cow. My mom is a big gardener, and she has a huge green thumb. So, in a way, I'm thinking she won't be able to object."
Lori is an avid cook whose accrual of condiments and spices is rivaled only by her cookbook collection. Her passion for the culinary industry was birthed while balancing A&W root beer mugs as a teenage carhop, fed by insatiable curiosity and fueled by the people whose stories entwine with each and every dish. She's had the privilege of chronicling these tales via numerous media, including OnMilwaukee and in her book "Milwaukee Food." Her work has garnered journalism awards from entities including the Milwaukee Press Club.
When she's not eating, photographing food, writing or recording the FoodCrush podcast, you'll find Lori seeking out adventures with her husband Paul, traveling, cooking, reading, learning, snuggling with her cats and looking for ways to make a difference.