As body art has grown increasingly popular over the years, one trope has bubbled to the top of dining culture: the image of the tattooed "hipster" chef. And it's no surprise; after all, kitchens are one of the places where you are not judged for the art on your hands, your biceps, your neck or your chest. Chefs are hard-working creative, emotional beings whose work is intensely personal. Their senses of humor are often fabulously twisted. And those are just some of the things that make the stories behind their tattoos so engrossing. This series is a tribute to chefs and their creativity, both in their kitchens and on their skin. Click for a look at the other articles in the series.
"Like most people, my first tattoos came out of rebellion," notes Chef Jodi Janisse-Kanzenbach of Cafe Soeurette in West Bend. "At heart I was always a small town daddy's girl … I have two older brothers who had gotten tattoos, so I think part of it was wanting to do what they were doing. But, it's really turned into an appreciation for the art and the designs that the artists create."
She says she decided to get her first piece of body art just after she turned 18.
"I got my first tattoo on my lower back," she explains. "Now they'd call it a 'tramp stamp,' but back then there wasn't a name for it. I was dating my husband Cory at the time, and he drew the design, which combines a tribal design with a flower. He's actually very talented in drawing and painting, but not many people know that. I went to Absolute Tattoo in Menomonee Falls to get it done. I still don't regret it. I've never covered it up, and I wouldn't get rid of it. I'm still with my husband and it still has meaning for me. But, it was definitely a product of: I'm 18 and I want a tattoo. Let's go do it."
Her next foray into body art was a traditional '90s tribal band on her upper left arm.
"That one was not my proudest moment," she says. "I just picked some art off the wall and had them do it. I kept it for probably ten years before I decided to cover it."
The next was also a bit of a regret. It was a design she had tattooed on her stomach, right above and around her belly button.
"For some reason I thought I was going to be 120 pounds forever or something …" she says with a laugh. "And then I got pregnant and the tattoo – which was probably four inches long – stretched to somewhere between 12 and 15 inches. So, that wasn't the best idea."
By her mid-20s, she says, she grew more thoughtful about both the art and the locations she chose.
"I got a tattoo on my foot. I knew I wanted a foot tattoo, and I told Cory the basic concept and he drew it up. It's a branch with flowers."
Next up, she chose a design for her shoulders and back that was based on a painting by Sheila Wolk and held a particular sentimentality.
"Cory knew I was looking for a tattoo to put on my back, and he found a picture of the art online. My first stepmother, Dawn, was an amazing woman. She was strong and determined, and she'd give anyone the shirt off her back. She was also a phenomenal artist. She'd suffered from rheumatoid arthritis since childhood, and three months after her and my dad got married, she had a stroke that paralyzed her entire right side. She was right handed, and even after her stroke, she re-taught herself to paint. She also loved goldfish. I'd always go over to their house and take care of her tank of fish when they were out of town."
"So when Cory showed me the picture, I knew it was perfect. The title of the painting is 'Metamorphosis' and it's a mermaid and her hair is flowing around her and transforming into koi fish. The artist at Black Dragon Tattoo in Waukesha gave me a deal; he told me that he'd charge me $500 for as long as I'd sit. I ended up getting it done in two parts; during the second session I sat for it for nine hours."
Despite the fact that she was in her mid-twenties by that time, she says that she'd somehow managed to keep all of her tattoos secret.
"Remarkably, my father didn't know I had any tattoos," she says. "I was really afraid I would disappoint him. So I kept this one from him too until a few years later. When I showed him – after a couple of cocktails – he actually cried. I thought he was going to be angry with me, but he wasn't."
Janisse-Kanzenbach says she'd also always wanted to do a sleeve, but she was extremely hesitant to take the step and get a tattoo that would be so visible.
"I didn't want customers to be turned off," she explains. "At the time, even some of the places where I worked didn't know I had tattoos. So, I started small with a tattoo on my wrist. I love antique silverware, and I had a bracelet I loved that was made from an antique fork. It was really annoying to wear because the tines of the fork were always poking me in the arm. So, I decided to get it tattooed instead."
In the meantime, she gave thought to what she'd do to fill in the rest of her arm, a step that would also serve to cover the tribal cuff which she'd since decided wasn't a tattoo she wanted to keep.
"I'm not a flowers and butterflies kind of a girl," she says. "But, then I was at work one day and I said: 'What if I get fruits and vegetables?' There was a lot of work that went into the design on my arm. It was actually done by two different artist, and completed in sections."
"Before I got the tattoo I went out to a bunch of different farms that I worked with and took pictures of fruits and vegetables. They did tracings at the tattoo shop and and pieced it together to figure out how to make it look the best on my arm. It was one of those moments when I just had a lot of respect for what the artists do. I love the tattoo; it has strawberries, grapes, sugar snap peas, rainbow chard, carrots, chili peppers and tomatoes woven into scrollwork. I think there were 34 hours involved in it, all-told. So, that's my ode to my culinary side."
During the process, she connected with Sarah Gray from Lakeside Tattoo in Pewaukee, an artist she says she immediately clicked with. Since then, she says Gray has been her choice of artists for all of her tattoos since.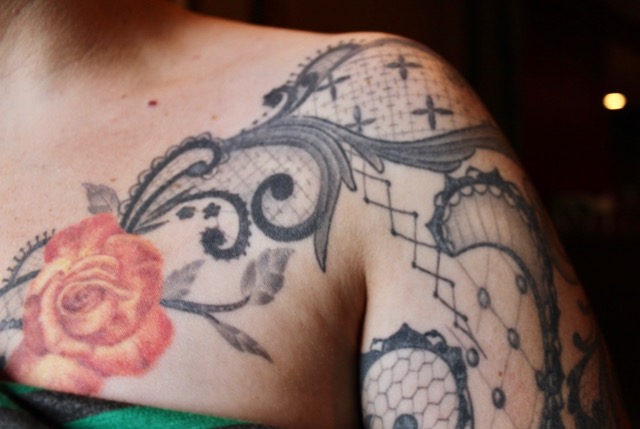 "I can't say enough good about her. She does so many different styles. And she's working on my most current tattoo. It's a design based on the idea of vintage lace. It incorporates an orange rose for my dad; orange is his favorite color… and I asked her to work a skull into the design because I think if you're going to get tattoos, you need to have at least one skull on your body somewhere."
Janisse-Kanzenbach says she's far from finished completing her tattoos; but her busy schedule as a chef and mother has made it difficult to schedule in time for sittings.
"It's been four years since I had any work done, and it's just been really hard to get something scheduled. But I was inspired when you reached out about the tattoo series, so I scheduled an appointment in January to get the next stage of the lace tattoo done."
Moving forward she says she's contemplating a design for her neck. But she admits it feels like a hefty commitment.
"I love neck tattoos … my husband has one on his neck, and I think it's really sexy," she says. "But I go back and forth on whether to actually get one. At this point, I don't really know what I'd get. But I might go with vintage flash art … kind of an ode to where tattoos started. Hopefully I'll eventually get the gumption to do it."
Lori is an avid cook whose accrual of condiments and spices is rivaled only by her cookbook collection. Her passion for the culinary industry was birthed while balancing A&W root beer mugs as a teenage carhop, fed by insatiable curiosity and fueled by the people whose stories entwine with each and every dish. She's had the privilege of chronicling these tales via numerous media, including OnMilwaukee and in her book "Milwaukee Food." Her work has garnered journalism awards from entities including the Milwaukee Press Club.
When she's not eating, photographing food, writing or recording the FoodCrush podcast, you'll find Lori seeking out adventures with her husband Paul, traveling, cooking, reading, learning, snuggling with her cats and looking for ways to make a difference.