In 2018, Emerald Mills launched Diverse Dining, an organization that hosted monthly, open-to-the-public dinners at different restaurants in myriad Milwaukee neighborhoods. The goal of these dinners was to provide a safe environment for people from diverse backgrounds to have meaningful conversations about race, gender, segregation and other related topics while enjoying a meal together.
"Food is and always has been a great unifier of people," says Mills.
When the pandemic hit in March of 2020, Mills was forced to modify her offerings and, like many businesses, moved her events online. Thus, "Diverse Dining Boxes" are now available for order.
Diverse Dining Boxes feature food items, conversation starters / ice breakers and a related craft all, aptly, in one box that is mailed to the customer's home. After purchasing a box, customers have access to a coinciding virtual event as well.
The monthly boxes can be purchased one at a time for $54.99 or for $49.99 with a standing monthly subscription. The January Box is themed "Happiness" and can be ordered through end of day Friday, Jan. 15.
The Happiness Box includes products from Honeybee Sage Wellness, candles from Bado Buda, soup from Upstart Kitchen, Soul Brew Kombucha and lip scrub from Adamma Glosses made by a 14-year-old Milwaukeean. The contents of the boxes will vary from month to month, and Mills wants to keep an element of surprise for the recipients by not listing everything in the box online.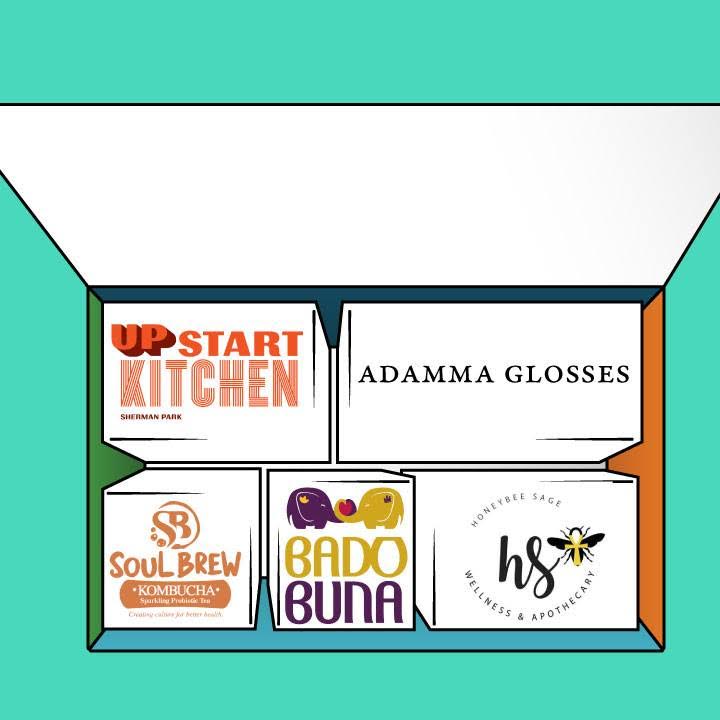 The "Happiness" kit also includes beads for bracelet making with each bead representing life priorities and a list of discussion questions to ponder and/or discuss while creating the jewelry.
"People can do all of this stuff from the box at once if they want: light candles, eat, drink, make a bracelet and have a good conversation about their priorities and how to reprioritize certain aspects of their lives if they want to," says Mills.
Four times a year, Mills will also offer "Heritage Boxes," which are larger boxes that focus on a certain culture like African American or Asian. She is also offering very limited, in-person, small group experiences starting in February.
Mills, who grew up in Milwaukee and Zion, Ill., holds a degree from the University of Wisconsin-Milwaukee in communications and community education. Prior to starting Diverse Dining, she had 20 years of public health and diversity inclusion training experience under her belt.
"It's difficult to have conversations about some topics and I wanted to create an environment that was free of tension," says Mills. "I am still doing that through the boxes, people can do it from their own homes while enjoying products from local, diverse entrepreneurs."
Go here to order a Diverse Dining box or to find out more about the organization.
Molly Snyder grew up on Milwaukee's East Side and today, she lives in the Walker's Point neighborhood with her partner and two sons.
As a full time senior writer, editorial manager and self-described experience junkie, Molly has written thousands of articles about Milwaukee (and a few about New Orleans, Detroit, Indianapolis, Boston and various vacation spots in Wisconsin) that range in subject from where to get the best cup of coffee to an in-depth profile on the survivors of the iconic Norman apartment building that burned down in the '90s.
She also once got a colonic just to report on it, but that's enough on that.
Always told she had a "radio voice," Molly found herself as a regular contributor on FM102, 97WMYX and 1130WISN with her childhood radio favorite, Gene Mueller.
Molly's poetry, essays and articles appeared in many publications including USA Today, The Writer, The Sun Magazine and more. She has a collection of poetry, "Topless," and is slowly writing a memoir.
In 2009, Molly won a Milwaukee Press Club Award. She served as the Narrator / writer-in-residence at the Pfister Hotel from 2013-2014. She is also a story slam-winning storyteller who has performed with The Moth, Ex Fabula and Risk!
When she's not writing, interviewing or mom-ing, Molly teaches tarot card classes, gardens, sits in bars drinking Miller products and dreams of being in a punk band again.