SISTER BAY – I've said it for years – 22, to be exact – that Door County means different things to different people. Whether your idea of this magical peninsula is nature or adventure, shopping or relaxing, friends or family, or a mix of everything above, one storyline arcs above all the rest: Door County is what you make it.
Unlike the Dells or Lake Geneva, Door County is Wisconsin's ultimate DIY destination, even if that entrepreneurial spirit manifests itself in ways that require a second look.
Perhaps it's because the peninsula is just so large. Every time I visit – and my friend Eron and I started this annual trip in 1994 when we were 20 – new experiences unfold themselves at every twisty turn. But we also pay homage to years gone by, honoring old traditions and making new ones.
This summer, we set our sights on points farther north. After years staying in Fish Creek, we opted instead for Sister Bay, which has transformed itself from sleepy second-fiddle to friendly and forward-thinking. But with the help of our friends at the Door County Visitors Bureau, we wanted to make this trip purposeful and our own.
Some of the DIY stuff is quite literal. For example, we circled back to visit Hands On Art Studio in Fish Creek, for its "Friday adult night." I've visited Hands On during the day with my family, but this was a totally different experience. At night, it's quiet, and you're on your own to discover and consider what kind of art you'd like to make. We picked metal work, because spot welding just isn't one of those kinds of things you can do at home.
And oh yeah, you can bring in your beer.
Of course, Eron and I welded ourselves some slightly risqué sculptures, because in our heads, we're still those 20-year-old college kids and not these 42-year-old responsible parents blowing off real life for 72 hours – but the experience was great and worth a visit.
We also, of course, stopped by the Bayside Tavern in Fish Creek for dinner and a quarter of Packers' preseason action, but after that, we focused strictly on Sister Bay and beyond.
Sister Bay used to be small potatoes (or cherries?) on the bay side of the peninsula, but that's totally changed with a road widening project and local efforts to make the village more user-friendly. The Saturday art fair was full of local artisans peddling their wares; with the backdrop of the pristine beach, it's hard to not to get a little swept up.
We stayed at the Bluffside Motel, a simple, older property, decorated in a DIY cherry theme that feels charmingly reminiscent of your grandma's kitchen in the '80s – but it's clean, spacious, comfortable and close to the action.
Just down the hill, we visited the new Bier Zot and even newer Stabbur, a completely outdoor beer garden from Al Johnson's that feels like an open-air Norwegian farm. The handmade building was actually brought to the United States in 1974 and features rosemaling carvings; it's lively during the day and at night and definitely worth a visit (try the Malmo Mule).
For dinner, we checked out the new location of Wild Tomato, the wildly popular gourmet pizza place from Fish Creek that was started by a Milwaukeean with a true DIY spirit. It was probably the best pizza I've ever had. Apparently I'm not the only who thinks so, because there was a two-hour wait – unless you can jump into a seat at the bar, as we did.
We had lunch at the brand new Roots Inn & Kitchen, a spectacular farm-to-table restaurant that serves amazing organic brats with simplicity and panache. While new, it stems from the family's roots in the local service industry and elegantly connects old Door County to new.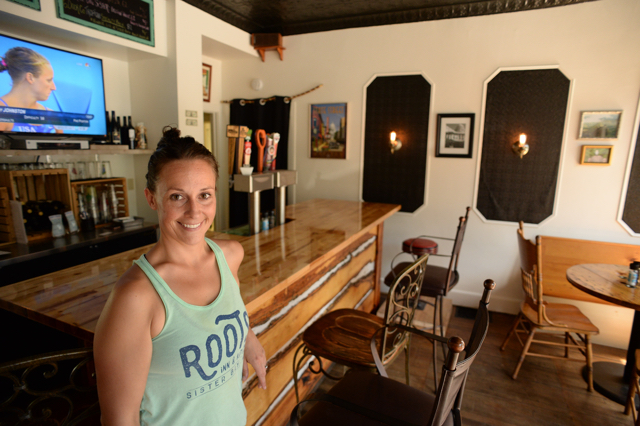 Not everything in Sister Bay is new, though. We also made a point to visit Husby's, an old fixture that has expanded with its "garage," and Sister Bay Bowl, which has been around forever.
Then, we drove north and spent a lot of time taking what we called purposeful photography: While every phone is a camera, and we've all embraced the Instagram culture (it didn't happen if you didn't post it!), we slowed it down. We looked for art. We stopped by cherry orchards. We drove to the end of the peninsula and watched people get on and off the ferry to Washington Island. We took pictures that will eventually end up on the two old barn boards that the owners of Roots Inn & Kitchen gave us on our way out.

And we did all this while smiling and eating and relaxing. Not with a packed itinerary full of jet skis and galleries and cherry picking; rather we came in with a loose agenda and let our whims guide us. It was pretty perfect.
I could tell you more specifics, like the breakfast of cherry-stuffed French toast we inhaled at Carroll House, or the craft beer we sipped at Door County Brewing. Or the people we met as we ambled from Seaquist Orchards to the new Beach People location in Fish Creek. But if you've read my many, many travel stories about Door County over the years, you probably know about that kind of stuff.
This is instead an endorsement for making Door County your own. That DIY approach will come in many forms, and every one will be worthy of a memorable trip to Wisconsin's most extraordinary place.
Andy is the president, publisher and founder of OnMilwaukee. He returned to Milwaukee in 1996 after living on the East Coast for nine years, where he wrote for The Dallas Morning News Washington Bureau and worked in the White House Office of Communications. He was also Associate Editor of The GW Hatchet, his college newspaper at The George Washington University.
Before launching OnMilwaukee.com in 1998 at age 23, he worked in public relations for two Milwaukee firms, most of the time daydreaming about starting his own publication.
Hobbies include running when he finds the time, fixing the rust on his '75 MGB, mowing the lawn at his cottage in the Northwoods, and making an annual pilgrimage to Phoenix for Brewers Spring Training.