Looking for Milwaukee patios and outdoor places to soak in the Great Milwaukee Summer? We're here to help with our Patio Picks series, brought to you by MillerCoors, in which we share our personal experiences at local patios that serve up outside comfort in outstanding ways.
As the movie "Blues Brothers 2000" taught us all too well, it's tough following in a legend's footsteps. That's exactly the tricky spot Elwood's Liquor & Tap found itself opening up in the former Rosie's, which closed in 2018 after 36 years as a beloved Water Street watering hole at 1111 N. Water St.
But unlike that unpopular sequel, Elwood's pulled off the feat, comfortably plugging itself into the Water Street scene as a dive bar with a difference, that difference being a cozy, colorful and crowd-pleasing patio escape.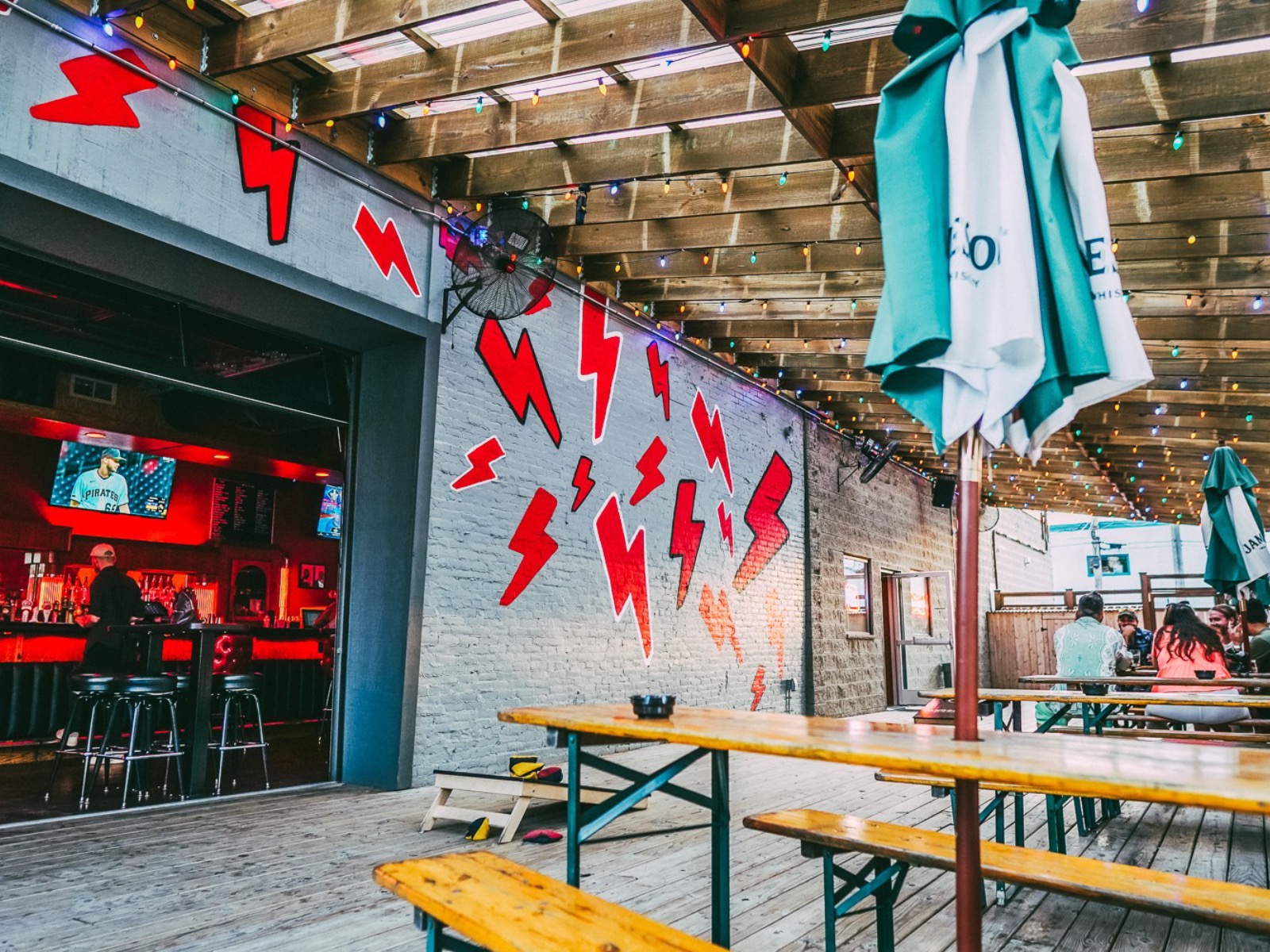 Inside Elwood's is classic dive bar vibes, from the red-hued, comfortably low-key lighting to the décor – including a nifty old Pabst sign – to the big games on the TVs (while you can find just about any game, Elwood's first love appears to be hockey) and the overall no-frills atmosphere, one that involved neither country nor Western playing over the speakers.
In additional to the Art Deco dive aesthetic, the interior brightens up the bar with some of its own particular personality and history, including a picture of NBA superstar Charles Barkley's mugshot from his notorious Milwaukee arrest in 1991 due to an altercation outside the former Rosie's and even a glamour shot of the owner's dog – and Elwood's true namesake – over the door. (But yes, he was named after the "Blues Brothers" character.)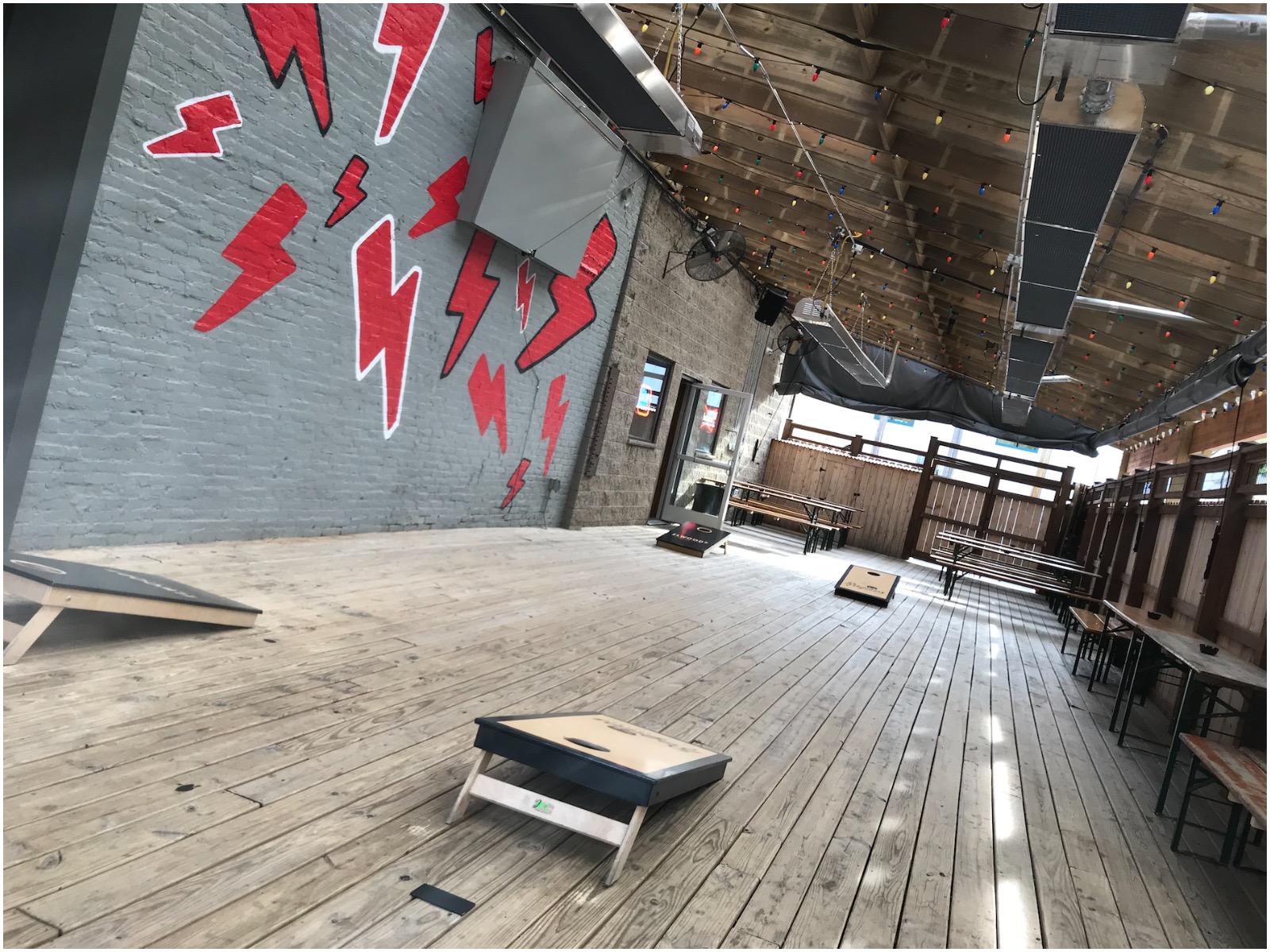 But what truly brightens up Elwood's – quite literally – is the patio. Added on after taking over the building, what was once merely a parking lot and the popular Rosie's mural sign is now a large wooden covered deck space, with a garage door opening up to the main bar. Taking your first step inside the tavern, it's impossible not to notice how much the new addition makes the bar look significantly brighter and larger, giving Elwood's even more room, air and natural light, and making what could be a dark space more warm and inviting.
And that's all before you even step out onto the patio itself. The space itself is a little escape, fenced in from the hustle and bustle of Water Street and Downtown and protected up top from any of Wisconsin's infamously uncooperative weather. Even with the lid, though, the space is beautifully bright, either from the sunlight coming through the clear windows up top during the day to the colorful Christmas lights glowing in the evening. Also helping to bring a splash to the space is the former Rosie's wall, now painted with a vibrant, energetic and electric mural featuring bright red lightning bolt logos (think Shazam's superhero costume) striking across grey, an ideal Instagram-approved selfie backdrop.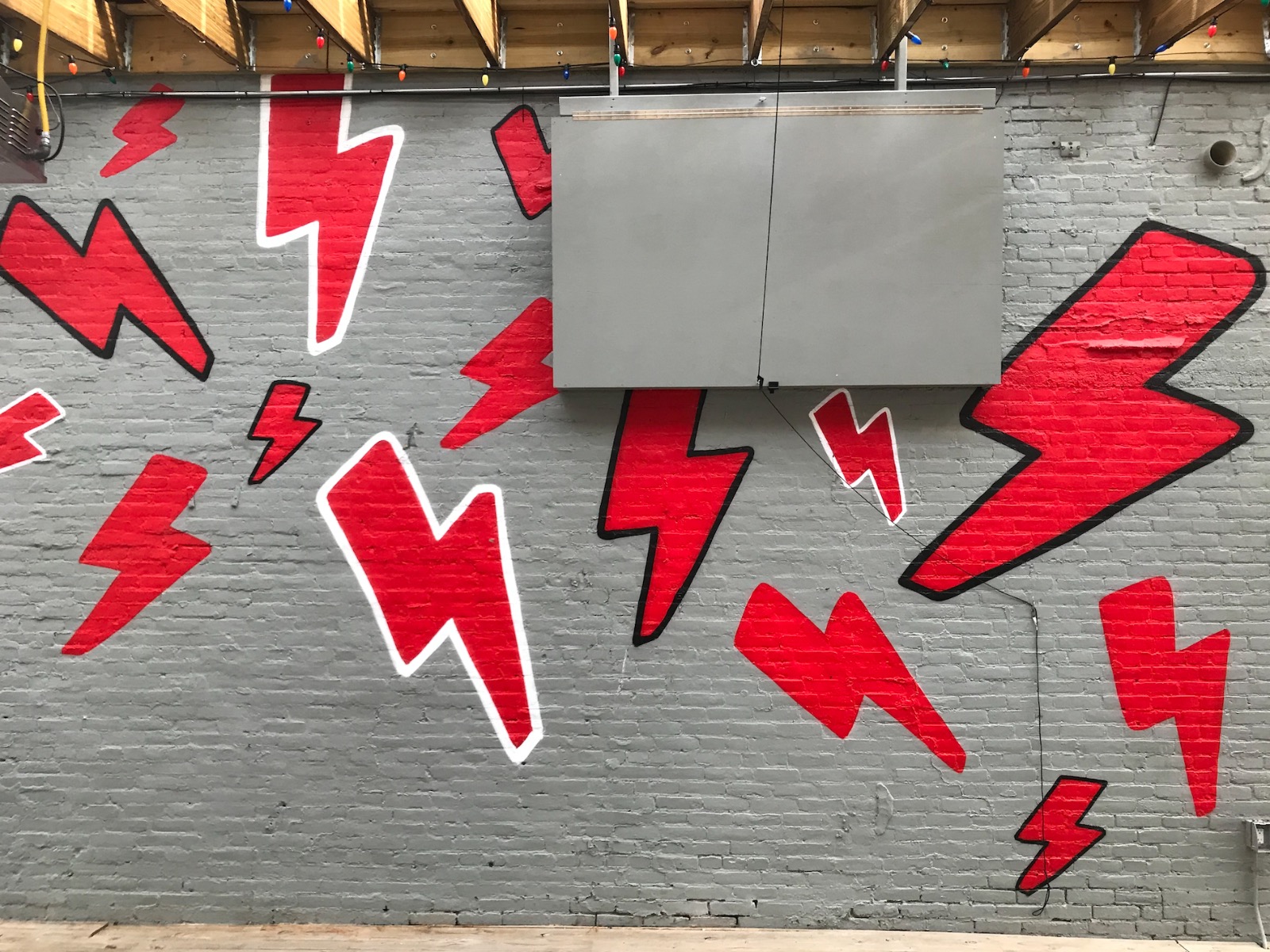 While the mural background works for social media hits, it serves even better as the background of good hangouts – with both your two-legged and four-legged friends as the bar and deck are dog-approved (as you'd hope for a spot named after a pup). The patio holds around six or seven picnic tables for gathering, sitting and sipping on Elwood's impressively diverse beer list – ranging from reliable macros like Miller Lite to a plethora of craft brews. In a bar district often known for its loud and packed atmosphere, the patio deck works as a relief-inducingly relaxed hideout from the hubbub.
In case you want some bonus excitement in your escape, however, there is the deck's most popular feature: no, not the mural wall, but the bags set in front of it. Indeed, while the game is on the TV above the mural, you can have your own competition tossing bags on the deck. The bar sport has become so popular at Elwood's that, on Wednesdays and Thursdays, the tavern hosts bags leagues, shifting the picnic tables over to pop in another set of boards and plugging in electronic scoreboards to make sure nothing hinky happens on the scoresheet.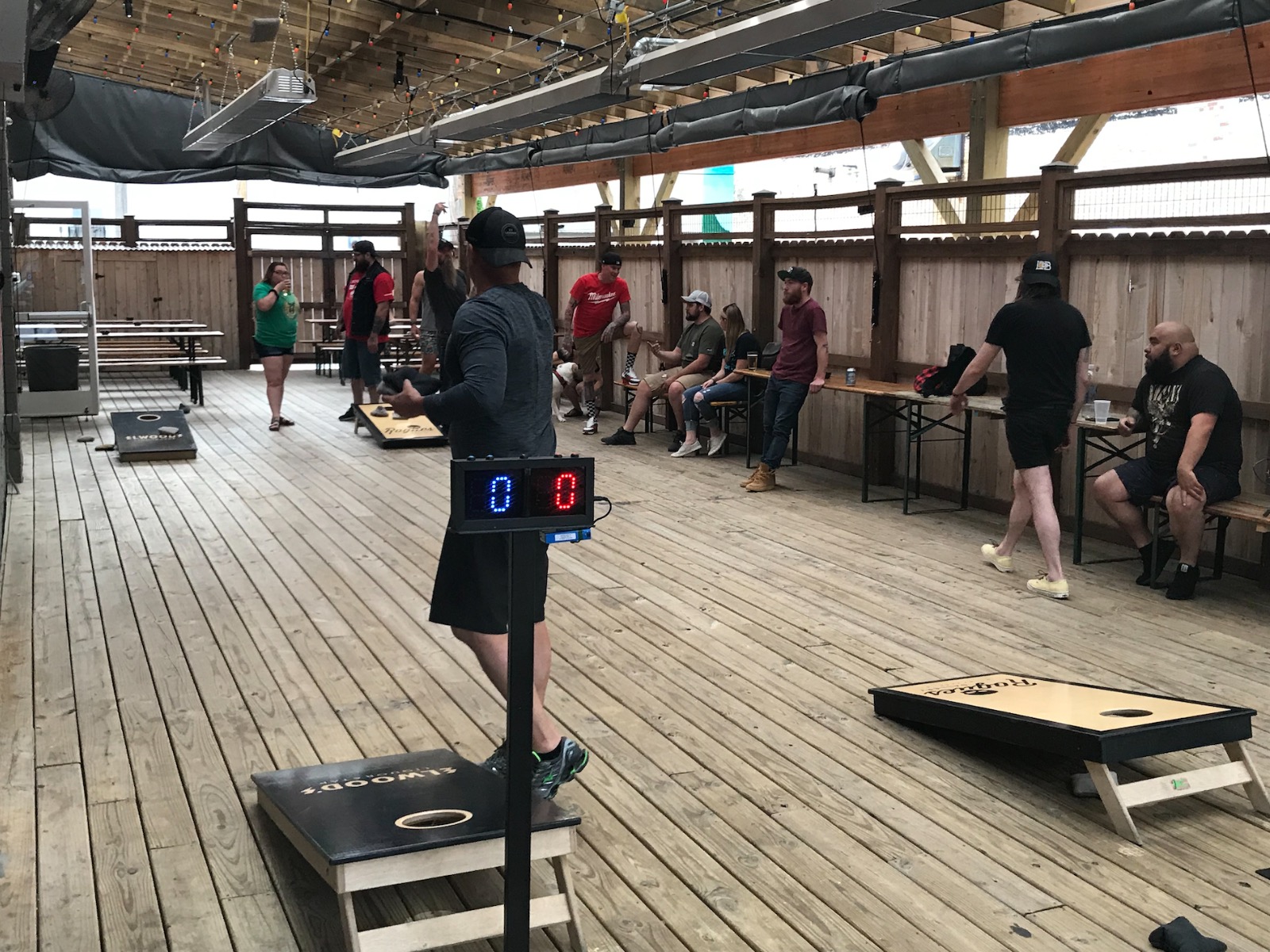 Even with three playoff contests on the TVs, during my visit, the game gathering the most eyeballs was easily happening on the porch, not the screens. The vibe was that ideal bar sports energy: animated but amiable. It was such a show that no one even noticed or cared that, elsewhere, the Brewers managed to score a whole six runs that night.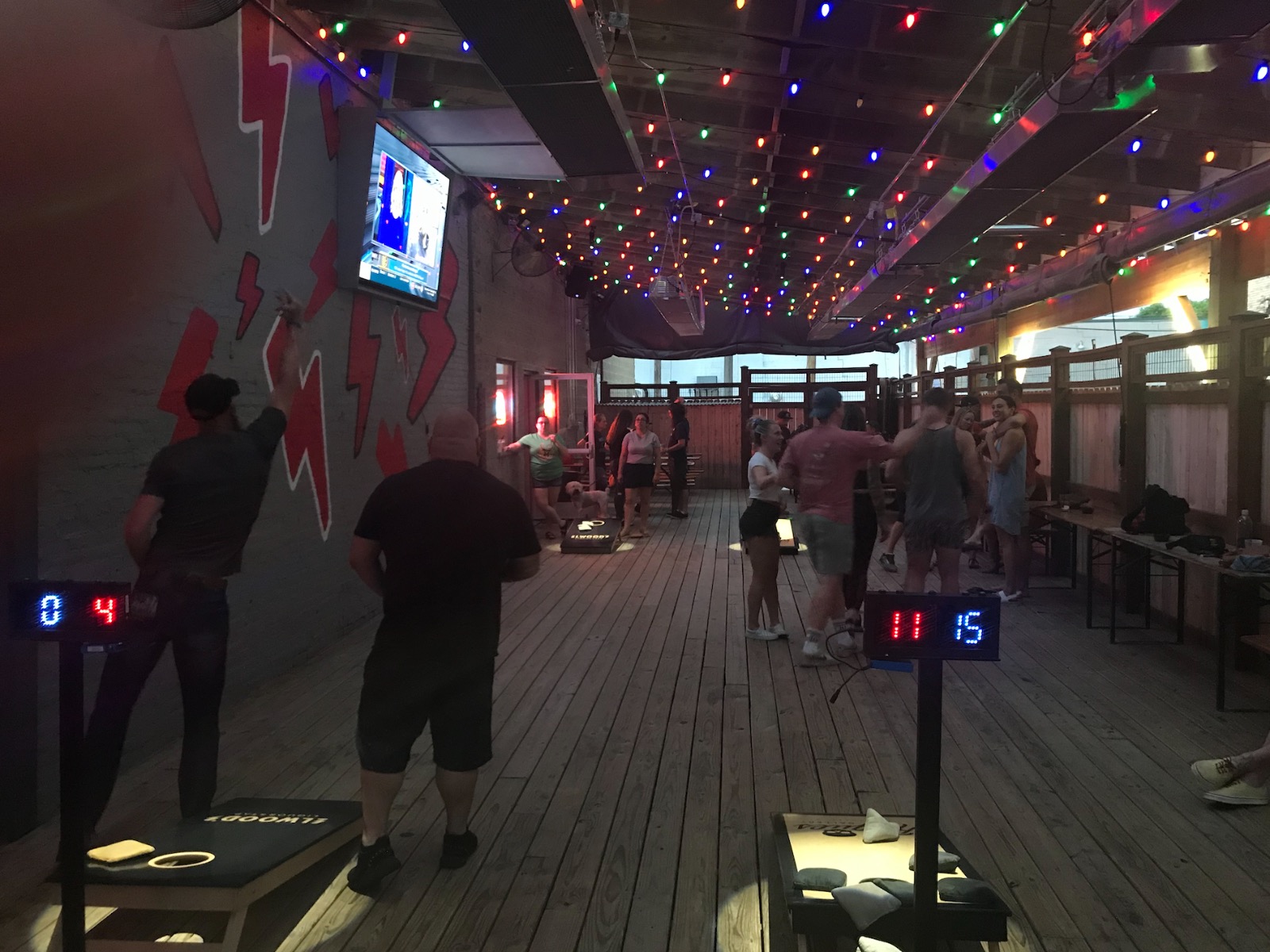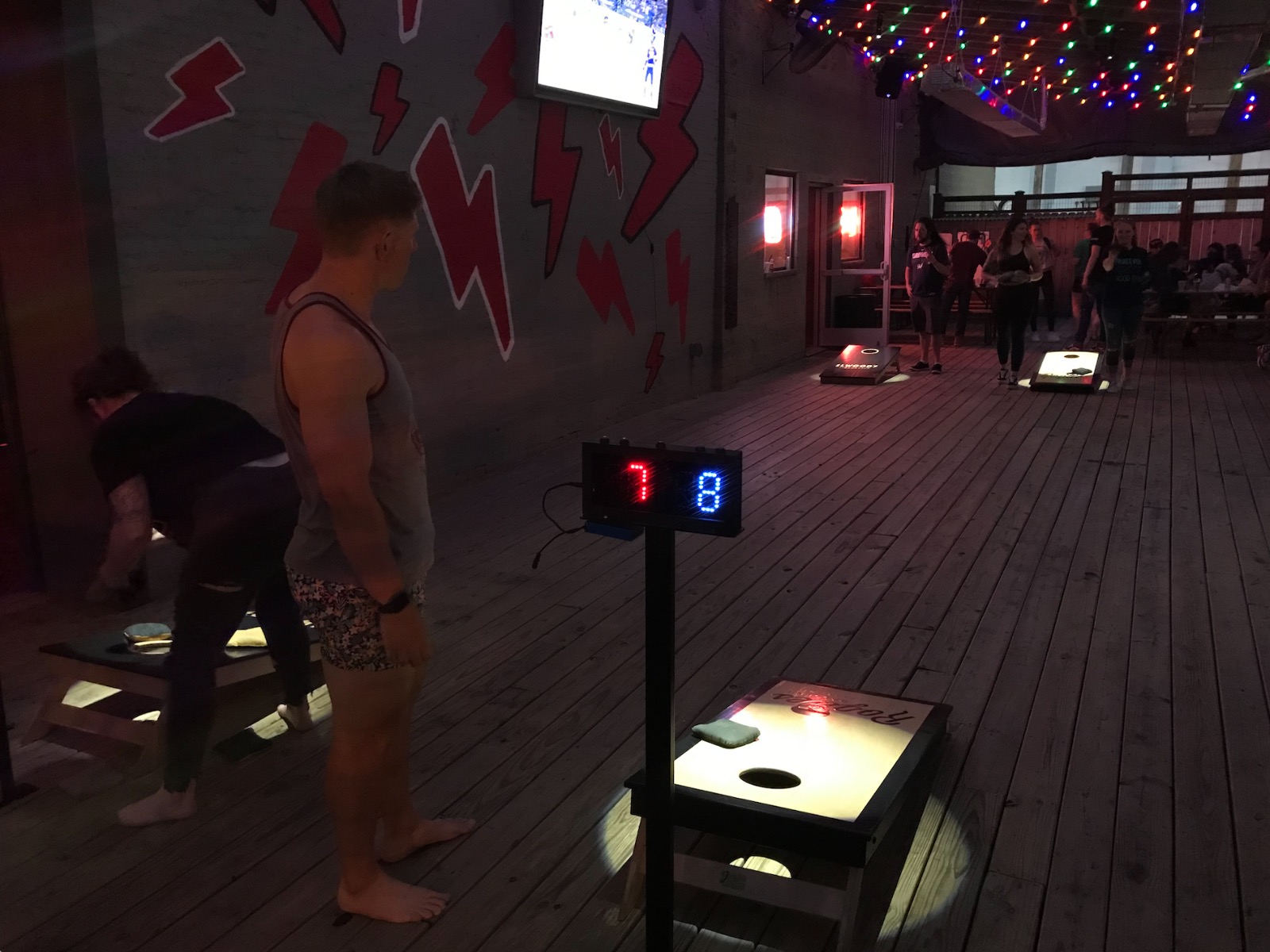 Bags nights are not the only events that call Elwood's patio home. For instance, for Global Wellness Day on Saturday, June 12, the bar will team up with Shred415 for a special Shred the Deck 45-minute HIIT workout.
The best events, however, especially after the past year of isolation, are meeting up with friends, enjoying some fresh air and taking a break from life with a beer and some laughs. And Elwood's patio is perfectly assembled for exactly that, so make it a mission to head over and enjoy this island from the Water Street insanity for yourself. If you want to stay in theme with the bar's name, you could even call it a mission from God.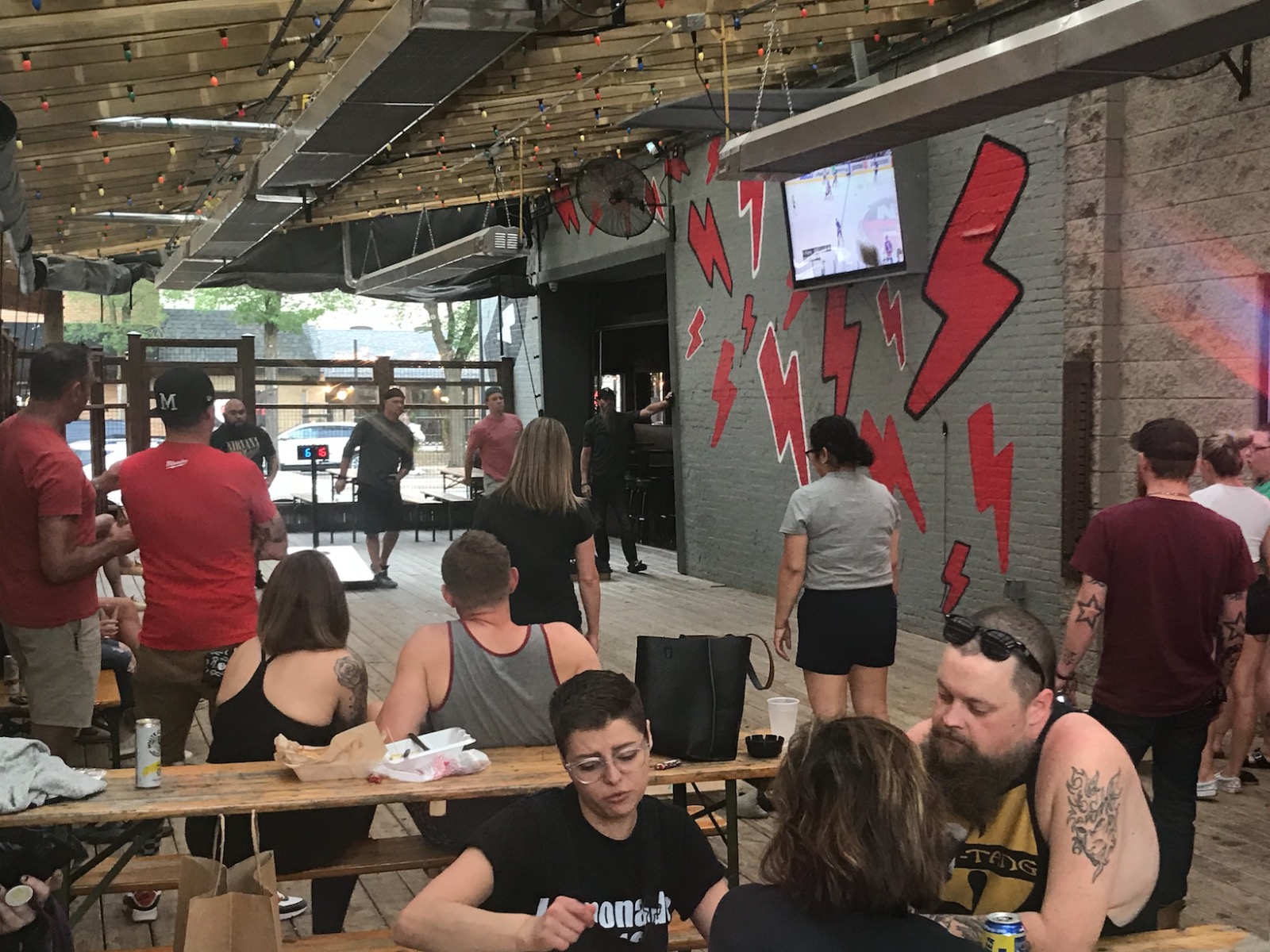 Elwood's is currently open Tuesdays through Thursdays from 5 p.m. until 2 a.m., Fridays from 5 p.m. until 2:30 a.m., and Saturdays from 2 p.m. until 2:30 a.m. and Sundays from 2 p.m. until 2 a.m. Happy hour rolls until 8 p.m.
As much as it is a gigantic cliché to say that one has always had a passion for film, Matt Mueller has always had a passion for film. Whether it was bringing in the latest movie reviews for his first grade show-and-tell or writing film reviews for the St. Norbert College Times as a high school student, Matt is way too obsessed with movies for his own good.
When he's not writing about the latest blockbuster or talking much too glowingly about "Piranha 3D," Matt can probably be found watching literally any sport (minus cricket) or working at - get this - a local movie theater. Or watching a movie. Yeah, he's probably watching a movie.