If Bo Black was a big part of the story of Summerfest in the 1980s and '90s, her departure was one of the early landmarks of the first decade of the new millennium.
According to Dave Tianen's book, "Summerfest: Cooler by the Lake, 40 Years of Music and Memories," tensions that arose during negotiations of a new lease for the Henry Maier Festival Grounds were the beginning of the end of a 20-year relationship between Black and the Big Gig.
"The (new) lease agreement revealed tensions within the Summerfest family that undermined Bo Black's once unassailable position as executive director," he wrote, pointing out that once the deal was done, Black – who had been feuding with then-Mayor John Norquist already – publicly criticized the lease.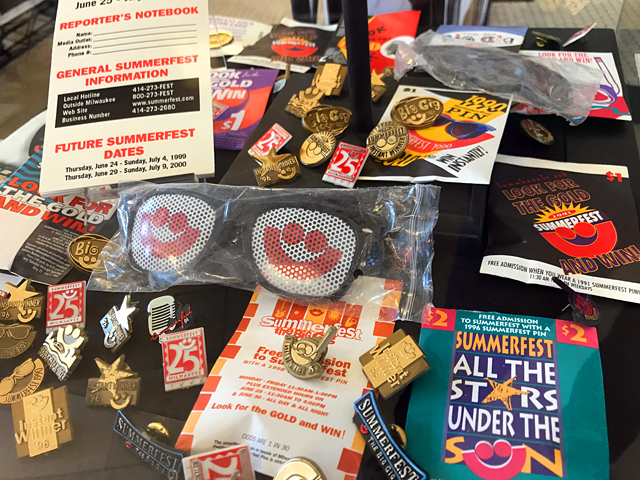 "Signs that Black's position had dramatically eroded were evident when the board declined to take up the matter of her contract extension at its December 2002 meeting. In September 2003, the Summerfest board voted to dismiss Black."
And so ended the longest run by a Summerfest executive director in the history of the festival so far.
Black left a few recent highlights behind when she departed. In 2001, Summerfest broke the 1 million mark in attendance for the first time. The Emerging Artist Series was launched at the U.S. Cellular Connection stage at the 2004 festival, the planning for which began while Black was still at the helm
In 2003, a number of improvements were made to the grounds.
A new permanent rock stage was erected on the north end, along with a north gate ticket office and new restrooms. A new mid-gate was constructed, too with ticket windows, food vendor buildings, a second floor seating area in the nearby Harley-Davidson Roadhouse and, best of all, the mid-gate pavilion area with its immediately popular splash pad.
On the south end, the carnival rides were removed and replaced with a new M&I Bank-sponsored stage.
But even more dramatic changes to the grounds would follow when new executive director Don Smiley took over in 2004.
A Racine native, Smiley – who had been working in Florida as executive director of the PGA Tour's Honda Classic – was hired by businessman Wayne Huizenga to help grow Blockbuster Video, which he did, taking it from just 10 video rental outlets to more than 3,000 worldwide.
"Right at the tail end of that, we had thrown our hat in the ring to pursue a national east Major League Baseball franchise for South Florida," Smiley recalls. "There were eight other cities that were vying for a team, and I headed up the effort for him along with three or four other folks, and we were granted a team in July of '91. We threw out the first pitch in April of 1993, and we won the World Series in October of 1997."
At the same time, the Marlins stadium was also hosting big concerts by the likes of Billy Joel, Elton John and the Rolling Stones, giving Smiley an intro to the concert business. But that's not how he came to Summerfest.
After Huizenga sold the Marlins and Smiley left, he moved to North Carolina.
"I was playing golf one day with a recruiter from New York, and he took a phone call in the golf cart, and they started talking about Summerfest," Smiley says. "I could hear one side of the conversation, and I said, 'you're talking about Summerfest.' He said, 'Yeah, how do you know about that? Oh, yeah, you're from Racine!'
"He put two and two together, and couple of holes later he said, "You know, I have the assignment to find a president and CEO for that organization, would you be interested? I said, 'Jeez, I don't know, I've never thought about it, you know?' And so I said, 'Give me some information, let me look at it.'
Soon after, Smiley – whose name would seem to have made him a shoo-in for the job at the festival with the smiley face logo – was in Milwaukee as Summerfest's new executive director.
The affable Smiley says he didn't know much about Bo Black and wasn't at all intimidated by her public stature in Milwaukee.
"I never really looked at it that way, I mean I don't look at myself that way, I don't operate that way," he says. "The event is the celebrity. No one person is. Celebrities are Brewers players and Packers and Bucks. I really don't know much about that whole situation prior to me getting here, what she was or what she wasn't. I didn't really focus on that, I really focused on the job that I wanted to get done.
"And, you know, I just came off winning the World Series. I didn't need to be out there more when I got here. I had just gone through that. I was very experienced with the media, but I never searched it out."
By the time he got here in 2004, Smiley says the festival was already planned, so he spent his first Big Gig exploring, taking notes, learning and formulating a plan for the future. And that plan focused heavily on the grounds and facilities.
"To be brutally honest, I mean, the grounds were just a mess," Smiley says. "They were just tattered and torn. The south gate ... There was a temporary stage in the south end known as the Classic Rock Stage. The Briggs and Stratton stage was in tough shape, the Harley stage was in tough shape, the Miller stage was in tough shape. Basically, every single one of the stages needed to be demolished and rebuilt.
"It was a little bit of a daunting task, because, you know it'd be one thing if there was just one stage that needed to be redone. But the whole place needed work. They hired me to come in here and improve things. So I did. And I ended up, along with many others, coming up with a plan to rebuild this place."
Smiley felt that there was too much emphasis placed on attendance numbers; on hitting that 1 million mark. He was going to take a different approach.
"There seemed to be an inordinate amount of weight given to this attendance number and very little weight to the actual physical property that Summerfest operates on," he says. "You're running all these people through your property, and your buildings aren't really in very good shape, whether it's bathrooms, restaurants, stages, whatever.
"So, I just flipped that around and said, "look, we're going to take the emphasis off of attendance, and we're going to think about quality. We're gonna think about fan-facing elements of this festival, that a fan touches, sees, interacts with, that is additive to their experience at a concert or festival'."
So, he set about the work, focusing first on the Miller Oasis, which was revamped for 2006. Then came the Harley Roadhouse in 2008. And the work has continued apace ever since. So much so, that this year, the Miller Oasis has gotten the second massive makeover of Smiley's 14-year tenure.

(Miller Lite Oasis and Harley-Davidson Roadhouse photos courtesy of Summerfest.)
The next decade would find Smiley continuing to improve the guest experience on the Henry Maier Festival Grounds. Next week, while the Big Gig is taking place at the lakefront, we'll look at the 2010s in this Summerfest decade by decade series.
Born in Brooklyn, N.Y., where he lived until he was 17, Bobby received his BA-Mass Communications from UWM in 1989 and has lived in Walker's Point, Bay View, Enderis Park, South Milwaukee and on the East Side.
He has published three non-fiction books in Italy – including one about an event in Milwaukee history, which was published in the U.S. in autumn 2010. Four more books, all about Milwaukee, have been published by The History Press.
With his most recent band, The Yell Leaders, Bobby released four LPs and had a songs featured in episodes of TV's "Party of Five" and "Dawson's Creek," and films in Japan, South America and the U.S. The Yell Leaders were named the best unsigned band in their region by VH-1 as part of its Rock Across America 1998 Tour. Most recently, the band contributed tracks to a UK vinyl/CD tribute to the Redskins and collaborated on a track with Italian novelist Enrico Remmert.
He's produced three installments of the "OMCD" series of local music compilations for OnMilwaukee.com and in 2007 produced a CD of Italian music and poetry.
In 2005, he was awarded the City of Asti's (Italy) Journalism Prize for his work focusing on that area. He has also won awards from the Milwaukee Press Club.
He can be heard weekly on 88Nine Radio Milwaukee talking about his "Urban Spelunking" series of stories.