10 plates of "food porn"
For the ninth straight year, October is Dining Month on OnMilwaukee, presented by the restaurants of Potawatomi Hotel & Casino. All month, we're stuffed with restaurant reviews, dining guides, delectable features, chef profiles and unique articles on everything food, as well as voting for your "Best of Dining 2015."
Whether you like or hate the term "food porn," most agree that many local restaurants boast some very sexy dishes. And although we probably wouldn't really trade sex for food, which is what the term suggests, at certain times and for certain meals we just might.
Here are 10 mostly-in-Milwaukee dishes that photographed well and, consequently, might put you in the mood for food. Or at least make you drool a little.
1. Bacchus' sauteed scallops

Photo by Paul Fredrich
This hot plate of food – served with potato chorizo hash – is available on the tasting menu at Bacchus, 925 E. Wells St. "People … can come in and just relax, knowing that we're going to give them a really great experience," Nicolas Wirth, executive chef at Bacchus, told OnMilwaukee in 2014.
2. El Senorial's "Orden de nachos"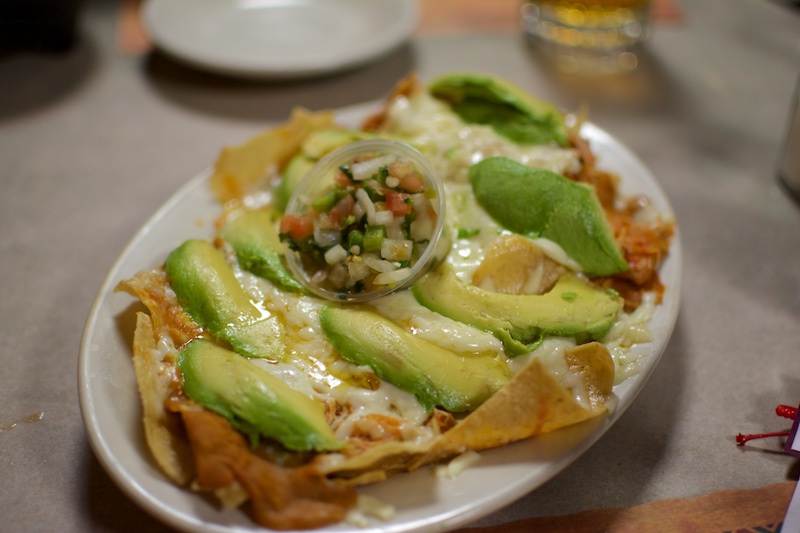 Photo by Royal Brevväxling
El Senorial, 1901 S. 31st St., serves up plates of oh-so-alluring nachos thanks to a feisty mix of fresh chips, Chihuahua cheese and large, firm slices of avocado. For more nacho love, check out this guide of five.

Photo by Lori Fredrich
Made with pesto, tomato jam, fried capers and olives and balsamic reduction, this one is sexy enough to purr the word like a kitten – "Burrrrrrata." Just don't do that when ordering it at Story Hill BKC, 5100 W. Bluemound Rd., because that will come off as creepy.
4. Von Trier's Trio Deutsche Würste

Photo by Royal Brevväxling
Mmmmmm .... Von Trier, 2235 N. Farwell Ave., offers up these succulent meat coins: bratwurst, knackwurst and weisswurst, all served with a mini German pretzel. The menu is fairly new at Von Trier – read more about it here. Who needs a human date when you can hook up with one of these?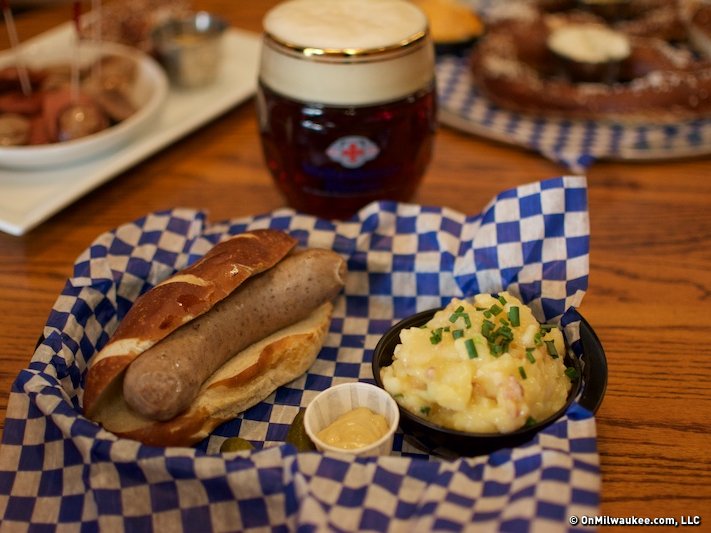 Photo by Royal Brevväxling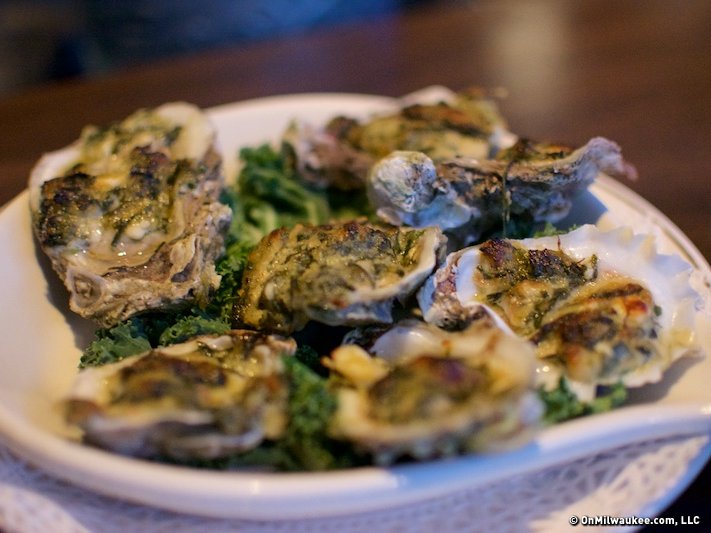 Photo by Royal Brevväxling
These in-the-shell oysters, available at the Butterfly Club, are mixed with spinach and garlic butter. The Butterfly is in Beloit, but we had to include it on this local list because it's just a short road trip away and both the name of the supper club and this dish are that sexy.
6. Sanford's citrus seared striped bass
Photo by Joe Laedtke
You might want to get a room with this delectable dish from Sanford, 1547 N. Jackson St. The seafood is stacked atop a grilled corn risotto cake with pickled purslane and purslane broth.
Zarletti, 741 N. Milwaukee St., features many easy-on-the-eyes edibles, including these saffron arancini, smoked and stuffed with mozzarella and meat.

Photo by Paul Fredrich
These photos of Zarletti delectables are pretty smokin' as well:
Photo by Paul Fredrich
Photo by Paul Fredrich
uvwuwuzaueccer
Facebook Comments
Disclaimer: Please note that Facebook comments are posted through Facebook and cannot be approved, edited or declined by OnMilwaukee.com. The opinions expressed in Facebook comments do not necessarily reflect those of OnMilwaukee.com or its staff.