Almost daily, I'm asked to give my recommendations for places to eat and drink. At least as often, people ask me to share my "favorite" restaurant. It's an admittedly impossible task, as there are so many worthy options (I can name at least three or four favorites at any given moment, each for a different reason).
It's been a wonderful year for dining, and even this list only captures a modicum of the wealth that's available right now in our city. That said, this list is an attempt to curate some of my favorite picks (in our 40 Best of Dining poll categories) from 2017.
At its very least, this collection of restaurants offers perspective on the bounty that Milwaukee offers. At its best, it encourages you to challenge your own palate, compelling you to discover new venues and support the work of some of Milwaukee's most creative and talented chefs.
Bon Appetit!
Best African / Jamaican / Caribbean
There's a reason I chose Irie Zulu as my "best new restaurant" pick in 2016. And that's because it's a restaurant that offers up an unparalleled gustatory journey into Jamaica and the African diaspora. And that hasn't changed. Dishes are creative, filled with passion, and maybe most significantly, they're served up with a dose of cultural insight. Dishes like the vegan maffe (peanut butter stew) are rich and savory. Jerk wings are tender and well spiced. And there are few dishes as unctuous and comforting as the oxtail stew (either Jamaican or African), which is perfect as the weather turns cool. Another element of the restaurant on the whole that's not lost on me is the fact that, as suburban landscapes increasingly fill with predictable American-style cuisine, Irie Zulu has offered a multitude of new diners a menu that takes them on a delectable journey solidly outside of their comfort zones.
Best Asian Fusion
For the second year running, I'm giving my vote to the cheel in Thiensville. For every mile I've driven out of my way to dine there, they've paid me back in dividends with deliciously unique, well prepared cuisine, including vegetarian and gluten-free options, along with memorable cocktails. Go for the delicious Himalayan momos, but stay for dishes like silky spiced eggplant bharta served with light, crisp housemade chips or the bheda shank, featuring tender lamb braised with garlic, ginger, onion, cinnamon, cloves, cardamom, cumin, and coriander. I was also pleasantly surprised this year with a number of their specials including a tender, lightly fried Octopus flavored with a combination of Nepalese spices.
Best Bakery
They're newly minted, and I've likely only scratched the surface of what they offer. However, when it comes to sweets, I've developed a soft spot for Miss Molly's Cafe & Pastry Shop, where there are myriad well-executed indulgences to be found. Cakes are tasty and inventive, often incorporating herbal notes in frostings and glazes. Scones are tender and well flavored. And their bakery style cookies are always a treat. Pair any one of them up with a cup of Anodyne coffee and you've got a combination made in heaven.
Best Bar Food
After losing their chef, Company Brewing went through a rough patch earlier this year, and their menu suffered a bit. But, I do believe the Riverwest brewery is back on track with a great menu of delicious fare that's beyond worthy of its bar environment. Take for instance the mushroom walnut pate, which is a great snack with one of their tap cocktails. They also have excellent smashed butter burgers (with imaginative weekly specials) and tasty beer-braised mussels and frites. Don't miss the malted pots de creme at the end of the meal.
Best BBQ
In 2015, I lamented the fact that Milwaukee simply was not a barbeque town. But in the past two years, our city has seen an explosion of new barbeque restaurants. But, none showcase the expertise in the art of smoked meats quite like Iron Grate BBQ where Chef Aaron Patin serves up some of the juiciest smoked brisket in the city, along with a variety of other inventive smoked dishes Among my favorites is the succulent head-on hickory butter barbequed shrimp. There's nothing like it anywhere. Same goes for the unctuous Milwaukee rib, a succulent piece of meat we can now proudly call our own. If you haven't been to Iron Grate's new stand-alone location on Howell Avenue, it's high time you made a visit.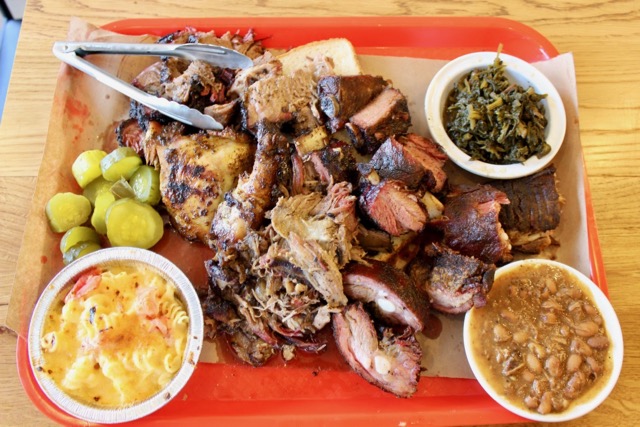 Best Beer List
Beer lists are getting better and better all the time across the city. So, this question is getting more and more difficult to answer. But, I'm going to give this one to Cafe Hollander, not necessarily for the breadth of their selection (though that's impressive), but for depth. If there's one thing they do well, it's curating an excellent selection of brews, including impossible or hard-to-find Belgian options.
Best Breakfast
This one goes to the new kid on the Bay View block. In fact, if you haven't been to Sabrosa Cafe & Gallery, you need to put them on your list. This cozy spot has won me over, not only with their pillowy blueberry pancakes and gorgeously plated entrees, but also with classic Mexican breakfast options that go beyond the usual breakfast fare. Pair that with great, refreshing drinks, good coffee and some of the quaintest little digs in the city and you've got a winning combination.
Best Brunch
And then there's brunch. I'm a big fan of leisurely weekend breakfast, and a spot that never seems to fail me is Story Hill BKC. And it's largely because of their crepe monsieur, which is a magical dish that features the classic combination of smoky ham and Alpine style cheese with a twist of mustard and pickles. And you needn't get me started on the house-made cinnamon rolls...
Best Burger
The Burger Trail has taken me to over 35 spots this year alone. As you can imagine, my opinions about what makes a good burger have sharpened along the way. I've enjoyed a good many burgers (and there are great ones to be had at numerous spots, including Palomino, Cafe Soeurette in West Bend, Merriment Social, Oscar's on Pierce and Stella Van Buren); but the burger that tops the charts (at least right now) is from Crave Cafe in Shorewood, where there are numerous fantastic tasting burgers, all of which are accompanied by delicious buns, balanced toppings and (bonus) really great fries.
Best Cafe / Diner
The National Cafe is a repeat pick on my list of top spots. And it's as much about the friendly, neighborly vibe in the cafe as it is about the food, which chef and owner Nell Benton has smattered with some of her favorite international flavors. I love heading there in the early afternoon after the lunch crowd has cleared. I'll sit and work while enjoying a great breakfast dish (like the Full English) or a panini like the turkey, bacon and brie panini which comes with a touch of sweetness from the cranberry orange relish. And on a cold blustery day, there's little better than a bowl of their silky tonkotsu ramen.
Best Chinese
While Jing's will always have a place in my heart, I'm giving my "Best Chinese" medal to dandan. At this time last year, the restaurant was still getting its feet wet after a summer opening. And there were hiccups. But, thanks to repeat visits over the course of the last year, it's grown to be a spot with dishes that I crave. That includes excellent dumplings, spicy dishes like chicken wings (the wings are tender and the sauce is fantastic), flavorful cumin lamb, and comfort food options like the egg foo young. My one regret is that I've been negligent in pre-ordering the Peking Duck, a dish that I plan to seek out (and relish) as soon as I'm able. I hear it's a knock-out.
Best Cocktail List
I'm so thrilled to see so many new cocktail menus cropping up across the city that are as worthy as the restaurant menus they accompany. But there's one that has been doing it, and doing it well, since its inception. And that's Goodkind. It's a place where cocktails are never the afterthought; in fact their creation comes as a direct result of collaboration between the kitchen and the bar. They're thoughtfully crafted by folks like Katie Rose, whose dedication to both creativity, craft and the use of fresh, seasonal ingredients puts her on a level equal to that of a chef in the kitchen.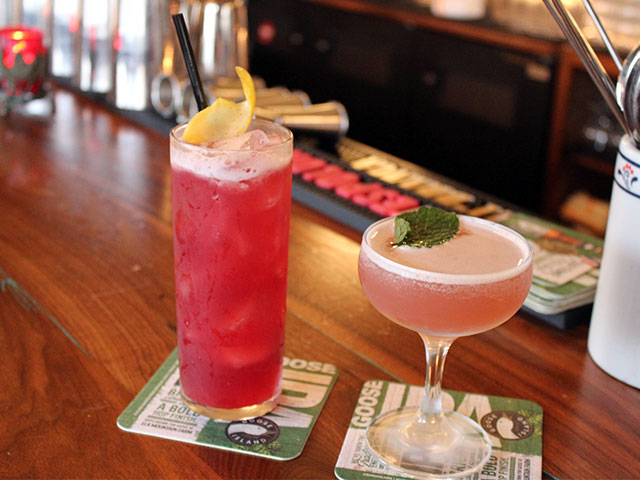 Best Coffee Shop
Thanks to the nature of my job, I spend a fair amount of time in coffee shops around the city. But, one of my favorite landing spots is the Stone Creek Cafe at the 88Nine Studio in Walker's Point. The chairs are comfortable and the outlets plentiful. But, maybe equally as important are the baristas, who not only know their game, but are exceedingly friendly to boot. They pour a particularly mean cortado, a necessity when I need an afternoon pick-me-up.
Best Desserts
Those who know me particularly well understand that I don't have the biggest sweet tooth on the block. I've been known to relish sugary treats; but it often takes something particularly special to "wow" me, particularly after a truly delicious meal. And I've had some of the best this year at EsterEv, the tasting room only restaurant inside of dandan where Pastry chef Jaceleen Latin-Monagle showcases some of her most creative work in artful dessert courses that capture comfort (in creations like "confetti cake") or harness both intense flavors and textures (like caramel corn) in a single dish. It's a rare and wonderful place where the desserts are at least as good as the savory courses that precede them.
Best Family Friendly
I don't have kids, so this pick doesn't resonate for me on a daily basis. However, when I have other peoples' kids in tow, I have a tendency to gravitate toward spots like AJ Bombers, where the rocketship peanut launchers always delights. In fact, it's become a tradition to take my nieces and nephews there to enjoy burgers and custard while marveling at the graffiti and flying p-nuts.
Best Fish Fry
When it comes to the Friday fish fry, I'm pretty old school. And that means I have a couple of rules. You have to have some sort of fried lake fish (I almost never order cod), and you must serve potato pancakes. You get the real deal at Bass Bay Brewhouse, where their rye-crusted walleye is deliciously crisp (and I love the hint of caraway) and their hand-breaded cod is heads above the rest. The secret is in the hybrid breading, which takes the best of beer batter and combines it with traditional breading for a crisp amazing coating that doesn't fall off the fish, and which reheats like a charm (seriously). Their potato pancakes are fantabulous. And, oh, if you go, be sure to get a bowl of clam chowder. It's da bomb. You can read my full review of their fish fry here.
Best Food Product
When I cast a vote for Usinger's I'm paying homage to a Milwaukee product that has seen our city through both thick and thin times. It's a product from a family-owned company that has remained true to its heritage, stood by the ingredients in its 100-year-old recipes, and continued to deliver on a promise to create authentic German sausages and European style meats.
Best French / Cajun / Creole
If there's a place in town that captures the feel of a casual Parisian bistro in Milwaukee, it's Le Rêve Patisserie & Cafe, a bustling spot where casual fare is treated with elegance and prepared with deft technique by chef Andrew Schneider and chef de cuisine Sarah O'Bear. Whether it's a croque-monsieur for lunch or a red wine braised duck leg, Alsatian salmon or steak-frites for dinner, you'll find well-executed seasonal fare along with petite desserts that are as beautiful as they are delicious.
Best Indian/Pakistani
I've been a pretty big fan of Anmol for years now, and they seldom disappoint. You can't go wrong with the pakora or chicken makhani, and don't be afraid to order the goat or mutton curries; they're delicious. A bonus is that their na'an is some of the best in the city.
Best Italian
When I cast my vote for Ristorante Bartolotta it's really a vote for the care and respect with which they treat regional Italian fare. Chef Juan Urbieta consistently produce cuisine that's created with the spirit of Italy in mind; that means fresh, seasonal fare, handmade pasta, fresh fish and a rotating cast of specials that showcase the diversity of a country that's all too often drawn up under a "pasta and red sauce" flag.
Best Japanese / Sushi / Ramen
I'll say it. I've had some really bad sushi in this town. But, I've also had some really good sushi -- and yes, on occasion even the sort of sushi that comes close to rivaling what I've eaten in coastal spots like San Francisco. One of those spots is RuYi, where you'll find a combination of the freshest of fish, as well as a nice variety of options that you can't find just anywhere.
Best Late Night Eats
If I'm out, and it's late, there's something about the sausages at The Vanguard that I crave. On the up-side, there are far worse things to crave during the midnight hour than house-made sausages with creative toppings. This year marks a new era for the sausage-slinging bar with the care-free attitude, since Chef Shay Linkus is departing to open a new restaurant, so I'll be eager to see what the new year brings.
Best Mexican / Latin American
I'm heading off-survey with my 2017 pick, largely because Amilinda definitely deserves a mention for their Spanish and Portuguese-inspired dishes, which are unlike any you'll find in the city (and for which there is no dining poll category). The menu is small and focused, but dishes rotate often, depending on what's fresh and in season, so my tastebuds never tire. Some of my can't-miss dishes have included their empanadas, housemade sausages and their piri piri chicken, which I've recommended to others more times than I can count. I've also had various preparations of bacalhau (salt cod) that have been spot on.
Best Middle Eastern
This year I've found it exceedingly tough to get enough of the offerings at Hello Falafel. I'm a sucker for the Sabih, a falafel wrap with charred eggplant, hard cooked egg, lemon tahini, cucumber salad and zhoug, a fragrant sauce with origins in Yemen which I'm quite sure would be delicious on just about anything savory. There's also a lovely lentil soup, fattoush salad and a charred halloumi with a sweet tomato relish that's the epitome of sweet and salty. Their fresh juice combinations are top-notch as well, and healthy to boot.
Best Milwaukee Institution
It's been a tough year. We've lost two of our cities oldest establishments, Karl Ratzsch and Watts Tea Shop, to a swiftly changing market. They are losses that cut deeply into the fibers upon which Milwaukee was founded. For that reason, I'm casting my vote for Mader's, one of the city's oldest remaining German restaurants. Established in 1902, the business has operated consistently and (remarkably) remained in the Mader family for three generations. Zum wohl, Mader's!
Best new restaurant
It was no easy task to choose best new restaurant this year. After all, Milwaukee's dining scene has offered up an embarrassment of riches over the past twelve months. And a number of new spots -- including Bodegon, EsterEv, The Fitz and The Tandem -- have added much to the restaurant landscape.
But I'm a sucker for well executed seafood, and that's exactly what you'll find at Third Coast Provisions and its little sister restaurant, Oak & Oyster. The restaurant gets big points for its gorgeous interior, which is not only opulent, but comfortable. And its offerings are indisputably delicious, making them well worth your time, attention and hard-earned dollars. Options like buttery Parker House rolls and lobster potholes are rich and indulgent, and entrees like King salmon with dill spaetzle are well executed. And if you're in the mood for more casual dining, Oak & Oyster offers something for everyone, including tacos, po'boys and plenty of oysters to go around.
Best Pizza
For the second year running, my vote goes solidly to Wy'East Pizza, a newcomer who has won me over with their delicious slow-fermented crust, which is best enjoyed hot out of the oven. It's crisp on the exterior and chewy on the interior and topped with great, fresh ingredients in inventive combinations. I can't seem to get enough of the Hot Marmot, but I've also had really good luck ordering the seasonal specials, which are always well designed.
Best Sandwiches
When it comes to creative combinations, the sandwiches at Bavette La Boucherie are still among my favorites in town. And that's largely due to Chef Karen Bell, whose creations are spot-on in flavor and balance. She's also masterful with unexpected combinations, so there's always something interesting and new to try. Steak with truffled mushroom duxelle and roasted grapes? Pork cheek with roasted squash? They're both good, and so are all of the others. Trust me. When in doubt, opt for the tongue Reuben. It doesn't disappoint.
Best Seafood
Harbor House is my "go to" for this category, mainly because I respect their decision-making when it comes to sourcing. Their oyster selection is out of this world, particularly during prime season, and they take pains to source from small purveyors who are raising them sustainably. I do wish their seafood selection was more broad and interesting in other areas; but, that's partially due to the demand from diners. If you feel the same way, you can do your part by voraciously supporting their more unusual specials, which sometimes feature lesser-known fish.
Best Small Plates
Oh, my. If there's a dish that's gotten stuck in my head this year it's the octopus at Tofte's Table in Waukesha. It's phenomenally tender, expertly grilled and paired with a lovely mustard sauce that's bright with lemon. But, it's not unlike most of the dishes on the menu at Tofte's Table, the bulk of which are fresh, balanced and comforting all at once. There are real strengths in the seafood options on the menu, but Chef Jason Tofte is also masterful with vegetables, so don't leave them off your list when you visit. Dishes are affordable and the gorgeous shabby chic dining room is welcoming and fit for dining with friends. So, it's a great choice for your next night out.
Best Southern / Soul Food
Not only is there Midwestern soul food at The Tandem, but there is truly a soul. It's evidenced by not only the friendly neighborhood faces in the restaurant, but by the way chef and owner Caitlin Cullen has trained her kitchen staff to produce keenly crisp Memphis style fried chicken, deliciously braised greens and countless other . Not only has the restaurant brought new life to the old Wally Schmidt Tavern, it's given countless people a reason to travel a bit further on on Fond du Lac Avenue.
Best Splurge
For me, a splurge restaurant should deliver on a number of things: great service, impeccable food, and an experience that can't be had anywhere else. Ardent does all three of these things, and Chef Justin Carlisle and his crew do them well, time and time again. Sign up for the tasting menu and you'll get not only inventive dishes that push the envelope in terms of flavor and preparation, but you'll have a personalized experience during which the chefs deliver the food to your table, offering commentary and conversation about each dish. There's also something very personal about many of the dishes, which pay homage to Wisconsin's best ingredients from high quality dairy to custom-raised beef from Carlisle's family farm in Sparta. Best of all, there's always something surprising on the menu that's uniquely delicious.
Best Steak
I've never been one to order steak when I dine out. However this year I've been surprised by a number of steaks in our fine city, and I feel the need to give credit where it's due. One of those impeccable meals came from Stella Van Buren, a newcomer to the Milwaukee scene with delicious fare that simply shouldn't be overlooked. I'm generally a bone-in ribeye gal; but, their 8-ounce filet is worth a rave. Cooked to order on the restaurant's Montague infrared grill, the steak is brushed with garlic butter and sprinkled with Maldon sea salt. It's mouth-wateringly tender and juicy with a slight crust on the exterior and a lovely mid-rare center. A lovely thing, indeed.
Best Street Food / Food Truck
If there's one truck from which I've craved food all summer long (and all too often didn't find at hand), it's Press. And their infinitely craveable liege waffles. Yeasty and caramelized, these waffles are rich and intense, and their texture is stretchy and layered. Maybe most delightful is the faintly crunchy exterior, which is formed through the caramelization of the pearl sugar on both the exterior and interior of the waffles. As I wrote earlier this year, "these aren't the sort of waffles you can have a singular bite of and quickly forget."
Best Takeout
I love spending a night at home cooking; but when I'm short on time, I'm not unlike so many who rely on takeout every now and again. Among my favorite spots is Mara's Grill, a gem located just off of Lisbon on the West Side. The small restaurant has a few tables, but relies heavily on carry-out. Their menu features Mexican staples (like enchiladas and tacos), some American options and a number of well executed options from Guatemala. Among my favorite dishes in the latter category is the chiles relleno which is fried up in a light batter and filled with cheese, along with options like chicken or spinach (the latter of which is my go-to). The moles are also a win. The chicken is tender and the flavors rich. Portions are plentiful and pricing is affordable with most entrees coming in at right around $10.
Best Thai
I wish I could call out all the great Thai dishes across the city, because there are quite a number. But, if I'm put on the spot to choose one restaurant, there's little hesitation in choosing Kim's Thai, a restaurant where all the sweet, sour and spicy flavors of Thailand come together on a single menu. Rich flavorful curries are well prepared along with items like green papaya salad and pad lad na with its chewy thick noodles, fresh vegetables and flavorful sauce. Among my favorite dishes is the curry squash, which is some of the best in the city. And this isn't the place to be shy if you love spicy food; the heat levels at Kim's Thai are serious stuff.
Best Vegetarian
Although I'm not a vegetarian, one of my chief criteria in judging the chops of any chef is their treatment of vegetables. Are their vegetarian or vegan dishes just as good as the meat entrees? Are they thoughtful? Well prepared? Just as interesting as the meat-laden courses? They should be. And such is the case at Wolf Peach, a restaurant that offers a bevy of great vegetable dishes, including pizzas, pastas and side dishes that are both artful and generous.
Best View / Patio
Gads, I love the lake view at Harbor House. But, in the past year, I've also become a huge fan of the rooftop patio at The Outsider at the Kimpton Journeyman. And that's where my vote is being cast this year. There are great nibbles, well-executed cocktails and you simply can't beat that view of the city, which for me functions as a keen reminder of just how far we've come in the last decade.
Best Wine List
There are a number of places where I feel as if the wine lists not only sync with my palate, but also challenge me a bit. And one of those places has always been AP Bar & Kitchen, where Justin Anthony has alway curated some of the most interesting options in the city. It was a place where options were interesting (and delicious) and yet there was never reason to be the least bit intimidated. After all, the choices were already excellent matches for the food, and staff (including Anthony) were always willing to answer questions and assist guests in finding wines they'd love. I made my picks long before they announced they'd be closing their doors; and I felt strongly enough about it that I'm remaining staid in my accolade. AP might be gone, but they will always have a special place in my wine loving heart.
Best Wings
Though I'm as big of a Points East fan as the next person, I'm going non-traditional with this pick and suggesting you put the chicken wings from The Fitz/Gin Ricky at the Ambassador Hotel on your list of must-try items. Chef Jason Gorman's Italian side comes through with these bright, flavorful wings that showcase the rich flavors of toasted garlic, lemon and Calabrian chilies. Sure they're a bit off-the-beaten path; but they're perfect with a cocktail at the snazzy art deco inspired bar.
Lori is an avid cook whose accrual of condiments and spices is rivaled only by her cookbook collection. Her passion for the culinary industry was birthed while balancing A&W root beer mugs as a teenage carhop, fed by insatiable curiosity and fueled by the people whose stories entwine with each and every dish. She's had the privilege of chronicling these tales via numerous media, including OnMilwaukee and in her book "Milwaukee Food." Her work has garnered journalism awards from entities including the Milwaukee Press Club.
When she's not eating, photographing food, writing or recording the FoodCrush podcast, you'll find Lori seeking out adventures with her husband Paul, traveling, cooking, reading, learning, snuggling with her cats and looking for ways to make a difference.