Greater Milwaukee has plenty to offer. Add it all up and it's almost overwhelming. Boil it down, though, into 18 reasons and it's nearly impossible to say no to at least considering a move to Brew City.
To help toast the city we call home, OnMilwaukee.com partnered with Newaukee to compile this list of "18 reasons to move to Milwaukee." Join us here in Brew City, won't you? Cheers!
1. We celebrate everything
Photo: michael fruehmann
Milwaukee is "The City of Festivals." Neighborhood block parties, 5Ks, Summerfest, the born-in-Milwaukee world's largest music festival, ethnic festivals every summer weekend, an amazing film festival and more. We love parties, and we practically mandate fireworks. We even celebrate the opening of a parking lot by tailgating on it for 3 hours before the opening pitch at all home Brewers games.
2. The price is right
Photo: mkecribs.com
Rent a two-bedroom lakefront apartment Downtown and live like a king. For the same price in cities like San Francisco you'd be sharing a basement level studio apartment with 5 roommates and their pets. The locals will complain about the parking here but our meters in Downtown are only $1.50 an hour and basic expired meter tickets are only $15. But yes, (like many cities) they seem to some days hand them out like candy.
3. Access

Milwaukee has a population of about 600,000 but somehow it's possible to know everyone. Smallwaukee, indeed. Have an idea, concern or just want to expand your network? Big wig CEOs and politicians are accessible for meetings, community speeches and special events. Just don't tell anyone you're a Bears fan because you'll lose privileges on the quick.
4. Sports of all sorts
Photo: fansided.com
Bottom line, greater Milwaukee has a team in every pro sports league except the NHL. The Milwaukee Bucks and Brewers have the sports heart of our great city. Miller Park's one of the best ballparks in America and the Bucks new ownership is in midst of building a new state-of-the-art arena complex in Downtown (yeah we're going to celebrate that too.) And then there's America's team. A short 90 minute drive north are our Green Bay Packers, the universe's only community owned sports team. And, don't forget our college teams, the Wave, Admirals and even our very own Brew City Bruisers.
5. Midwest's music mecca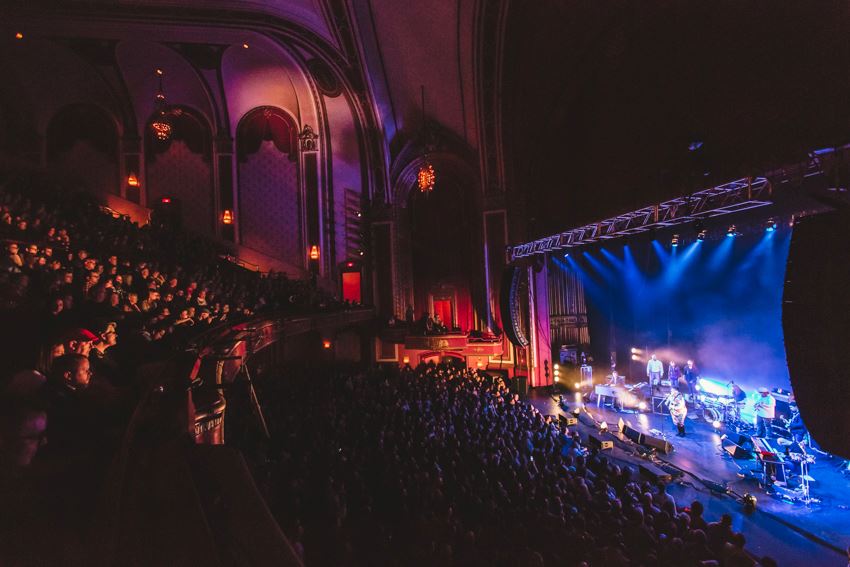 Photo: Pabst Theater
If one of your favorite bands isn't playing in Milwaukee this year you probably have crappy taste in music. Check out an amazing lineup of international acts playing at the big 3 Pabst/Riverside/Turner ballrooms year round, Summerfest's huge acts in July, Shank Hall, The Rave and 88NINE Radio Milwaukee and WMSE will keep you up to date on the local scene.
6. Nature calls us outdoors
Milwaukee County has the best park system in the nation and we're not bashful about it. On top of the miles and miles of public park land we'll also host free live concerts in the parks all summer long and love our beer gardens in the park too. And don't worry we have all the seasons covered everyday in our Domes. Jump on the beautiful Oak Leaf Trail, ride one of our Bublr Bikes or grab a kayak from the Urban Ecology Center or the Milwaukee Kayak Company and paddle down the Milwaukee River.
7. Bob Uecker


Mr. Baseball calls Milwaukee home. So should you, whippersnapper. Plus, $1 seats to every Brewers game are available in his section.
8. We own frozen custard
You've actually never had frozen custard unless you are in Milwaukee. Loosen your belt and stop by Kopps, take a nap, then have a flavor of the day at Leon's. Spend the rest of your adult life arguing which is better.
9. Jobs
Oh yeah, you're probably going to want a job when you get here. Did you know Milwaukee has seven Fortune 500 global headquarters? Per capita, that puts MKE in the top five! And these companies all want great talent - young and old - to come work for them.
10. The lakefront
You probably didn't even know Milwaukee was located on the beautiful Lake Michigan. Bradford Beach's volleyball scene is top notch -- you can even watch while lying in your tiki hut. Milwaukee's South Shore and Atwater beaches also have stunning views.
11. No zombies
Milwaukee is zombie free. In case of a zombie apocalypse we're located right on the the world's largest fresh water supply so we can bunker down for a while. We're the place all remaining humans are heading towards while your town is infected. (Sorry Vegas, that's what you get for building a city on a desert). Milwaukee is "The Freshwater Capital of the World" and we'll be responsible for saving humanity in the next 100 years. You're welcome.
12. Our art museum has wings
Photo: Flickr/peddhapati
"Always" may have wings, but ours are bigger and better. Yeah we've got a pretty damn good art museum and it's wings open and close every day. Words can't describe how stunning it is -- so just check out the photos and we'll move onto the next reason Milwaukee is awesome.
13. It's a beautiful day in our neighborhoods
Photo: Flickr/Retinal Fetish
The East Side, Historic Third Ward, Walker's Point and Bay View could go up against any districts in any other US city. Milwaukee has a great quality of life, easy access to entertainment, and not to mention some of the friendliest neighbors this side of the Kinnickinnic river River. Milwaukeeans are so friendly it going to make you uncomfortable. People ask "How are you doing?" rather than "Where do you work?" And they mean it!
14. Brew City, in more ways than one
Milwaukee has a world class coffee culture. There's Stone Creek Coffee, Valentine, Anodyne, Hawthorne and Alter....er...Colectivo Coffee grinding it out for local caffeine supremacy and the coffee drinker is the clear winner. These coffee guys are refurbishing beautiful old buildings all over the city while building community one cup at a time. You'll be completely over-caffeinated by 10 a.m. everyday and loving it.
15. To market we go, even at night
Photo: Flickr/Local First Milwaukee
Downtown Milwaukee shuts down Wednesdays in Summer and the streets light up. Thousands of people flood Wisconsin Avenue to checkout local vendors, entertainers, and sample the city's best food trucks. And, that's just our night market. Weekends also are filled with farmers, craft and flea markets galore.
16. We reward perambulation with beer
Think you've been on some of the best beer tours ever? You haven't been here then. Miller makes Milwaukee home, and its iconic tour is not to be missed. Or, take a Lakefront Brewery tour (yes, you can arrive via kayak), cash in that free drink token at Wolski's and consider yourself cultured. The only topic to discuss is which of Milwaukee's amazing breweries makes a better IPA.
17. We're swingers
Photo: facebook.com/swingparkmke
You know that creepy place under the bridge in your city that collects beer cans and graffiti? We hung adult sized swings and now everyone wants to hang out under our bridge.
18. We're so close to so much
Milwaukee is perfectly located about 1.5 hours from Chicago, Madison, and Green Bay. Watch 90 minutes of your favorite binge show while en route to Chicago with the new WiFi feature aboard the Hiawatha or don your green and gold on a Packers shuttle as you set north to Green Bay. Go Pack.