Make no mistake, West Allis is fast becoming a beer town.
The city's two breweries – the 5-year-old Westallion and toddling year-and-a-half-old Layman Brewing – will soon double as Ope! and Perspective Brewing both expect to open in spring just a few blocks from one another.
Ope! expects to open softly by March (with a summer grand opening) in a single-story former industrial building that had been home to Perfect Screw Products, at 6751 W. National Ave. Right next door is a former Kearney & Trecker building, which could become home to a development that potentially includes a distillery, food hall and events space.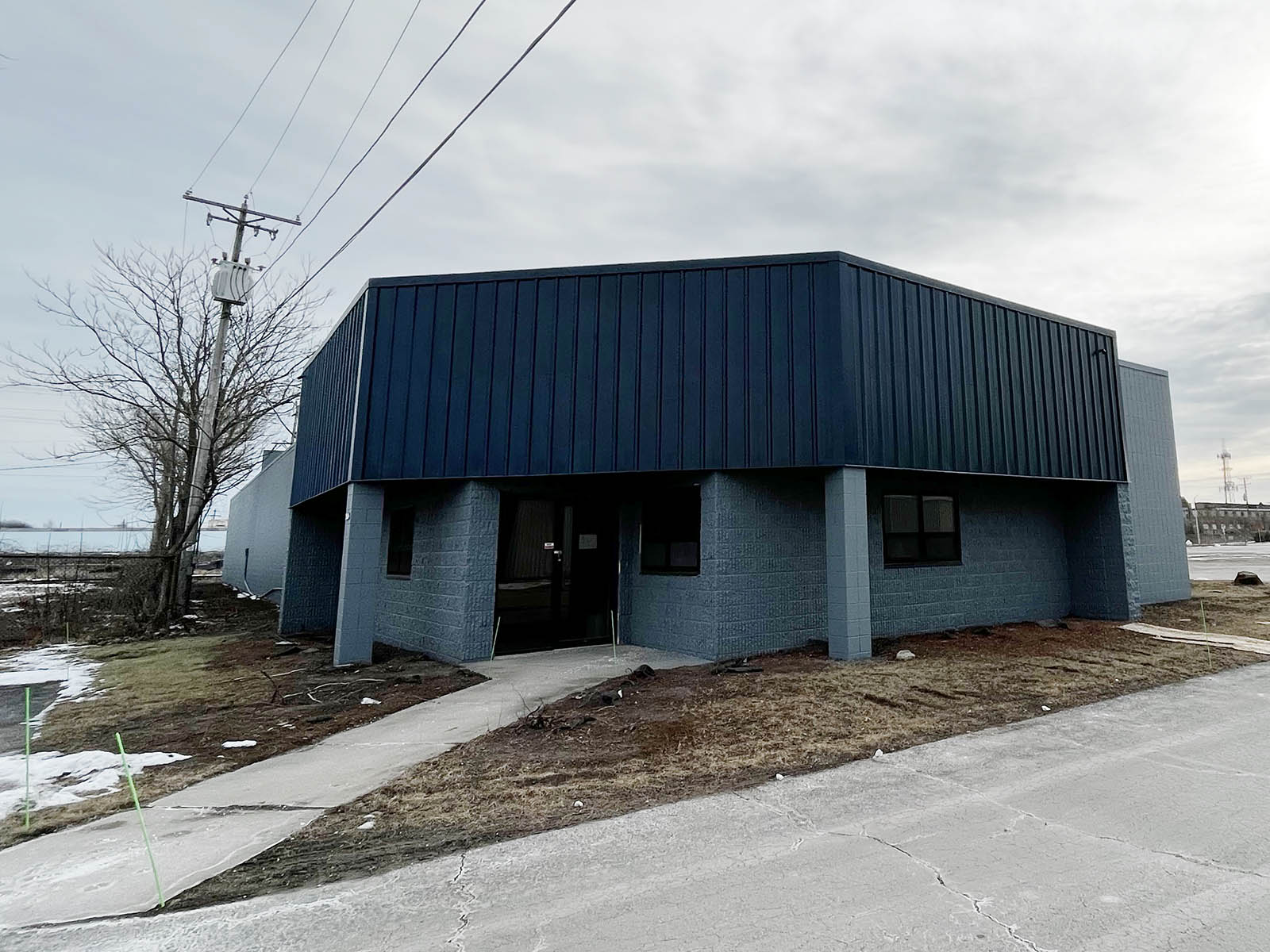 "We're excited for Perspective," says Ope! co-owner Kyle Ciske, "and I think they're on a fairly similar timeline to get open early this year. It's neat that West Allis is on the verge of having four breweries. That's really going to be great for not only the community, but it is great for us because with more breweries people say, "Let's go over to West Allis."
Ope!, which will occupy as 12,650-square-foot space with a large, 250-seat taproom on one side and a 15-barrel expandable brewhouse on the other, will also have a large patio out front with firepits, a bocce court, a long bar, two volleyball courts and more seating, including some with views into the brewhouse.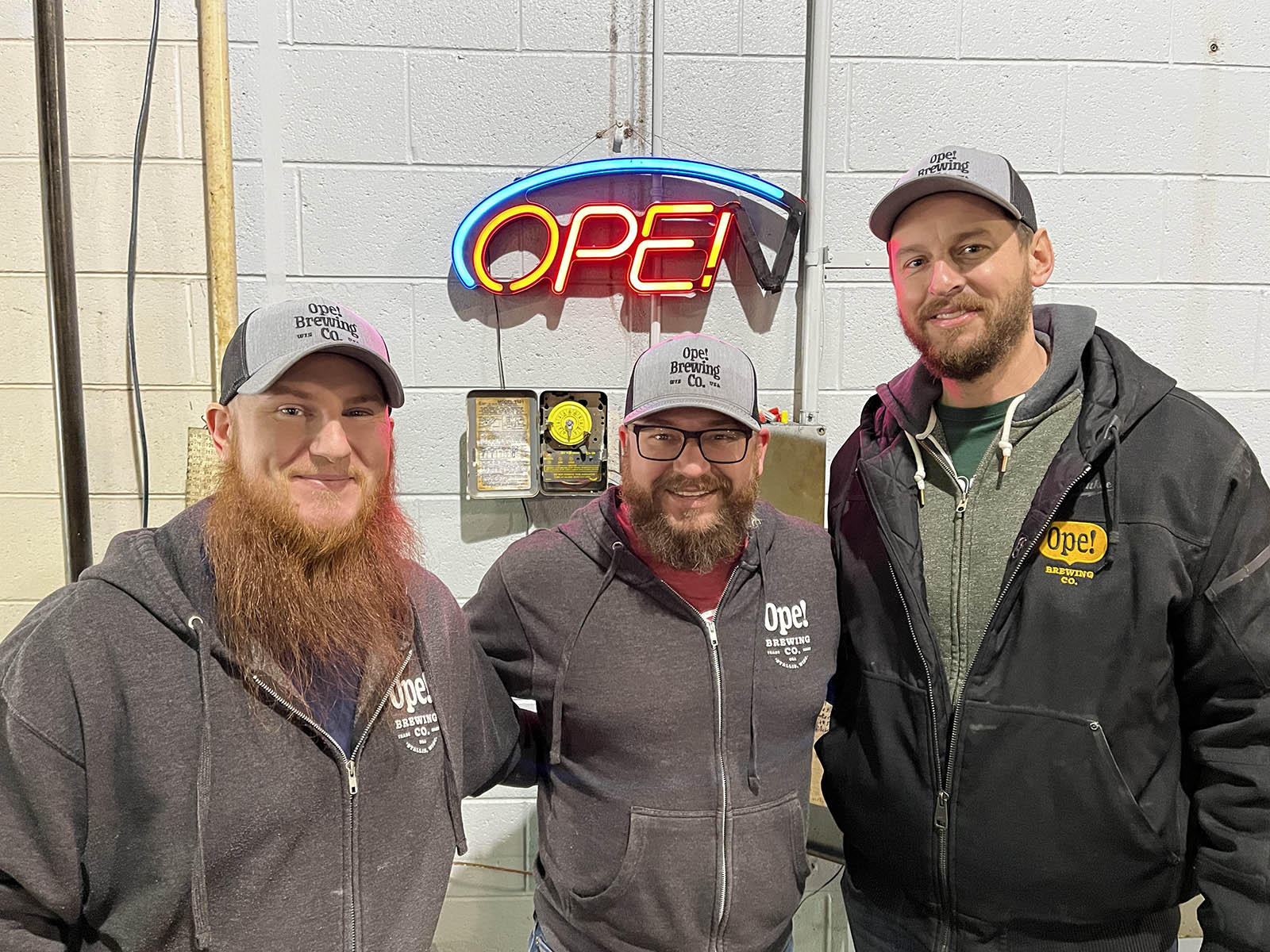 There will be a large parking lot out back that could allow owners Ciske, Adam Anders and John Onopa to expand their brewhouse.
"We figure we can brew about 1,300 barrels our first year, and hope to be at about 5,000 within five years" says Anders, talking about how the brewhouse has been arranged – and is being plumbed – with an eye toward growth.
"We can probably do about 7,500 annually in here and if we add on to the building out back, we could brew about 13,000 barrels a year."
Don't think this is naive optimism.
Ciske, who studied at Chicago's Siebel Institute, had been homebrewing with Onopa before he began working at Northern Brewer with Anders. Ciske was then hired as a brewer at The Explorium Brewpub before it opened in early 2017 and soon Anders joined him there.
While they're new brewery owners, they're not new to brewing nor to what it takes to get a new brewery off the ground.
In addition to their experience at The Explorium, Ciske and Onopa nearly opened a brewery together in Walker's Point.
"Before I even knew Adam, John and I had kind of gone down the path of trying to open a brewery in the Brix building by the Iron Horse Hotel years ago," Ciske recalls.
"We didn't quite have the right team in place just yet," adds Onopa, whose background is in civil engineering and construction project management.
"It wasn't the right space," says Ciske. "It wasn't the right deal and we weren't working with the right people. When that kind of fell through and we pulled out of doing that project, and then I met (The Explorium owner) Mike (Doble) and I was like, 'Okay, let me go help him.' He was ready, he needed a brewer and I was like, 'Well, let me go do this and we'll put this on the back burner.'
"But we always knew we'd come back to it."
Hence, Ope!
The team's experience has led it to take a wide-ranging approach when it comes to beer, so expect to see everything from lagers to IPAs to sours and beyond emerging from the brewhouse.
"A little of everything," promises Onopa (who is a cousin to Paul Onopa of the former eponymous Riverwest brewery that is now home to Company Brewing).
"You almost can't limit yourself in your scope of what products you're making, there's a market for everything," says Anders. "If you're limited your product, you're limiting your demographic.
We've done 350 recipes or something like that. Some crazy number. We've done a little bit of everything already, so to go back and revisit any style of beer and bring a new recipe, if it's something that we can do."
Although the beers won't be the same as those they brewed together at The Explorium, there may be some similarities, of course, considering how involved Anders and Ciske were there.
"Tthose recipes and brands belong to Explorium," says Ciske, "but having created those over the years, like Adam said, it won't be hard to look at some things we've done in the past and evolve them for what we want. But at the end of the day there's only so many ways you can do something, right?
"Obviously there's trends in beer, and so you can't only do what's trendy, but there's trends for a reason, that's what people want. You want to give the people what they want while also keeping a diversified tap offerings, because there's also going to be people that walk in that just want a simple beer. So we'll kind of mix in some new and exciting stuff we're seeing and do our take on that stuff while all also doing some of the simple, basic stuff, as well."
All three say that Doble has been not only encouraging but helpful, as well.
"Mike was really great about transitioning us out and, and he was super happy for us," says Ciske. "That situation could go the other way, but Mike was always really happy for us to do our own thing."
"He was helpful in guiding us," adds Onopa. "For redesign, just where to put things and stuff like that."
"Still is helpful with things. We like, 'Hey man, have you dealt with this before?'," says Ciske.
The trio shows me around the space as workers tackle any number of tasks, from plumbing to carpentry.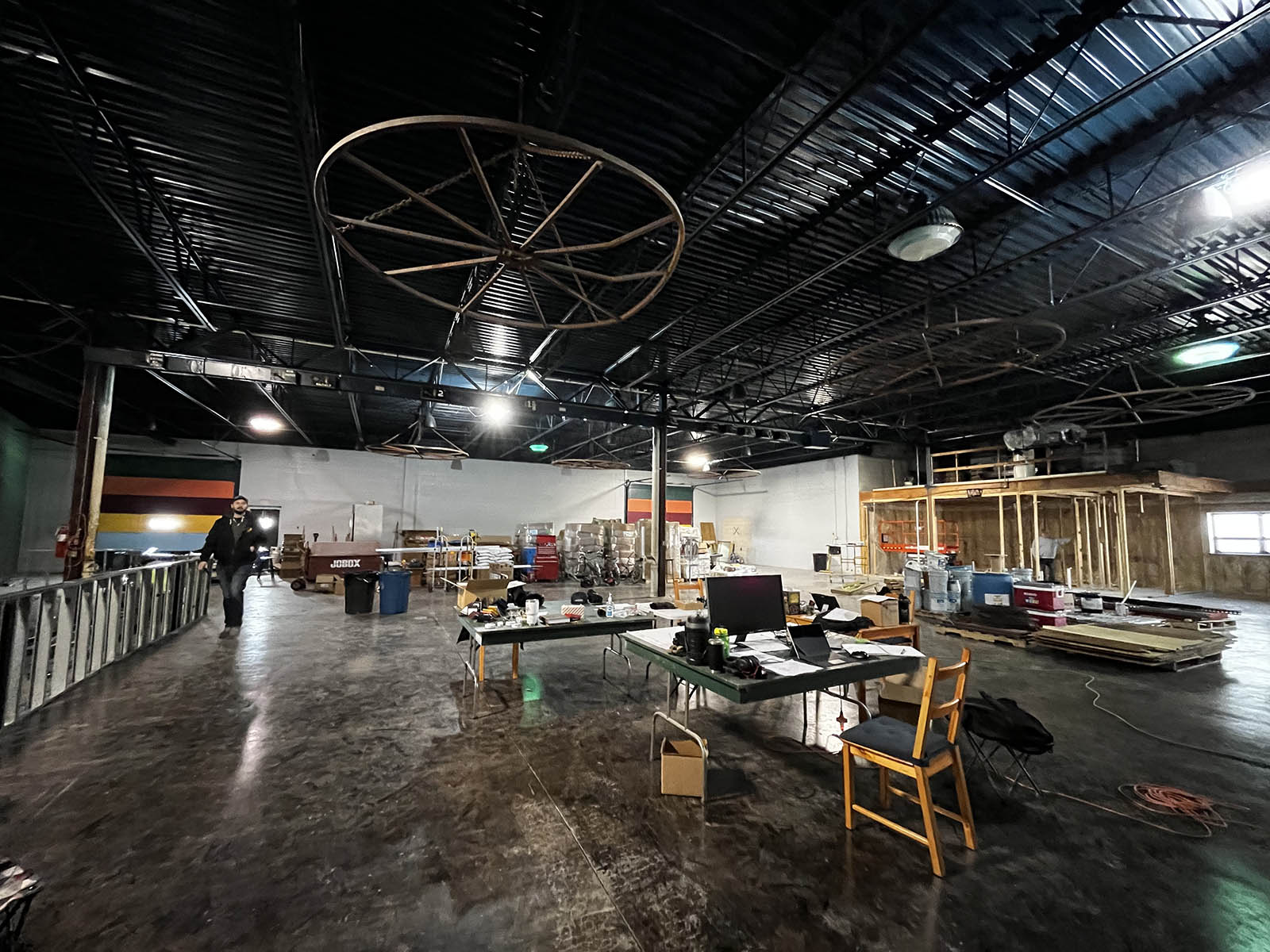 Work on framing out the long bar – which can accommodate 22 bar stools, but will likely only have 20 to save space for an order station – and the bathrooms, along the west wall, began a couple weeks ago.
The bar will have 16 tap lines to start, with six of them tapping 15-barrel serving tanks in the cooler behind the wall and 10 keg lines. Like everything else, there will be space in the cooler to add eight more lines in the future.
They hope to begin brewing by late February so at least some of those taps will be wet in time for opening. Ciske says a half-dozen could be tapping kegs of brews that Ope! is making in collaboration with other breweries in the meantime.
Ope! has its TTB license and is awaiting state approval to begin brewing.
Existing garage doors can open to in light and air from the back, plus new doors – including four more garage doors – are being punched into the front to connect to that sprawling patio out front.
Outside there are two pads with electric and water hookups and greywater disposal for planned permanent food trucks.
There will be table seating in the taproom, along with a comfortable casual space in the center.
"A row of dining height tables, seven of them," explains Onopa. "A couple of large viking tables, another row of dining tables, and then the whole center of the room will be carpeted with couches and coffee tables and lounge chairs. Event space against the wall over there (at the back), so there'll be flexible seating. A stage to the right side of the event space (for live music).
"We'll have a curtain that will partition at different variables to make the room larger, smaller."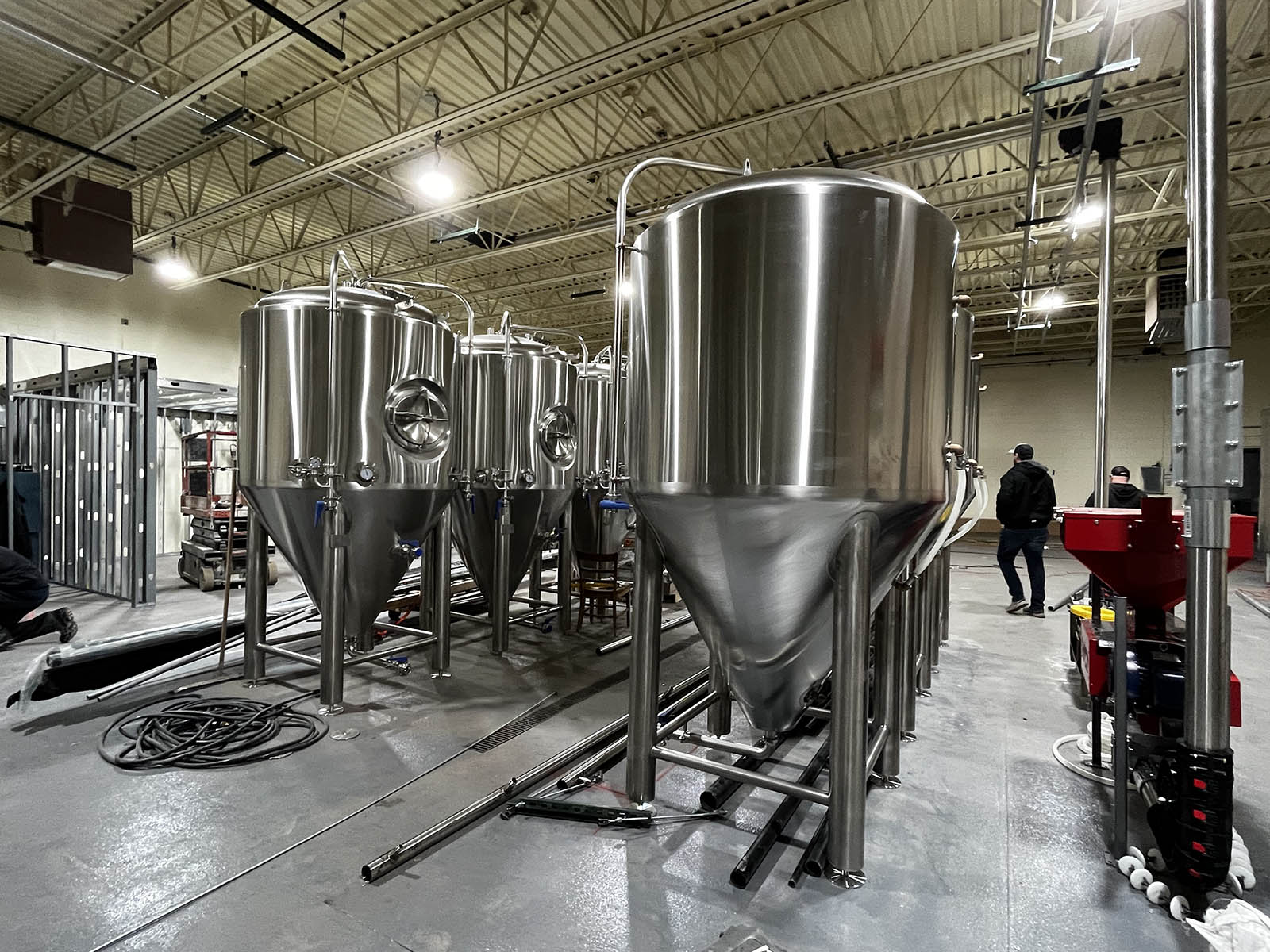 Back in the brewhouse, plumbers are working to make the glycol connections for the existing system – built by Waukesha's ProBrew – as well as lines that can be tapped for future vessels as part of the planned expansion.
Initially, Ope! will use a mobile canner but plans to add a canning line to the brewhouse in time. The owners also plan to self-distribute cans and kegs to retail in the short-term.
Though the project was delayed for six months due to issues with DNR and SBA that delayed the closing of the property sale, the Ope! owners say that the City of West Allis has been a great partner.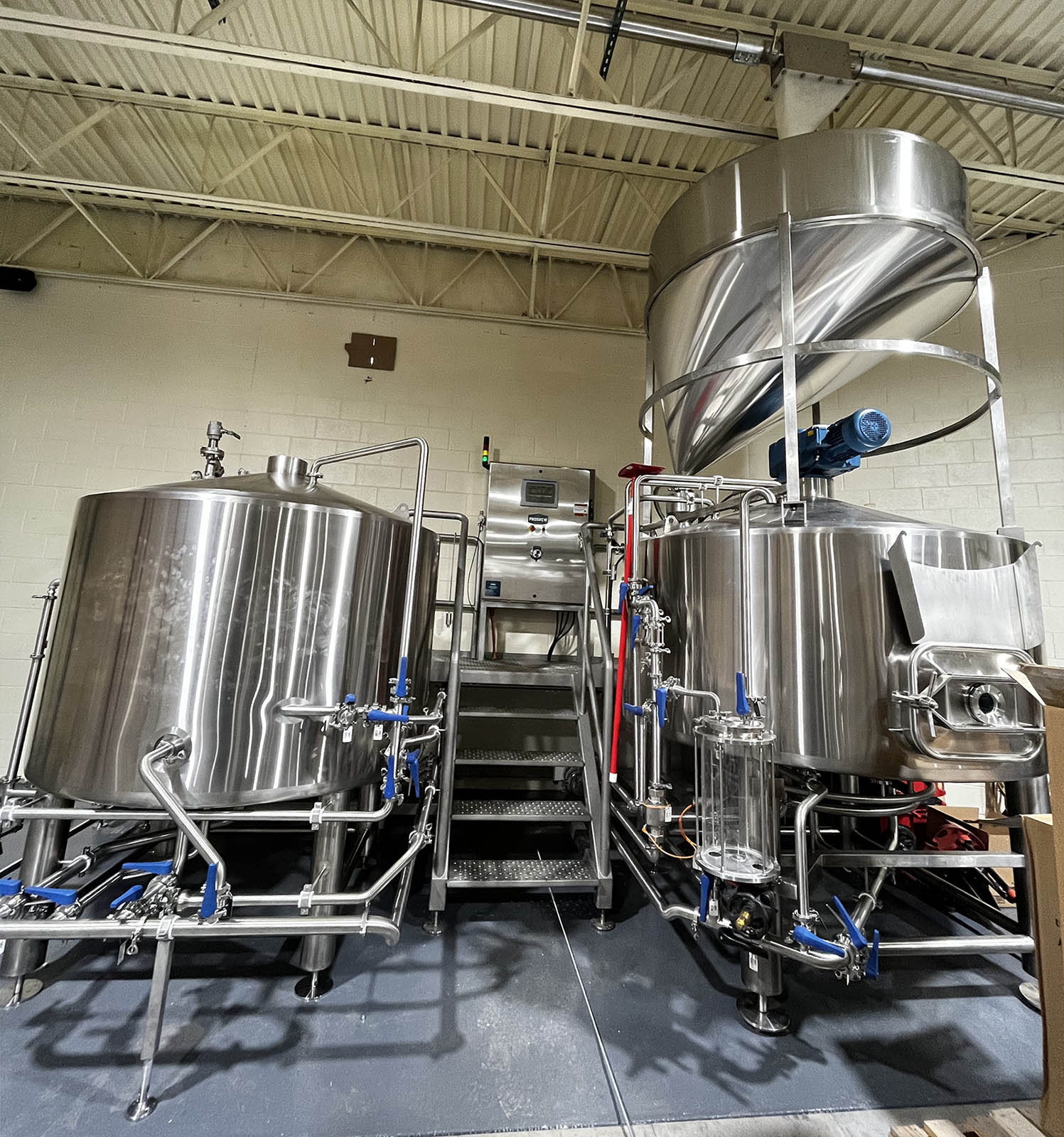 "Before we had looked at this building and considered this building, there were a couple other buildings we were serious considering in Milwaukee, and it was difficult for us to get any response from anyone in that district, any alderman or anything," says Ciske. "We just weren't getting any communication back, which seemed surprising for the scale of project we were talking about.
In contrast, says Onopa, "When we started looking at this building, the city helped us big time. We purchased this property from the city.
"The day we viewed this building for the first time we were shown the building by the Community Development Authority and the mayor. They were the two that took us through the building to show it to us."
"The city right now is very small business centric, says Ciske. "There's so much development going on and they're really leading the charge and making sure that that happens."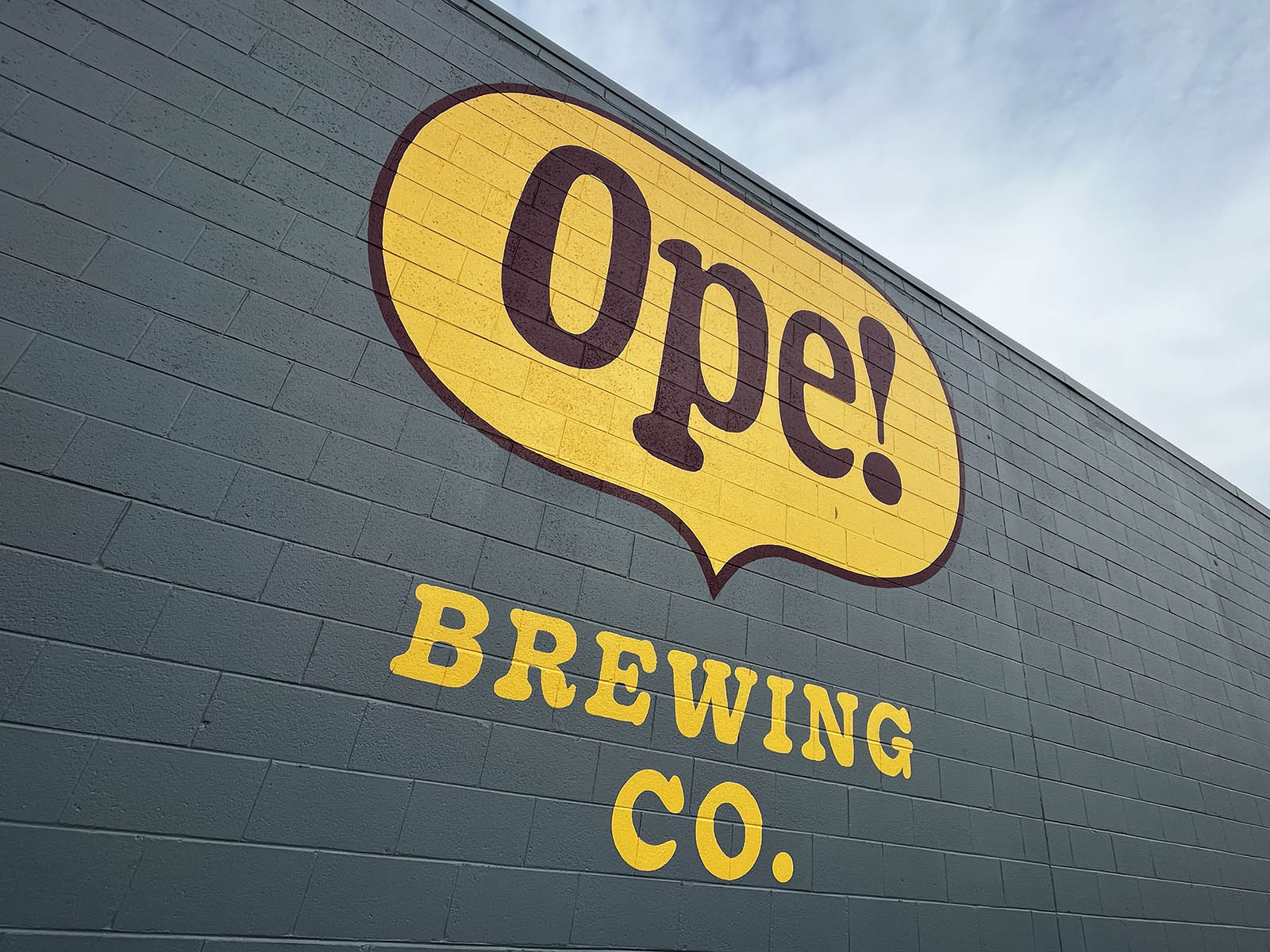 Onopa says the city was instrumental in helping Ope! get financing for the project, with coaching and other assistance.
In addition to being a supporter of development, Mayor Dan Devine is a fan of craft beer.
"Dan's a big proponent of ours," says Anders. "He knows the product that we make at Explorium, I think he still is to a small degree a home brewer. He's actually taken classes with both Kyle and I. So he knows where we come from, he knows what our knowledge level is and he knows the product that we're going to make."
Born in Brooklyn, N.Y., where he lived until he was 17, Bobby received his BA-Mass Communications from UWM in 1989 and has lived in Walker's Point, Bay View, Enderis Park, South Milwaukee and on the East Side.
He has published three non-fiction books in Italy – including one about an event in Milwaukee history, which was published in the U.S. in autumn 2010. Four more books, all about Milwaukee, have been published by The History Press.
With his most recent band, The Yell Leaders, Bobby released four LPs and had a songs featured in episodes of TV's "Party of Five" and "Dawson's Creek," and films in Japan, South America and the U.S. The Yell Leaders were named the best unsigned band in their region by VH-1 as part of its Rock Across America 1998 Tour. Most recently, the band contributed tracks to a UK vinyl/CD tribute to the Redskins and collaborated on a track with Italian novelist Enrico Remmert.
He's produced three installments of the "OMCD" series of local music compilations for OnMilwaukee.com and in 2007 produced a CD of Italian music and poetry.
In 2005, he was awarded the City of Asti's (Italy) Journalism Prize for his work focusing on that area. He has also won awards from the Milwaukee Press Club.
He can be heard weekly on 88Nine Radio Milwaukee talking about his "Urban Spelunking" series of stories.