Riverwest's bar scene is as eclectic as the people who inhabit the neighborhood. In fact, you'll find a variety of vibes, from quaint corner taverns to clubs and slightly more upscale cocktail spots, all catering to a distinctive audience.
In fact, the most difficult task you'll encounter is deciding exactly where to go first. This list should help.
Art Bar
722 E. Burleigh St., (414) 372-7880
artbarwonderland.com
Art Bar lives up to its name by showcasing new art installations on a regular basis. Pair that up with creative drinks, housemade pizzas, a welcoming atmosphere, a patio and you've got a spot that checks off a good number of great bar boxes. [Read about this hidden gem]
Black Husky Brewing
909 E. Locust St., (414) 509-8855
blackhuskybrewing.com
This craft brewery got its start in a small cabin in Pembine, Wisconsin, and you'll find nods to the North Woods in the tap room's decor. Stop in for a pint to enjoy at the bar or on the brewery's well-appointed patio.
Bosco's On Burleigh
1000 E. Burleigh St., (414) 264-3500
This corner tavern sports a "small town bar" vibe along with affordable beverages, bar dice, gambling machines, snacks and more. [Read more about this hidden gem]
Bremen Café
901 E. Clarke St., (414) 431-1932
bremencafe.com
This bar and venue is well-known from its just about nightly live music, pinball tournaments, comedy, open mic nights and events. If that's not your style, you'll still find a comfortable spot to imbibe in their unique café setting.
Bar Centro
804 E. Center St., (414) 455-3751
centrocaferiverwest.com
Much like its sister eatery next door, Bar Centro offers beautiful, cozy quarters, plus a menu of wine, beer, cocktails and Italian amaro.
Circle A
932 E. Chambers St., (414) 562-4101
circle-a-cafe.org
This live music club is small but mighty, welcoming multifarious bands and DJs from Milwaukee and beyond.
Club 99
2579 N. Pierce St., (414) 562-0100
This former Miller tide house offers a corner bar feel complete with low-cost drinks, darts, pool and a welcoming vibe.
Club Timbuktu
520 E. Center St., (414) 265-7000
clubtimbuktu.com
This bar and live music venue features primarily (but not limited to) world music/reggae bands and DJs. pen and spacious, Timbuktu is an extremely dance-friendly venue.
Company Brewing
735 E. Center St., (414) 930-0909
companybrewing.com
This microbrewery and restaurants offers a wide selection of on-premise brews, tap cocktails, coffee drinks and more. Come for the food and drinks, but make sure to stay for live music, trivia events and much more.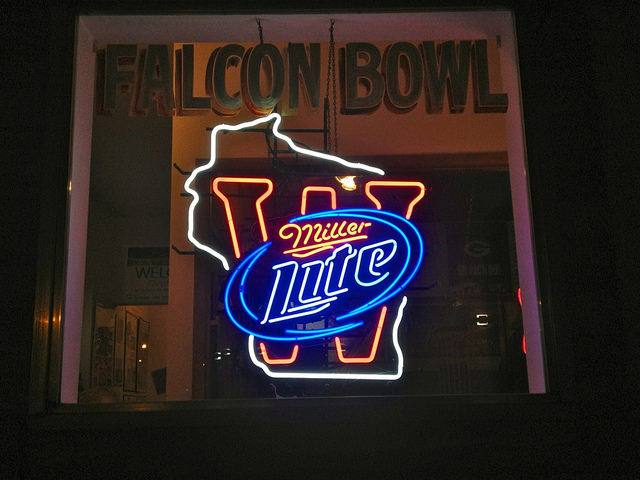 Falcon Bowl
801 E. Clarke St., (414) 264-0680
The basement of this bar is home to a vintage bowling alley that's open to the public on Wednesday nights. The bar is open daily and offers seemingly bottomless taps in an old-school Milwaukee setting.
Foundation Tiki Bar
2718 N. Bremen St., (414) 374-2587
foundationbar.com
Milwaukee's first tiki bar continues to crank out creative and potent Polynesian cocktails including zombies, mai tais, Singapore slings, dark and stormys and more. Some are even served in take-home tiki vessels.
Gathering Place Brewing Co.
811 E. Vienna St., (414) 364-6328
gatheringplacebrewing.com
This craft brewery features a spacious tap room with a bar made from an old basketball court. Food trucks are often on premise to provide welcome noshes. The brewery also features Yappy Hour every Wednesday night from 4-8 p.m., where bringing your dog with you earns $1 off all draft beers.
Gee Willickers
2578 N. Dousman St., (414) 372-4559
Pool, bar dice, bargain beverages and football are big draws at this corner watering hole, and the super-diverse jukebox is a sweet surprise. [Read more about this hidden gem]
The Gig
1132 E. Wright St., (414) 562-0219
thegigmke.com
For some, this space will forever be Barrel Riders, even though it's been The Gig for more than a decade. Nonetheless, head here and you'll find a low-key bar with pool, video games and occasional live music. [Read more about this hidden gem]
High Dive
701 E. Center St., (414) 763-0729
highdivemke.com
This friendly, no-frills tavern is owned by a longtime Riverwest bartender. Affordable drinks, craft brews, live music, bar dice and free food during Packers games are all hallmarks of this neighborhood spot.
Klinger's East
920 E. Locust St., (414) 263-2424
Klinger's East is a popular spot for catching the game. They offer a full bar, plus an well-liked Friday night fish fry.
Lil' Wil
3200 N. Booth St., (414) 265-5907
This low-key neighborhood bar features affordable drinks and bartenders that keep up the vibe by rocking fun tunes.
Linneman's Riverwest Inn
1001 E. Locust St., (414) 263-9844
linnemans.com
This bar and music venue evolved over the years, first becoming a Milwaukee gem and now a classic. Live bands, poetry and more take place most nights of the week.
Mad Planet
533 E. Center St., (414) 263-4555
mad-planet.net
Consistently voted as Milwaukee's best dance club, Mad Planet is famous for its Friday night '80s dance parties and eclectic live music offerings. Make sure to check their events page for a full list of local talents and shindigs.
Nessun Dorma
2778 N. Weil St., (414) 264-8466
nessundormariverwest.com
Inside this neighborhood tavern, you'll find dark wood accents, plenty of craft brews, a lengthy wine list, crafty seasonal cocktails and a delicious Italian menu. Sidewalk patio seating is available when the weather permits.
Quarters
900 E. Center St., (414) 263-4140
Quarters is a (tiny!) hole-in-the-wall bar and music venue that has been around, on and off, for decades. And yes, they're still kickin'.
Ret Lounge
3400 N Holton St., (414) 332-3655
Stop by this Riverwest bar for great drinks and music that is sure to keep you jamming all night long.
Riverwest Tavern
900 E. Auer St., (414) 265-8389
This neighborhood tavern is a popular spot for residents to catch the game. But you can also stop by for drinks, a game of pool or to spin some tunes on the jukebox.
Stubby's Gastrogrub & Beer Bar
2060 N. Humboldt Blvd., (414) 763-6324
stubbyspubandgrub.com
At Stubby's you'll find an extensive beer and cider list – available by the pint or growler – along with a full bar. Grab a pint and peruse their extensive pub menu. Seating is available in their spacious indoor quarters or outside on their beautiful (heated) riverfront patio.
Squirrel Cage
2402 N. Dousman St., (414) 264-4070
"Hidden" in the midst of residential homes, Squirrel Cage is truly a neighborhood bar. You'll find affordable drinks, a pool table and –according to lore – a "pet" squirrel (hence the name).
The Tracks Tavern & Grill
1020 E. Locust St., (414) 562-2020
trackstavernmilwaukee.org
The Tracks is a popular spot to grab a drink and watch a game; but this tavern is perhaps best known for its fish fry and outdoor volleyball leagues in the spring and summer.
Two
718 E. Burleigh St., (414) 372-7553
This cocktail lounge ideal for an intimate "date night," thanks to its unique decor, dim lighting and cozy quarters. It's also a great spot for well-crafted cocktails and conversation. [Read more about this hidden gem]
The Uptowner
1032 E. Center St., (414) 372-3882
uptownerbar.com
This Riverwest classic is among the oldest continuosly operating taverns in the city. "Home of the beautiful people," this corner tavern offers affordable drinks, friendly service and spiffs like pinball, occasional live music and more. It's Milwaukee's very own "Bukowski bar." [Read more about this hidden gem]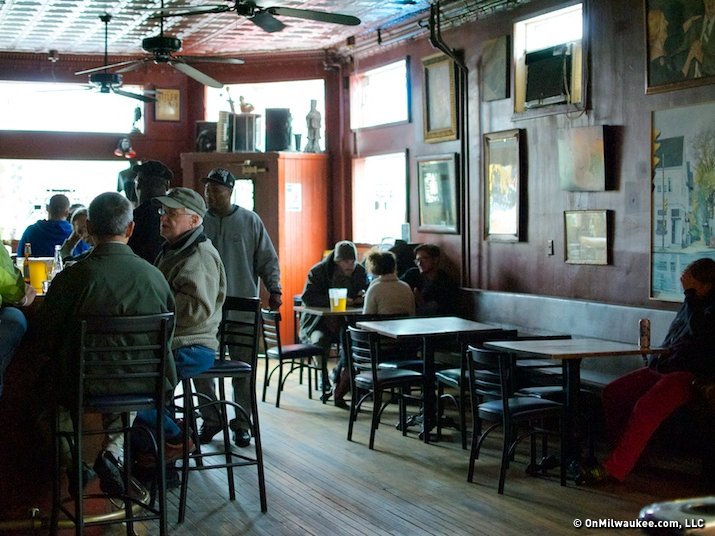 Veggas Pub
2479 N. Fratney St., (414) 988-9743
This casual corner bar is known for its good deals on drinks, pinball machines, karaoke (on Wednesdays), televised sports and more.