"Bar Month" at OnMilwaukee is brought to you by Miller Brewing Company, calling Milwaukee home since 1855. For the entire month of March, we're serving up fun articles on bars, clubs and beverages – including guides, the latest trends, bar reviews, the results of our Best of Bars poll and more. Grab a designated driver and dive in!
Riverwest's bar offerings are as eclectic as the people who live there. From corner watering holes with cheap taps of Pabst to upscale lounges with cocktails on tap, no one's going to stay thirsty for long west of the river.
Here is a list of Riverwest bars, clubs, pubs and lounges. Feel free to chime in with your favorites.
Art Bar
722 E. Burleigh St., (414) 372-7880
artbar-riverwest.com
Art Bar lives up to its name by hosting new art installations every couple of months, live entertainment and creative drinks – along with all the usual bar offerings. It is also the home of the glorious two-for-one happy hour, every week day.
Black Husky Brewing
909 E. Locust St., (414) 509-8855
blackhuskybrewing.com
A craft brewery with a taproom that started in 2010 in a small cabin in Pembine, Wis. Tours also available.
Bosco's On Burleigh
1000 E. Burleigh St., (414) 264-3500
Corner tavern with a "small town bar" vibe along with affordable beverages, bar dice, gambling machines, snacks and more.
Bremen Café
901 E. Clarke St., (414) 431-1932
bremencafe.com
This bar and venue hosts live music, pinball/pinball tournaments, comedy, open mic nights, fundraisers and parties in a comfortable, café setting.
Cafe Corazón
3129 N. Bremen St., (414) 810-3941
corazonmilwaukee.com
A cozy Mexican cantina with menu items made from primarily locally-sourced food and a full bar featuring a house margarita, sangria, michelada, "white Mexican" and more.
Centro Cafe
808 E. Center St., (414) 455-3751
centrocaferiverwest.com
This cozy Italian eatery has an equally-as-cozy lounge on the second floor featuring beer, wine and cocktails.
Circle A
932 E. Chambers St., (414) 562-4101
This live music club is small but mighty, welcoming multifarious bands and DJs from Milwaukee and beyond.
Club 99
2579 N. Pierce St., (414) 562-0100
Casual, corner watering hole with low-cost drinks, darts, pool and more.
Club Timbuktu
520 E. Center St., (414) 265-7000
clubtimbuktu.com
A bar and live music venue featuring primarily (but not limited to) world music/reggae bands and DJs. Open and spacious, Timbuktu is an extremely dance-friendly venue.
Company Brewing
735 E. Center St., (414) 930-0909
companybrewing.com
A full-service restaurant with a large bar serving wine, beer, craft cocktails, tap cocktails (including the "blood & glitter" and "my body is a Templeton") along with coffee drinks and more.
Dino's Lounge & Restaurant
808 E. Chambers St., (414) 263-6033
dinosriverwest.com
Dino's is a Riverwest classic that was reinvented by the original owner's grandsons. Features a full bar – which includes a nice selection of wine – and the neighborhood-famous Friday night fish fry.
Falcon Bowl
801 E. Clarke St., (414) 264-0680
The basement of this bar is home to a vintage bowling alley that's open to the public on Wednesday nights. The bar is open daily and offers seemingly bottomless taps in an old-school Milwaukee setting.
Foundation Tiki Bar
2718 N. Bremen St., (414) 374-2587
foundationbar.com
Milwaukee's first tiki bar continues to crank out creative and potent Polynesian cocktails including zombies, mai tais, Singapore slings, dark and stormys and more. Some are even served in take-home tiki vessels.
Gathering Place Brewing
811 E. Vienna St., (414) 364-6328
gatheringplacebrewing.com
A craft brewery with a taproom that frequently has food trucks parked outside. Tours are also available.
Gee Willicker's
2578 N. Dousman St., (414) 372-4559
Pool, bar dice, bargain beverages and football are big at this corner watering hole, and the super-diverse jukebox is a sweet surprise.
The Gig
1132 E. Wright St., (414) 562-0219
For some, this space will forever be Barrel Riders, even though it's been The Gig for more than a decade. The Gig is a low-key bar with pool and live music on some nights.
High Dive
701 E. Center St., (414) 763-0729
highdivemke.com
A friendly, no-frills tavern owned by a longtime Riverwest bartender featuring eight tap lines – along with super cheap drinks. Also known for live music, bar dice and free food during Packers games.
Klinger's East
920 E. Locust St., (414) 263-9844
Best known for its fish fry, Klinger's East has a full bar and is a popular spot for game watching.
Lil' Wil
3200 N. Booth St., (414) 265-5907
Low-key, neighborhood bar with affordable drinks and the bartender is usually rocking fun tunes.
Linneman's Riverwest Inn
1001 E. Locust St., (414) 263-4555
linnemans.com
A bar and music venue that over the years became a Milwaukee gem and is now a classic. Live bands, poetry and more take place most nights of the week.
The Mad Planet
533 E. Center St., (414) 263-4555
mad-planet.net
Consistently voted as Milwaukee's best dance club, The Mad Planet is famous for its Friday night '80s dance parties and eclectic live music offerings.
Milwaukee Beer Bistro
2730 N. Humboldt Blvd., (414) 562-5540
milwaukeebeerbistro.com
A bar and restaurant with beer-infused cuisine, craft, local and macro beer – featuring 13 rotating taps and dozens of different bottles and cans – as well as a full bar.
Nessun Dorma
2778 N. Weil St., (414) 264-8466
This bar and restaurant offers a great selection of micro and craft beer, wine from around the world and well-crafted cocktails in a comfortable, ambient setting. Street seating is available when the weather permits.
Quarters
900 E. Center St., (414) 263-4140
Quarter's is a hole-in-the-wall bar and music venue that has been around, on and off, for decades.
Riverwest Filling Station
701 E. Keefe Ave., (414) 906-9000
the-filling-station.com
This friendly restaurant and bar is stocked with beers, wine, ciders and spirits. Daily happy hour specials from Tuesday through Saturday.
Riverwest Pizza
930 E. Wright St., (414) 269-9703
riverwestpizza.com
Neighborhood pizza joint and art gallery with a nice selection of wine, beer, martinis and "mules around the world."
Riverwest Public House Cooperative
815 E. Locust St., (414) 562-9472
riverwestpublichouse.wordpress.com
The co-op offers a comfortable space for meeting, drinking, eating, organizing, fundraising and performing. Membership is available for $40, but is not necessary to visit and drink.
Riverwest Tavern
900 E. Auer St., (414) 265-8389
Neighborhood tavern with pool, a jukebox and often a game on televisions that's "stumbling distance from home" for most of the customers.
Stubby's Gastrogrub & Beer Pub
2060 N. Humboldt Blvd., #1 (414) 763-6324
stubbyspubandgrub.com
Stubby's features a very extensive beer and cider list – available by the pint or growler – along with a full bar. Pub food also available.
Squirrel's Cage
2402 N. Dousman St., (414) 264-4070
"Hidden" in a residential neighborhood, in the middle of the block, this tavern offers cheap drinks, pool and, according to lore, a "pet" squirrel (hence the name).
The Tracks
1020 E. Locust St., (414) 562-2020
Tracks offers a full bar and is a popular spot for drinking and game watching, but is perhaps best known for its fish fry and outdoor volleyball leagues in the spring and summer.
Two
718 E. Burleigh St., (414) 372-7553
Cute, cozy lounge ideal for a "date night." Located next door to Art Bar. Call ahead to make sure it's open.
The Uptowner
1032 E. Center St., (414) 372-3882
A Riverwest classic and "home of the beautiful people" that serves up cheap drinks (from fun bartenders), pinball, occasional live music and more. It's Milwaukee's very own "Bukowski bar."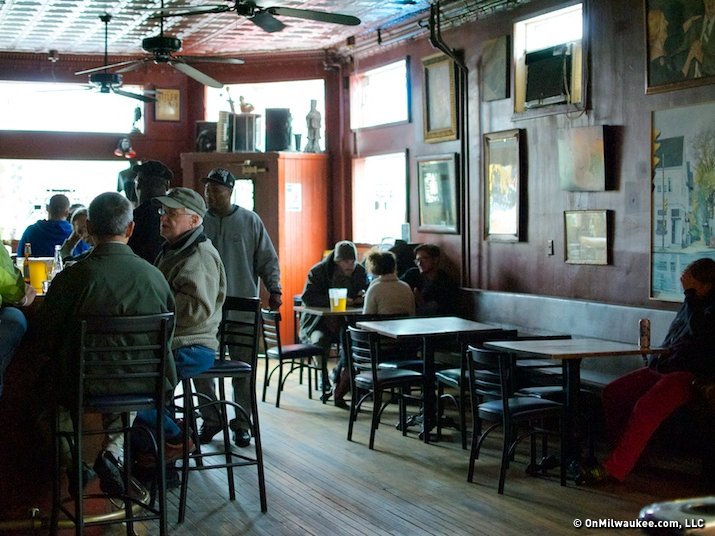 Veggas Pub
2479 N. Fratney St., (414) 988-9743
Casual corner bar with good deals on drinks, pinball (free on Mondays), karaoke (on Wednesdays), televised sports and more.
Molly Snyder grew up on Milwaukee's East Side and today, she lives in the Walker's Point neighborhood with her partner and two sons.
As a full time senior writer, editorial manager and self-described experience junkie, Molly has written thousands of articles about Milwaukee (and a few about New Orleans, Detroit, Indianapolis, Boston and various vacation spots in Wisconsin) that range in subject from where to get the best cup of coffee to an in-depth profile on the survivors of the iconic Norman apartment building that burned down in the '90s.
She also once got a colonic just to report on it, but that's enough on that.
Always told she had a "radio voice," Molly found herself as a regular contributor on FM102, 97WMYX and 1130WISN with her childhood radio favorite, Gene Mueller.
Molly's poetry, essays and articles appeared in many publications including USA Today, The Writer, The Sun Magazine and more. She has a collection of poetry, "Topless," and is slowly writing a memoir.
In 2009, Molly won a Milwaukee Press Club Award. She served as the Narrator / writer-in-residence at the Pfister Hotel from 2013-2014. She is also a story slam-winning storyteller who has performed with The Moth, Ex Fabula and Risk!
When she's not writing, interviewing or mom-ing, Molly teaches tarot card classes, gardens, sits in bars drinking Miller products and dreams of being in a punk band again.