When Trinity Evangelical Lutheran Church, 1049 N. 9th St., burned on the afternoon of May 15, 2018, it seemed the whole city watched in horror, fearing the worst for the 1878 cream city brick building designed by Frederick Velguth.
By the Notre Dame in Paris was engulfed in flames 11 months later, calling the Milwaukee blaze back to mind, Trinity was on the mend.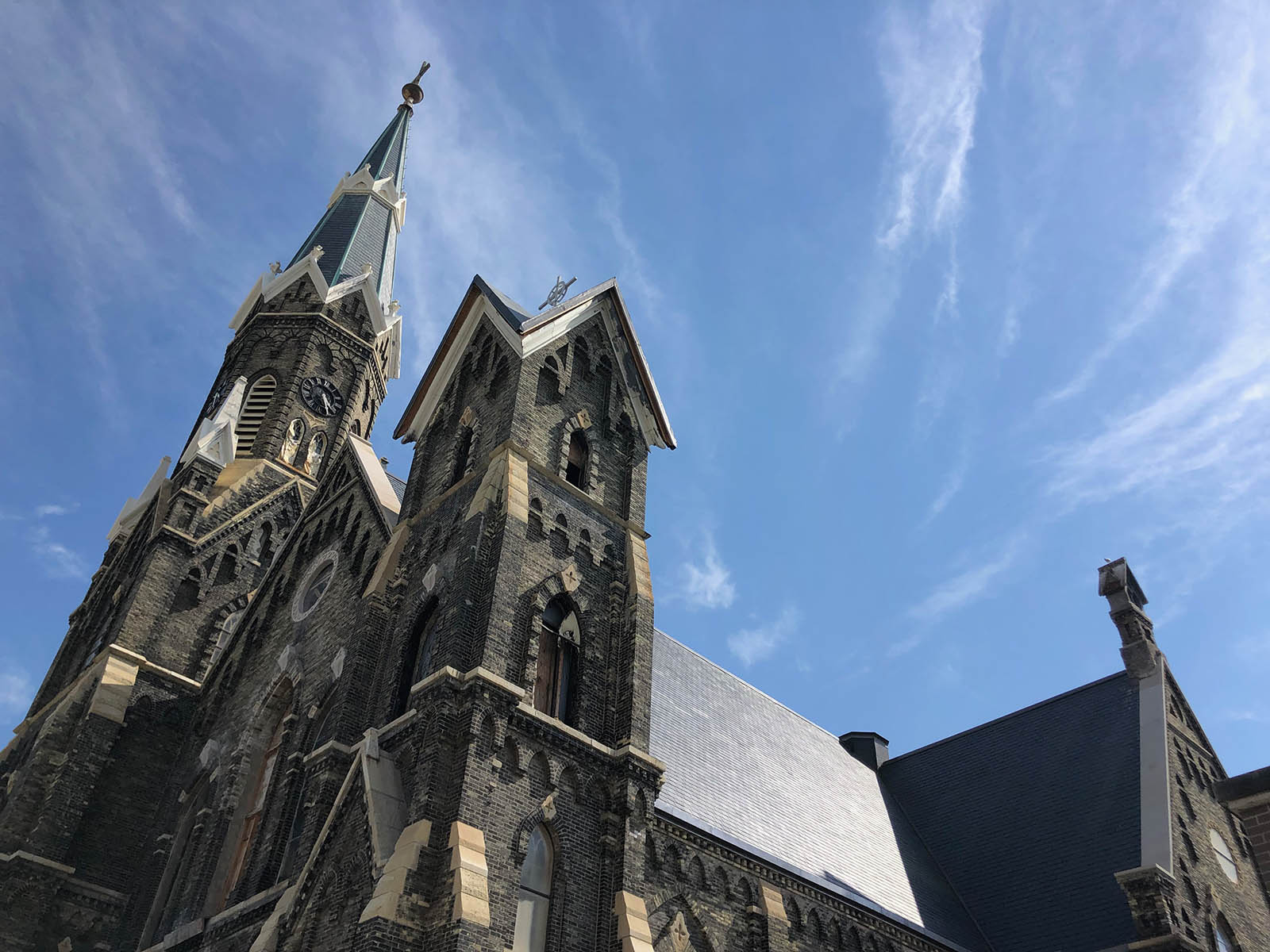 She'd lost her roof and her stained glass windows, as well as her smaller steeple, but her shell and, more importantly her spirit, survived and work was already underway to rebuild the church.
Read a pre-fire Urban Spelunking story – with numerous images showing the interior of the church – here.
After moving weekly services first to Milwaukee Area Technical College across the street and then to Krause Funeral Home on 90th and Capitol, Trinity's congregation is now back home, worshipping in a long, narrow corridor in its small, modern office building next door to the church.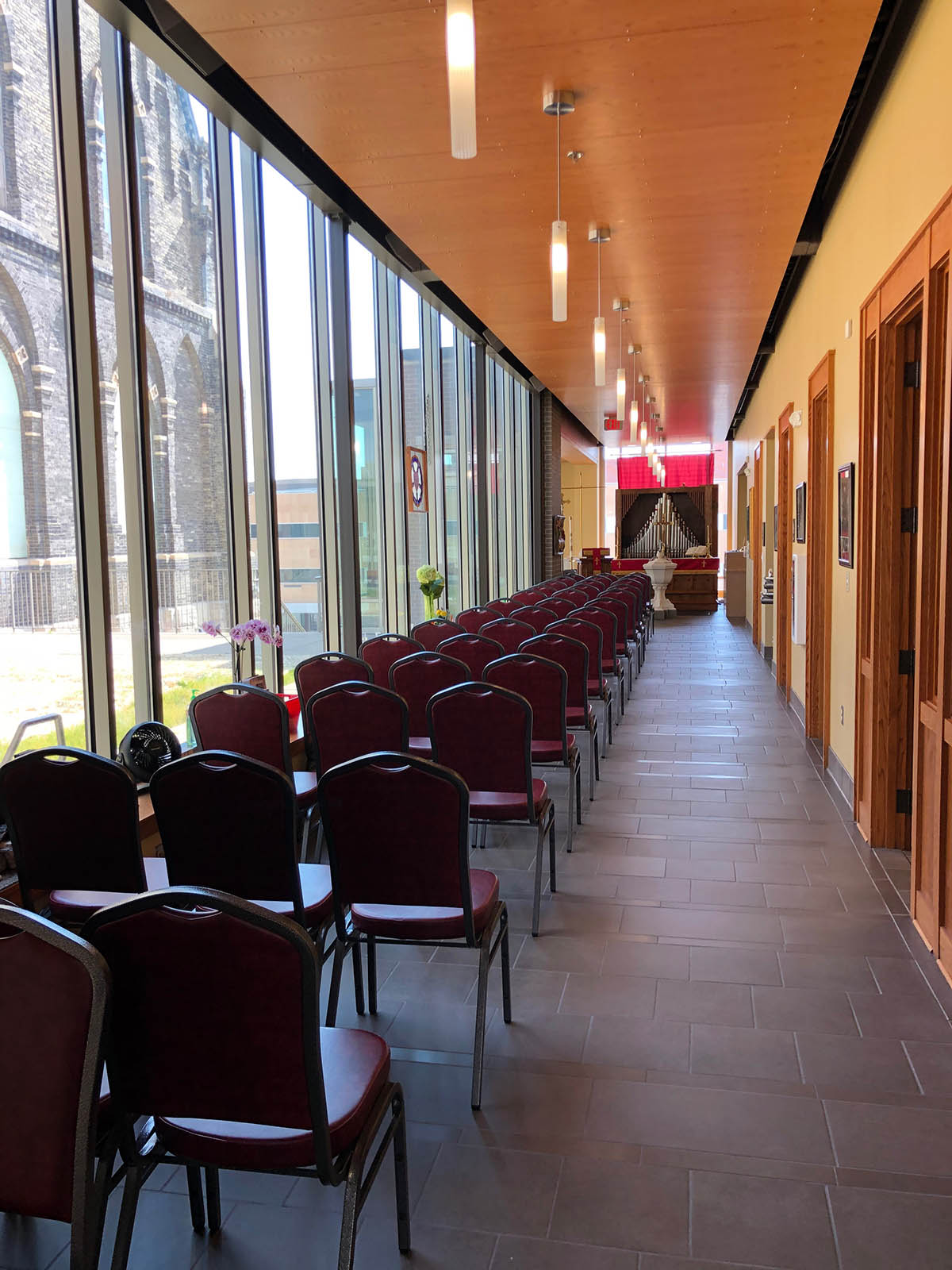 "We've been worshipping here since May of last year," says Rev. M. Douglas Peters, Trinity's pastor since November 2019.
"We couldn't continue at Krause because of the restrictions, so we came here and started having small services, and they've grown. We have three services on Sunday now. We're about where we were before the fire."
Rows of chairs are set facing a small altar and lectern crafted by local woodworker Ben Zuehlsdorf from pews salvaged from the fire-damaged sanctuary next door, as well as an organ donated by a nearby Lutheran church and Trinity's now-restored marble baptismal font.
Beginning June 13, Rev. Peters will move services to the undercroft, which is currently being readied for that purpose. The larger, more suitable space will host the congregation until the main church is ready. That, says Peters, could be years.
"To be back to normal, I don't know," says Peters. It's going to take two years to have an organ built and we haven't signed the contract yet because we don't have the money. So we might be able to move in without pews, without stained glass windows, next June."
But there's also the possibility that the congregation will remain in the undercroft until an organ and pews are installed upstairs.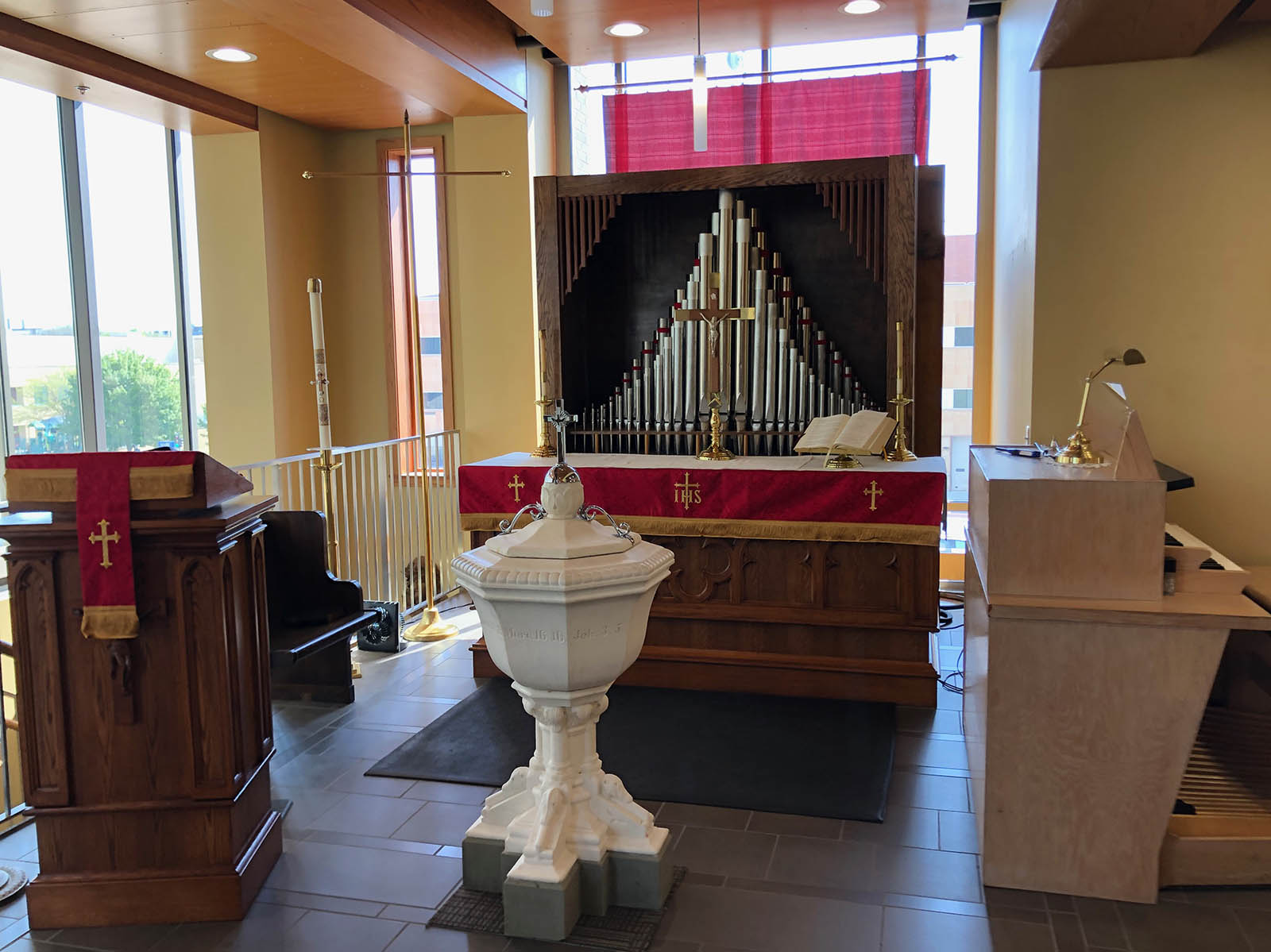 "We're going to have to be talking about what we want to do as a congregation," Peters says.
In the meantime, he's excited to move to the undercroft, with its distinctive exposed stone wall behind the altar.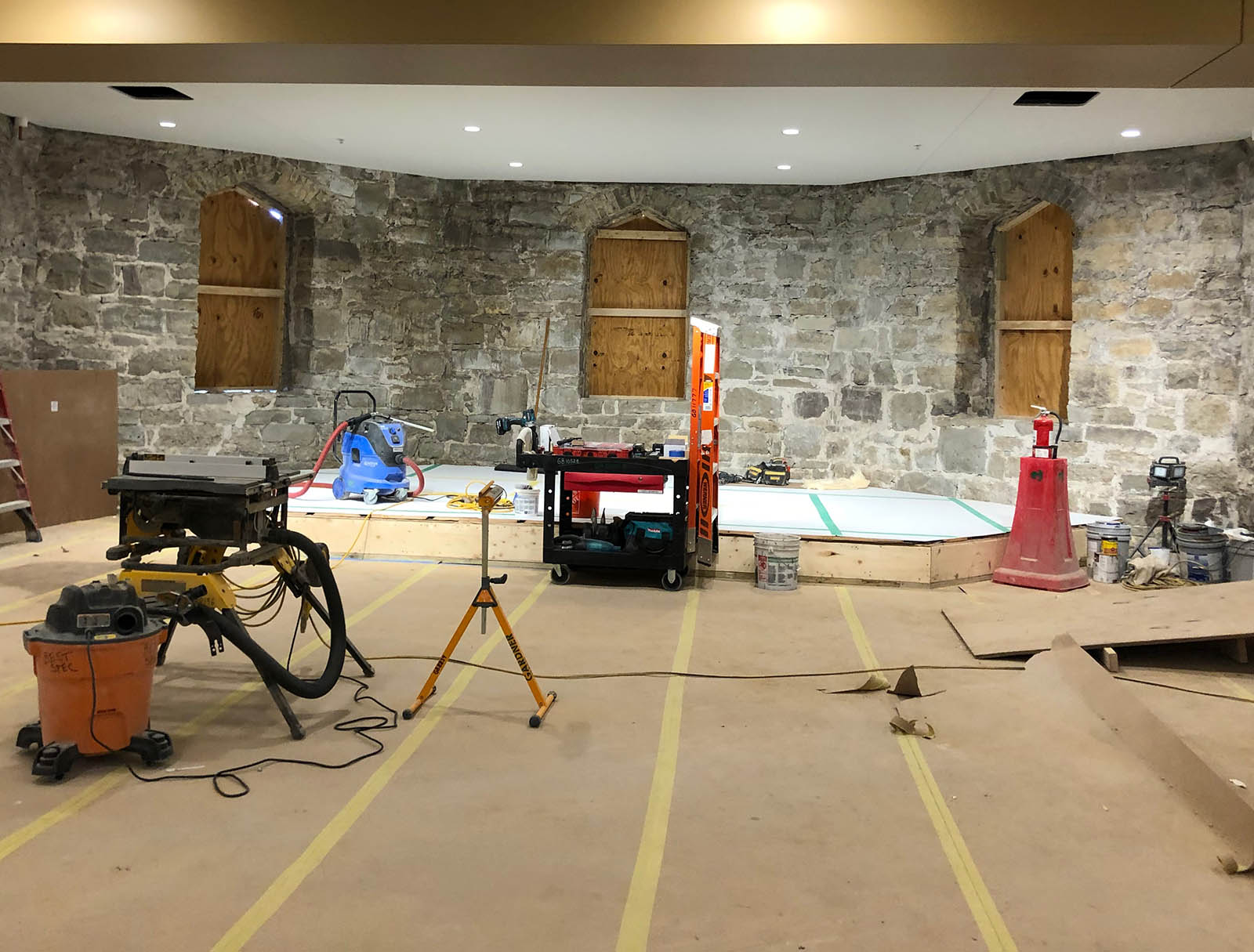 "This is really kind of unique," he says. "I love the stone there. We've got three stained glass windows coming (from Oakbrook Esser in Oconomowoc). The altar's coming down, the lectern will be down.
"And this floor, Douglas Fir, is milled from the beams that were left standing from the ceiling after the fire. We had all those charred beams. We saved them and then we milled them into this floor."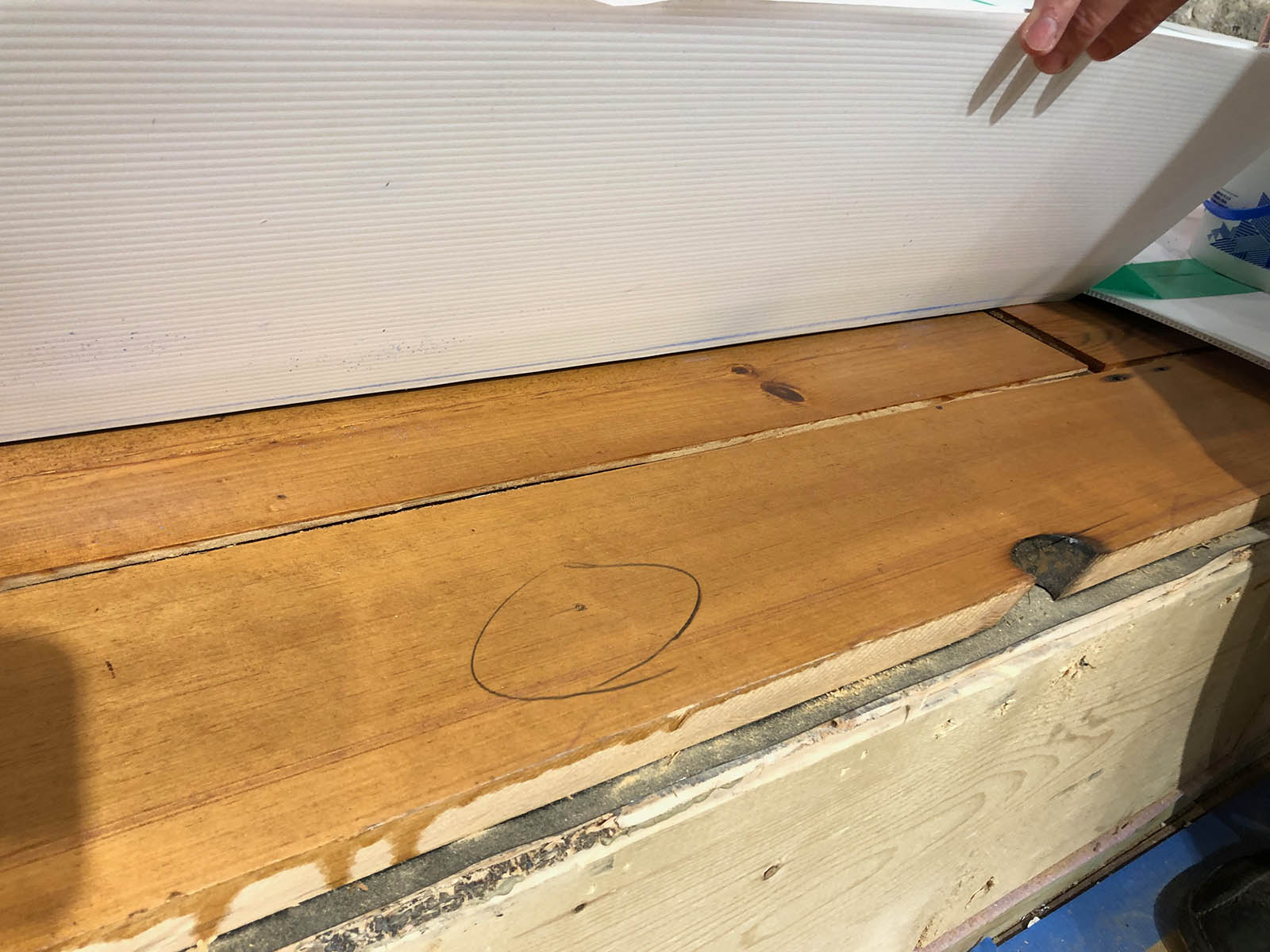 In addition, the space will have bathrooms and a kitchen adjacent, so there will be everything the congregation needs for now.
Nearby, Peters shows me two important back-of-house spaces.
"We have all new mechanicals, air handling system, humidity (controls), we will have air conditioning upstairs, as well," he says as we peek into the mechanicals room. "It's all state of the art, very efficient. We're going to be able to run this church extremely efficiently, to be good stewards."
History buffs and traditionalists will be stoked to hear that the unique under-pew heating system that kept worshippers warm for well over a century will be back, too.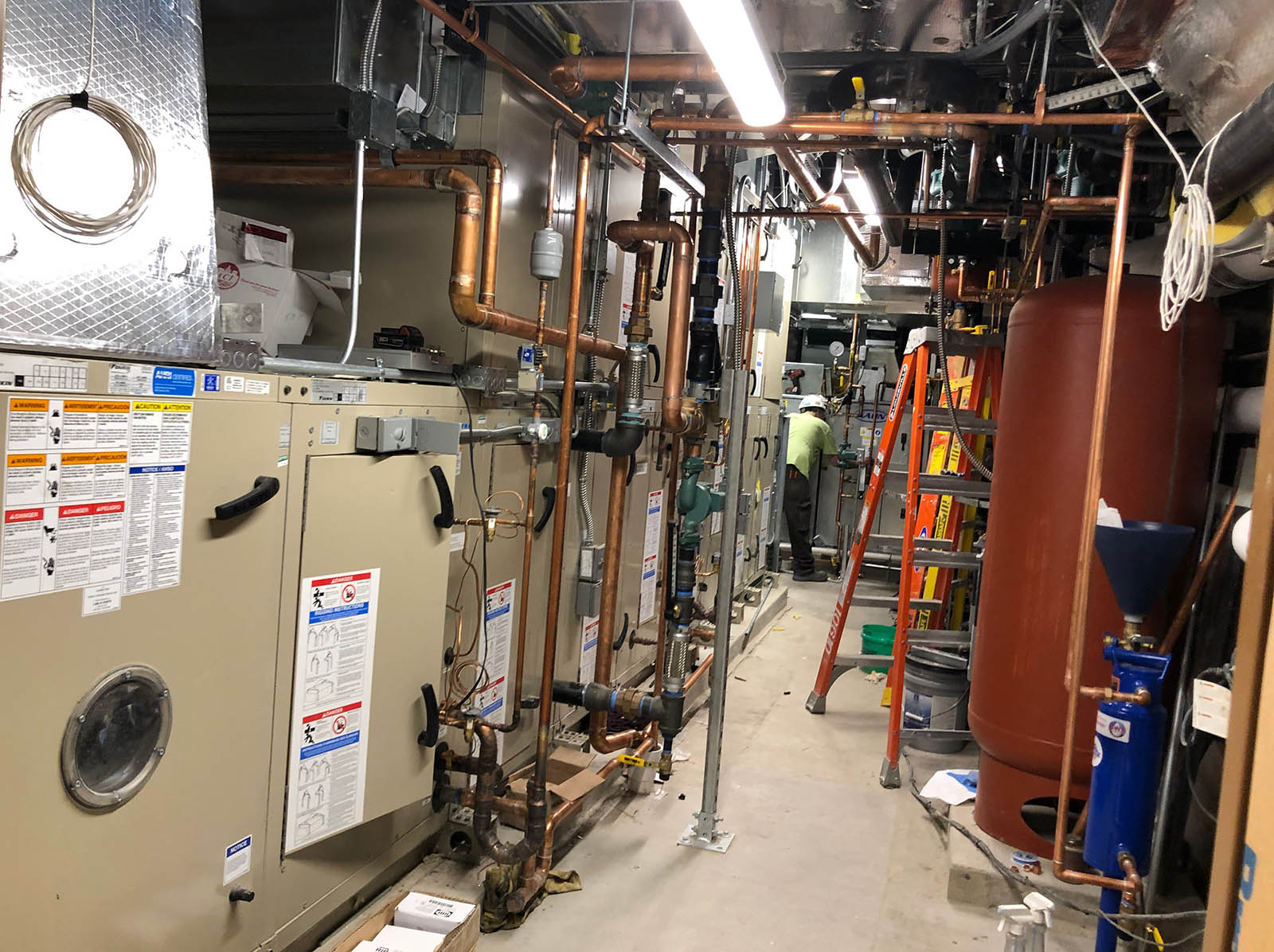 "We're going back to it," Peters confirms. "It is still running on the steam of the city. However, we're going to be using hot water upstairs. We'll have the pipes underneath the pews. We have a full sprinkler system. Everything has been done."
Speaking of sprinklers, the other room Peters shows me houses the new fire suppression system.
"It is pretty amazing the amount of work that has gone into the fire pump room," he says. "We will not have a fire like that again, I'll tell you that. The insurance company's pretty happy about that."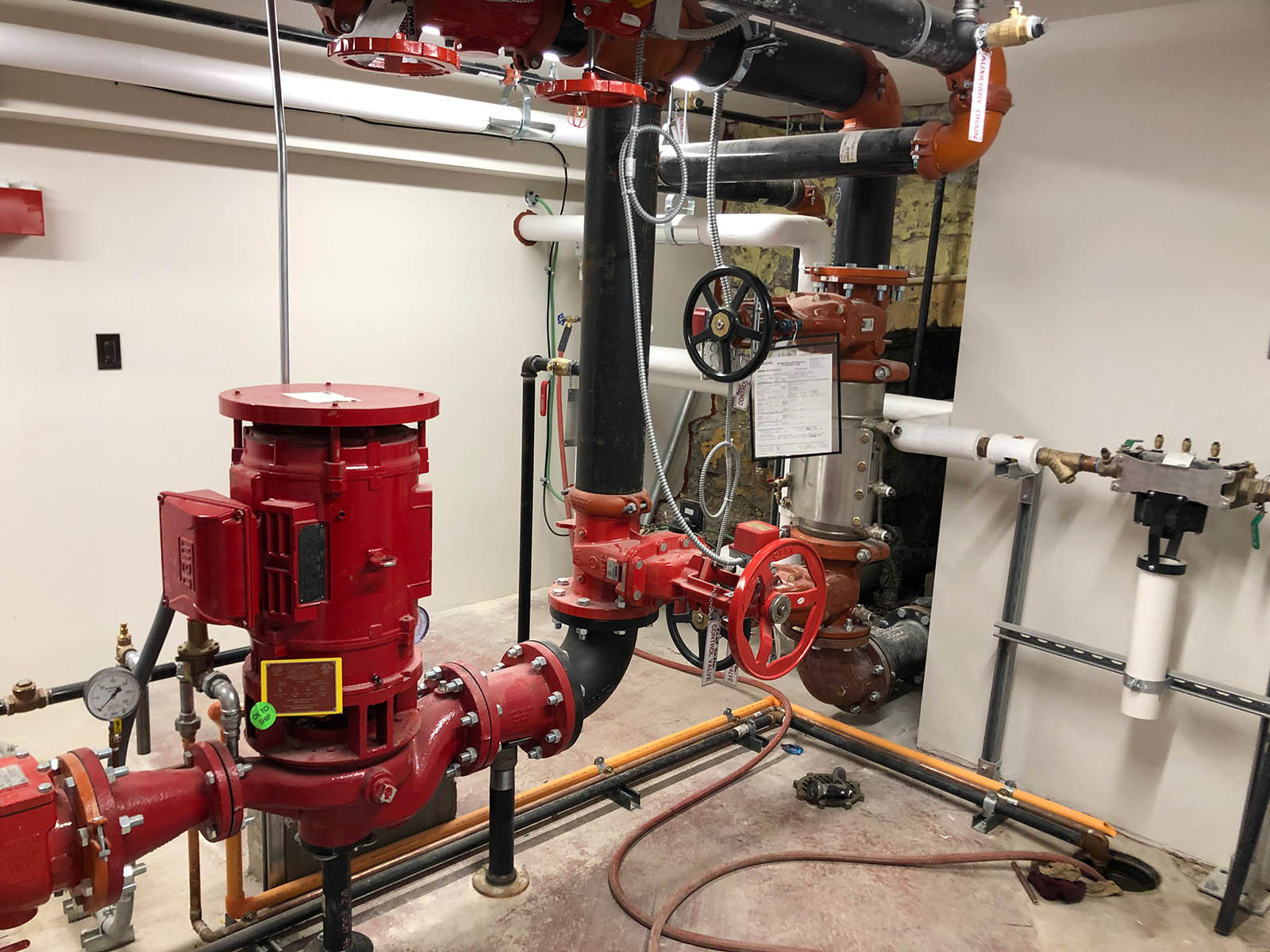 Upstairs, the changes have, so far, been less dramatic, at least inside.
Here, in the original 1878 church, most of the work has focused on stabilization of the structure, replacement of the roof and protecting it from the elements.
Scaffolding fills the space – which I was not allowed to photograph – and the roof and its array of steel supports remain visible from below, for now. But a ceiling is coming.
"It's going to be as it was before," says Peters. "The catwalk will be there (above) and the chandeliers are being restored."
The impressive pulpit, altar and reredos screen are still in place, but they won't be much longer, says Peters. The fact that these three historic – and wooden – features, along with all the heavy old wood doors, survived the fire feels like a miracle.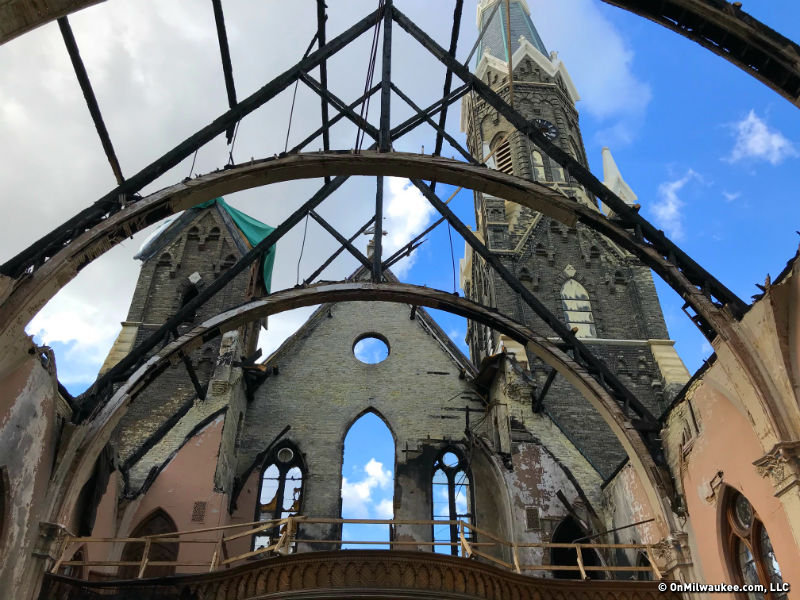 "We're taking those out so that we can then get everything done in here, those pieces will be restored offsite, and then brought back in," says Peters, who expects the restored sanctuary to look and feel much like it did before the blaze.
"The building envelope has been tested for leakage and for proper ventilation, and our architect Scott Ramlow's done an amazing job working with Gardner Building and they've done a fantastic job so far downstairs. We're excited to see how fast this will come together."
Although the stunning swooping staircase inside the main entrance survived the fire, it is not stable enough for use. It will remain in place but a new staircase will be built behind it to connect all the levels of the church.
"It's going to be more of a decorative piece," says Peters.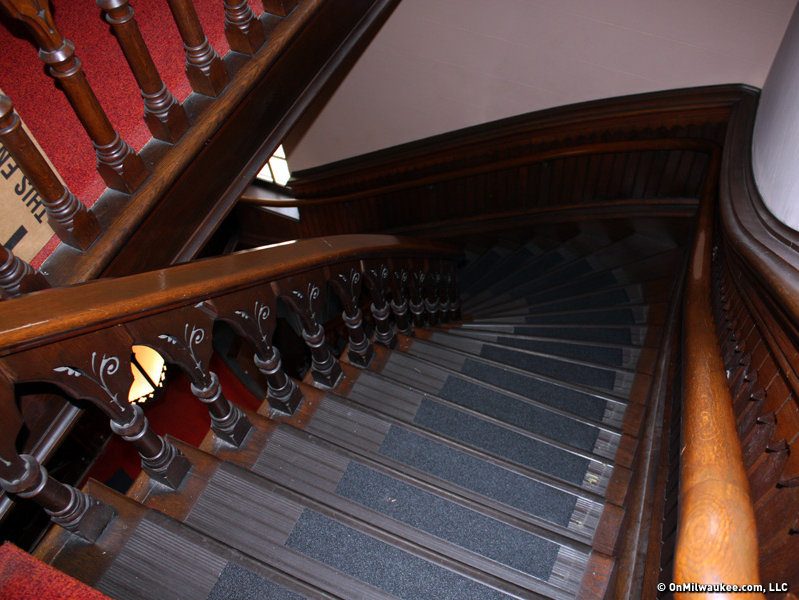 Although insurance has covered $17.5 million of the repair and restoration costs, it's not enough, leaving a shortfall that Peters estimates hover somewhere around $6 million, which includes a $1.5 million endowment.
"We are going to be starting a campaign soon to raise funds," he says. "The idea is that we're hoping to establish a couple of designated funds to help with the continuation of the running of the building, but also as a mission to the outreach to the area."
Funds raised via the campaign will help pay for new stained glass windows, a new organ, a replacement cupola and small steeple, pews and perhaps restoration of the pulpit and the original wood floors.
"Ultimately what we're going to do is look at what we have left to do and what we have left (in funds) and then figure out which items we need."
I ask Peters – who had preached here before briefly as a replacement pastor when his predecessor was on vacation – what he thought when he was offered the position as pastor as the fire-stricken church.
"I knew the people when I was here, and I'd worked with them because I've been in this district since I became a pastor in 2012," he says. "When I got here I met the people and they're just a lovely bunch, and they needed a pastor. Pastor Hoffman had done a wonderful job here for many years and he got to a point where he needed to retire.
"And then to have them have to go through all that they had, they really needed a shepherd. They called me and I said – after much prayer and consultation with my family – this is exactly where I need to be. I had four months and then you had COVID. It's just going to be gravy from here, is the way I look at it."
There were some COVID-related delays on the work, says Peters, but overall progress has continued.
"We have so much here that is just really going well," he says, "and we're grateful we were able to get through, slate came from Spain and that was delayed because of COVID, but at the same time it still got here."
As we stand near that gorgeous staircase that will remain as a sort of historical art installation after 150 years of wear and tear on its treads, I ask Peters what went through his mind as he watch television coverage of fire tearing through Paris' Notre Dame in April 2019.
"I think what it just makes you realize is, any church building is susceptible to decay, whether it be a storm, a fire, whatever, just maintenance. I think ultimately we don't put our hope and trust in buildings and structures. We understand that they're wonderful reflections of our thanks to God for all his gifts he gives us, but at the same time, this too could be gone in a moment.
"We as a congregation have great hopes of not only the building being completed, but also as a restoration of the church. So, we're excited. We're going to have the same seating capacity that we had before, so we can do the things we did before."
Born in Brooklyn, N.Y., where he lived until he was 17, Bobby received his BA-Mass Communications from UWM in 1989 and has lived in Walker's Point, Bay View, Enderis Park, South Milwaukee and on the East Side.
He has published three non-fiction books in Italy – including one about an event in Milwaukee history, which was published in the U.S. in autumn 2010. Four more books, all about Milwaukee, have been published by The History Press.
With his most recent band, The Yell Leaders, Bobby released four LPs and had a songs featured in episodes of TV's "Party of Five" and "Dawson's Creek," and films in Japan, South America and the U.S. The Yell Leaders were named the best unsigned band in their region by VH-1 as part of its Rock Across America 1998 Tour. Most recently, the band contributed tracks to a UK vinyl/CD tribute to the Redskins and collaborated on a track with Italian novelist Enrico Remmert.
He's produced three installments of the "OMCD" series of local music compilations for OnMilwaukee.com and in 2007 produced a CD of Italian music and poetry.
In 2005, he was awarded the City of Asti's (Italy) Journalism Prize for his work focusing on that area. He has also won awards from the Milwaukee Press Club.
He can be heard weekly on 88Nine Radio Milwaukee talking about his "Urban Spelunking" series of stories.