If you're frequently on the upper East Side, you may have noticed a lovely, if somewhat unusual house overlooking a grassy triangle behind Columbia St. Mary's Hospital, at the top of East Water Tower Road hill, where Wahl and Terrace Avenues come together.
It's a Tudor Revival gem, half timbered at the top, smaller than most of the homes around it. More petite, in fact, than the coach house of the enormous home behind it on Wahl.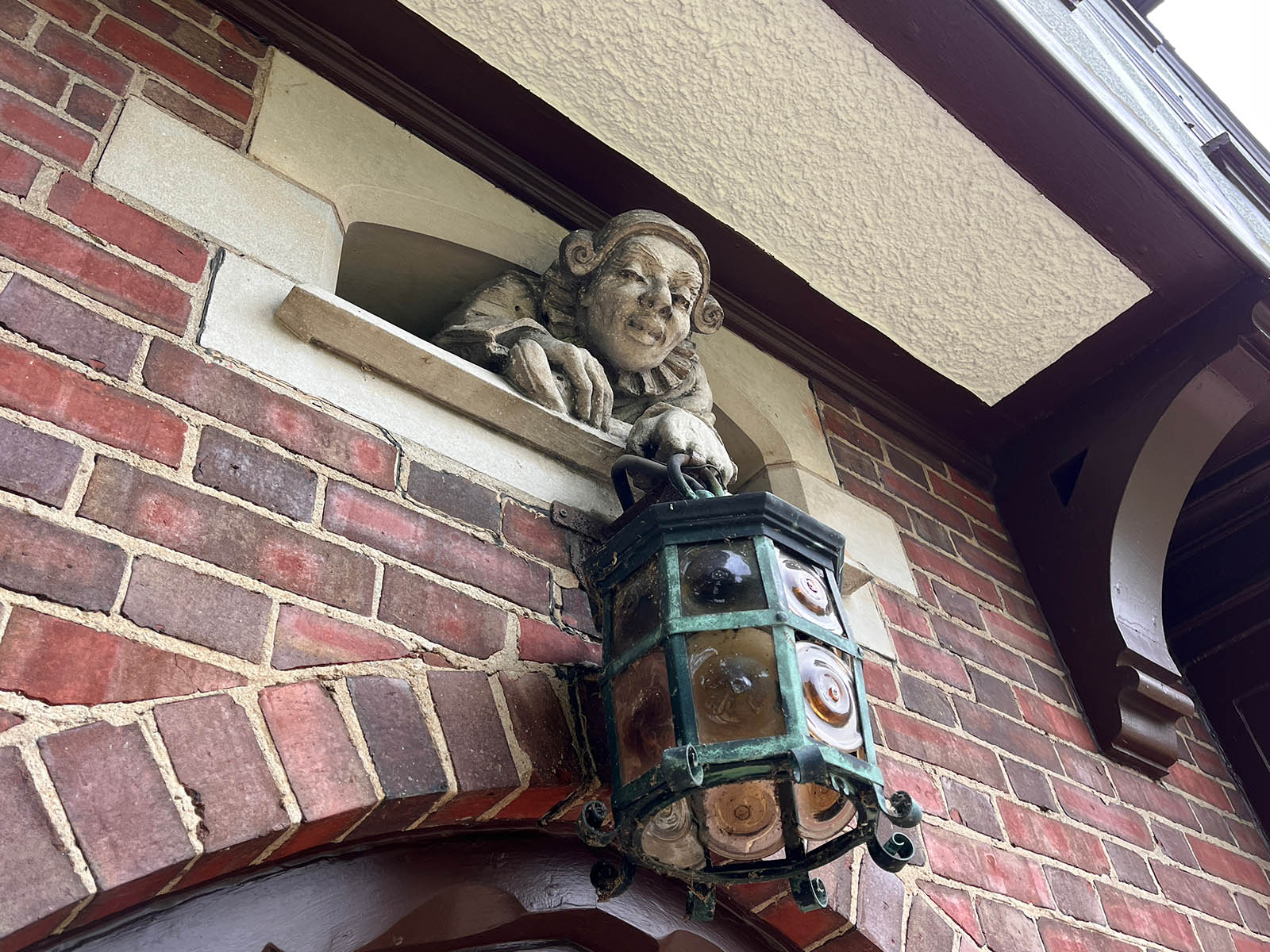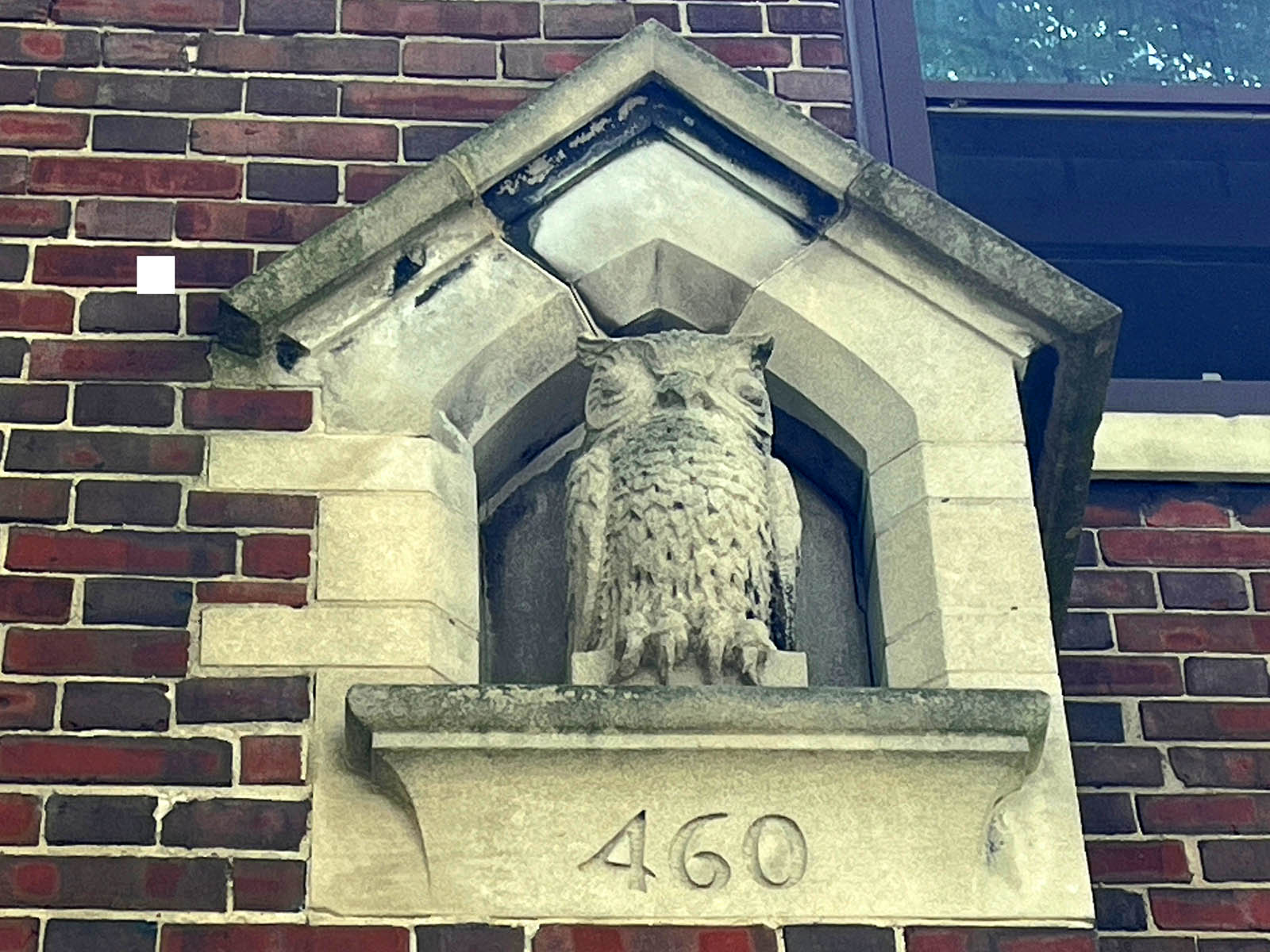 Above the main entrance, a medieval looking character, cast in concrete, reaches out of a nook, holding a lantern. On the Terrace Avenue side, an owl is perched atop a stone etched with the home's original address: 460 Terrace Avenue.
The house, rather uniquely, doesn't face its street. Instead, it's turned 90 degrees south to take full advantage not only of the city-maintained green space that is its de facto front yard, but also a commanding view out over the Milwaukee harbor.
This is the home that landmark Milwaukee architect Alfred C. Clas designed for himself when he was 60 years old – his children grown – preparing for retirement.
The house has been owned since 2019 by Eric Riebe, and he invited me over for a visit, along with Jeff Bentoff, who is active in the Historic Water Tower Neighborhood Association and at Lake Park.
"At this house, the details inside aren't nearly as ornate as a lot of the properties that he did," says Riebe. "I wonder if it was because he was just so sick of doing these over the top designs, and wanted something more practical for himself."
"Maybe when he had to pay for it himself," Bentoff adds with a laugh, "maybe he was like, 'I can't'."
This, in effect, is what really piques my interest in the house, that since 1931 has borne the address 2348 N. Terrace Ave. I love seeing the homes that renowned architects design for themselves.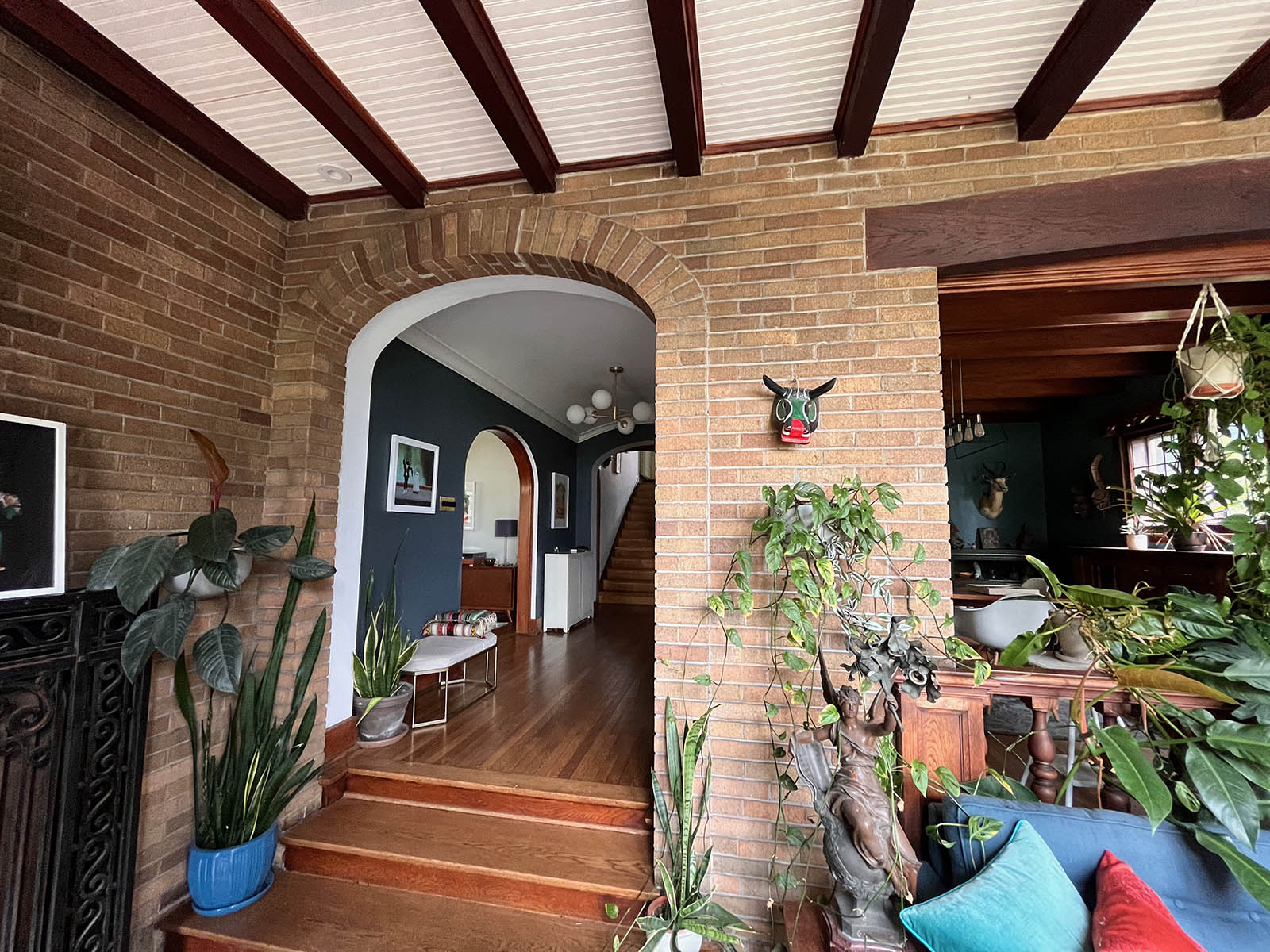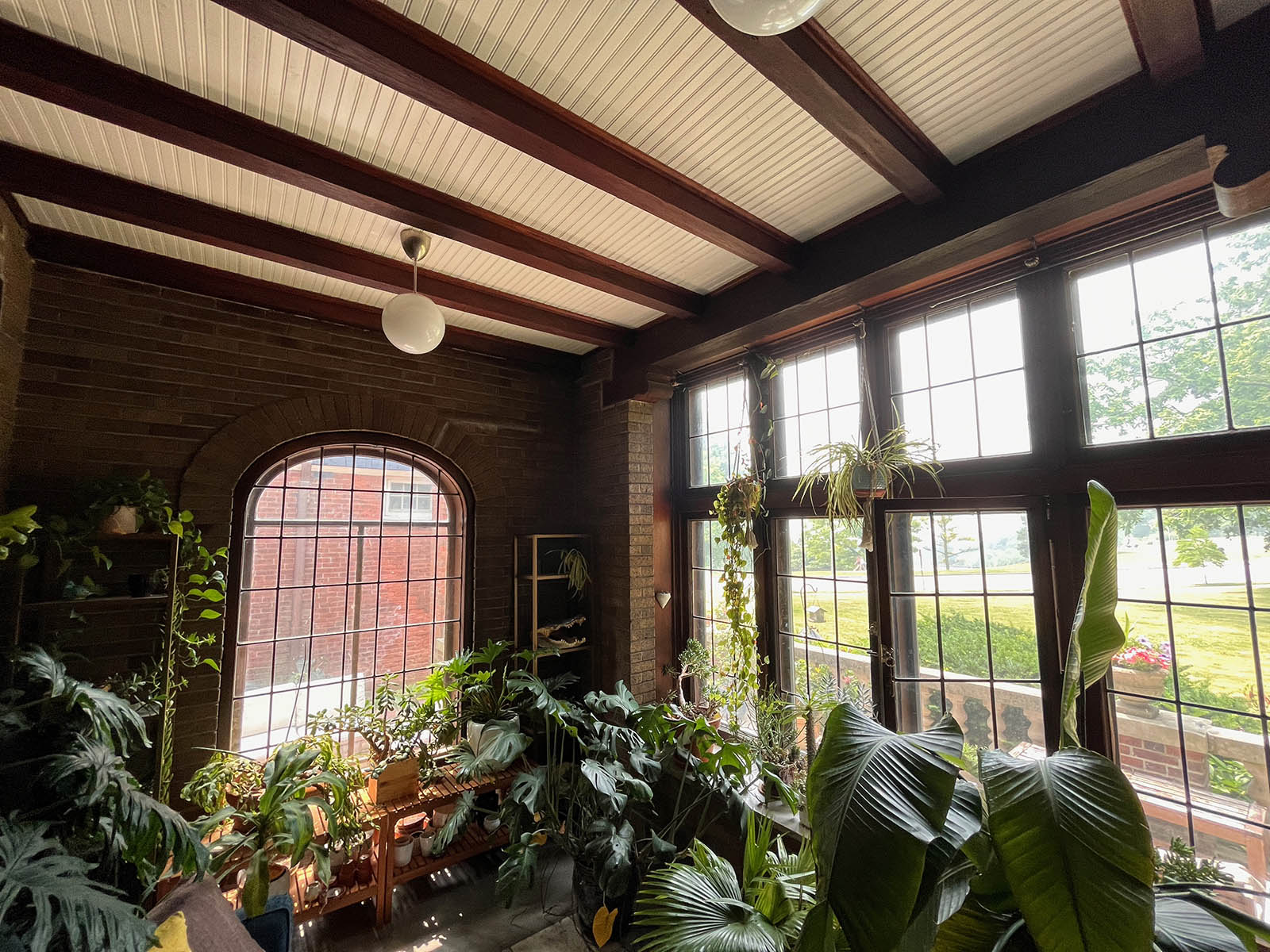 They seem to be a sort of window into the preferences of an artist for hire, architects often represented by work that may be created more to the tastes of the customer than the designer. (Frank Lloyd Wright perhaps is a notable exception, since even when hired by others he seemed to draw pretty whatever he wanted to draw.)
Riebe's supposition – and Bentoff's, too – could be spot-on. Perhaps, too, Clas, at that point in life, wanted something that required a little less upkeep? Maybe, he designed his dream house. Or perhaps, drew a house to suit the tastes of his wife, Lucile.
We don't know the answer, we just have the result, which is quite fabulous.
Who was Alfred Clas?
Clas, who is best remembered for works designed during his partnership with George Bowman Ferry, not only designed the Central Library, the Auditorium, the Pabst Mansion, the Midsummer Carnival shaft in the Court of Honor, the Northern Trust Building, the Steinmeyer Building, the Dubbel Dutch hotel houses, the Matthews Brothers Building, the First Unitarian Church, Cudahy Tower and the Tripoli Temple, but also Vieau School in Walker's Point, the St. James Court Apartments and numerous homes in the Milwaukee area (including this one and this one).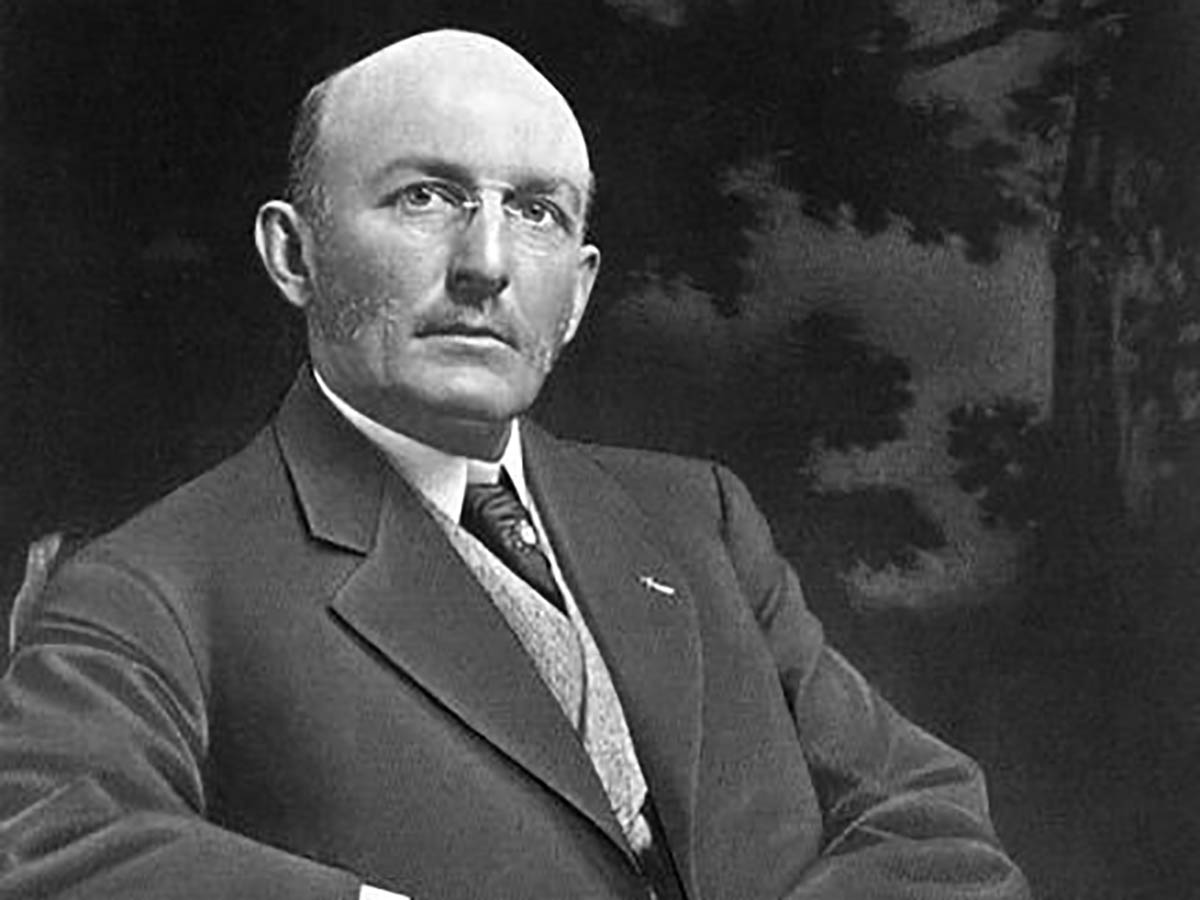 He also designed works outside the city, including the Hotel Whiting in Stevens Point.
Alfred Charles Clas was born in 1859 in Sauk County; some sources say in Sauk City, though the 1860 census lists his family as living in Prairie du Sac.
Clas' father Adam – a carpenter – was from Kaltennordheim, and his mother, Magdalena Ernst, was from Heidelberg. Both emigrated to the United States in 1849 and by 1850 were married and living together in Milwaukee's Fourth Ward with their infant daughter Caroline.
Considering that Caroline was born in Wisconsin within months of their arrival, it seems likely the Clas' were married in Germany.
Young Alfred went to Madison after graduating from high school to work briefly as a messenger in the Senate before taking an apprenticeship in architecture. Moving to Stockton, California in 1879, Clas worked in architectural practices before returning to Wisconsin in 1881.
Settling in Milwaukee, he worked in the office of Scottish architect James Douglas, initially as a draftsman. In 1885, he became a partner, but two years later, struck out on his own.
In 1884, Clas married Louisa Wick and the couple had a son, Angelo, in 1887.
Three years later, Clas partnered with established architect George Ferry.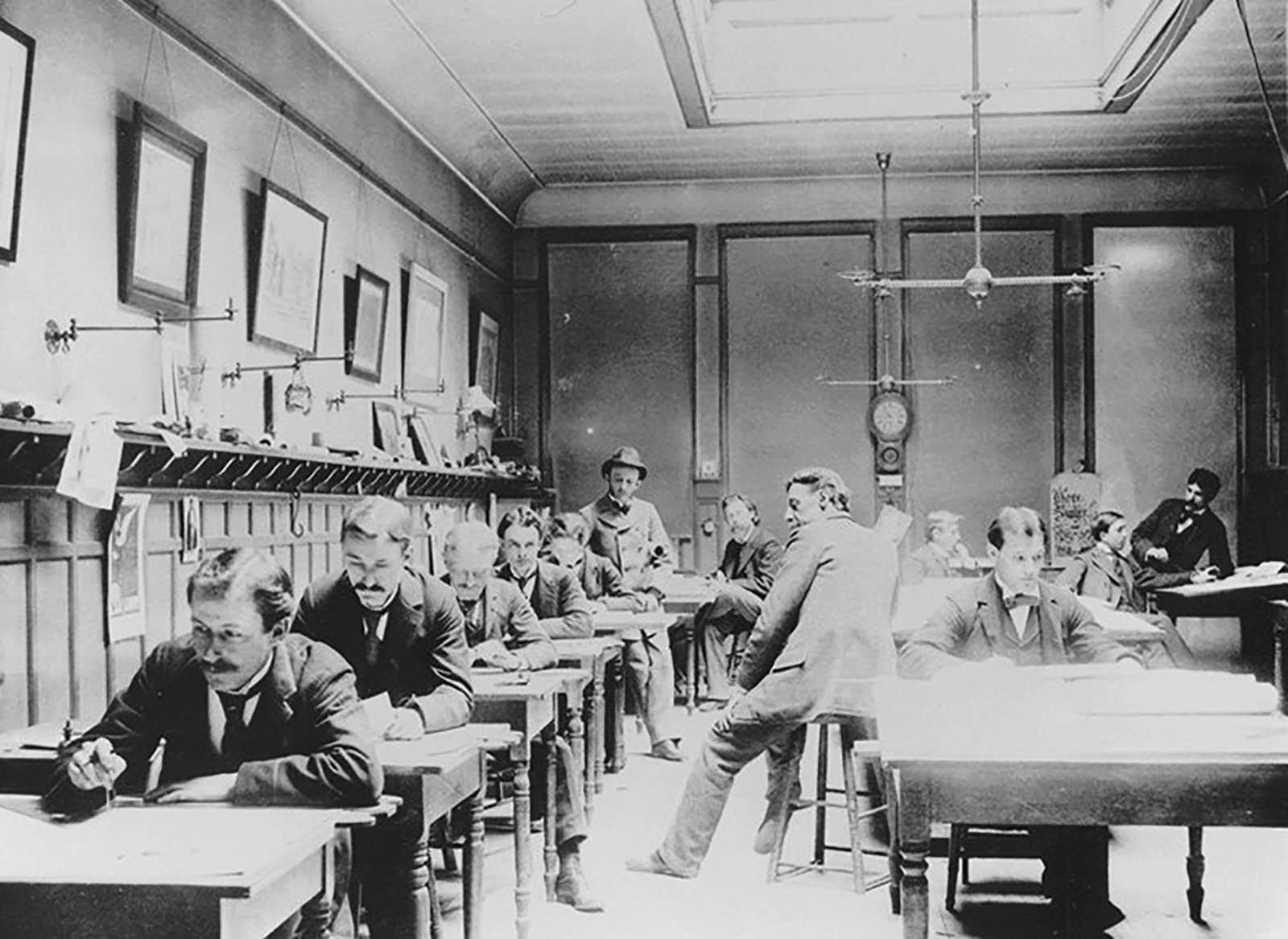 He and Louisa had a second son, Rubens, in 1891, but a week short of the boy's first birthday, Louisa died of tuberculosis at the family's Jackson Street home.
In 1894, Clas remarried, wedding French-born Lucile De La Valliere, who had arrived in the U.S. in 1880, in Chicago.
Clas' partnership with Ferry endured 22 years, and in 1912 the principals went their separate ways, with Clas entering into a partnership with his son Angelo to form Clas & Clas.
In 1921, Clas' younger son Rubens joined the business, too, along with John S. Shepherd, and the firm was renamed Clas, Shepherd and Clas.
In 1931 – by which time Angelo had relocated to Chicago – Shepherd departed and Alfred and Rubens continued the partnership until, the elder Clas' retirement in 1934.
For years, Clas had been active in urban planning and the parks system in Milwaukee, too.
Along with Charles Whitnall and Charles Estabrook, Clas was one of the first to be appointed to the Milwaukee Park Commission.
He served three five-year terms with the board and earned himself a good share of business from it, designing not only the Lake Park Pavilion and nearby footbridge, but, according to his obituary in the Sentinel, Clas, "drew plans for and supervised all but a few of the older park buildings in Milwaukee, among them the Washington Park zoo buildings."
Clas also was key to the planning and construction of Lincoln Memorial Drive, including the original Lincoln Memorial Bridge that connects Mason Street to Lincoln Memorial Drive.
He devised an early riverwalk scheme and other improvements along the Milwaukee River, as well as a sweeping Civic Center plan that resulted in the widening of Kilbourn Avenue from the County Courthouse to Juneau Park.
He also had a vision to extend Juneau Park all the way north to Kane Place, which did not come to fruition.
Some have suggested that Clas' retirement home benefitted from his parks connection.
"The story that I was told when I was buying the house," says Riebe, "was that because he was the head of the parks commission, and he was retiring, they gave him this little plot of land that was part of the park to put his house on."
And in her self-published book, "North Point Historic Districts: Milwaukee," author Shirley du Fresne McArthur wrote that, "Clas was granted permission to revolve the front of his proposed home to face the harbor and thus obtained a front lawn of park land perpetually maintained," presumably because of this connection.
We don't know if any of this is true.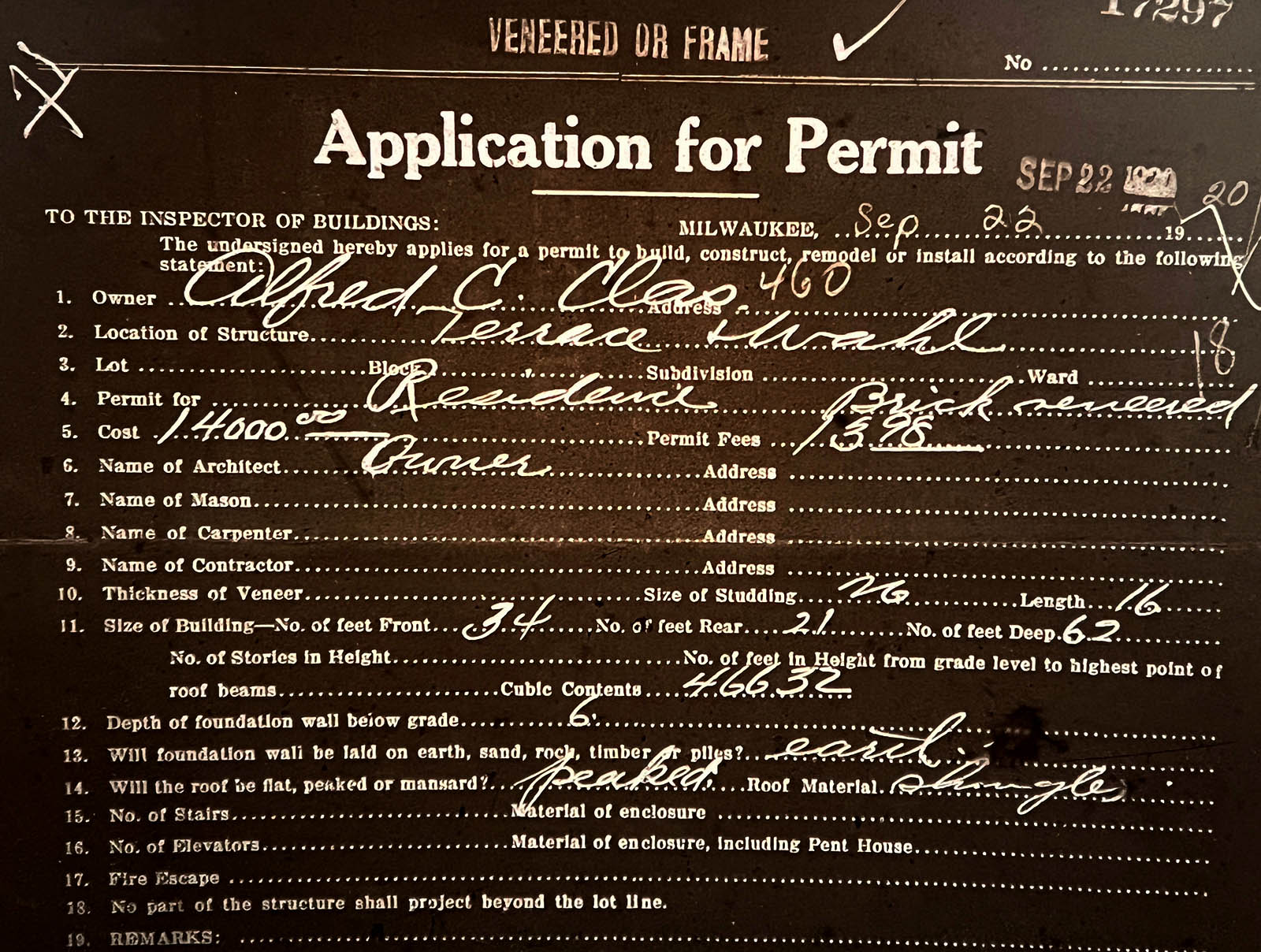 What we do know is that on Sept. 22, 1920, while he was living on Milwaukee Street, Clas laid down a $13.95 fee and signed his name on a permit to build a brick-veneered residence, estimated to cost $14,000, that he would design himself for a plot of land on Terrace and Wahl.
By Oct. 1, the house was well underway, with building inspector John G. Hintz noting after visiting the site that foundation work was being done. In a series of nearly weekly or bi-weekly check-ins, Hintz offered updates, some of which you can see in the photo below.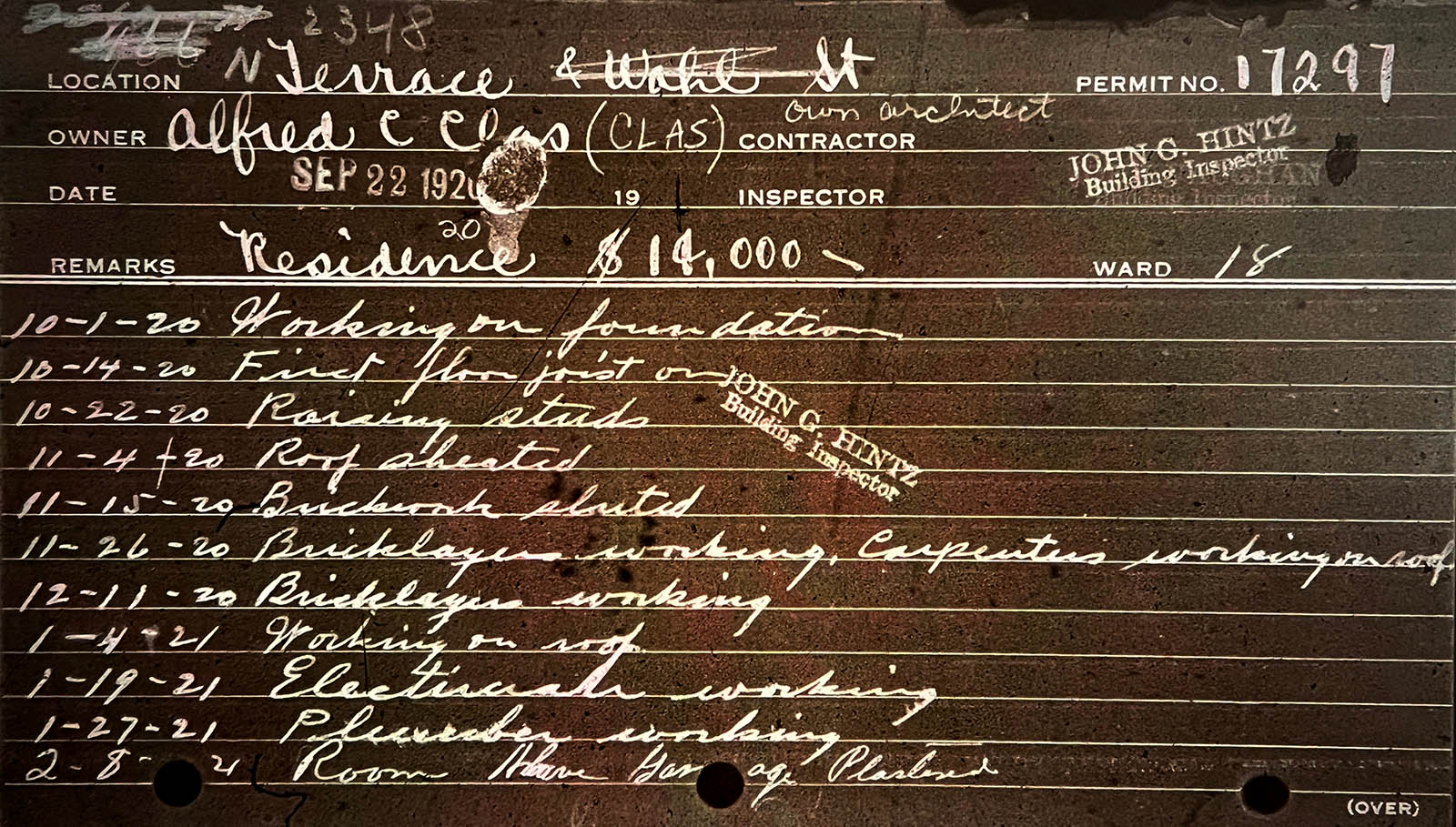 By March 19, the house was ready for its interior finishing work, which continued into May and by May 31, 1921, he signed off on the completed home.
In autumn 1921, recently moved into their new home, Alfred and Lucile Clas brought a 13-year-old orphan into their home for more than three months.
After losing both her parents to a "cruel sickness," according to the Milwaukee Sentinel, "Alice" was sent to the orphan asylum, from which she was taken by, "the people who were to be so kind and from whom she was rescued three months ago by Mrs. A. C. Clas, 460 Terrace Avenue, a thin, frightened, beaten little creature.
"Loving care and friendly kindness have restored her, and it was a rosy cheeked, sturdy little girl that Mrs. Clas presented Thursday afternoon. She is small for her age ... but the big brown eyes are older than her years, and sad. Mrs. Clas can not keep her any more and she is anxious to find a home for Alice ... and it is hoped some childless couple will be willing to be mother and dad to Alice."
"The child is so affectionate, so trusting and industrious that I can not bear the idea of placing her in an institution, or sending her out to fend for herself," Mrs. Clas told the paper. "I know that at Christmas time there are many people who long for a little child in the home, and they would be repaid, anyone would be repaid who took an interest in this splendid little girl."
In 1928, when a young woman named Charlotte Arpin was unable to locate family in Fort Lauderdale after a terrible hurricane that killed an estimate 700-800 people, Mrs. Clas invited her to stay in the Terrace Avenue home for a time, too.
Three years earlier, after having wintered in the area, the Clas' had moved into the Florida market in a big way, and not only buying a home for themselves.
The Journal reported in July 1925 that Mr. Clas had opened a branch office of his architectural firm in Sarasota and, "will spend part of his time there."
Meanwhile, Mrs. Clas saw potential for investment in Fort Lauderdale and bought a lot upon which she built a four-family apartment house, which was, "finished in three weeks and rented at once as a profitable figure. Later, two more apartments were added and since her return Mrs. Clas has sold the property at a good profit."
She also bought 40 acres of land for $120,000 and promptly sold a half-interest to a real estate company. Having planned the Seminole Forest subdivision – named because it had been home to a Seminole village – Mrs. Clas then listed it, "in developed condition. ... She was offered $225,000 for the tract soon after buying it but refused as a larger profit will be made by selling it developed."
Alfred and Lucile Clas still maintained their Milwaukee home and in 1930, they had a live-in German-born servant, 37-year-old divorcee Margarete Hack, who had arrived in the U.S. two years earlier.
"I would not think of giving up my Milwaukee home and many friends here in spite of Florida's attractions," Lucile Clas told the Journal in 1925. "We will continue to make this city our permanent home although I shall spend my winters south and Mr. Clas will spend part of his time in Sarasota."
However, in 1934, when Clas retired, they moved south for good.

Earlier that same year, Lucile got press coverage when she offered use of the Fort Lauderdale home to the family of Benny Hendricks of Wilkes-Barre, Pennsylvania.
Hendricks, 9, was, according to the Journal, "suffering from a disease that is hardening his muscles and tissue. Mrs. Clas, in a letter to the boy's mother, said that she believes the Florida sunshine and ocean breezes will help in fighting the disease."
It's unclear whether or not the Hendricks family took Mrs. Clas up on her offer, however, the boy lived to age 44 before losing his life to myositis ossificans in 1969.
When Lucile passed away in a Miami hospital in 1939 after a long illness, Clas was in Milwaukee, living with Rubens at his Shorewood home, after having suffered a stroke several months earlier.
Injuring himself in a fall on the ice, Clas then went to the Masonic Home for the Aged in Dousman for care and there, in 1942, he died on July 8, at the age of 82.
A funeral was held at the Weiss Funeral Home on Farwell Avenue, Clas was cremated at Forest Home Cemetery and then buried in Sauk City.
Due to his long, distinguished career, Clas was the first AIA fellow in Wisconsin, an honor that would later also be bestowed on the likes of Alexander Eschweiler, Peter Brust, Gerrit DeGelleke, Richard Philipp and others.
The house after Clas
Meanwhile, back in September 1934, as Clas went south, the home was listed for sale, described in an ad as, "Built by architect for his own home, this house has distinction and charm; rock garden on porch; Italian courtyard; living room with book corner; 3 bedrooms; 2 baths; unique study with sun room."
The following April, the Sentinel reported that "Milwaukeeans are again entering the market for homes and a considerable increase in sales is reported by local real estate agencies. Among transactions reported last week was the sale of this residence at 2348 N. Terrace Ave., formerly owned by A.C. Clas, architect. It was negotiated by Ogden-Scheffer company."
The buyer was Mrs. Max Hottelet, whose German-born husband – a sugar and grain dealer – had died five year earlier.
Despite being referred to by her husband's name – as was common at the time – Mrs. Hottelet was at least as notable Milwaukee figure as her late husband.
She was born Anna Huebschmann in March 1867, in Milwaukee, the daughter of Franzis and Creszentia Hess. Her grandfather was German pioneer John Hess.
Her father, Francis Huebschmann – one of the first German doctors in the city – was Solomon Juneau's personal physician.
In 1946, Huebschmann established a $2,300 trust to fund a replica of Juneau's cabin that was moved to Juneau Park as a memorial to her father. The cabin remains there today.
But just two years later, Huebschmann – who was passionate about Milwaukee history and was active in the Milwaukee County Historical Society – died at home.
When her niece, Elsa Pauly Wilson's husband Curteus W. Wilson – a retired Wisconsin Telephone Company supervisor – died unexpectedly while wintering in La Jolla, California, the widow returned to Milwaukee to live in the house that Clas built. (The Wilsons, it seems, had sold their own house before heading west.)
In 1949, Wilson sought to convert the single-family home into a duplex, but was denied by a city inspector.
"This residence has 10 rooms and two bathrooms," wrote Frank Gebauer Jr. in his report, pointing to the relevant city code. "Area of building 34x62=21-8. Allowable building area 1222. North side of yard is only 2'0", rear yard is only 14' 0". This residence has a 30' 0" set back from street curb. Owner wants to change 1 family residence to 2 family resilience.
"Request refused on account of insufficient lot area. Lot area overbuilt, insufficient side and rear yards."
It looks like Clas did indeed get some special dispensation in constructing his home, which exceeded the allowable area.
"It wasn't a very big plot, Riebe tells me when I vist. "That's why the house basically goes to the lot line, and it uses every square foot of the lot."
Wilson remained a few years longer, but in 1953, the house was again listed for sale, in weekly real estate ads that read, "Built by a renowned Milwaukee architect for himself, facing park with lake view; ideal for couple who demand their comforts but who may not have a maid."
Though the home was sold to Raymond E. Brooks, it was another Hottelet/Wilson family member who got the house back into the Milwaukee newspapers in 1955.
Wilson's daughter, Annette Wilson Gates, an interior designer, was following in the entrepreneurial footsteps of Lucile Clas in Tucson where she bought 50 acres as an investment and was developing her own subdivision in the Santa Catalina Mountains overlooking the city, doing much of the planning work herself.
The Journal wrote about this "former Milwaukee build(ing) desert home. The home takes its name Paloma Pink from the basic coloring of an oil painting, 'Die Lieblinge,' that hangs in the living room. The painting was inherited from Mrs. Gates' great-aunt, Mrs. Max Hottelet. It hung in the reception hall of the Hottelet home at 2348 N. Terrace Ave. for many years."
By 1960, Mr. and Mrs. Leonard Campbell Jr. had purchased the home for their family, which included two daughters. He was an investment counseler at Loomis Sayles and Co., and she was active in the Junior League and other nonprofits.
Rather interestingly, in 1972, despite having no real knowledge of transportation issues and being "a Milwaukee man largely unknown in transportation circles," according to the Journal, Campbell was appointed by Gov. Patrick Lucey to a five-year term on the County Expressway and Transportation Commission.
They sold to Jonathan Harper in the mid-1970s, who sold to James Wagman in 2009. It was Wagman who sold to Riebe in 2019.
Clas' house today
And it was Riebe who showed me around recently.
The outside, as I've described is lovely, with a balustrade-fronted porch tucked for a bit of privacy behind some bushes. It has a killer view.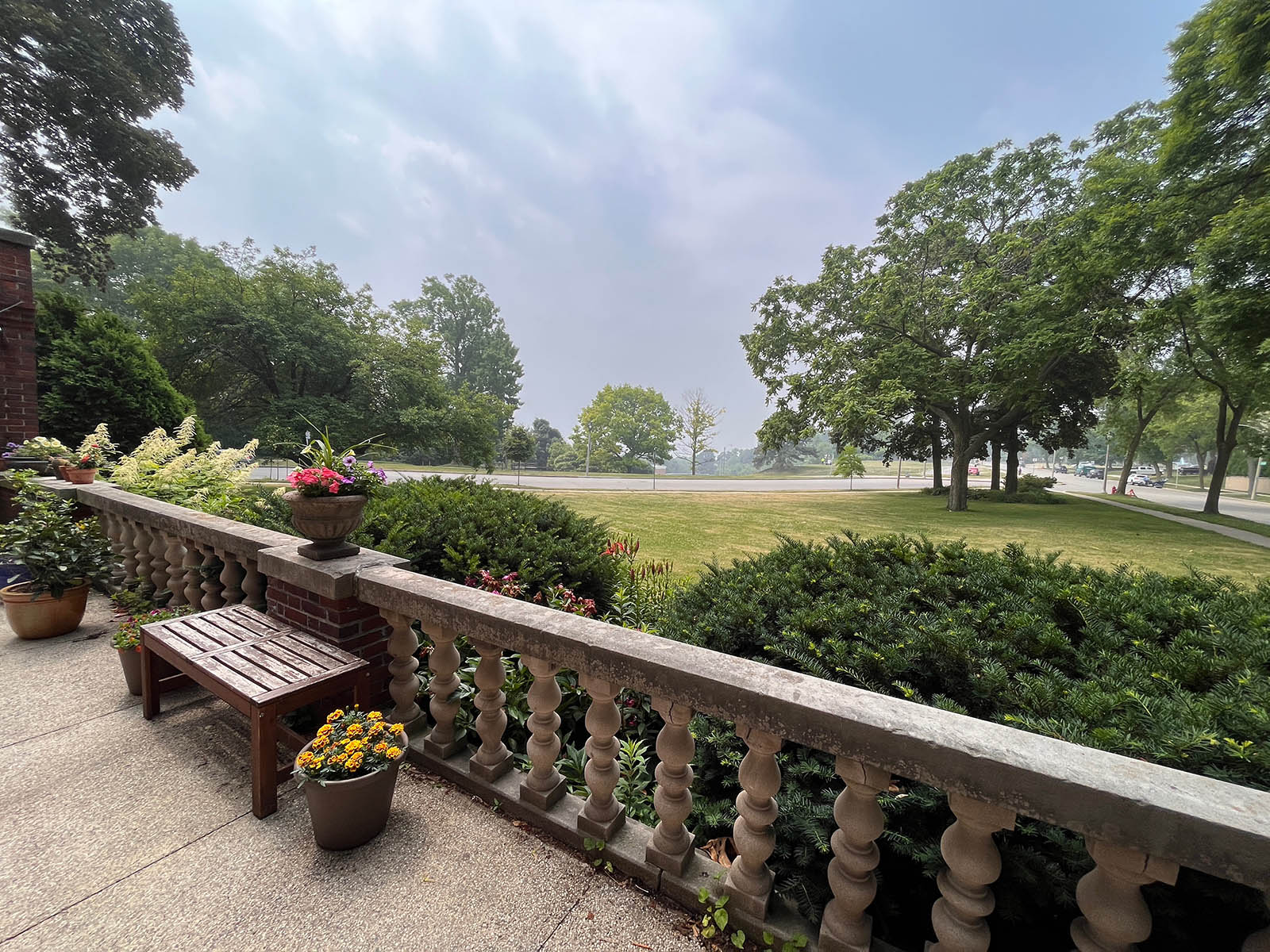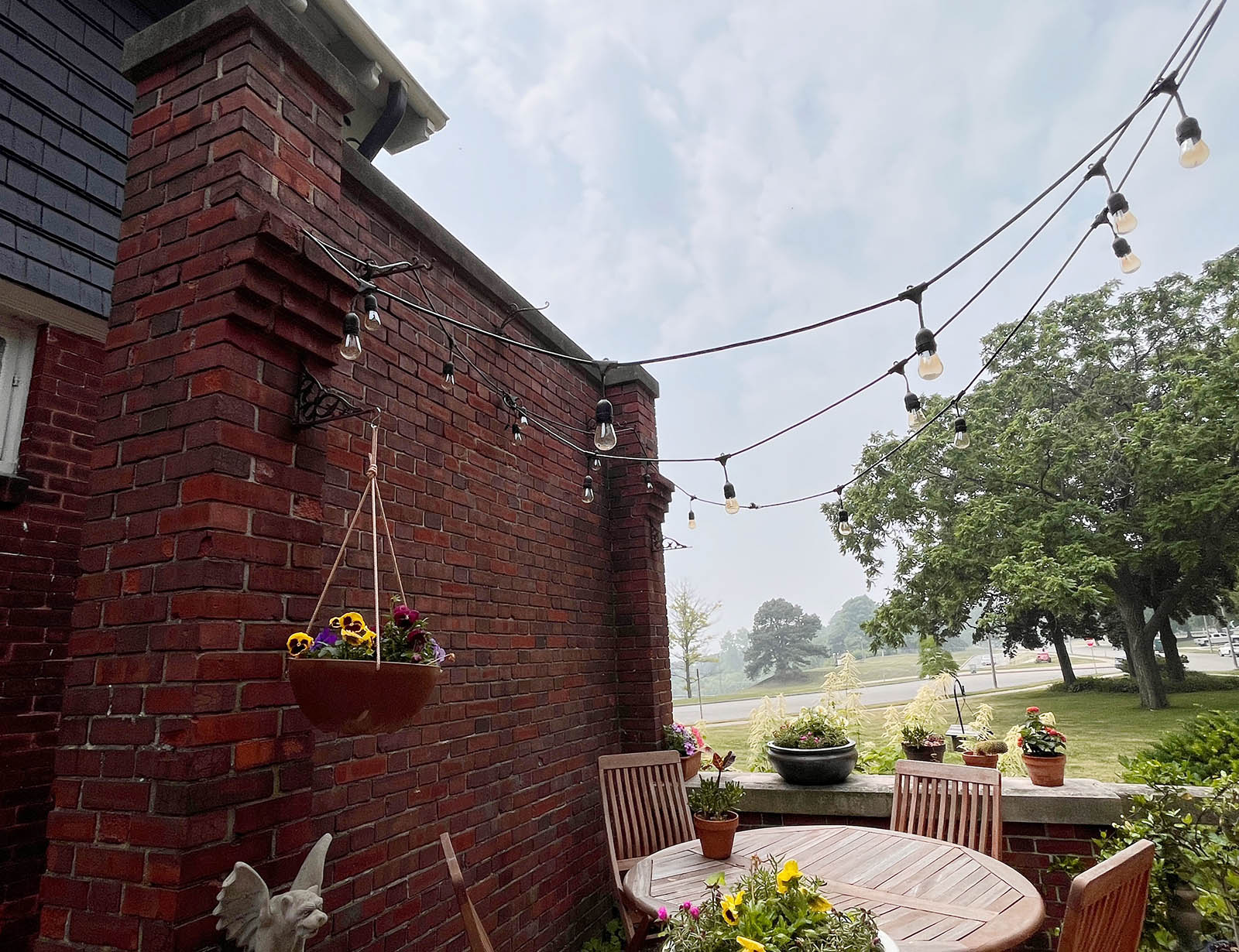 Off to one side is a brick wall that may have been part of what that 1930s real estate ad described as a rock garden. On the east side of the home is a very private, narrow strip of land that's now an intimate patio space.
Inside the front door is a beautiful space, bathed in natural light, with an exposed beam ceiling, a variegated marble floor, an arched doorway into the main house and an opening into the adjacent dining room that has a wooden balustrade along the bottom and an exposed wooden lintel along the top.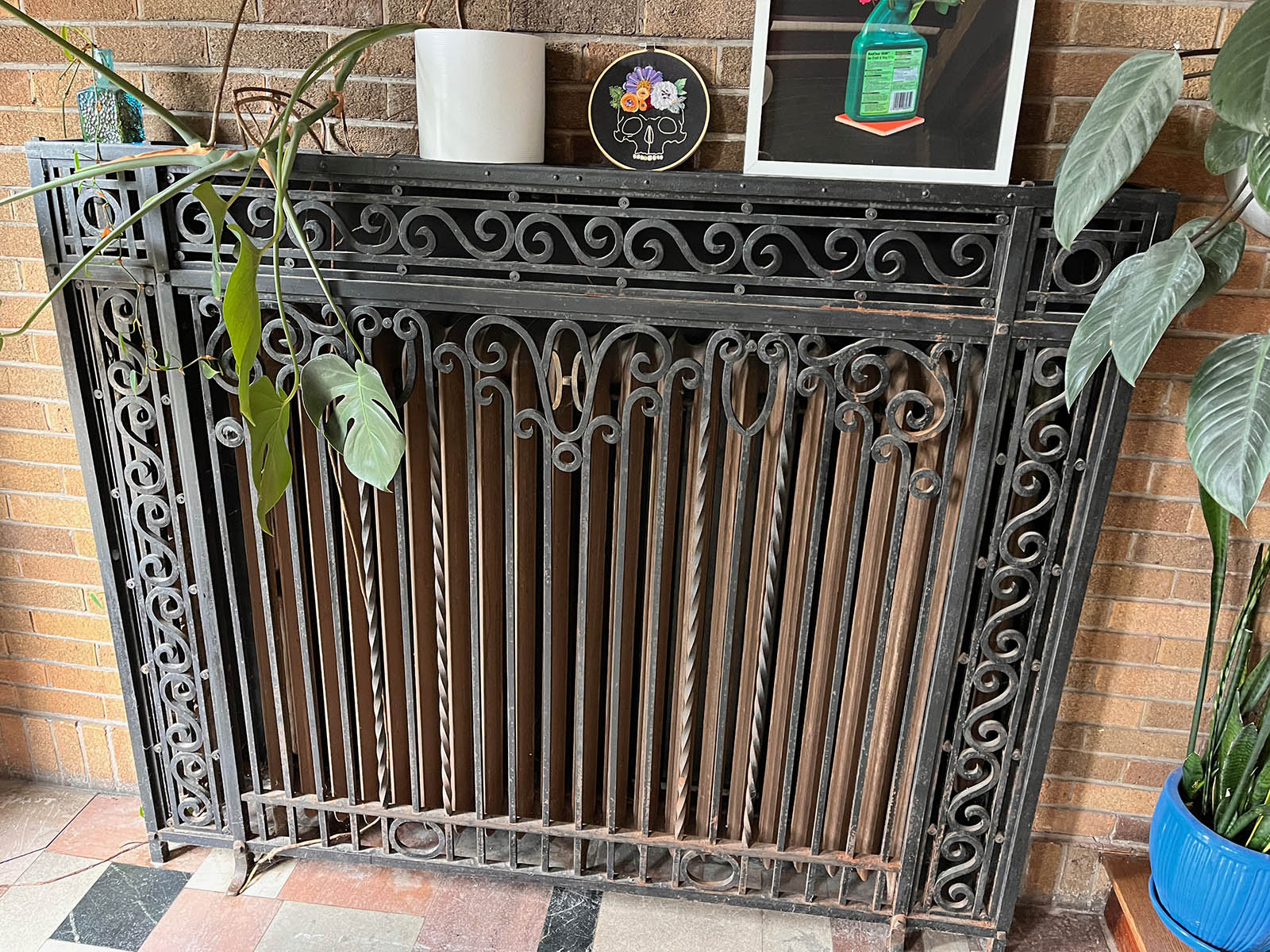 To the left, a radiator grate is said to be the work of famed local ironworker Cyril Colnik.
On the opposite end of the room, a rectangular section of the floor is in grey stone. This, says Riebe, was the site of a fountain that was removed at some point after it leaked and caused some water issues.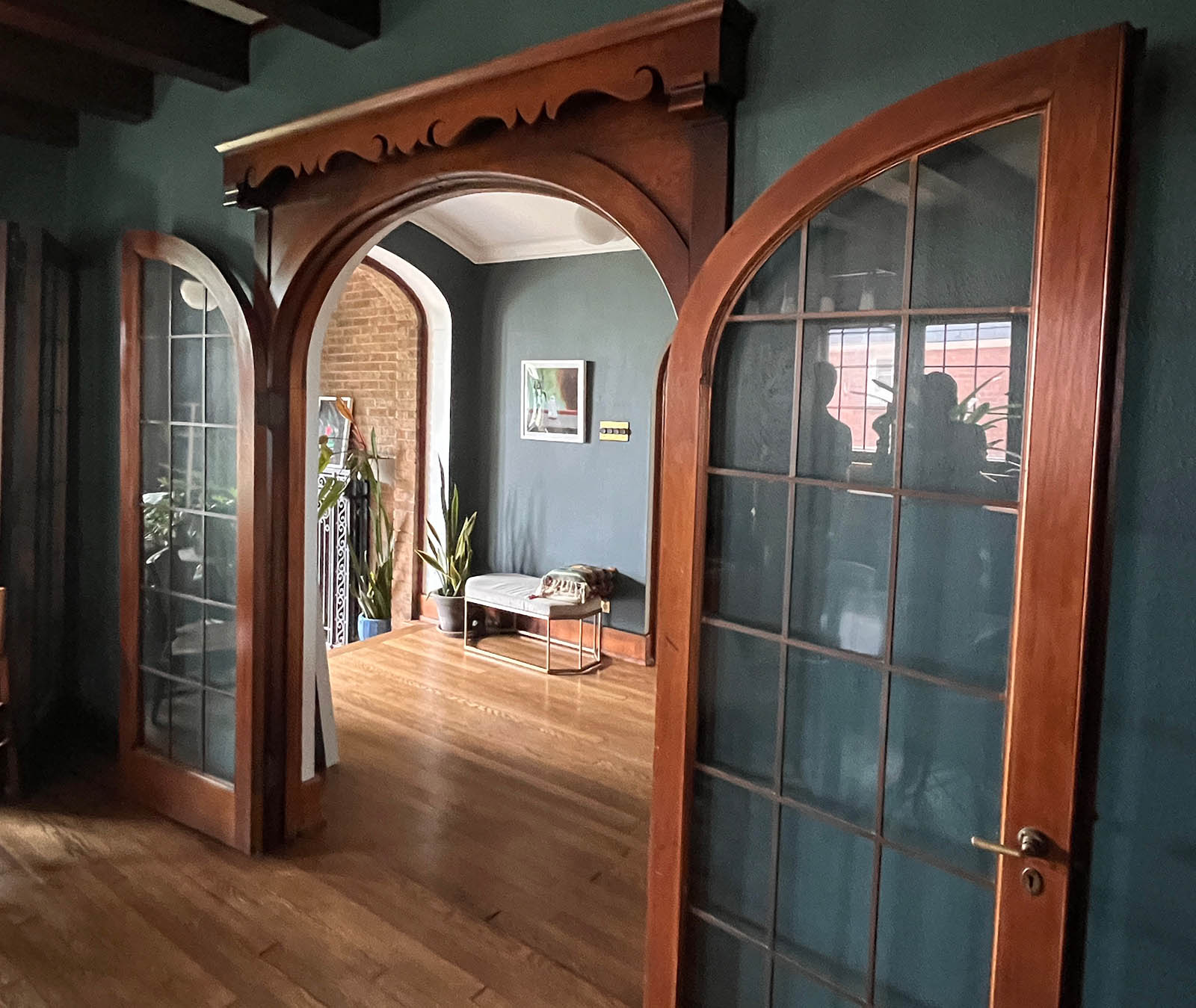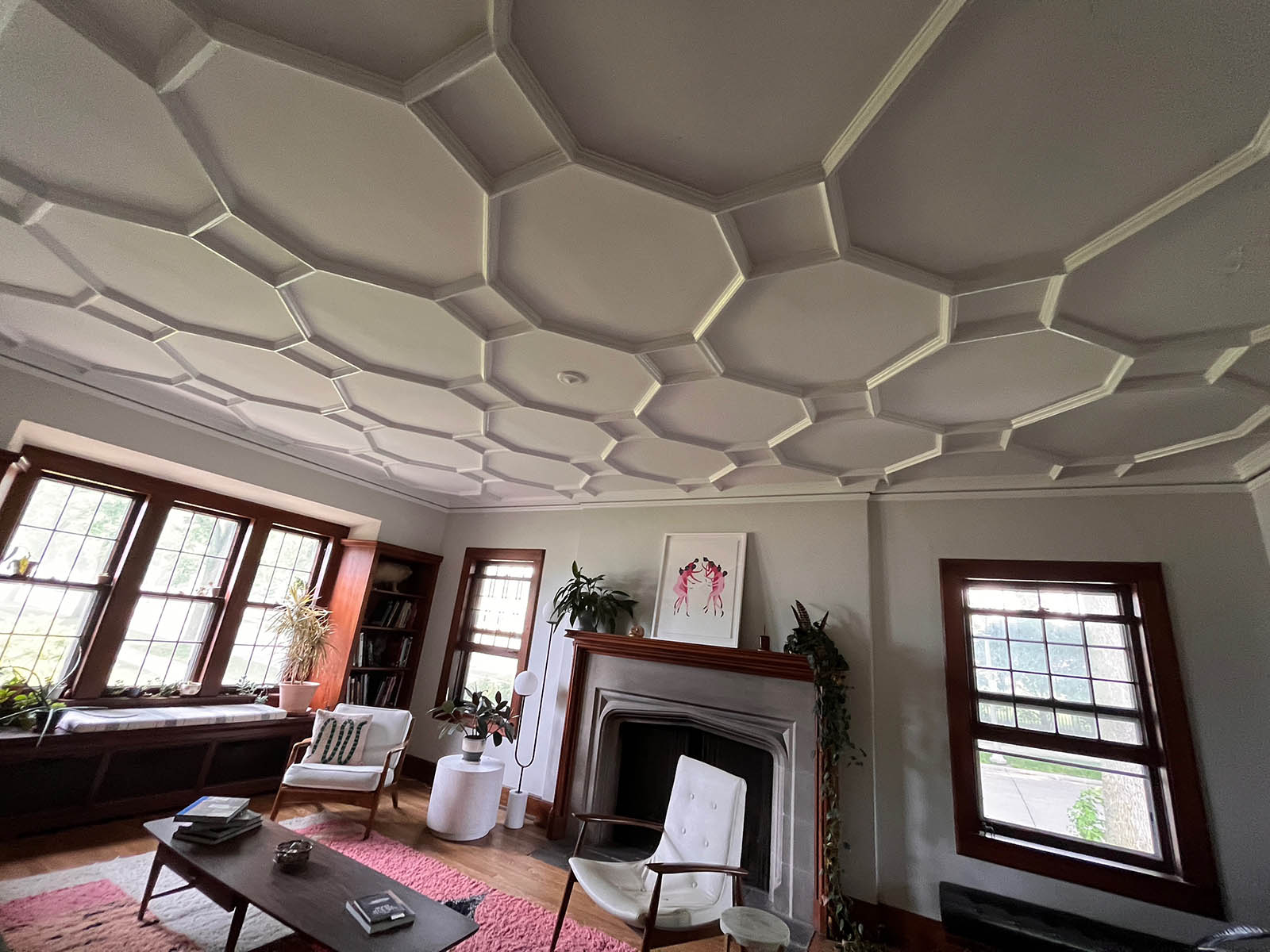 Up a few steps into the main corridor, that dining room, with another exposed beam ceiling, is on the right, through leaded glass doors in an arched opening, and the living room with an ornate plaster ceiling and a fireplace is on the left. Tucked into a corner of the living room is a little reading nook that looks out onto Terrace Avenue.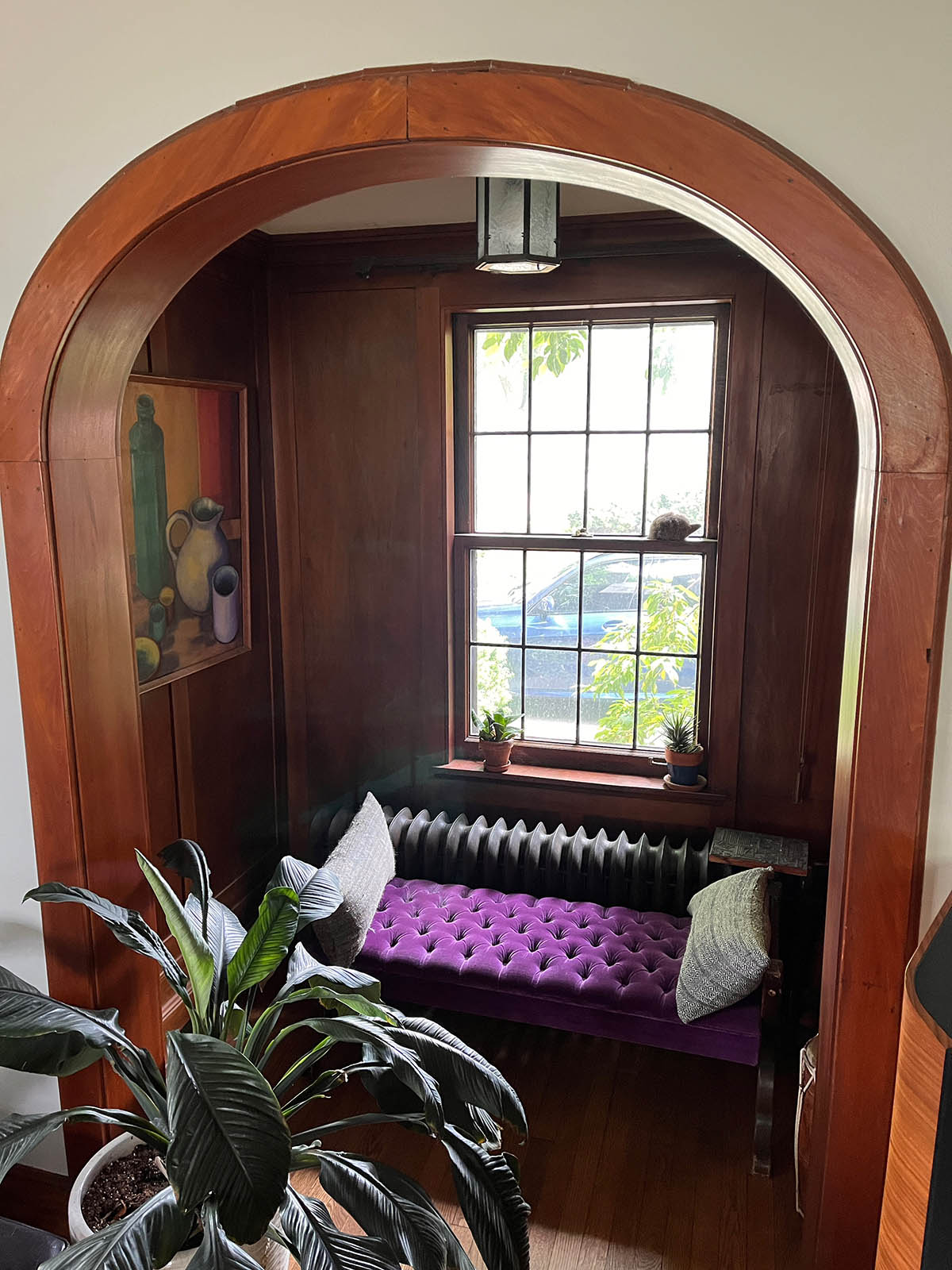 Behind the dining room is a modern kitchen, replacing a 1994 kitchen that consolidated the original kitchen and a butler's pantry into a single larger space. That work removed the built-ins from the pantry, but fortunately, says Riebe, some of those were saved in the basement and he was able to re-install them.
The house takes on something of a Swiss chalet vibe at the bottom of the stairs to the second floor, where millwork has a decidedly Old World charm. This continues upstairs in the hallway, too.
But at the top of the stairs is a revelation: a double-height room with an almost gambrel-roof-like ceiling shape, more exposed beams and simply gorgeous woodwork everywhere.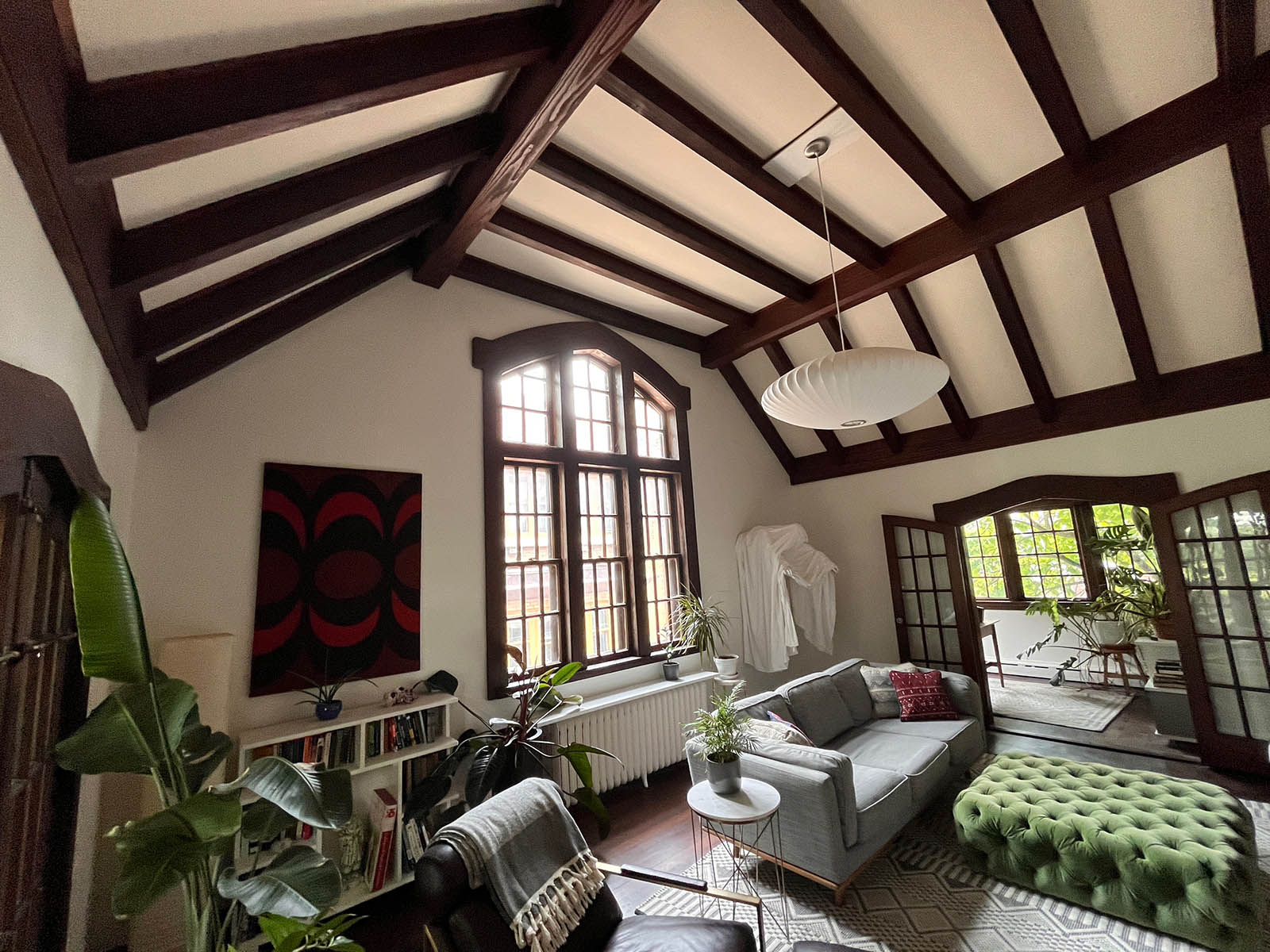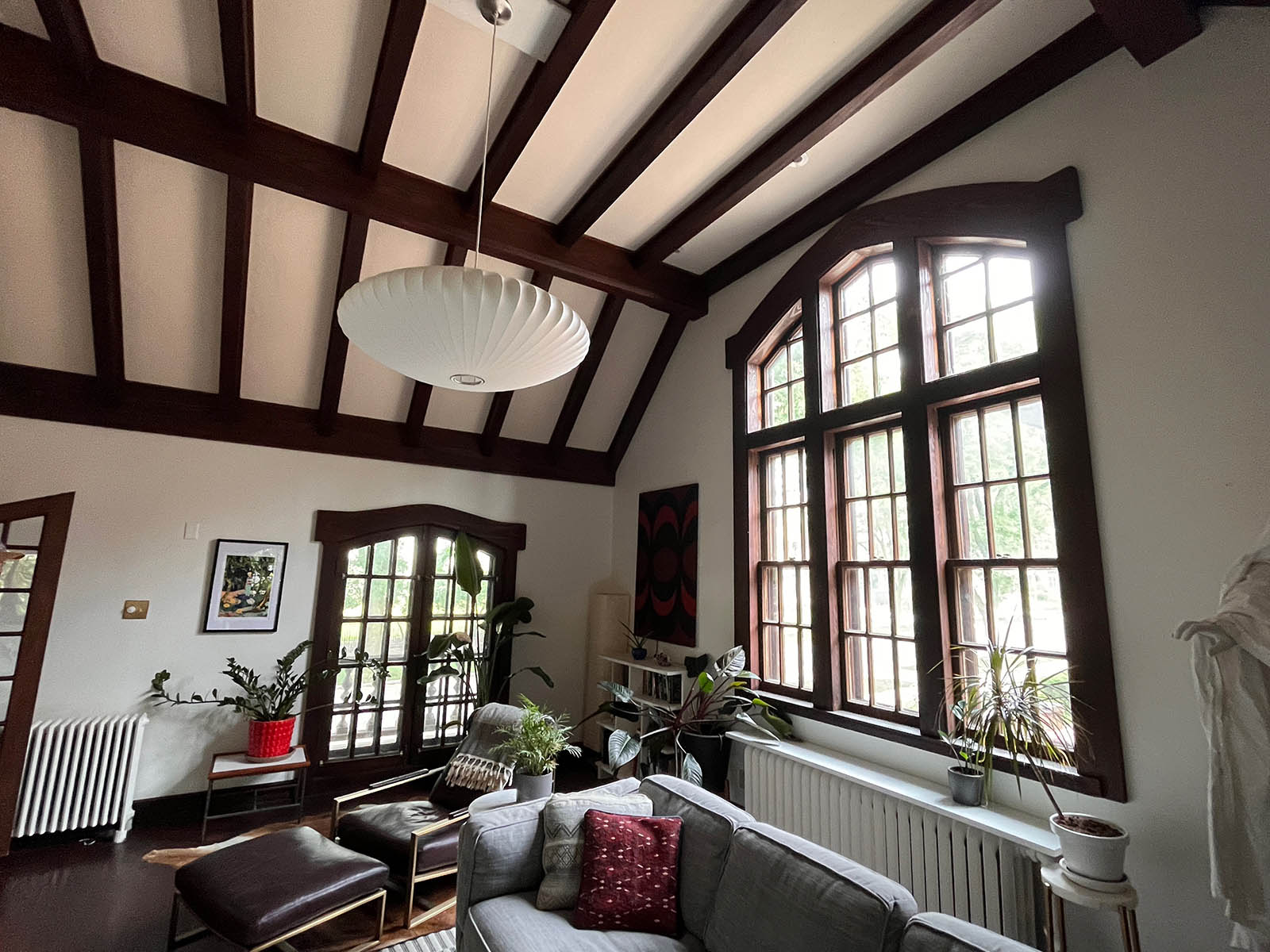 Because he replaced the yellowed old windows with clear glass, the room has gone from dark to bright and it's just a wow space. (Riebe kept the old windows in case he or a future owner wants to put them back in place.)
Off in the back corner, separated by French doors is a little office. On the Terrace Avenue, beyond a pair of French doors is a little covered Juliet balcony.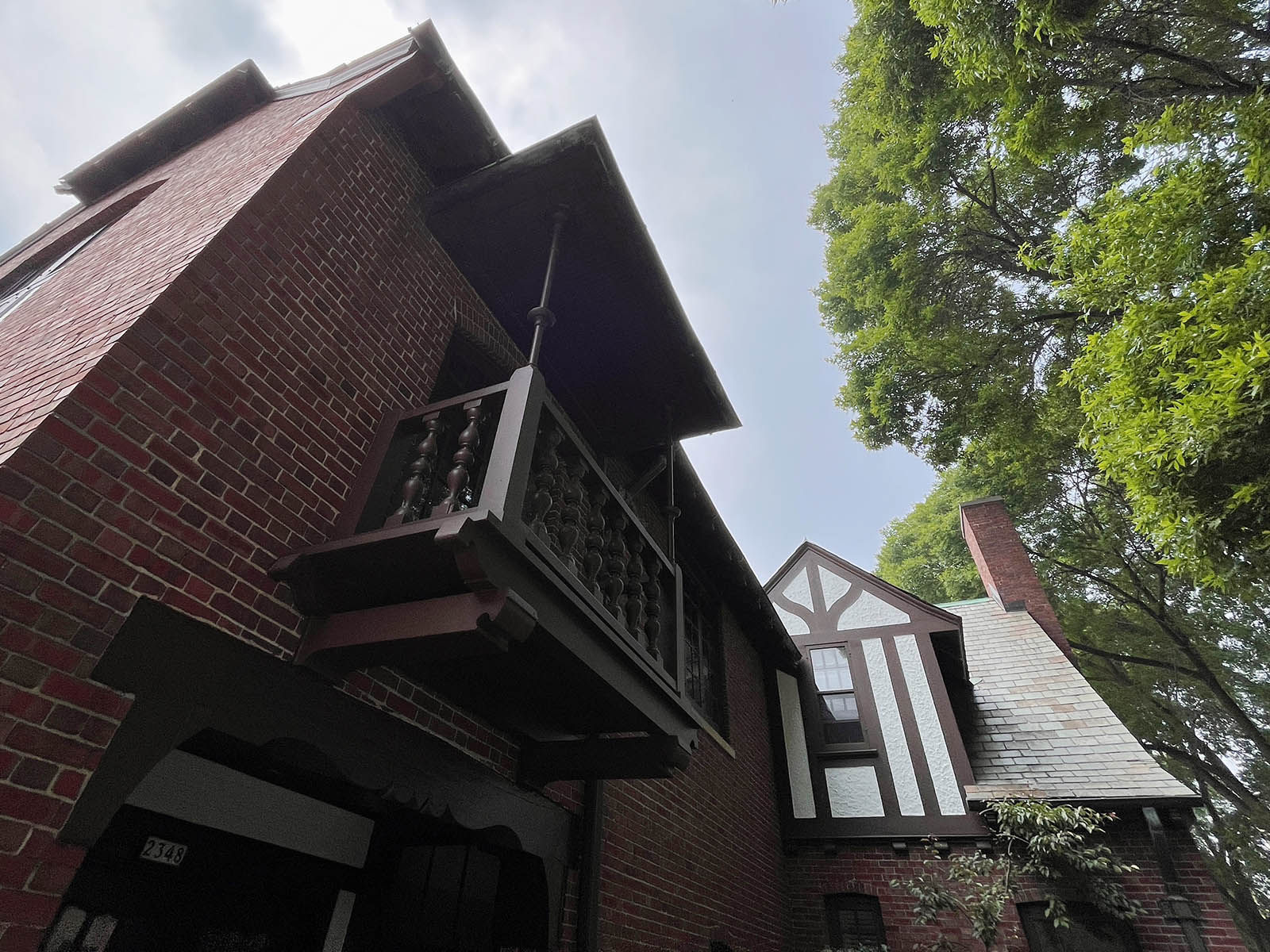 Riebe notes that a previous owner told him that he removed built-in bookcases from this space that had wrought iron features that were also said to be the work of Colnik, as well as Colnik gates in front of the garage (where you can still see the hooks upon which they hung), and sold it all off.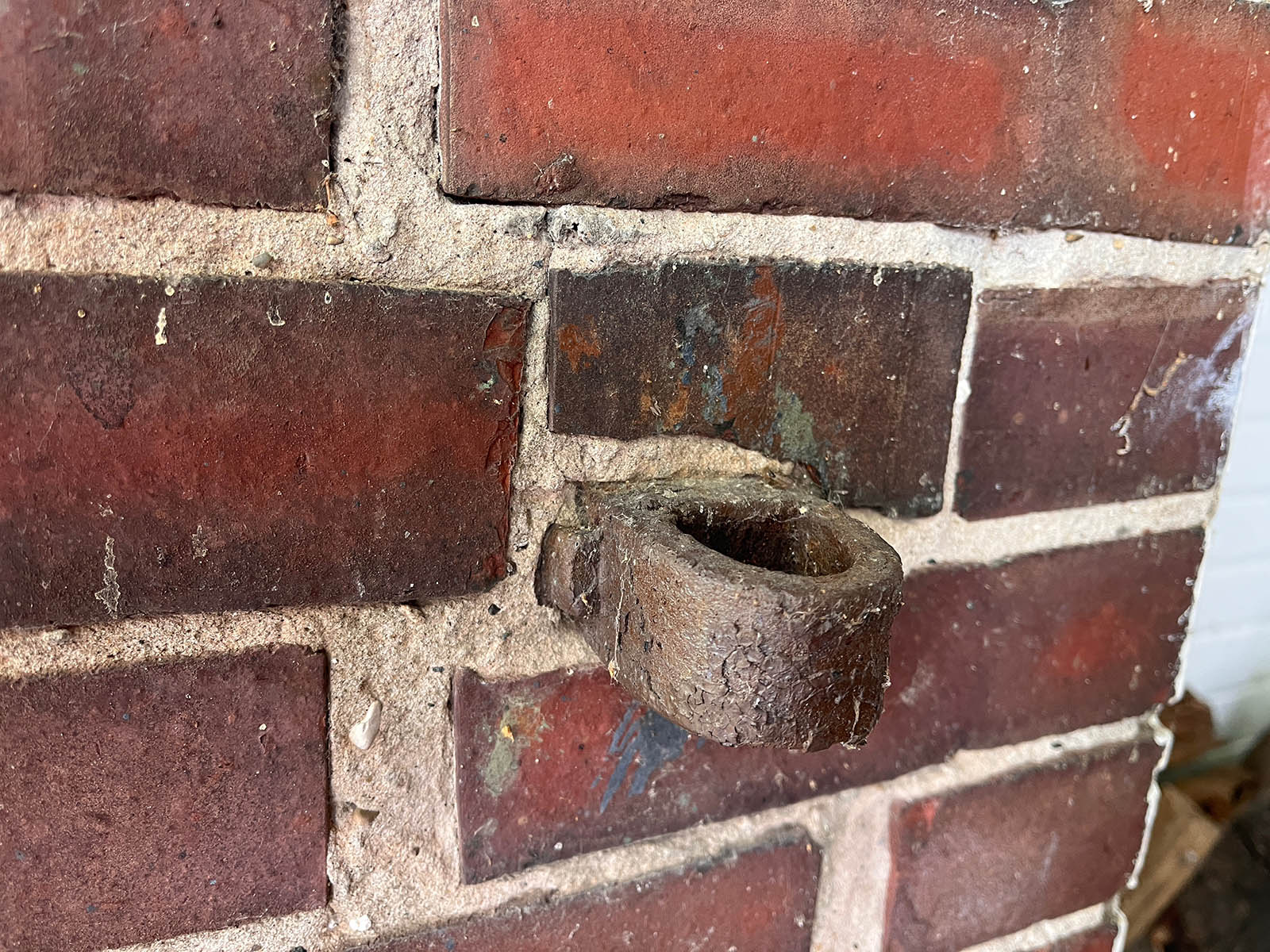 Beneath this is a narrow, but heated, one-car garage.
Up a few more stairs and there are three bedrooms, including the master with the same view as the front porch, but even better because it's higher up.
The place isn't huge, but it's really quite incredible. And, Riebe says, the size was part of the allure for him.
"I'd been looking around this neighborhood for a long time, and all the houses were like six, seven bedrooms, like a fully-finished third floor, says Riebe, who lived in a nearby apartment for a decade.
"So I was really happy to find a three-bedroom house, because I live here by myself, but that has a lot of entertaining space. I have friends over for parties, so it's nice to have that.
"It's a super nice view. The lot extends out just past this garden. It's city property, so they take care of it, but I can put my badminton net out there in the summer."
Like me – and Jeff Bentoff, and surely some of you – Riebe had noticed the house long before he ever thought he'd live in it.
"This house stood out to me all the time," he says, "just the way that it's set angled on this property, facing 90 degrees from where all the other houses are facing.
"Biking or walking or driving down the street, I'd always see it. It's very unique."
Born in Brooklyn, N.Y., where he lived until he was 17, Bobby received his BA-Mass Communications from UWM in 1989 and has lived in Walker's Point, Bay View, Enderis Park, South Milwaukee and on the East Side.
He has published three non-fiction books in Italy – including one about an event in Milwaukee history, which was published in the U.S. in autumn 2010. Four more books, all about Milwaukee, have been published by The History Press.
With his most recent band, The Yell Leaders, Bobby released four LPs and had a songs featured in episodes of TV's "Party of Five" and "Dawson's Creek," and films in Japan, South America and the U.S. The Yell Leaders were named the best unsigned band in their region by VH-1 as part of its Rock Across America 1998 Tour. Most recently, the band contributed tracks to a UK vinyl/CD tribute to the Redskins and collaborated on a track with Italian novelist Enrico Remmert.
He's produced three installments of the "OMCD" series of local music compilations for OnMilwaukee.com and in 2007 produced a CD of Italian music and poetry.
In 2005, he was awarded the City of Asti's (Italy) Journalism Prize for his work focusing on that area. He has also won awards from the Milwaukee Press Club.
He can be heard weekly on 88Nine Radio Milwaukee talking about his "Urban Spelunking" series of stories.