Editor's note: Lori Fredrich is on vacation this week, but to help sate your appetite, here are her picks for Milwaukee's best restaurants. This article originally ran Nov. 2, 2016. Only applicable links have been updated.
Almost daily, I'm asked to give my recommendations for places to eat and drink. At least as often, people ask me to share my "favorite" restaurant. It's an admittedly impossible task, as there are so many worthy options (I can name at least three or four favorites at any given moment, each for a different reason).
However, this list is an attempt to curate some of those favorite spots from 2016.
Best Asian Fusion
This year, I'm giving this slot solidly to the cheel in Thiensville. For every mile I've driven out of my way to dine there, it's paid me back in dividends with delicious, carefully prepared cuisine. From the eggplant bharta to the amazingly textured Burmese tofu, it's a place where your tastebuds will never tire of something new. And don't be afraid to augment your meal with the housemade aachars (relishes), which complement nearly every dish on the menu.
Best Bakery
As bakeries go, there aren't many that are cuter than Amaranth Bakery & Cafe on Lisbon Avenue. The staff is engaging and responsive, and the slow-fermented breads made with organic flour offer up a taste of the old world. The pecan brioche is on point. And even the coffee – an after-thought in some places – is always top notch.
Best Bar Food
Thank you, Camino. You're not the first bar to bring great craft beer into the city. But you are the first to serve up imaginative sandwiches like beet Reubens and kimcheese sandwiches alongside one of the best burgers in the city. You've also brought back classic Milwaukee dishes like The Social mac and cheese, a nostalgic delight in which I'm more than happy to indulge.
Best Barbecue
Last year, I lamented the fact that Milwaukee simply was not a barbecue town. But much to my surprise, 2016 brought some new players onto the scene who have consistently impressed me with their offerings. One is Iron Grate BBQ. The art of smoking meats is no small feat, but Chef Aaron Patin has proven that a dedication to the craft makes a mighty fine brisket. He's also pulled Milwaukee out of its barbecue-less rut by introducing the Milwaukee rib, a deliciously succulent piece of meat we can now proudly call our own.
Best Beer List
Beer lists are getting better and better all the time across the city. So this question is getting more and more difficult to answer. But I still find myself to be in sync with the well curated beer list at Goodkind in a way I can't quite explain. BJ Seidel has a great palate, and that shows in the thoughtful list which offers plenty of choices in styles and price-points. Plus, there's always something interesting on tap.
Best Breakfast
I love a good breakfast. But I love breakfast at Blue's Egg even better. And that's because it views breakfast with the same respect as any other meal of the day. Its dishes are thoughtful and delicious, and great service always seems to be top of mind. There are a few newer kids on the block that are inching closer, but they've still got some work to do when it comes to competing at the level of Blue's.
Best Brunch
And then there's brunch. I'm a big fan of leisurely weekend breakfast, and a spot that never seems to fail me is Story Hill BKC. And it's largely because of its crepe monsieur, which is a magical dish that features the classic combination of smoky ham and Alpine style cheese with a twist of mustard and pickles. So good.
Best Burger
The burger game has been upped this year, and it's made life both more delicious and more difficult for burger lovers to choose where to dine. I'm giving my pick for this year to Goodkind. Maybe it's because Goodkind only offers up burgers on Tuesdays, making them a particularly special event. But I haven't been able to get enough of them yet (plus, if you can tempt me with a burger that's topped with fried bologna, it's a feat worth acknowledging).
Incidentally, if you love burgers, you should stay tuned to OnMilwaukee. Very soon I'll be starting a new series about burgers all over the city. And it's going to be delicious.
Best Cafe
Years ago, I would never have predicted that The National Cafe would be one of my favorite spots to grab a bite to eat. But it's happily become a place I look to when I'm craving a simple, casual breakfast or lunch. The staff is friendly, the vibe is awesome, and I can take my pick from any number of delicious options, including a big bowl of Chef Nell Benton's fantastic tonkotsku ramen, which is my go-to on a cold, blustery day.
Best Chef
There are a number of chefs I could have chosen – some whose food pushes boundaries and still others whose commitment to the community is unparalleled. However, this year my vote goes to Chef Thomas Hauck, who not only has contributed a gem to the fine dining scene in our city in c.1880, but also made a commitment this year to revive Karl Ratzsch, one of Milwaukee's most iconic restaurants. In doing so, he put in the time, consideration and research that it took to really bring the venue back to its roots as a destination for German cuisine. Kudos, Chef Hauck. And thank you.
Best Chinese
There's a restaurant in town that has floated in and out of my best-of's for years. And that's Jing's, the unassuming Chinese restaurant owned by Jing Wang and Chef Jack Zu. It's there that I've had dishes – like tender Shanghai style dumplings – which have surprised and delighted me. When Jing is working the dining room, be sure to take her suggestions on what to order.
Best Coffee
For me, picking "best coffee" is like picking a favorite child. If you know me, you know I get my cortado on at a wide range of coffee shops around the city, and I enjoy most of the ones I drink. But when it all comes down, there's one little coffee guy who wins my affection. And that guy is Anodyne. Your coffee is strong, bold and flavorful. Your cold brew is masterful (if the single most caffeinated thing I have ever ingested). And your honey bee latte is a thing of exceptional beauty.
Best Desserts
Those who know me know that I don't have the biggest sweet tooth on the block. I enjoy the occasional sweet dish. But it often takes something particularly special to "wow" me. I give kudos to places like Le Reve for creating really beautiful desserts that exhibit particular technique and flair. And Chef Lisa Kirkpatrick at Goodkind could lure me just about anywhere with her Basque cake. But I've got a serious love affair going with the desserts at Morel, a spot that not only serves up elegantly delicious locally-focused fare, but also hits the spot every single time with their desserts. If you go, be sure to order the goat cheese cheesecake.
Oh, and just a side note, I really love Purple Door Ice Cream. But in my world, ice cream doesn't function on the same playing field as flan, tarts and gateau. Truth be told, it deserves a category of its own.
Best Family Friendly
I don't have kids, so this pick doesn't resonate with me on a daily basis. However, when I have other peoples' kids in tow, I have a tendency to gravitate toward spots like AJ Bombers, where the rocketship peanut launchers always delights (provided there aren't any peanut allergies in the house). In fact, this summer I took my nieces there, and they had a fabulous time eating peanuts, burgers and custard and trying to read the graffiti on the walls. Plus, you can get a photo op in the big chair when you're done.
Best Fish Fry
When it comes to the Friday fish fry, I'm a fan of old school. And I have a couple of rules. You have to have fried lake perch, and you have to have potato pancakes. For that reason, I'm almost always satisfied to entrust my vote to Kegel's Inn. However, my vote for this year breaks those rules (no perch), and I still think they're fabulous. And that's Bass Bay Brewhouse who serves up a mean hand-breaded cod every Friday. It's crisp and tender and delicious. And even the leftovers don't lose their lovely crunchy texture, which is a bonus that can't be underestimated. Oh, and if you go, be sure to get a bowl of the delicious clam chowder as well.
Best Food Product
I have a special spot in my heart for anyone who starts up a local food business. But certain concepts just seem to make sense. Such is the case with Milwaukee Pretzel Company, a business that is such a good fit for Milwaukee that it almost hurts.
Best Gyros
Oh, the gyro. Once you get past the challenge of saying the word, the next question is where to eat them. I love Cosmos Cafe. The gyros are solid, featuring soft pita and lamb that's not too greasy. And I love the Greek seasoned fries topped with lemon and feta cheese.
Best Indian/Pakistani
I've been a pretty big fan of Anmol for years now, and it seldom disappoints. You can't go wrong with the pakora or chicken makhani, and don't be afraid to order the goat or mutton curries; they're delicious. A bonus is that Anmol's na'an bread is some of the best in the city.
Best Italian
Ristorante Bartolotta is an admittedly nostalgic pick for me. But it's still delivering delicious fare that's fresh, seasonal and made the proper way. That includes handmade pasta, fresh fish and seasonal specials that evoke the spirit of Italy.
Best Late Night Eats
If I'm out, and it's late, there's something about The Vanguard that I crave. On the up-side, there are far worse things to crave during the midnight hour than house-made sausages with creative toppings.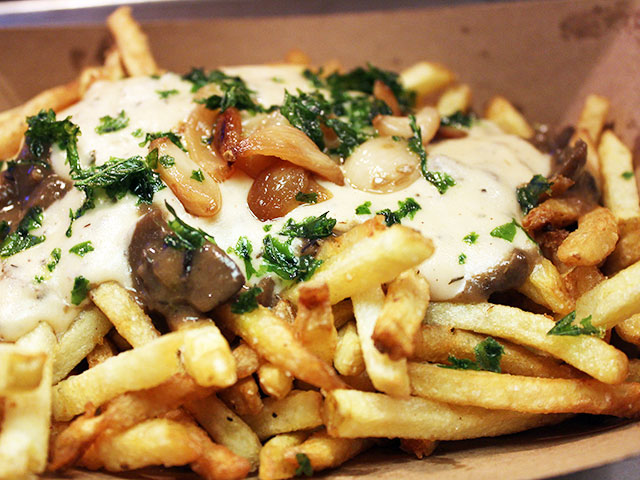 Best Mexican / Latin American
There are numerous places I could point out where you can find a great authentic taco or hand-rolled tamale. But my pick this year goes to Antigua, one of my favorite spots in the city for Latin American cuisine. It gets my vote in large part because my palate never gets bored with its offerings. Whether it's the Ecuadorian shrimp or a Mexican mole, there's something interesting to try every day of the week. But owners Citlali Mendieta-Ramos and Nicolas Ramos also get points for being change agents in the Burnham Park neighborhood, a factor that makes me all the more willing to give them my support.
Best Middle Eastern
It might be nostalgia talking, but I have a real soft spot for Shahrazad, where I've probably sipped up a gallon or two of Turkish coffee over the years. It gets points for having some of the smoothest, most delicious baba ghanouj on the block, along with some pretty great shawarma. And I'm always up for an order of shakshooka, which I love to order on the spicy side.
Best Milwaukee Institution
Despite being of the oldest restaurants in the city, Karl Ratzsch has become new again thanks to a refresh from new owner Chef Thomas Hauck. With a new tastefully renewed dining room and a menu that pays true homage to the fare (and beer) of Germany, the restaurant has re-taken its thrown as an institution of which Milwaukeeans can be proud. If you haven't been there since the refresh, you owe yourself a visit to meet the shiny new Karl.
Best new restaurant
This was a really tough category for me to wittle down this year, in part because a number of new spots, including Dandan, Iron Grate BBQ and Supper have offered up particularly unique contributions to our growing dining scene. But as I reflected on each, I had to give my vote to Irie Zulu, a restaurant that offers up an unparalleled gustatory journey into Jamaica and the African diaspora. Dishes are creative, filled with passion, and maybe most significantly, they're served up with a dose of cultural insight. Another element that's not lost on me is the fact that, as suburban landscapes increasingly fill with predictable American-style cuisine, Irie Zulu has offered a multitude of new diners a menu that takes them on a delectable journey solidly outside of their comfort zones.
Best Patio / View
From lake views to fun rooftop spaces, Milwaukee has it going on when it comes to gorgeous spots to enjoy a drink and a bite to eat. One of the best new spots to enjoy a great view (as well as delicious food and libations) is The Outsider at the Kimpton Journeyman. It's a well-appointed patio space that offers up an unparalleled 9th floor rooftop view of the surrounding urban landscape. Beyond that, it's got pretty much everything you'd want, from comfortable seating to delicious victuals and shareable snacks like burrata, balsamic onion dip and wood-fired pizzas. And I can't wait to visit during the winter months when I can watch the snow fall through the secure glass walls while staying warm and dry inside.
Best Pizza
My vote this year goes solidly to Wy'East Pizza, a newcomer who has won me over with its delicious slow-fermented crust. It's crisp on the exterior, chewy on the interior and topped with great, fresh ingredients in inventive combinations. I love the Hot Marmot, but you really can't go wrong with any of its pizzas, particularly the seasonal specials.
Best Sandwiches
When it comes to creative combinations, the sandwiches at Bavette La Boucherie are still among my favorite jams. Steak with truffled mushroom duxelle and roasted grapes? Pork cheek with roasted squash? They're both good, and so are all of the others. Trust me. When in doubt, opt for the tongue Reuben. It's a new classic.
Best Seafood
Harbor House is my "go to" for this category, mainly because I respect its decision-making when it comes to sourcing. Its oyster selection is out of this world, particularly during prime season, and Harbor House take pains to source from small purveyors who are raising them sustainably. I do wish its seafood selection was more broad and interesting in other areas, but that's partially due to the demand from diners. If you feel the same way, you can do your part by voraciously supporting the restaurant's more unusual specials, which sometimes feature lesser-known fish.
Best Service / Waitstaff
I want more restaurants to emulate the service component I find on a regular basis at c.1880. Its waitstaff are attentive and informed. In fact, they can answer just about any question you throw their way (or happily find the answer in the rare case they don't know). They also seem to be equipped with an innate ability to tend to all the details (including refilling water glasses) with ninja-like reflexes. Maybe best of all, they spend time getting to know their diners, and every single one is treated like a regular.
Best Small Plates
Odd Duck gets huge props with me for a number of reasons. One, because it runs a tight ship. Service is on par, and its staff always knows a surprising amount about dishes that may not have ever been on the menu before. Odd Duck also gets all my respect for not being afraid to step wildly outside of the box with some of their entrees. I want a place that challenges me and offers me new flavors, and this is the spot.
Best Southern / Cajun / Soul Food
This is a category that warrants two picks. When it comes to soul food, few do it better than Daddy's Soul Food & Grille. From comforting dishes like fried catfish and chicken, to sides like creamy macaroni and cheese, greens and candied yams, Daddy's does it right. And it does it in a friendly, inclusive atmosphere that will fill you up as much as the food does.
Maxie's gets my vote for best southern. Not only has Maxie's continued to introduce Milwaukeeans to Southern fare that runs the gamut from barbecue to cajun, creole and low-country cuisine. But it also gets big points for its commitment to the community, which includes unwavering support for local farms as well as community non-profits.
Best Splurge
If you're splurging, my advice is to go absolutely all the way. Make your reservations, dress up to the nines, and then order up the tasting menu at Ardent. Better yet, buy tickets to one of their fantastic collaborative chef dinners. I dug deep and attended a dinner this past July featuring Chef James Knappett of Kitchen Table and Bubbledogs in London, and it was the sort of experience that you simply can't put a price tag on. Not only was the food innovative and delicious, it challenged me to look at ingredients in an entirely new way. It was intimate and personal. As a diner, I was privileged to be able to interact directly with Knappett, a chef I'd never ordinarily come in contact with (in a place he'd never ordinarily be found). And that alone made it an experience that could never be duplicated. Simply worth every pretty penny I paid. Incidentally, it's also a helluva lot cheaper than flying to London to eat at Kitchen Table!
Best Steak
I don't order steak very often when I'm dining out. So when I do, I expect it to be really, really good. And I mean spot on good. Great meat, perfectly cooked. And seasoned just enough to make it shine. For me, that spot is Carnevor. Pair one of the great steaks with the experiential effect of their new digs and it's a win-win.
Best Street Food / Food Truck
When it comes to street food, I judge it largely the same as I would in a restaurant. Are the offerings innovative or inventive? Are the flavors balanced? Is it well executed? In the case of Gypsy Taco, I can check all of the above. Chef Ciohon's "unapologetically unauthentic" tacos hit the mark when it comes to flavor. Options like this summer's fried green tomato tacos were fantastic. And staples – including Dr. Pepper braised pork shoulder and roasted root vegetable tacos with goat cheese – rarely disappoint.
Best Sushi
I'll say it. I've had some really bad sushi in this town. But I've also had some really good sushi – and yes, on occasion even the sort of sushi that comes close to rivaling what I've eaten in coastal spots like San Francisco. One of those spots is RuYi, where the new sushi program features the freshest of fish as well as a nice variety of options that you can't find just anywhere.
Best Takeout
Once again, I'm giving this one to a spot that's made take-out their bread and butter. Ono Kine Grindz rocks it to the heavens with their delicious Hawaiian takeout. In fact, sometimes I wonder how the west side of town ever got along without it and its kick-butt Kahlua pork and tuna poke.
Best Thai
I love the vibe at Bamboo. It's an unassuming little spot in Silver City. But it serves up some of the most delectable bowls of Thai curry I've ever eaten and loads of other delicious dishes that are worth a try. It gets bonus points for friendly, courteous service that goes above and beyond.
Best Vegetarian
Although I'm not a vegetarian, one of my chief criteria in judging the chops of any chef is their treatment of vegetables. Are their vegetarian or vegan dishes just as good as the meat entrees? They should be. And such is the case at Wolf Peach, a place that offers a bevvy of great vegetable dishes, including pizzas, pastas and side dishes that are both artful and generous. I've eaten my share of amazing vegetarian fare there this year, including an amazing vegan roasted mushroom pizza that simply blew me away.
Best Wine List
I've got a particular affection for the wine list at c.1880, partly because there are stories behind nearly every wine on the list. There are also some fun outliers that don't appear on many other lists, including selections from Roots Winery, owned by former Wisconsinite Chris Berg. Carefully chosen and artfully presented by General Manager, Joshua Wolter, it's a collection that's ripe to be explored.
Best Wings
This year, I'm departing from my usual vote for Points East and vying for a spot whose wings (and barbecue) are pleasantly on point: Double B's BBQ. BB's wings are crisp, delicately smoky. And they have just the right amount of added flavor from their custom rub.
Lori is an avid cook whose accrual of condiments and spices is rivaled only by her cookbook collection. Her passion for the culinary industry was birthed while balancing A&W root beer mugs as a teenage carhop, fed by insatiable curiosity and fueled by the people whose stories entwine with each and every dish. She's had the privilege of chronicling these tales via numerous media, including OnMilwaukee and in her book "Milwaukee Food." Her work has garnered journalism awards from entities including the Milwaukee Press Club.
When she's not eating, photographing food, writing or recording the FoodCrush podcast, you'll find Lori seeking out adventures with her husband Paul, traveling, cooking, reading, learning, snuggling with her cats and looking for ways to make a difference.