OK longtime East Side residents, denizens and visitors, wrap your head around this.
The current Beans & Barley building, 1901 E. North Ave., is now the same age as the previous building was when it burned.
Yes, it's true. The Old West-looking wood frame building that had a rustic porch that seemed like a good place to tie up your horse was built in 1966 and burned at the age of 27, in 1993.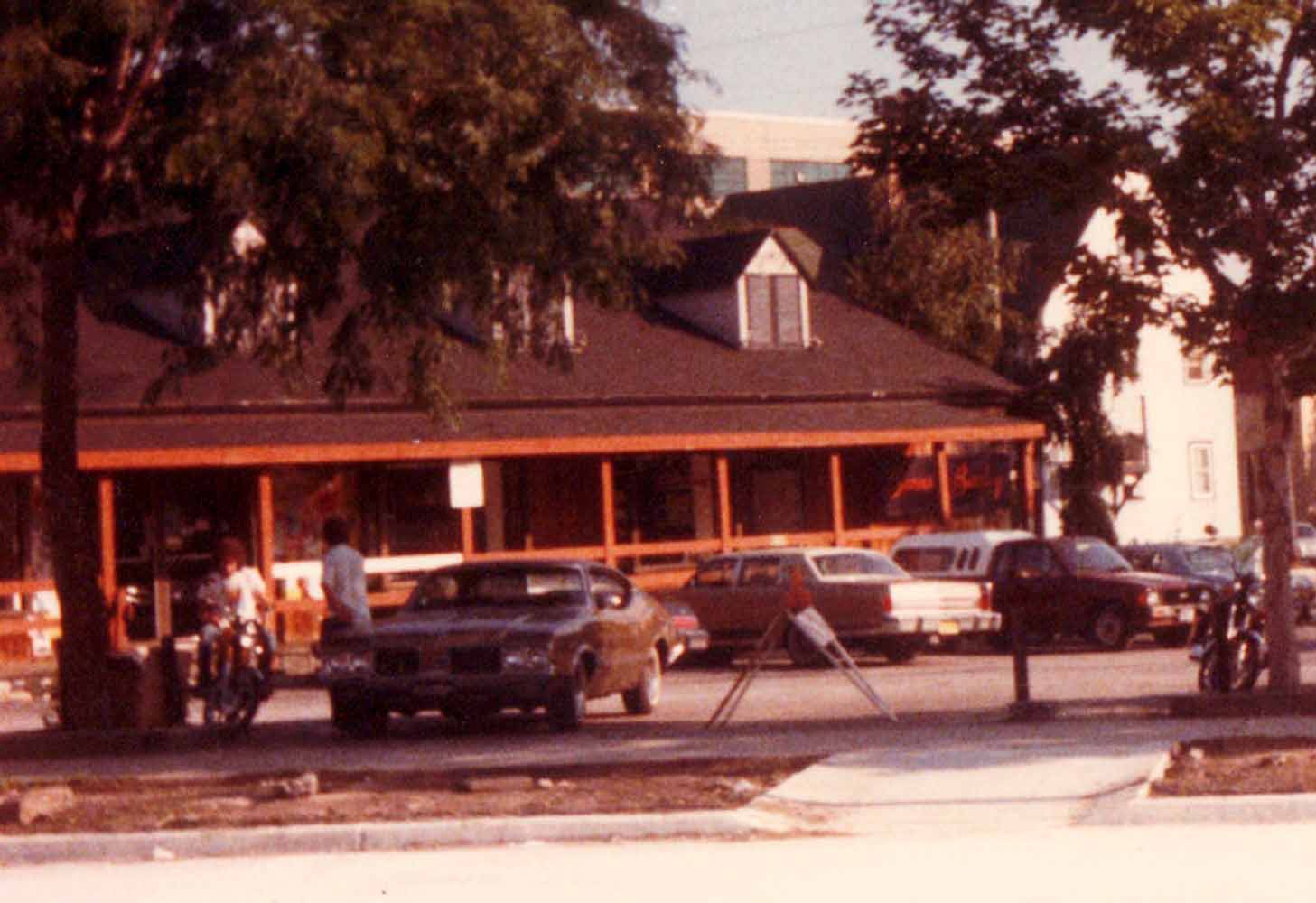 Its more contemporary-looking replacement went up in 1994, which was – wait for it – 27 years ago.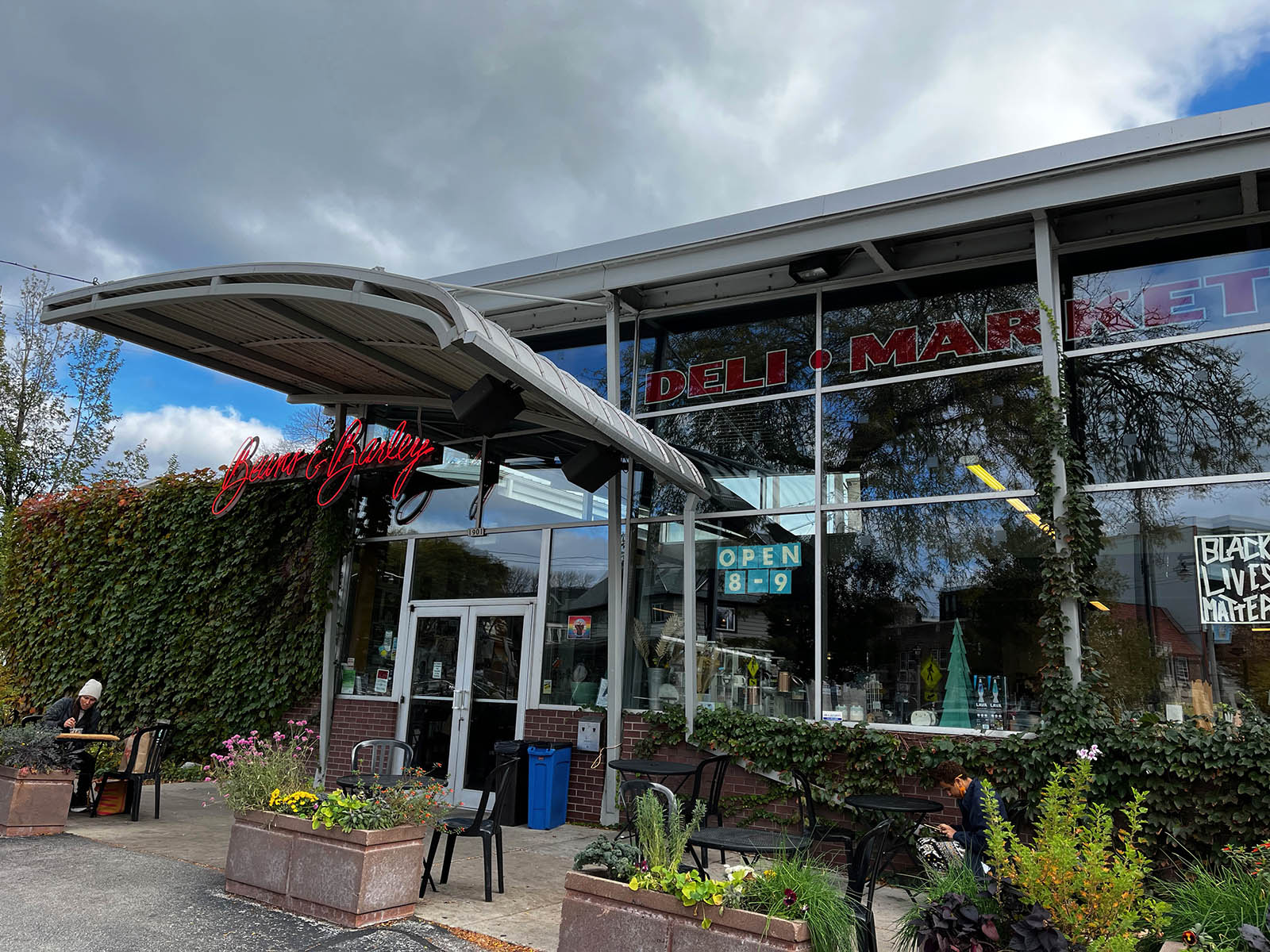 I'm reminded of this in light of an invite from the folks at Nine Below, the mini-golf themed bar in the lower level, which is reopening after a long pandemic closure and recent refresh.
That visit – which I'll talk about more below – seemed like a good time to take a look at the history of the site.
A bit of history
A glance at the 1910 Sanborn map shows a trio of stores – at least one of which served as a tavern, the Red Feather, for many years – at the point where Kenilworth meets North, and a couple homes on the site of the parking lot that sits between Beans and Von Trier. But the footprint of the Beans building was vacant at that time.
Going back even further, to the 1894 map, only one of the three stores to the west was built, one of the dwellings to the east was already there, but the space between them was vacant.
So, it seems safe to say that the only predecessors to the old Beans building were the North Avenue Public Market – a covered, open-air market – and the hexagonal brick Colonial-style "comfort station" (aka public restrooms) just east of it.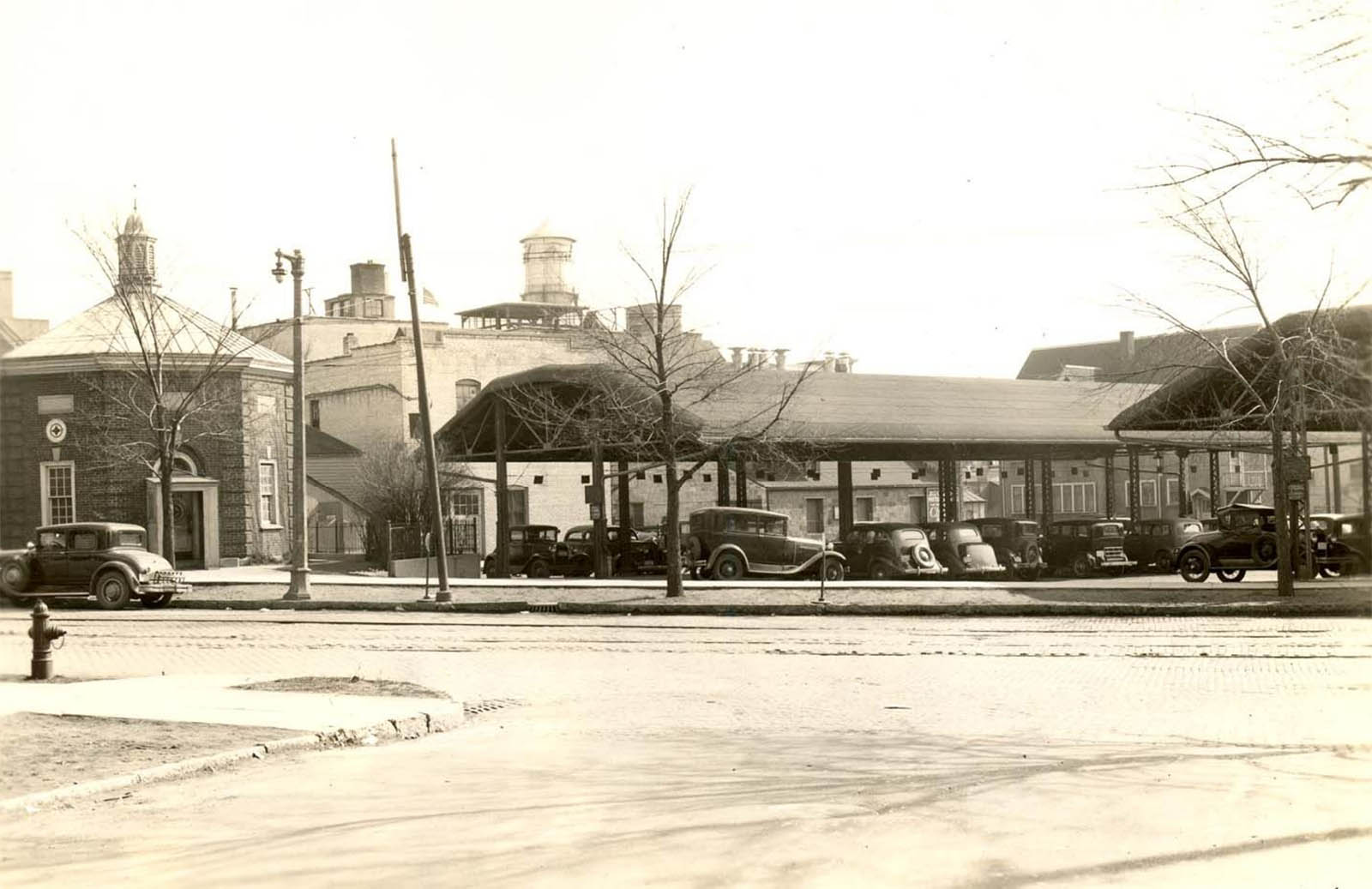 You can see them both in the above Milwaukee Public Library photograph taken from outside Vitucci's.
Here is a photo from the same vantage point today.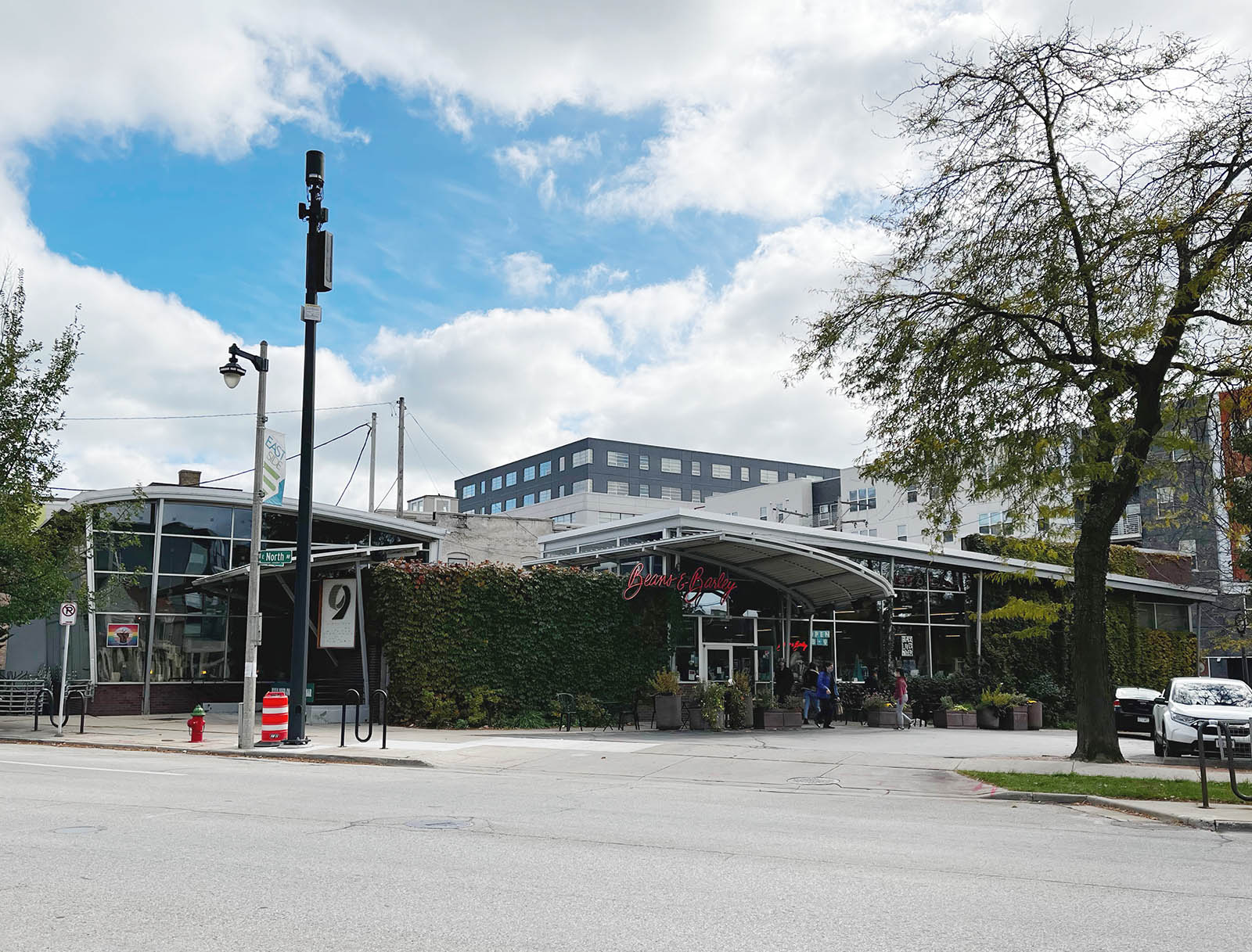 In 1965, restaurateur Paul LaPointe (aka Frenchy) offered to buy the market site for $55,000 for a new location for his restaurant, Frenchy's, which was located in one of those three stores on the site of the current Beans parking lot.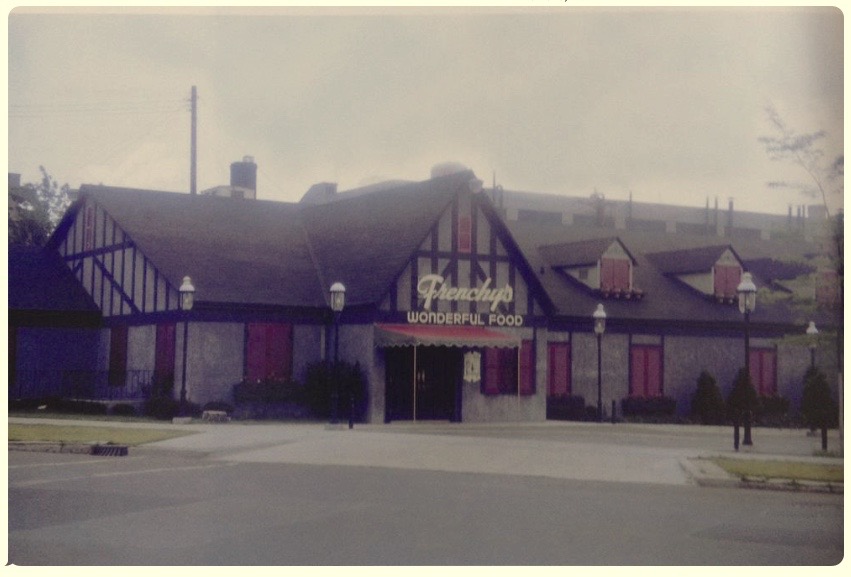 The library board had considered working to acquire almost the entire block – between Farwell, Kenilworth and North – for a new library, but Ald. Allen R. Calhoun Jr. suggested that if the city were to accept LaPointe's offer to buy the market site, the funds could go toward acquiring another site for the library.
That same year, the Milwaukee Common Council approved the sale of the market land to LaPointe, and the East Library, which had been located in the building currently occupied by Hacienda Beer Co., was ultimately built in 1967-8 directly across North Avenue, where the current East Library now sits.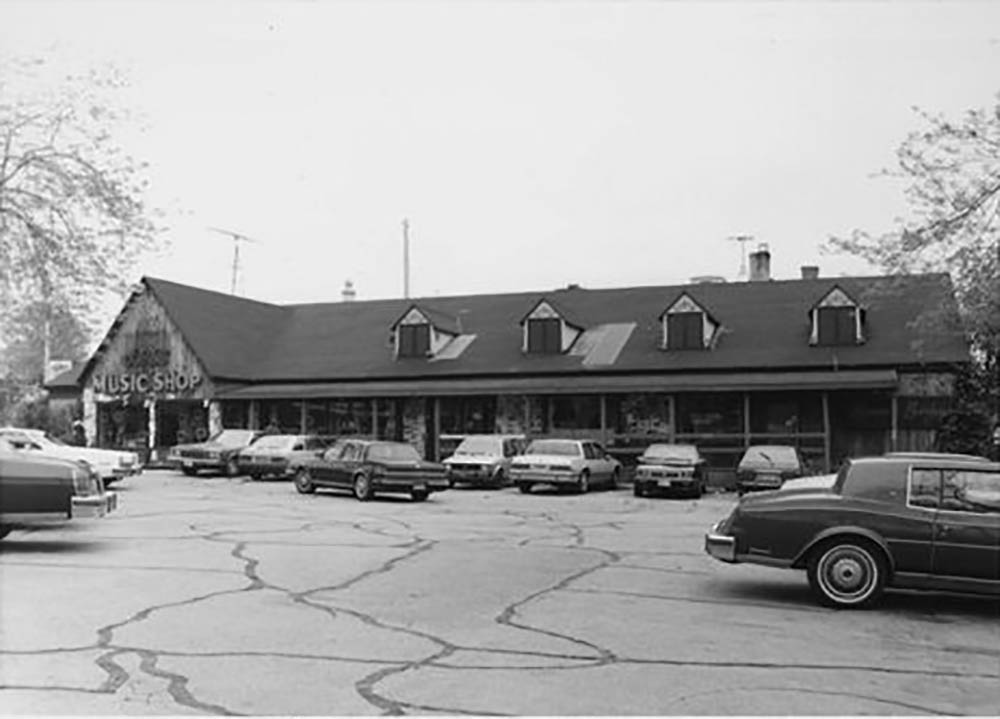 The new Frenchy's building was designed by the Elm Grove-based Wenzel, Zoller & Gunn, founded in 1963 by Alvin P. Wenzel, Walter E. Zoller and George William Gunn Jr. Three years later, the firm designed the Lakewood Care Center/East Side Health Center, a few blocks east at 2115 E. Woodstock Pl.
On Sept. 28, 1966, LaPointe (aka Frenchy), moved his restaurant, into the brand new building.
The interior of the new restaurant was decorated by Chicago's Warren Black, who found the shape a challenge.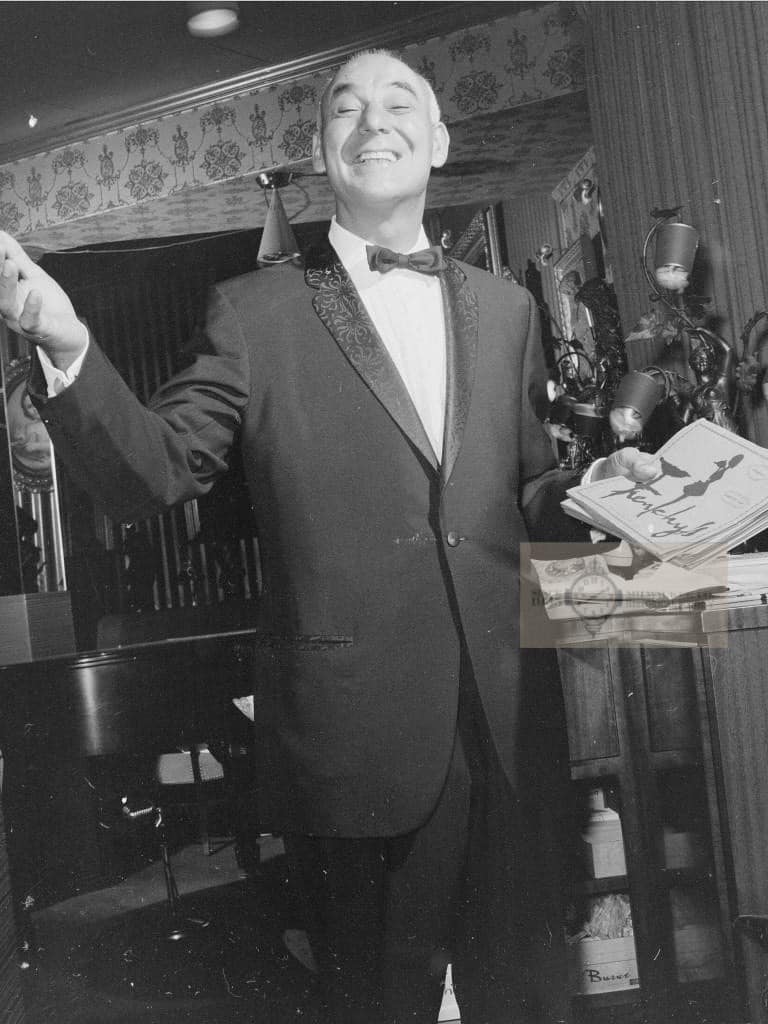 (See more Frenchy's photos by George Leonard, in the Milwaukee County Historical Society collection, here.)
"It's roughly triangular in shape with only three walls," he told the Journal. "I couldn't do much around the edge of the room, so I designed a triangular seating island that follows the shape of the room and concentrates all the decorating there."
The paper added, "huge carved wood candlesticks with a dark Spanish finish will be built into the island, as will the tables. Dark, heavy chairs will have massive turnings on the legs and basketwoven red leather backs."
Black had no shortage of objects to work with, noting that LaPointe had a "'fantastic collection' of paintings, sculptures and other decorative objects dating from the turn of the century and earlier."
Frenchy's opened at 1823-7 E. North Ave. in 1945 and was well-known for its waitresses dressed as French maids, but also for its quirky menu.
In addition to familiar French and American dining fare, Frenchy's served everything from Deep South racoon, moose, Norwegian reindeer, European boar and partridge, to Wild African lion, Australian hare, elk steak and African hippopotamus.
In the lower level of his new location, LaPointe opened the Bulldog Pub, which served lunch and had event space, too.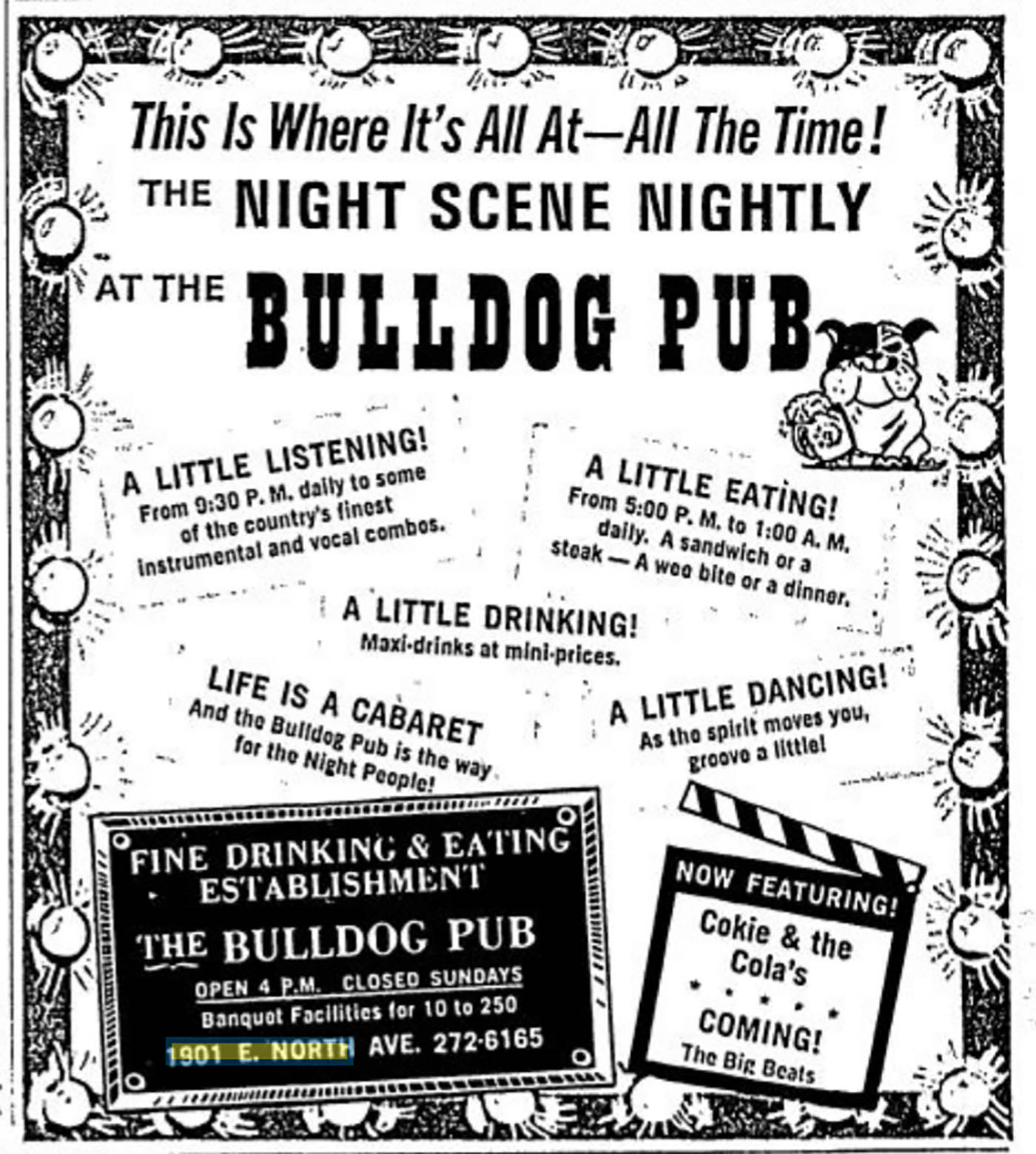 In 1974, LaPointe retired and sold the business to Charles Steele, but within a year or so, he was back to manage and consult on the business. He also operated Fleur de Lis in Cudahy Tower (in a space now occupied by Bacchus).
Late in January 1976, Frenchy's and The Bulldog Pub, Inc. filed for bankruptcy and that September Clifford Schill – who owned supper clubs in Oak Creek, Lake Beulah, Muskego, Hales Corners – bought the building at auction.
Soon, ads announced the "New Frenchy's opening soon" and indeed it did swing open its doors by November, replacing the Bulldog Pub with banquet rooms.
A year later Rosie O'Grady's Good Time Emporium replaced the new Frenchy's, serving prime rib, surf 'n' turf and brunch.
By the end of 1978, Rosie's was gone and concert promoter Alan Dulberger – who had planned to buy the building, but then passed – opened a branch of his Brady Street record shop, 1812 Overture, in the north half of the space, later turning it into a William Tell Overture.
The following year, Jan Bogart's nightclub opened downstairs and Beans and Barley – founded in 1973 by Michael Stevens – moved from its location at 2410 N. Murray Ave. to the empty restaurant space next to the record shop.
In 1981 restaurateur and neighborhood resident JJ Garlic – who like LaPointe had an interest in unexpected restaurant wildlife, albeit not on the menu – opened Fried Eggs & Tootsie's in the lower level, offering, among other things, an all you can eat seafood buffet.
By 1983, William Tell Overture had run its course and closed, and it was replaced by the fourth area JR's Music Shop location.
And this is how it looked when I saw it for the first time. Soon, the record shop and Beans became regular stops on my East Side circuit.
In '84, Paul Melotik's Shooter's Night Club replaced Fried Eggs & Tootsie's in the subterranean space and I remember playing a few gigs down there over the next few years.
By 1988 it, and JR's, were history. The latter was replaced by Kay Valcq's liquor store, which moved from 2323 N, Murray Ave., where it had been located for 20 years.
In 1989, dance club Esoteria – now legendary – opened in the old Shooter's space.
Three years later, Beans' then-owners – Lynn Sbonik, Peg Silvestrini, Patty Garrigan and Pat Sturgis – bought the building for $670,000.
Fire!!
And then everything changed.
Six years after the Century Hall blaze seared itself into the collective East Side memory, a fire at Beans & Barley had a similar effect. Folks who were there, remember it vividly.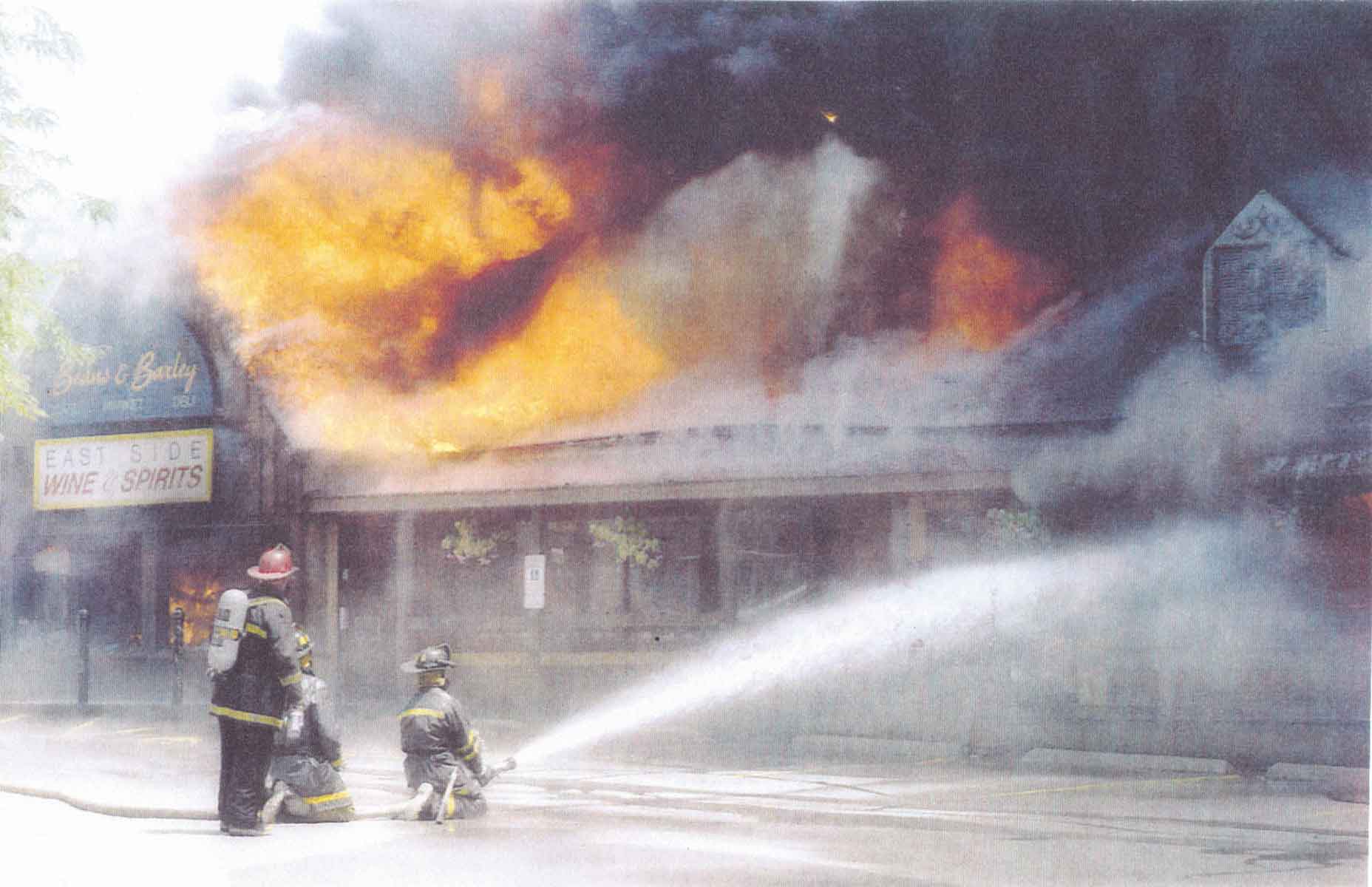 At about 1 p.m. on Monday, June 28, 1993, a three-alarm fire was reported and the flames quickly consumed the wooden building.
Hundreds of people ran to the scene to see and, thankfully, about 60 Beans employees and customers made it safely out of the building.
According a newspaper report the next morning, "fire officials said a roofer apparently started the fire accidentally with a torch being used to heat synthetic roofing materials.
"(Jim) Godsil (of Community Roofing) said he had been using the propane torch throughout the morning to repair a section of the building's roof. He said he turned off the torch about 30 minutes before one of his workers discovered the fire in the roof, about 10 feet from where the torch had been used. It is possible that something else caused the blaze, fire officials said."
In fact, no one was ever deemed responsible for the blaze.
"Misadventure," says Sturgis. "Stray spark, dry-rotted wood and high northwesterly breeze did the work."
Folks inside Beans saw smoke entering the restaurant through vents and Godsil's employee Chad Whitsell spotted smoke on the roof at the same time. Though Whitsell attempted to quell the flames with a fire extinguisher, he was unable to control it.
"It went up fast," Whitsell told the Sentinel. "I've never felt so helpless in my entire life."
Strong winds didn't help, nor did all the liquor in the East Side Wine & Spirits.
"The wind blew the fire right through the building," 1st Battalion Chief Richard Fehr told the Milwaukee Journal. "We never got inside the building."
He said he heard explosions when he arrived on the scene and wondered if there were propane tanks inside.
A neighbor told the Journal she heard, "a big bang, almost like the fireworks. It was strong enough to rattle my windows and make the shade on my table lamp move."
Valcq, who was in West Allis and could see the smoke from Highway 100 and Greenfield Avenue, arrived on the scene and said, "Just think, all those flames are coming from my liquor blowing up ... I knew then that everything was gone."
In 1975, a fire at a cottage behind Frenchy's nearly set the building ablaze, too. But thanks to firemen who turned hoses on the building, the restaurant escaped the worst, suffering only an estimated $150 in damage.
This time it was not so lucky.
Sbonik told the Journal that the 1993 fire destroyed, "everything, and I'm not sure what that's worth. We salvaged the employees and the customers."
She also told the paper she had no intention of relocating.
"There is no location but the East Side," Sbonik said, and the area alderwoman, Larraine McNamara-McGraw, added that she was ready to help them rebuild.
"We really need them back," she said. "These people are what small business is all about."
Within a couple weeks, a temporary carryout deli was set up in an adjacent building on Kenilworth Place and a "Beanifit" was held at Renaissance Place on Prospect Avenue to help uninsured employees.
Nearly half of Beans employees continued to work at the deli.
Building back Beans & Barley
By April 1994, the owners had secured a $1.4 million loan for a new $1.7 million, 18,000-square-foot building, to be designed by Valerio-Dewalt-Georgeson Associates.
"As far as the design goes, we had not at first envisioned anything as modernistic – 'Jetsons' was a favorite descriptive – as the final design," recalls then co-owner Pat Sturgis. "We had approached the architects with a very short list: A loading dock, lots of natural light in customer areas, the same footprint – a zoning requirement – and a budget, traditionally the hardest pill for an architect to swallow.
"Initial reaction was mixed. Plenty of negatives, including from my wife Patty, who now likes it, and then more and more positives as we began to soften the interior with paint choices, furnishings, artwork.
"Milwaukee seems to have a pretty hardened-off response to new things, especially modern architecture. As time has passed, attitudes seem to have become nearly universally positive."
Sturgis adds there was no consideration whatsoever of attempting to recreate the old building.
"Not for a minute," he says. "First of all, it was a very unremarkable structure: two stucco cinder block rectangles, with fake dormers and a wooden porch, (which) seemed to be the feature people remembered best.
"Secondly, it was not very functional for us. The low ceilings, the absence of a loading dock – we were a grocery store as well as a restaurant – were elements we very much wanted to change. In the final building, the flow of goods – in the back, process in the middle, out the front – was smooth and logical. Finally, it had no real aesthetic appeal. To be a retailer in an eye-catching building was a distinct advantage for us over the years."
Architect Katherine S. Georgeson says that initial ideas did reference the previous building in some ways, but feedback from the clients sent her and her partners in a different direction.
"Since the new building was to sit on the old foundation we actually started with a couple designs that had a more organic feel," she recalls. "Heavy timber, wood siding, sloped roof shape, etc. The four owners/client thought they were OK. But we could sense a doubt in their response.
"Remember they moved into the building, a former record store, and did not change it much. One day they came to a design session and said, 'we want a new Beans. An edgy Beans, a louder Beans.' So that took us to the current design."
And, Georgeson adds – echoing Sturgis – the design that emerged in the end made a statement that Beans stands out in the landscape and was completely different from its predecessor.
"Really only the footprint stayed the same," she says. "The old Beans focused inward, this one opens out. The old Beans was in a background building, this one is a statement reflecting the positive community impact and landmark status Beans & Barley has on the East Side."
In December, Beans & Barley reopened to the public in its new home.
"Like the mythical phoenix bird rising from its ashes," wrote the late Journal restaurant critic Dennis Getto, "Beans & Barley is back in business, serving up the same great vegetarian burritos and burgers that have made the restaurant famous for more than a decade.
"The new 80-seat cafe faces North Avenue and is decorated in a contemporary motif beneath a high ceiling. Like the old cafe, it displays the works of several local artists, all of which are for sale. Beans & Barley's formal opening is set for Thursday, though the restaurant began serving food last Friday."
As Beans approaches its 50th anniversary, it appears to still be thriving, having successfully defended its business from the arrival of Whole Foods a block away in 2006.
The subterranean space
Down below, Esoteria reopened, later becoming ESO 2 before making way for Micro.Dot and in 2002, Mike Vitucci's Mantra Lounge, a nod to the owner's passion for yoga.
"The once-sprawling space was smartly divided into four areas, all of which represent one of the chakras – the seven centers of spiritual energy in the human body according to yoga philosophy," wrote Molly Snyder when the club opened.
Five years, later, Mantra was gone and new owners D. Bowie, Drew Deuster and J.J. Kovacovich opened Decibel, which they described as a, "full-out nightclub with music diversity," and DeepBar, the city's first vodka lounge.
In 2011, Deuster and Kovacovich – who also owned McGillycuddy's and Red Rock Saloon – took a more bookish turn and transformed the space into The Library Club. Deuster described it as, "a library / study themed nightclub with many books and wingback chairs and such," said Deuster. "It turned out pretty cool."
In 2016, Marla and David Poytinger – whose Bars & Recreation also owns North South Club, Axe Milwaukee and Splash Studio – closed the book on The Library Club and created Nine Below, a mini-golf themed venture.
The idea is that there are multiple potential hole locations on each green and there is a vast array of props that allow golfers to customize their hole, making it creative, in addition to putting, fun.
The nearly 8,000-square-foot basement space seems perfectly suited for a use like this.
There are no windows and the ceiling is low, but it's big open area, perfect for creating 18 putting greens and still having room for a bar, prop storage and seating areas.
"I really like the location on the East Side," says David Poytinger. "I don't know what else you put down here. Other than a club, right? You're not going to put retail down here. You're probably not going to put a restaurant down here anymore. So, the only other thing you would put is a club. I'm not anti-club, but I really think that this is a really great use for this space.
"I don't think I would put Nine Below anywhere else because, we have a great footprint down here. There's a lot of space and it kind of fits with the East Side in terms of a cool quirky thing. Where else would you find this in Milwaukee? Yeah, you'd find that in the basement of Beans and Barley on East Side. That makes perfectly logical sense."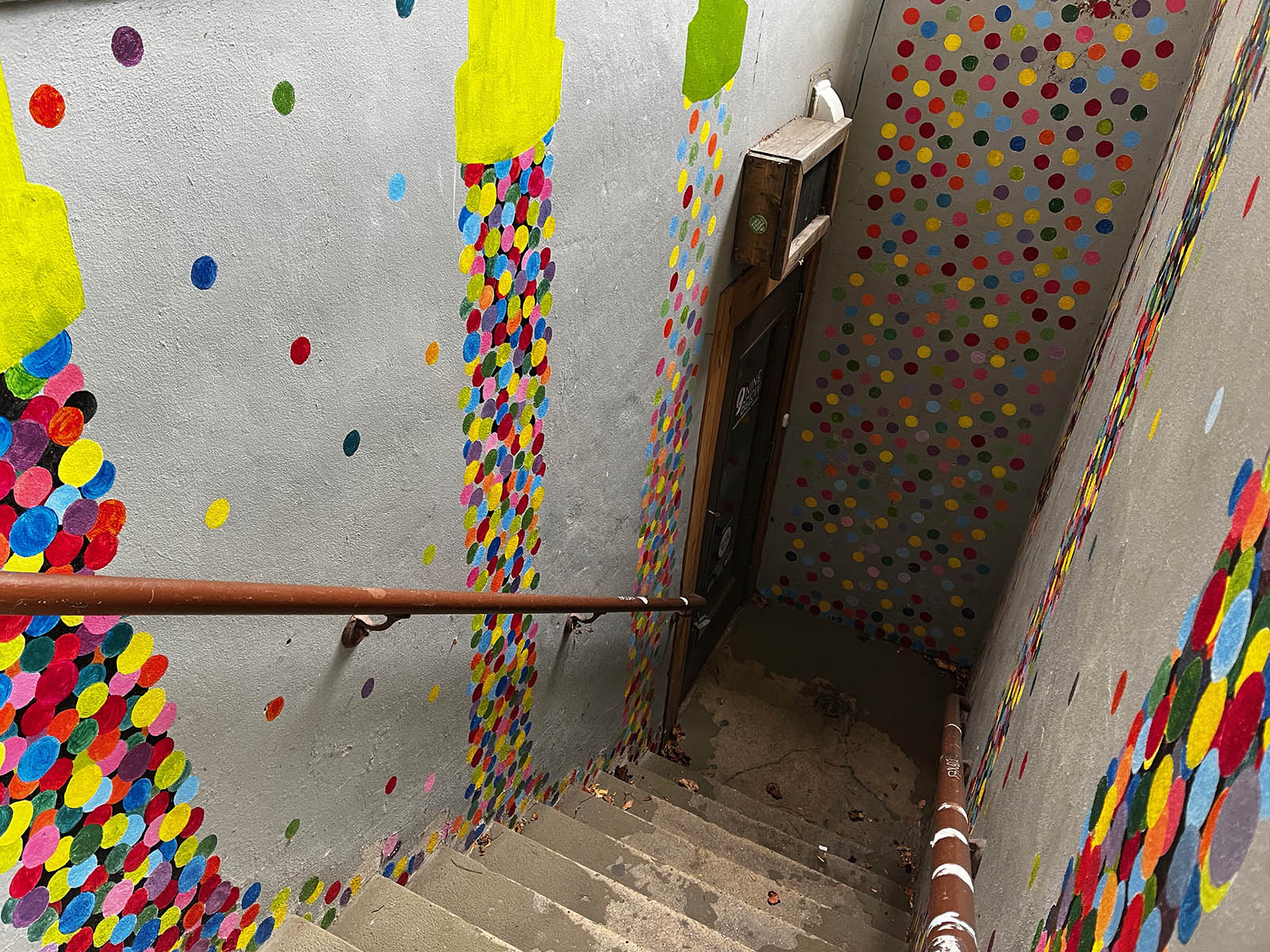 Poytinger also loves the interesting history of the space and of its predecessor. Down here it's easy to forget there were two buildings, because even when I came down the steps, I was amazed to find the layout – including the location of the main bar – to be almost exactly as I remembered it in the Shooter's days in the old building.
"I don't actually know what the old building looked like. Pat (Sturgis, former Beans co-owner) has told me stories," says Poytinger.
"Right when we opened in 2016, I had a guy come downstairs and he's like, 'I just wanted to see what was down here."' He told me kind of wild stories about, there was a restaurant here, where you could get exotic meats. He said something about getting zebra."
I told Poytinger about the oddball Frenchy's menu and he laughed.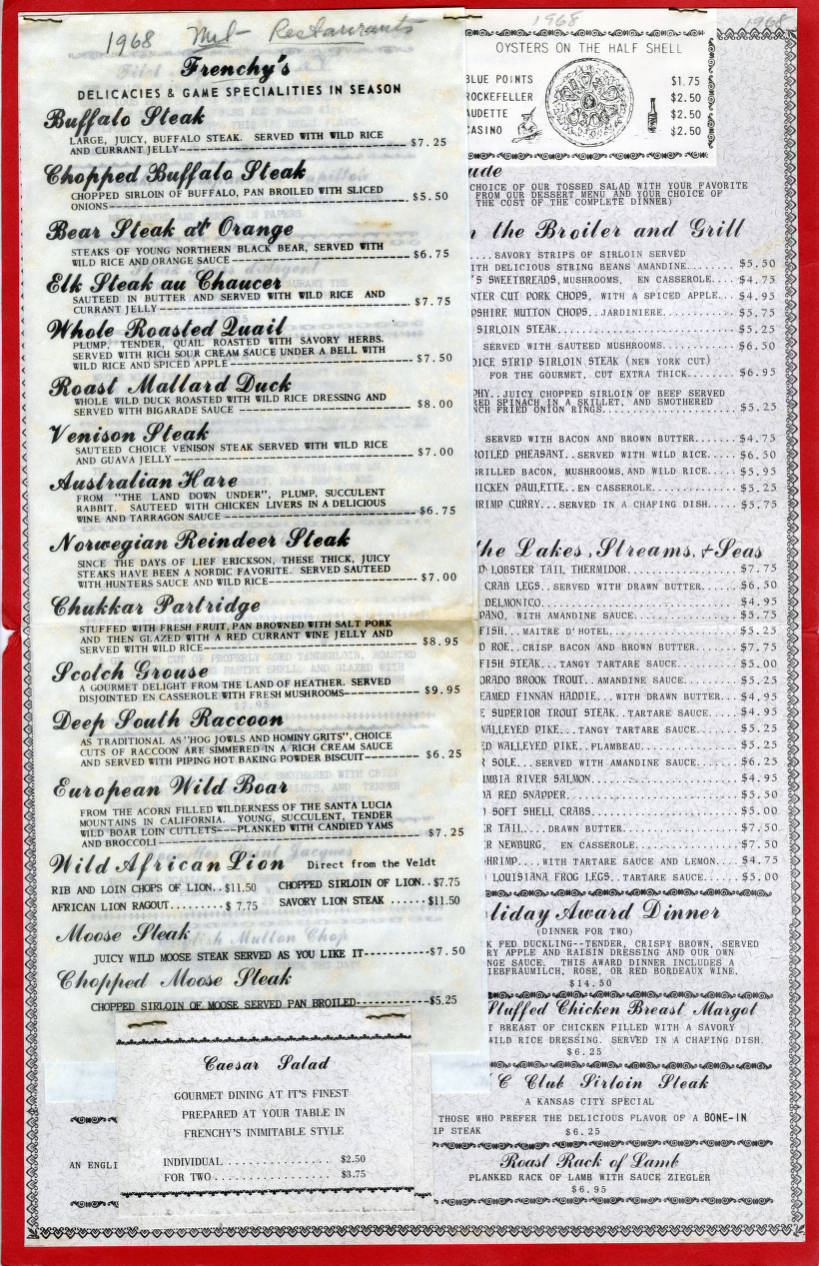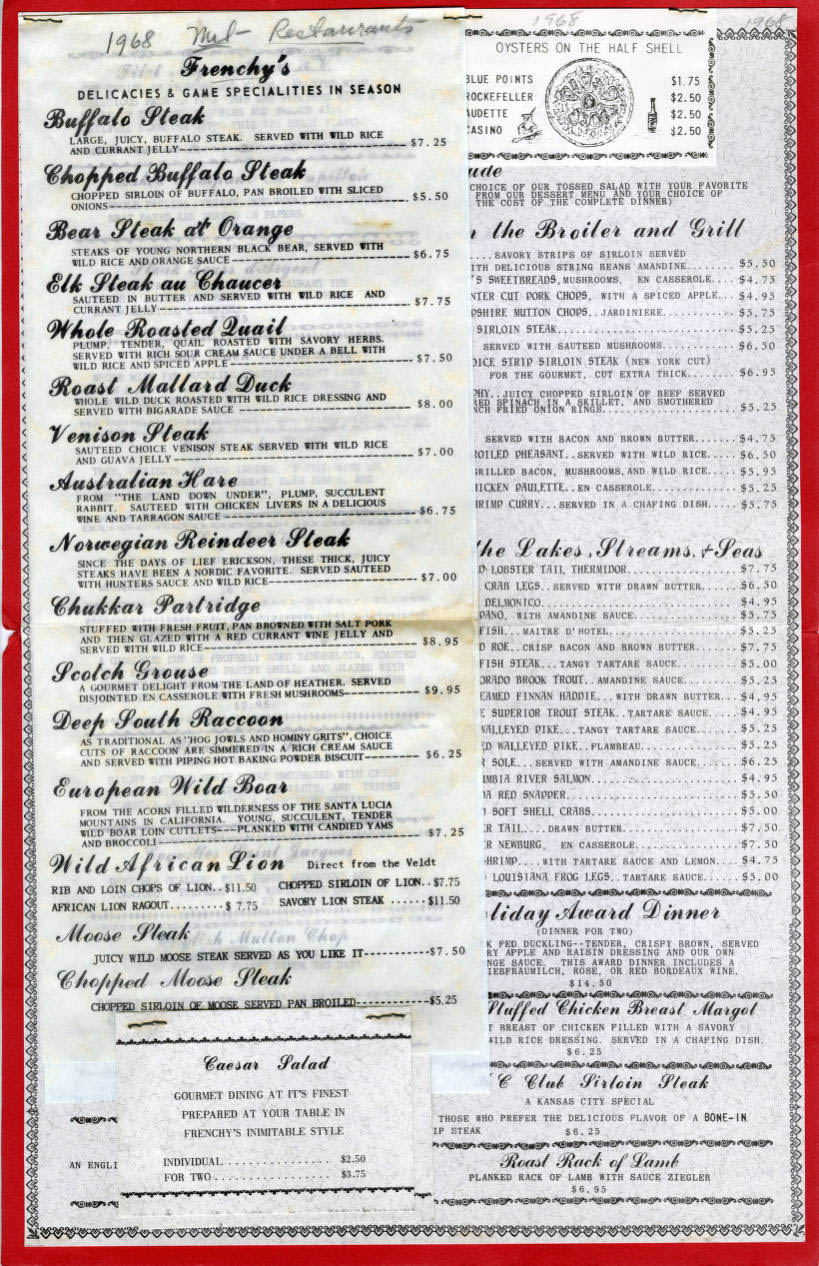 "Hippos belong in a zoo, not in my belly," he says. "That doesn't make any sense.
"Then you get into the Esoteria and ESO, ESO 2. People from the ESO generation that come down here talk that people were dancing in cages ... they tell some pretty wild stories of what was actually down here."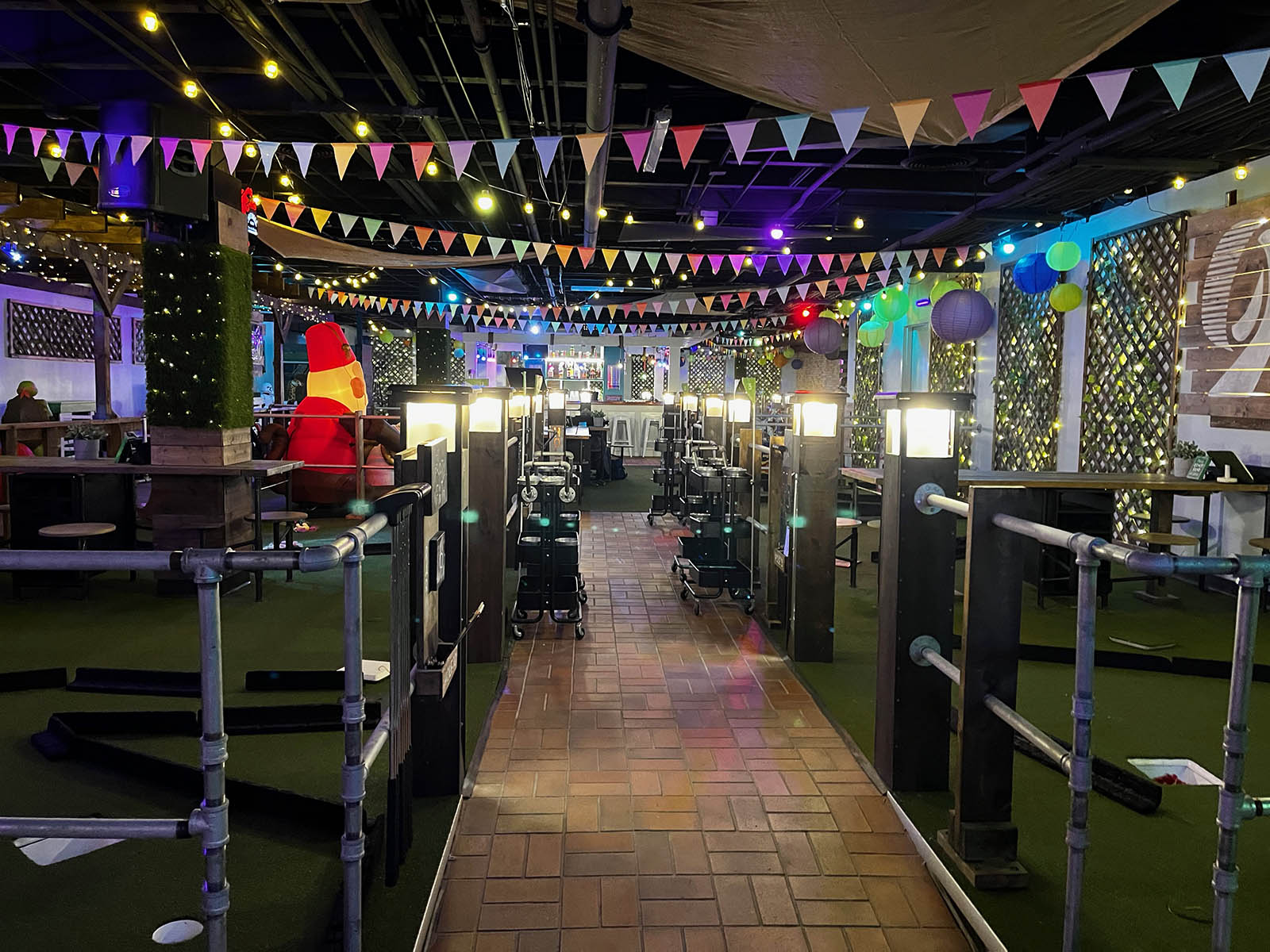 Certainly nothing remains down here of the old building, beyond the locations of the front and back entrances, and Poytinger says pretty much nothing remains of the previous iterations of the current space, either.
"We took it over after Library Club and there were some Decibel remnants – I think the brick wall's a Decibel remnant, might even been Mantra – but when we took it over, this space was a winding cave of different bars.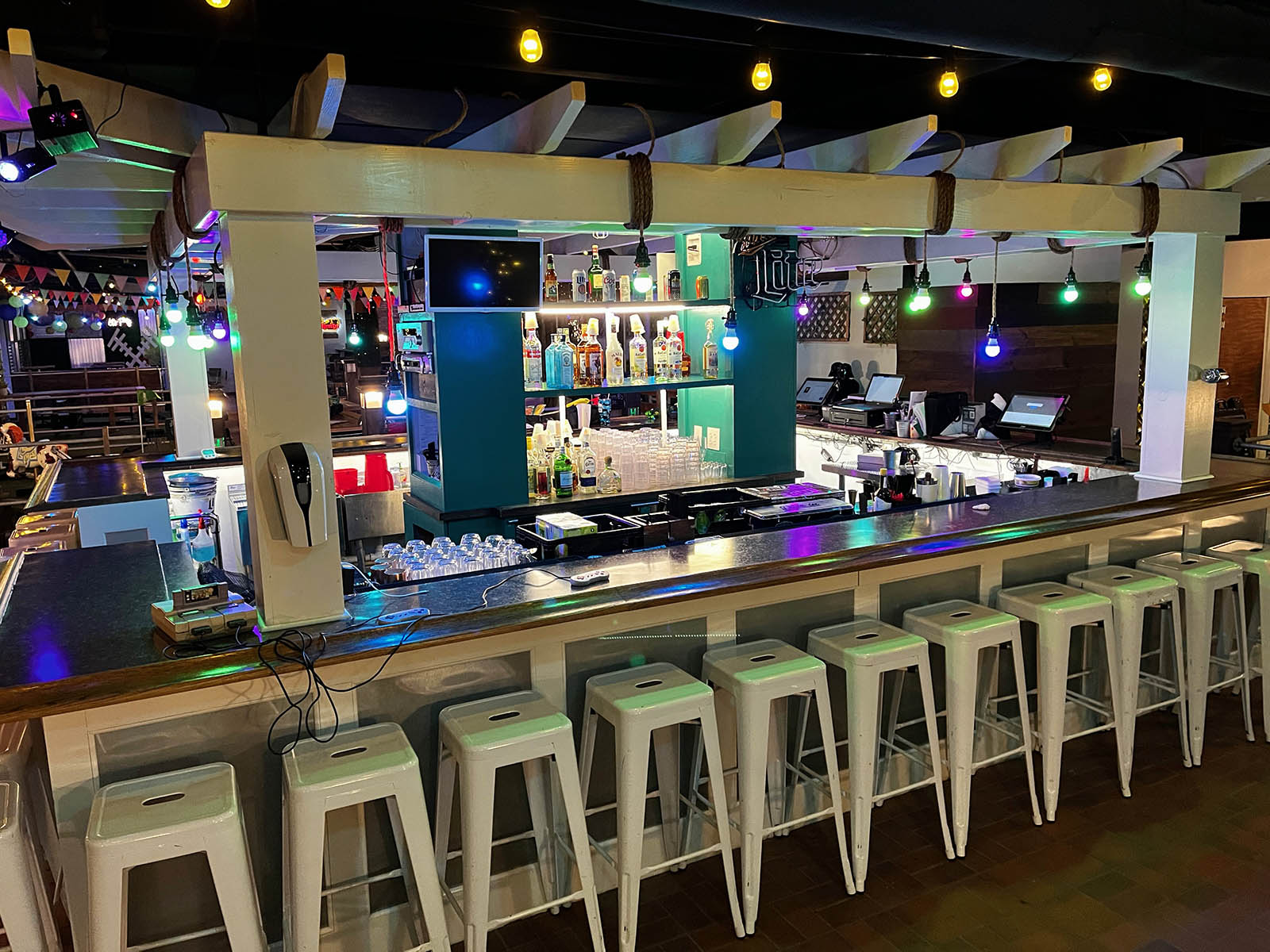 "The only thing that we kept was the bar. We put the pergola on top of it."
Some unexpected finds have, however, turned up, he adds.
"There were Champagne bottles in the duct work from who knows when," he says with a laugh, "and there's everything from shoes, to undergarments. There were probably shenanigans going on.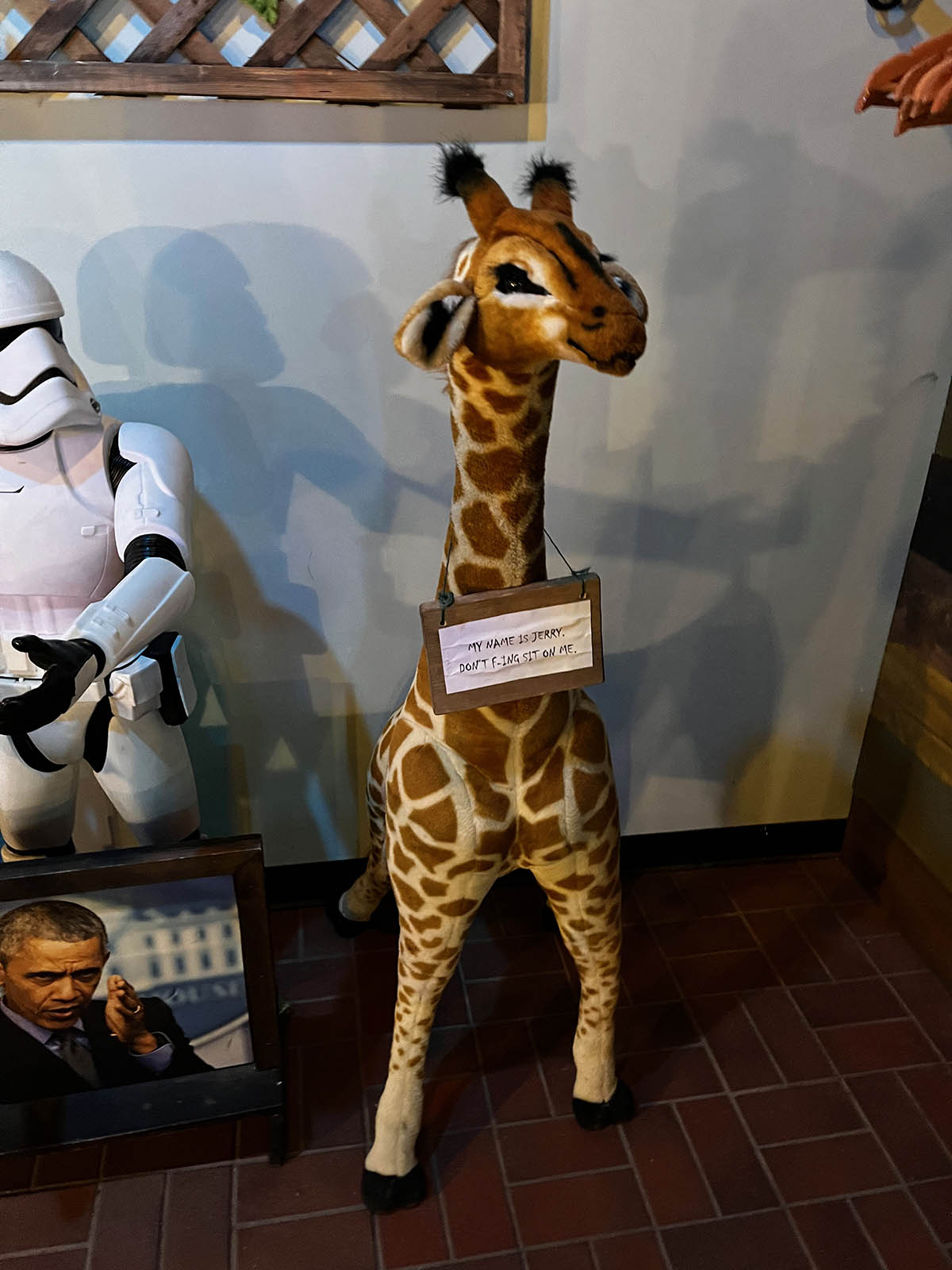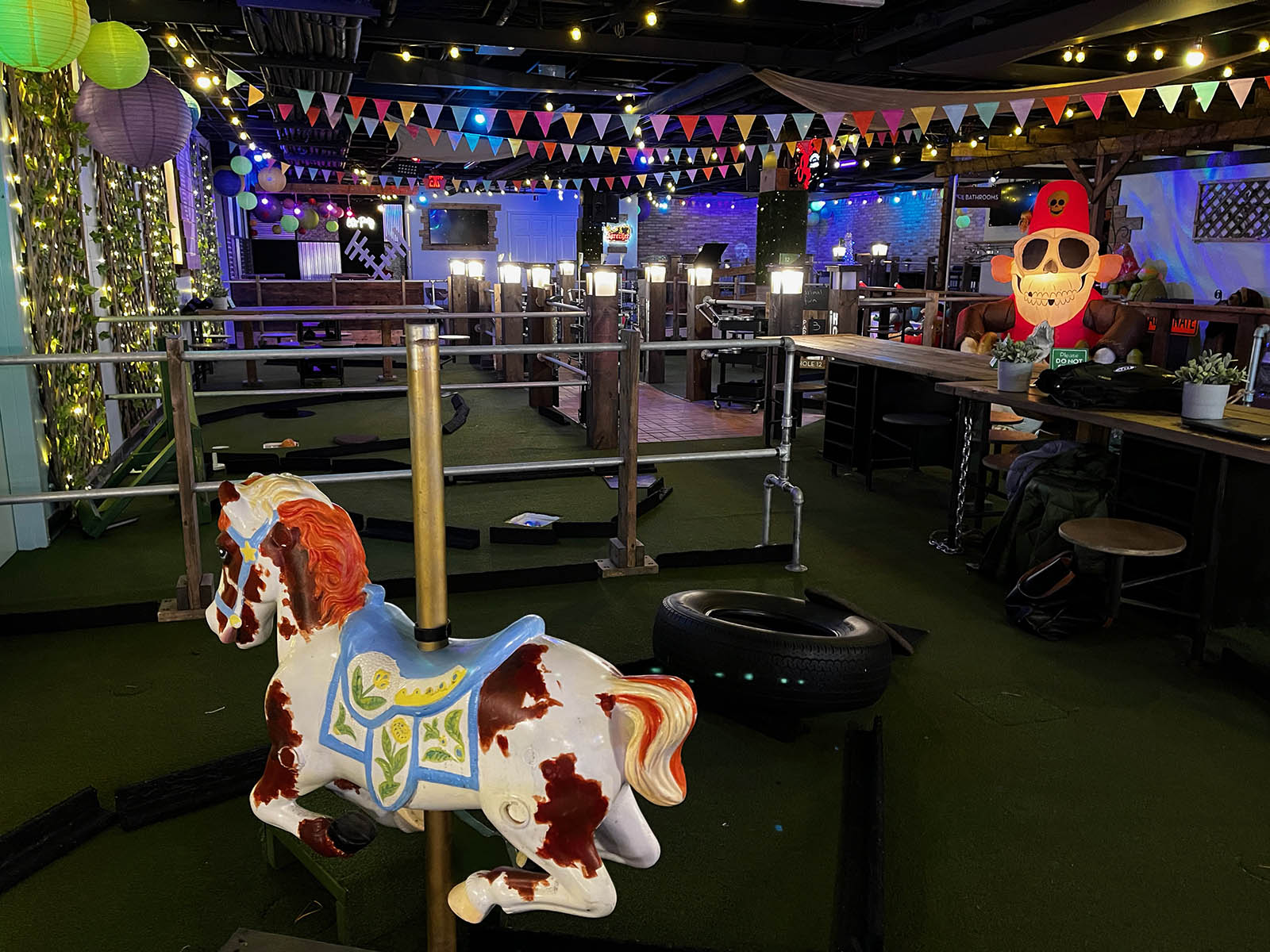 "We've done this in many other places now, we've demoed places and found weird things, but never before in my life did I find as many things. My wife Marla found a passport down here. She found the person, and she came by and got her old passport and her old purse. She had left it behind one of the couches."
Otherwise, mostly what was left from the ESO, Mantra, Decibel, Library Club days were the layers of paint on the floor, and now even that is gone.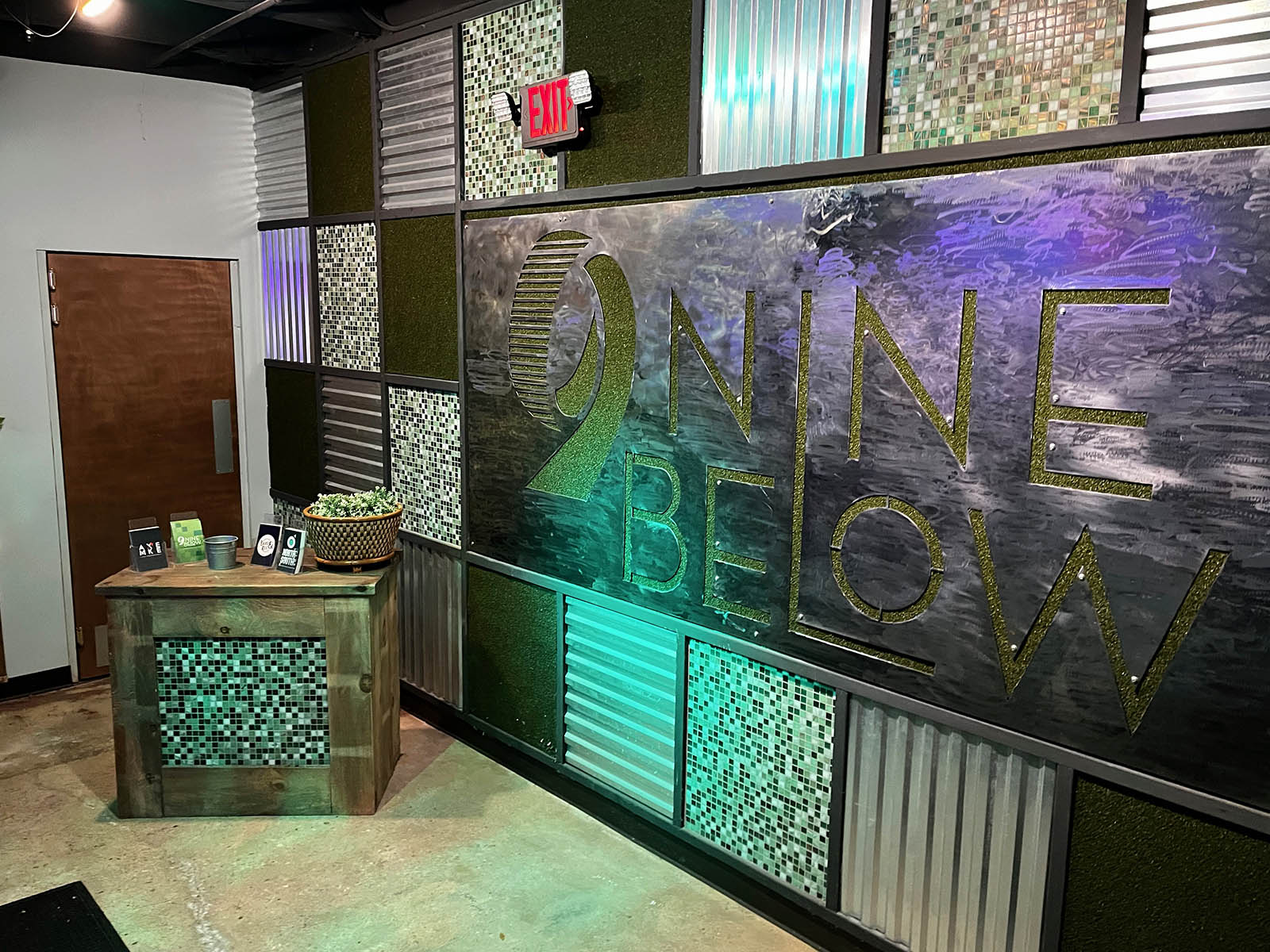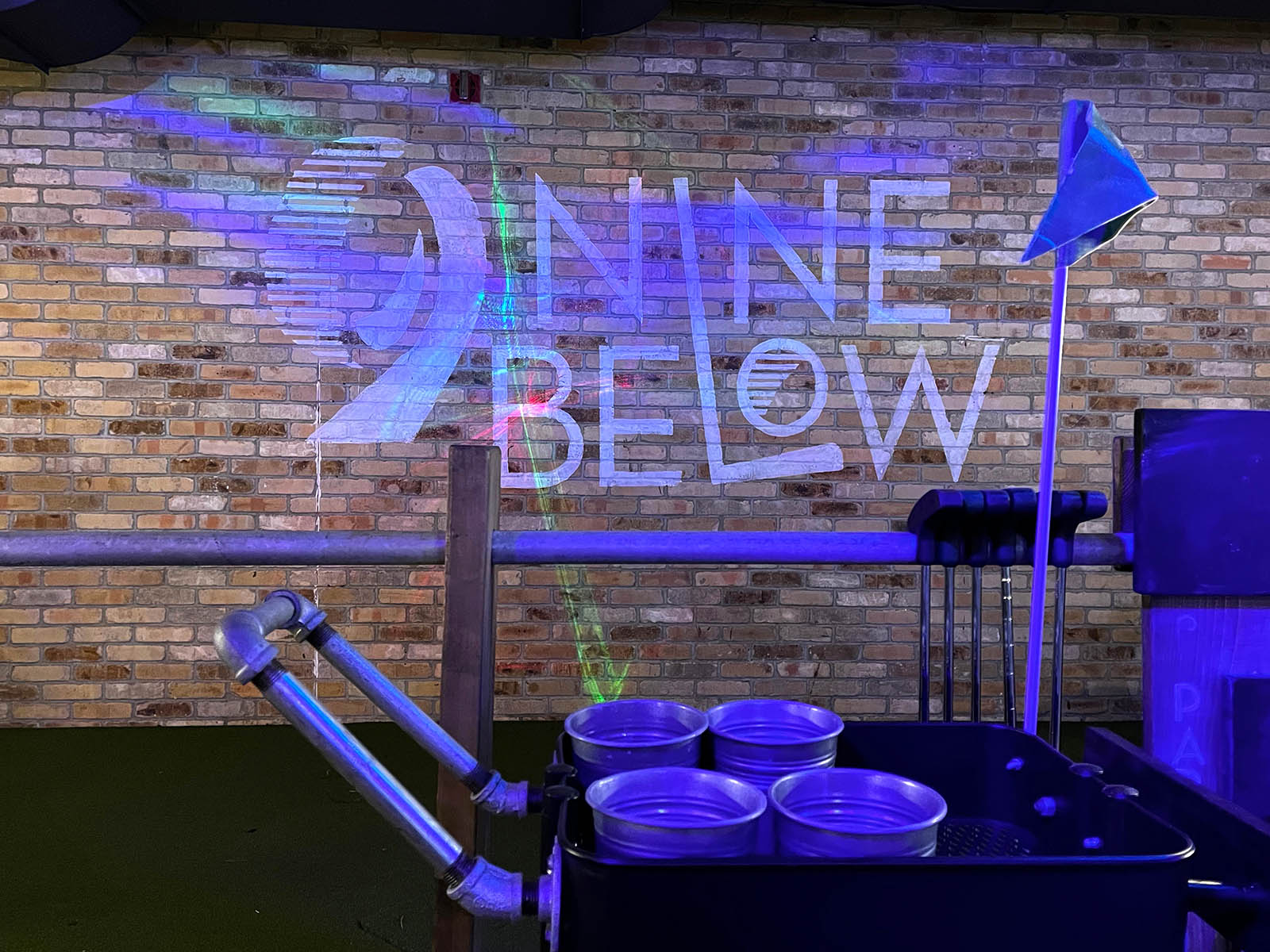 "I ground that concrete with a seven-inch grinder to get it down to concrete," says Poytinger, "on my hands and knees, but it was kind of fun ... well, when it wasn't absolutely miserable. It was kind of cool, because you realized that each bar painted the floor a different color.
"As I was grinding the floor, I went through the blue layer, the red layer, the green layer ... you could kind of go through each bar, you'd be like, 'This was Library Club, this was Decibel, this was Mantra. And now we're in the '90s'."
The problem with a windowless basement space, the Poytingers found, however, become extremely obvious in a pandemic world.
"It was rough, obviously," says Poytinger. "Nobody really wanted to be in a basement with no windows during COVID. Ventilation or not, no one would have felt great about being down here. Even we didn't come down here for a long time."
Recently, that's changed, as Poytinger and his team installed a new HEPA filter ventilation system and undertook a series of refreshes of the space. That allowed them to start hosting limited groups for private parties.
And now, Nine Below has reopened to the public. You can read the specifics of the refresh and reopening in this article.
At the moment the Poytingers are working on getting their next venture – AMPED in the Brewery District – up and running by next year, but I asked what else they might have up their sleeves, since they rarely seem to do anything small.
"We started doing small things," says Poytinger. "When we built Splash Studio, that was 2,800 square feet and that was manageable ... And then we went right to this! As for after AMPED, we have a couple different ideas that we're kicking around, but we keep those pretty close to the vest."
Poytinger says that Bars & Recreation's diversity of experiences has helped it weather the rough pandemic times, and the difficult months have taught lessons.
"I think everybody learned in COVID that they have to diversify, and if you thought you were diverse, no matter what, COVID humbled you and taught you that you needed to be more diverse than you even were," he says.
"We're staying within our world, but we're diversifying. And we're saying, 'it can't just all be fun and entertainment, let's get into the very professional meetings and events, but let's do it our way and combine it with karaoke.' We like our niche, specifically in Milwaukee, doing cool things here, growing at a nice, steady pace."
A lot ideas, says Poytinger, come from Bars & Recreation's employees, through regular listening sessions, which serve multiple purposes.
"If you're an employee at bars and recreation and you have something that you want to talk about, and for some reason you don't feel like you'd go to your supervisor or your manager, there's an open door once a week virtual and once a week in physical, where you can go talk.
"It might be, 'I have a problem' or 'I have an issue or concern,' but it also might just be, 'I have an idea.' And some of the best ideas that we've seen come out of this company have come from employees who are like, 'Just give me the opportunity to see my, my idea come to light.'
"I'm really proud of that."
Born in Brooklyn, N.Y., where he lived until he was 17, Bobby received his BA-Mass Communications from UWM in 1989 and has lived in Walker's Point, Bay View, Enderis Park, South Milwaukee and on the East Side.
He has published three non-fiction books in Italy – including one about an event in Milwaukee history, which was published in the U.S. in autumn 2010. Four more books, all about Milwaukee, have been published by The History Press.
With his most recent band, The Yell Leaders, Bobby released four LPs and had a songs featured in episodes of TV's "Party of Five" and "Dawson's Creek," and films in Japan, South America and the U.S. The Yell Leaders were named the best unsigned band in their region by VH-1 as part of its Rock Across America 1998 Tour. Most recently, the band contributed tracks to a UK vinyl/CD tribute to the Redskins and collaborated on a track with Italian novelist Enrico Remmert.
He's produced three installments of the "OMCD" series of local music compilations for OnMilwaukee.com and in 2007 produced a CD of Italian music and poetry.
In 2005, he was awarded the City of Asti's (Italy) Journalism Prize for his work focusing on that area. He has also won awards from the Milwaukee Press Club.
He can be heard weekly on 88Nine Radio Milwaukee talking about his "Urban Spelunking" series of stories.