As work continues on the new Flour & Feed food hall in Bay View, one of its tenants is taking to the streets.
When Flour & Feed is ready, perhaps by late summer, Riverwest's Gathering Place Brewing, 811 E. Vienna Ave., will open a small brewery in the food hall, located on the ground floor of New Land Enterprises' Kinetik Apartments, 2160 S. Kinnickinnic Ave.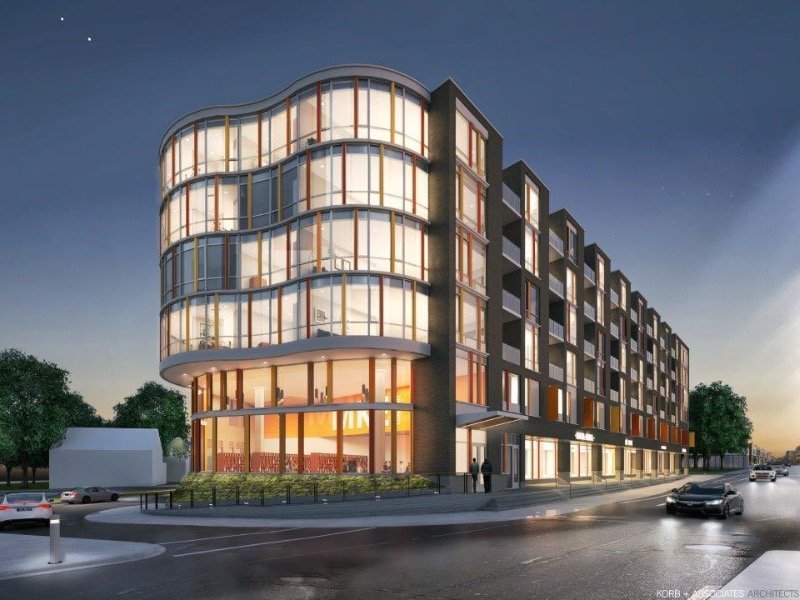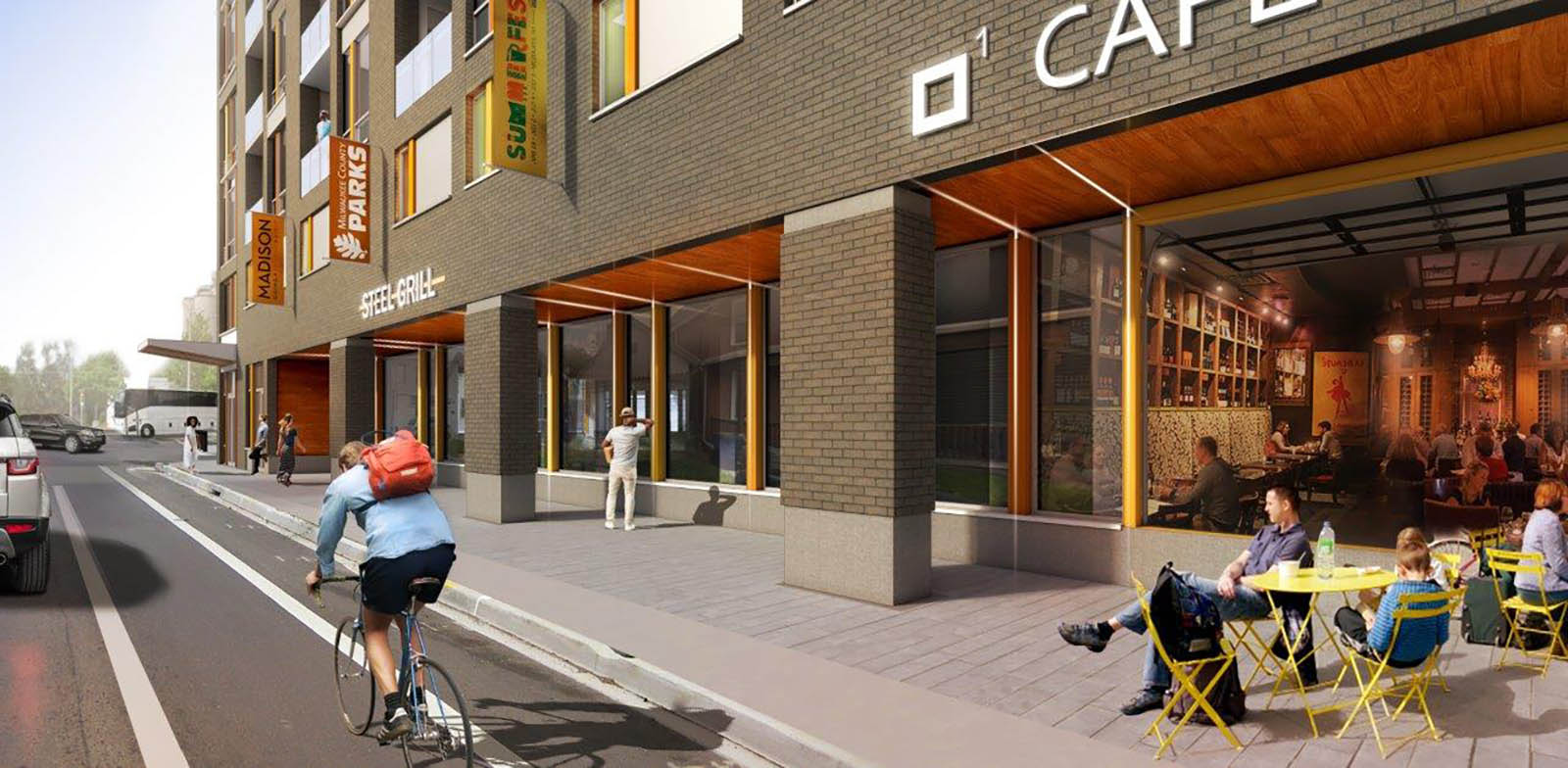 But in the meantime, owner Joe Yeado is launching a popup on the patio along the south side of the building, adjacent to Zillman Park, where the Flour & Feed patio will be located.
"Knowing that the summer is going to be busy, and knowing that people want to be outside, I approached New Land and asked if I could do a popup beer garden, starting Memorial Day weekend and running until the food hall opens," Yeado says.
"They were very supportive of that, and so that is happening."
The popup, which opens Memorial Day weekend, will be open Fridays, 3-9 p.m., Saturdays, 11 a.m.-9 p.m.; and Sundays, 11 a.m. until 8. It will operate until Flour & Feed opens.
Gathering Place is also operating a monthly one-day popup beer garden on its Riverwest block this summer.
There are two other beer gardens in Bay View, but neither is near the Flour & Feed area.
"Bay View has so much residential that we really feel like there'll be an appetite for people to walk over," says Yeado, who lives in the neighborhood with his family.
"It's a space you can bring your kids. My kid will be spending a lot of the summer there. And unlike the other beer gardens in Bay View, you can bring your own food."
There is no shortage of restaurants in the blocks near the popup where folks can carryout food, and, says Yeado, there will be sometimes be food trucks at the popup, too.
"We want to support the other Bay View businesses that are there," says Yeado, and that means that the popup will also offer beer made by other breweries in the neighborhood.
1840 and Enlightened Brewing are each about a block from the site, two more – Component and New Barons – are a few blocks away in the Lincoln Warehouse, and Supermoon is about a mile south on Howell Avenue.
"This is a conversation that we've been having," says Yeado, whose brewery is part of the Riverwest Brewery Syndicate, with Lakefront, Black Husky and Company.
"(The Bay View breweries) started to have it themselves, and then I went and had a conversation with them last October; that we were going to be in this development.
"Tommy (Vandervort) from Enlightened said, 'I was actually going to reach out to you, because we want to pick your brain about how you guys do the Riverwest Brewery Syndicate'. They were already thinking about that, and they were very welcoming to our plans to come in."
"Riverwest and what we've done with the syndicate has been awesome, but it's two miles from us to Lakefront. In Bay View, we're (mostly) two to three blocks away from each other."
Yeado also envisions the beer garden focusing on businesses from other Milwaukee neighborhoods, too, to show the diversity of what's going on in local brewing.
"I think it would be fun, at some point in the summer, to do kind of a Riverwest takeover, and have Black Husky, Company and Lakefront, and Gathering Place serve their products there," he says.
"That's our other family, so to speak, and so I think it's really exciting. One of the things that I think works really well with Bay View, just like it does in Riverwest, is the breweries are all making different kinds of beer. We're not all trying to do the same thing. We're not stepping on each other's toes much."
Yeado says the popup will operate from a canopy tent with a bit of a facade built onto it. There will be a serving station and picnic tables. Although the popup won't be in the park, the park will be right there for families to enjoy.
The tables have been delivered and lights and speakers are being added now, too.
When Flour & Feed opens, says Yeado, "we are going to have a similar set-up to what we have here, where we have a cooler, the taps are through the cooler wall. We'll have a bar with probably five or six bar seats, but then people can take the beer and they can sit anywhere in the food hall or on the patio.
"We'll also have a glassed-in area for our pilot system, which we have here now, it is moving down there, so people can watch us brew. I think that'll be really exciting. "
Gathering Place has been using that one-barrel system – manufactured by Spike Brewing in Riverwest – since last year to create two monthly brews for its members-only club. Once installed in Bay View it will also brew small-batch exclusives that will be available only in the two taprooms.
"That's also fun because we can try things that we wouldn't normally do on the big system," says Yeado, "because some ingredients are cost-prohibitive to do on a real large scale."
Some examples of the kinds of beers that Gathering Place has been brewing on the small system since it was fired up in November are a scotch wee heavy, a brandy oaked version of the Limb Shaker Belgian tripel with Door County cherries, a sakura saison with pickled Japanese cherry blossoms and a pale ale with Earl Green tea from Rishi.
The brewery also used the system to make its first-ever Black Friday beers in 2020.
Initially, head brewer Corey Blodgett will run both systems.
So when will the food hall – and new Gathering Place taproom and pilot brewery – be ready?
"I think that depends on when the food vendors get signed, and the developer knows what the interior of the space will look like," says Yeado, who points out that New Land has experience building and running a food hall thanks to its successful Crossroads Collective on the East Side.
"But they anticipate that once people are signed, they can wrap things up in about three months, because the space is there. It's not like building a whole new building, it's just outfitting the inside. They do this all the time, so I imagine when they say three months, it's probably going to be pretty close to that."
Yeado's best guess is late summer, "I think maybe August, September. We're just one of the tenants in there, so we're kind of along for the ride."
According to New Land's Tim Gokhman, "There is no projected date yet, but we are now seeing an increase (in interest) from potential vendors. Like Crossroads, we want it to be special, especially given the connection to the plaza outside. And, the planning and design process for the Zillman Park makeover is starting, which I think will be very impactful."
Neighborhood alderwoman Marina Dimitrijevic will host a public meeting on the park on Tuesday, May 18.
In the meantime, Bay View can still get its Gathering Place brews – as well as beers from other neighborhood breweries – at a new neighborhood beer garden.
"It's all coming together very quickly, but we're really excited about it," says Yeado. "I want people to see this as a neighborhood place."
Born in Brooklyn, N.Y., where he lived until he was 17, Bobby received his BA-Mass Communications from UWM in 1989 and has lived in Walker's Point, Bay View, Enderis Park, South Milwaukee and on the East Side.
He has published three non-fiction books in Italy – including one about an event in Milwaukee history, which was published in the U.S. in autumn 2010. Four more books, all about Milwaukee, have been published by The History Press.
With his most recent band, The Yell Leaders, Bobby released four LPs and had a songs featured in episodes of TV's "Party of Five" and "Dawson's Creek," and films in Japan, South America and the U.S. The Yell Leaders were named the best unsigned band in their region by VH-1 as part of its Rock Across America 1998 Tour. Most recently, the band contributed tracks to a UK vinyl/CD tribute to the Redskins and collaborated on a track with Italian novelist Enrico Remmert.
He's produced three installments of the "OMCD" series of local music compilations for OnMilwaukee.com and in 2007 produced a CD of Italian music and poetry.
In 2005, he was awarded the City of Asti's (Italy) Journalism Prize for his work focusing on that area. He has also won awards from the Milwaukee Press Club.
He can be heard weekly on 88Nine Radio Milwaukee talking about his "Urban Spelunking" series of stories.