Now that dining month is officially over, and you've seen all the results of the OnMilwaukee Best of Dining 2015, I figured it was a good time to weigh in with some of my personal picks.
But first, a preface: Almost daily, I'm asked to give my recommendations for places to eat and drink. At least as often, people ask me to share my "favorite" restaurant. It's an admittedly impossible task, as there are so many worthy options (I can name at least three or four favorites at any given moment, each for a different reason). This list is an attempt to curate some of those favorite spots.
Best Asian fusion
If I focus on fusion, RuYi is one of my favorites. Their menu offers a nice variety of Chinese American, Thai, Vietnamese and Korean noodle dishes. On my list of favorite dishes is the spicy eggplant, which I order almost every time I'm there. Authenticity isn't the standard at RuYi, but delicious fusion cuisine definitely is.
Best bakery
Despite my love for – and the convenience of – Rocket Baby Bakery (which is conveniently located on my side of town), this year I'm throwing my hat into the ring for Daily Baking Co. in Port Washington. I've been consistently impressed by the quality of the baked goods, particularly the naturally leavened breads, which have a special tang thanks to a mother painstakingly transported here from France. Among the things to try right now, I'd recommend the fig nut bread which is chock full of figs, raisins, apricots and roasted walnuts.
Best bar food
Here's where my vote goes solidly to Company Brewing. Thank you, thank you for taking bar fare and elevating it to an entirely new level. I've been dreaming of a bar where I can munch on pigs ears while downing a stellar brew, and you've made that dream come true. You've brought us whole roasted fish that zings with citrus, and a roasted pork shoulder that sings, especially when you serve it with the skin on. I also hear you have a pretty great burger, so I'll try that next time I'm in.
Best barbecue
Oh, Milwaukee. You are so not a barbecue town. But, we have a spot or two where I've been known to indulge in a bit of pit-smoked meat. One of those places is Ashley's Bar-B-Que on Center, where I can order up barbecue goat or a pan of snout – things I love that you can't find just anywhere. All that said, I absolutely cannot wait for Iron Grate BBQ Co. to open, because there's a pretty good chance they're going to change my mind about the whole Milwaukee barbecue thing.
Best beer list
When it comes to beer lists, I'm of two minds. My first mind goes to Sanford, where there are some seriously nice bottles of cellared beer that make me really happy. And my second mind goes to Goodkind, where BJ Seidel has curated a really really special list filled with all sorts of mysterious delights (also a place that made second place in the popular vote). At both places, I feel like I can close my eyes, twirl my hand and point to a beer – any beer – and it will be delicious. So, I'm making it a tie. Just this once.
Photo: Blue's Egg
Best breakfast
I don't get out to breakfast much during the week, but when I do, I'm always quite content to visit Blue's Egg, my vote this year for best breakfast. I love what they've done to make breakfast so much more than an "eggs and toast" experience. Although I have favorite staples, like the zesty sausage omelette with lacinato kale, aged provolone and sage, I'm a big fan of ordering the specials, which delve into territory never before seen by the breakfast genre. A close second? The cafe at the West Allis Cheese & Sausage Shop, where the breakfast sandwiches pretty much rock my world.
Best brunch
And then there's brunch. There are a lot of great spots to brunch in this town. But I discovered a new favorite this year when I ventured out to Bass Bay Brewhouse in Muskego. They've got a great Bloody Mary, a seriously delicious hashbrown casserole and an amazing view. What more could a gal want on an amazingly lazy weekend.
Best burger
I'm still dreaming of the burger at Merriment Social. And that's all I'm gonna say.
Best cafe
Years ago, I would never have predicted that The National Cafe would be one of my favorite spots to grab a bite to eat. But it's happily become a spot I look to when I'm craving a simple, casual breakfast or lunch. The staff is friendly, and on Fridays, I can get amazing dishes like the Hot Mess with rosemary potatoes, ham, sautéed peppers, caramelized onions, cheddar, grilled tomatoes, sunny-side eggs and hollandaise.
Best chef
We've got a lot of great talent in this town, some of whom are flying well under the radar. But I'm going to agree with the popular vote this year and give honors to Chef Justin Carlisle. First, the city owes him props for introducing us to Ardent, a hot spot that's about as close to being "tasting menu only" as we've seen so far (and when you visit, I'd argue that the tasting menu is really the only way to go to get the full experience). He's also opened his doors to other national talent, exposing Milwaukee to the skill of a variety of chefs through collaborative tasting dinners. And, of course, there's his wildly successful Red Light Ramen, a late night concept that definitely rivals its competition in other cities and is helping to put the Cream City on the map in terms of hip, underground-esque dining.
Best Chinese
If you haven't checked out Peking House, you owe yourself a stop. They won my heart the first time at their location in Pewaukee (a reader recommended the restaurant to me when I was lamenting the lack of great Chinese in Milwaukee); and they've managed to keep my attention now that they've moved to Jefferson Street Downtown. Be sure to ask for the authentic Chinese menu while you're there.
Best coffee
Wow. This is like picking children. If you know me, you know I get my cortado on at a wide range of coffee shops around the city, and I enjoy most of the ones I drink. But when it all comes down, there's one little coffee guy who wins my affection. And that guy is Anodyne. I fell in love with their La Perla Negra – remember it? It came in the cool glass jars, and it was amazingly delicious. Well, that's the coffee that won me over. And I've been crushin' on them ever since.

Best desserts
I don't have the biggest sweet tooth on the block. What that means is that I'm peculiarly picky about desserts, and it takes something pretty special to "wow" me. While I've enjoyed a host of desserts over the past year, one spot that really sticks out in my mind is Morel, where literally every dessert I've tried has been a winner – from chocolate caramel coffee towers to (my all time favorite so far) goat cheese cheesecake, which has appeared on the menu in a variety of forms.
Best family friendly
I don't have kids, so this pick doesn't resonate for me on a daily basis. However, when I have other peoples' kids in tow, I have a tendency to gravitate toward spots like AJ Bombers, where the rocket peanut launchers seldom fail to delight.
Best fish fry
When it comes to the Friday fish fry, I'm a fan of old school. And I have a couple of rules. You have to have fried lake perch, and you have to have potato pancakes. Kegel's Inn has both of those things, and they serve it up in a fantastically old school German environment.
Best food product
I have a special spot in my heart for anyone who starts up a local food business. But certain concepts just seem to make sense. Such is the case with Milwaukee Pretzel Company, a business that is such a good fit for Milwaukee that it almost hurts. If you haven't tried their crazy-good pretzels, here's a list of spots to get 'em.
Best gyros
Oh, the gyro. Once you get past the challenge of saying the word, the next question is where to eat them. I love Cosmos Cafe, maybe because it's not the most obvious spot to have a great gyro. Or maybe because it's in a tucked away little spot that's just too darned cute. Either way, they have some of the best.
Best Indian/Pakistani
I've been a pretty big fan of Anmol for years now, and they seldom disappoint. So I'm veering toward the Pakistani side of things for this category. It's no frills and often ends up to be carryout on my end, but the food is great (try the pakora and curries) and the customer service is friendly.
And although it's not Indian – Nepal is geographically close – I'm also going to throw in a great big vote for The Cheel in Thiensville, who is serving up the best, and only, Nepalese fare in town. Their dumplings rock, and all you need to do is ask for authentic and co-owner Bharka Daily will make sure you get it.
Best Italian
I'm sticking with my guns on this one. There's just nothing like the food at Ristorante Bartolotta. Maybe it's nostalgia talking. Or maybe it's the fact that the food is fresh and seasonal, much as it would be in Italy. They take time with things. They make their pasta by hand. And, most importantly, the offerings step squarely outside of the "red sauce Italian" box.
Best late night eats
Without hesitation, I'm handing this one off to The Vanguard. Because if I am out late and I'm having a hankering for food, sausages – especially delicious house-made sausage – rank pretty high on my list of "things I'm hungry for."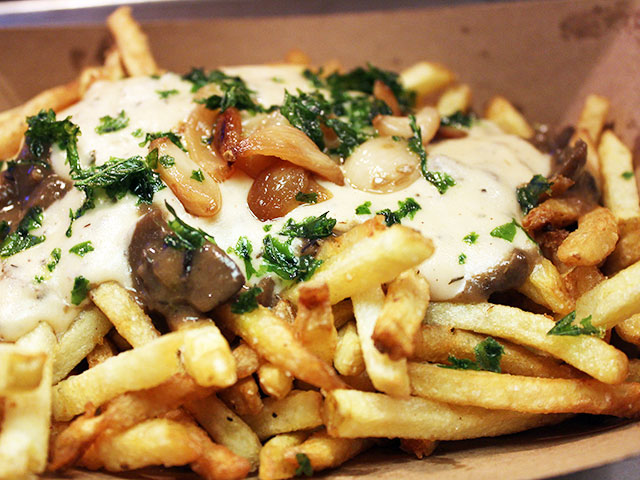 Best Mexican / Latin American
I love spots where every time I eat, I experience something new. Such is the case at Antigua, where they serve up a broad array of Mexican, Latin American and Spanish fare. A bonus here is that the restaurant owners, Citlali Mendieta Ramos and Nicolas Ramos, are committed to their neighborhood, an up and coming hood on the east edge of West Allis.
Best Middle Eastern
It might be nostalgia talking, but I have a real soft spot for Shahrazad, where I've probably sipped up a gallon or two of Turkish coffees over the years. They get points for having some of the smoothest, most delicious baba ghanouj on the block, along with some pretty great shawirma. And you can nearly always tempt me with the falafel bel hommos.
Best Milwaukee institution
Polonez, you've got my number. I love the fact that there's a place that still unabashedly celebrates the Polish heritage we have here in Milwaukee. The old school energy is fabulously fun (polka, anyone?). Plus they have pierogi. And dill pickle soup! Need I say more?
Best new restaurant
This was a really tough category for me to wittle down this year, in part because three of the new spots – Amilinda, Company Brewing and The Vanguard – contribute something unique to our growing dining scene. Company Brewing's palate-stretching menu brings new definition to the term "brew pub," and Vanguard has blown the scene away with its inventive and oh-so-Milwaukee sausages. But Amilinda gets my vote for bringing Portuguese inspired fare into the Milwaukee picture. I'll admit I'm giving the owners double points for being trailblazers in their own right by plopping down their inaugural spot right Downtown, but I've also become a complete and utter sucker for their piri piri chicken, which warms every inch of the spice-lovin' cockles of my heart.
Best pizza
I've always been a pretty vocal fan of Pizza Man (particularly their deep dish, which I still love) but I'm changing my tune this year and voting for Zarletti Mequon. They have the crispy chewy Neapolitan crust I can never get enough of, combined with great, fresh ingredients in inventive combinations. Currently, I can't seem to get their Diavola pizza out of my head. And the Del Re is a close second.
Best sandwiches
When it comes to creative combinations, the sandwiches at Bavette La Boucherie win me over every time. Steak with truffled mushroom duxelle and roasted grapes? Pork cheek with roasted squash? They're all good. Trust me. When in doubt, opt for the tongue Reuben. It's a new classic.
Best seafood
You got this one Milwaukee. Harbor House is my pick, too. I'll confess: It's mostly because they always have an out of this world selection of oysters, in season (a delicacy of which I am a die-hard fan). But, I also love the fact that they work with small purveyors and that they feature unique specials (like the generally evasive abalone).
Best service / wait staff
The popular vote for MOVIDA is super spot-on; the sense of hospitality is part of what makes it one of my go-to eateries. However, another restaurant in town that offers up the goods is c.1880, a restaurant where you can order up gorgeously plated food and stellar wines in one fell swoop. But what takes it over the top is the deft hand with service, which includes a fully informed waitstaff who can answer just about any question you throw their way and an innate ability to tend to all the right details (including refilling water glasses) with ninja-like reflexes.
Best small plates
It's a tough category, since so many spots are excelling at the small plates game these days; but, I'm still wowed by the selection – both vegetable and meat-laden that Odd Duck produces. The menu consistently surprises and delights me with innovative, inventive fare. It doesn't hit the mark on every dish. But huge props for not being afraid to step wildly outside of the box every now and again.
Best Southern / Cajun
OK, Nino's Southern Sides. This is where I extol your virtues in terms of being a Southern food destination. Your fried chicken rocks, but I could be content eating your delicious sides – including your beans, which are chock full of unctuous tidbits of pork. My one critique would be, I'm hungry, so please don't make me wait so terribly long for my meal, especially when I've given you fair warning and called ahead with my order.
Best splurge
I'm in agreement that Sanford (your pick for best splurge) is a great splurge spot. I recently enjoyed the chef's tasting menu as a birthday gift, care of my husband, and it was an admittedly enjoyable experience, complete with some of the best dishes I've eaten in a long while. But it's also a great spot to grab a bite to eat – even just an appetizer and glass of wine or a soup and salad – on a random weeknight. It also offers a special ethnic tasting menu, priced at $49 for four courses, Monday through Friday evenings – a worthy investment that's equivalently priced to many of the fine spots around town.
Best steak
I don't order steak very often when I'm dining out. So when I do, I expect it to be really, really good. And I mean spot on good. Great meat, perfectly cooked. And seasoned just enough to make it shine. Carnevor does all of that. And based on what I've seen behind the scenes, the design of the new digs is going to make eating there even more of an experience than ever before.
Best street food / food truck
I guess I'm a Wisconsin gal through and through, because I really can't get enough of those fantastic Gouda Girls. I mean, how can you argue with grilled cheese made with some of the best cheeses Wisconsin has to offer? You really can't.
Best sushi
I'll say it. I've had some really bad sushi in this town. But I've also had some really good sushi – and yes, on occasion even the sort of sushi that comes close to rivaling what I've eaten in coastal spots like San Francisco. Truth is, some of it has come from the sushi counter at Kanpai, where I've entrusted my order to the sushi chef on a few occasions and been rewarded with stellar sushi. I'm also giving props to Screaming Tuna, though – because the sushi is not only inventive (and holy cow, that view!), but the eye toward sustainability is both impressive and admirable.
Best takeout
I'm with you on this one, Milwaukee. Ono Kine Grindz rocks it to the heavens with its delicious Hawaiian takeout. In fact, sometimes I wonder how the west side of town ever got along without the place and its kick-butt Kahlua pork and tuna poke
Best Thai
I'm going with my gut on this one and putting in my vote for EE Sane. It's not the prettiest spot on the block (though its cute little sister restaurant, Elephant Cafe, offers that) but I love the dishes. And that includes the curry squash, something you can't get anywhere else and that entirely rocks my Thai food lovin' world.
Best vegetarian
Beans & Barley really is an awesome spot for vegetarians, Milwaukee. So don't get me wrong when I cast my vote for another spot that seriously knows how to treat the humble vegetable. Lazy Susan, you have my heart for being so respectful of vegetables in terms of treatment and creativity.
Best wine list
I'm handing this one to Bacchus, where sommelier Katie Espinosa does a great job curating fine wines from across the globe, choosing selections with significant vintage depth and breadth in a variety of major wine regions.
Best wings
OK, Points East. You've got me here. You're crisp and smoky and delicious. And wings are bar food, so it's only fair they'd be eaten … well … in a bar.
Lori is an avid cook whose accrual of condiments and spices is rivaled only by her cookbook collection. Her passion for the culinary industry was birthed while balancing A&W root beer mugs as a teenage carhop, fed by insatiable curiosity and fueled by the people whose stories entwine with each and every dish. She's had the privilege of chronicling these tales via numerous media, including OnMilwaukee and in her book "Milwaukee Food." Her work has garnered journalism awards from entities including the Milwaukee Press Club.
When she's not eating, photographing food, writing or recording the FoodCrush podcast, you'll find Lori seeking out adventures with her husband Paul, traveling, cooking, reading, learning, snuggling with her cats and looking for ways to make a difference.