Looking for a way to get out and enjoy summer with your friends and family? We have ideas. From eating at a restaurant with a great patio view to enjoying local festivals to exploring the many outdoor attractions around town and more, here's everything you need for a great Milwaukee summer.
Check it out and enjoy your fun-filled summer!
Kayak down the Milwaukee River at night in boats rented from the Milwaukee Kayak Company or Urban Ecology Center: Want to see Downtown at night from a whole different angle? The Urban Ecology Center hosts several paddling programs, including one where you kayak down the Milwaukee River at night. $28 for non-members, while $20 for members. And, if you're Downtown Milwaukee Kayak Company has you covered with daily rentals too!
Hit the NEWaukee Night Market: See impressive works of art from local artists while eating good grub at the NEWaukee Night Market. The market is held four Wednesdays during the summer months and is a must for all of those who want to truly experience Downtown Milwaukee.
Estabrook Park Beer Garden: Enjoy a cold brew, a Bavarian pretzel and a pleasant view at the historic Estabrook Beer Garden. Estabrook was the first beer garden opened post prohibition. Of course, now there are several beer gardens around town, each with something different – and delicious – to offer, so check out a list of all your options here.
Volleyball leagues on the beach: Join a volleyball league today to show off your superior spiking skills while taking in the scenic Lake Michigan. If you can't make it to the beach, there's also a variety of other parks where you can join a league.
Sail at Milwaukee Sailing Center: See Lake Michigan from a whole new perspective when you learn how to sail onto the great lake. The Milwaukee Sailing Center will help you to develop the skill for this fun recreation.

Edelweiss boat cruise: Grab a drink and relax while voyaging down the Lake Michigan shoreline and Milwaukee River.
Drinks along the Riverwalk: Sip a beer, ale or cocktail while making your way down the picturesque Milwaukee Riverwalk. Don't know where to go? Check out our Third Ward bar guide.
Drop by Center Street Daze: This Riverwest fest is perfect for the whole family, featuring events such as car races, car shows, pool, dodgeball, pinball tournaments and all sorts of eclectic fun as you make your way down one of Milwaukee's most diverse main drags.

Moonlight Paddles on the Milwaukee River: Join the Milwaukee Kayak Company on the water at dusk with only the light of the moon to guide your way. This one would be perfect for a date night, or just for you and a friend! Read Molly's take on the experience here.
Patio dining at Twisted Fisherman: There's nothing quite like a dinner on a summer evening in Milwaukee, and the patio at Twisted Fisherman is perfect for just that. If you're not feeling seafood, feel free to check our outdoor dining guide to find your perfect al fresco meal.
Pedal Tavern: Most people would assume that operating machinery and consuming alcohol do not go hand in hand, but that's not the case for the Pedal Tavern. Feel free to bike and drink at your leisure when you're riding with Pedal Tavern.
Jazz in the Park: Who doesn't love live music in a beautiful park on a Thursday night? Throw in a bottle of wine as well, and you've got yourself a lovely evening. Hit up Jazz in the Park every Thursday this summer for some smooth jazz in a beautiful setting.
Music in The Beer Garden: Grab a seat in the new plaza outside Fiserv Forum on Wednesday nights and listen to sweet sounds outside one of Downtown's newest landmarks. The only problem? The Beer Garden should definitely be called "The Deer Garden."
Go see the Musica del Lago series at Colectivo: Try out something new by heading to Colectivo on the lakefront to watch the Musica del Lago series during one of the many shows available this summer. Best of all, it's free! For the lineup of dates and acts set, or for more free summer music series info, check out our guide.
Shop at a farmers market: The summer months are perfect for picking up fresh produce at the farmers market, and Milwaukee has some of the best around. Whether you're looking for ripe tomatoes or handmade soaps, check out this farmers market guide for more information.
Soak in a shower beer: Wisconsin may not be known for heat, but our summers can get beastly. And what more Brew City way to cool off than by knocking back a tasty, frosty beer while soaking in a steamy shower. It's a surprisingly great combination – and one of just many ways Milwaukeeans can beat the heat.
Peruse Milwaukee's many patios: What better way to soak up the summer sun than while also soaking up some tasty drinks? Milwaukee's bar scene has plenty of cool locales that offer delicious beers, cocktails and more – with delicious views of the city or calm oases from all the excitement. To help choose your next outdoor hotspot, here's our outdoor drinking guide!
Go golfing: Hit the links on one of Milwaukee County's many greens, offering fun play for golfers of all experience levels. Fore!
Booze cruise on Milwaukee River with Riverwalk Boat Tours: What's better than beer and boats? Combine the two and take a booze cruise on the Milwaukee river with you and a couple of friends. Make a reservation here.
Snack on a cream puff at State Fair: Cream puffs are as quintessentially Wisconsin as cheese curds, and there's no better place to get them than the State Fair in August. If these fluffy, creamy puffs are a treat you've never experienced, this summer is the time to do it.
Take in the world: There are so many awesome ethnic festivals that take place during the summer months, it would be a shame to miss any of them. From German Fest to Festa Italiana and Mexican Fiesta, there's sure to be an exciting option for everyone. Take a look at our festival guide for the lowdown on all the events.
See a Brewers game: Nothing screams summer more than a hot dog, a cold beer and a Brewers game. Make it a plan to take in a few games with family, friends or just yourself and a bag of peanuts.
Camp at the zoo: Grab the kiddos and your sleeping bags to spend a night with the animals of the Milwaukee County Zoo. Each Snooze at the Zoo night includes a movie, s'mores and kid-friendly fun. Find more information and make a reservation here.
Race around Milwaukee: Challenge your biking skills and sign up for a bike race here in Milwaukee or in a number of locations around Wisconsin. Register online now.
Partake in a little drunk painting: Get those creative juices flowing with a bit of wine and paint your heart out at Splash Studio Painting Bar. All you need is a glass of merlot and a paintbrush. Sign up for a three-hour painting session, or feel free to drop in whenever, have a drink and observe the alcohol-fueled art in action.
Take the Brady Street walking food tour: Milwaukee is chock full of food tours, but a good place to start is the Brady Street walking food tour. Take a stroll down Brady and explore the Italian and Polish fare available in this ethnic enclave. Find out more information here.
Check out a church festival: Take your friends and family out to not only spend some time at the many beautiful churches we have around Milwaukee, but also to enjoy rides, live music and even some snow cones! Check out our list of church festivals here.
Lakefront Brewery tour: Embrace Brew City by getting yourself some cold ones at this brewery tour. During OnMilwaukee's Bar Month, Lakefront Riverwest Stein was voted best local product, so it is certainly a must-try.
Brunch at Blue's Egg (or anywhere): After a long week, there is no better way to start off your weekend than grabbing some pancakes, eggs, mimosas or bacon with your pals. No need to wake up early because brunch hours go past the a.m., so you can still get the much needed rest you deserve. Check out our guide to see where to get the city's best brunches.
Climb the North Point Lighthouse: Explore one of Milwaukee's oldest and greatest treasures! Take a tour and learn the history of this cherished landmark. Check out what OnMilwaukee's Bobby thinks about the lighthouse.
Figure out the password and visit the Safe House: Become a spy and take on a mission at Milwaukee's own Safe House! And even if you think you know all the secrets, the restaurant was revamped in 2016, so there might be new clues for you to discover since your last visit!
Walk or run on one of Wisconsin's beautiful trails: Take a break from the hustle and bustle of the city and see a more natural side of Milwaukee by taking a nice walk on one of our many trails. Here is a list of places you can take a nice stroll, so check it out!
Grab a pizza or see a concert at Anodyne Coffee: Stray away from the typical pizza shops and get some za at Anodyne Coffee, all cooked in a traditional wood-fired oven. Besides eating and drinking, you can also catch some musicians performing live throughout the summer. See the schedule here, and see what our own Lori wrote about Anodyne's pizza.
Get a drink on Old World Third Street: Bars are lined up and down this street, so why not make a stop at one of them and enjoy a cocktail or a beer! Grab some tacos at Cantina, get down on the dance floor at Pub Club or drink a liter of beer at Old German Beer Hall. There are many bars to explore there this summer, so here is a guide to help you get the full scoop on what Old World Third Street has to offer.
MAM After Dark: Spend a night at the museum to enjoy music, beer and wine gardens, a scavenger hunt and more! Check out the full details here.
Try one of State Fair's many new foods: Everybody knows about the classic Cream Puff at State Fair, but that's just scratching the surface of the culinary creations cooking up at this beloved summer tradition. This year's more-than-60 new dishes include deep fried milk and cookies, deep fried booyah, snake soup and, for the most daring of State Fair foodies, the world's hottest jerky-on-a-stick. Here's the whole list of options!
Rent a Bublr Bike and ride around greater Downtown: Bublr Bikes have been growing all over Milwaukee, making it easy for anyone to get one. Find one near you and take a ride!
Check out the new exhibits at Discovery World: Check out the new features at this interactive exhibit! You'll get lost in it – quite literally, since it's all about mazes and other brain games.
Don't forget about Briggs and Al's Run: Support the Children's Hospital of Wisconsin by coming out to this 8K run. Proceeds help raise funds for the hospital, so come out to run or walk in the summer sun this Sept. 14.
Third Ward Art Festival: It may be in August and September, but this art festival is not one to miss. Head out to the Third Ward at the tail end of summer to purchase works from over 140 artists.
Explore your city and go on a geocache adventure: Discover and learn about all of Milwaukee's neighborhoods by testing out your navigation skills during this scavenger hunt adventure. Here is more info on how and where to geocache around the city.
Play in the fountain at Fiserv Forum: Looking for a place to cool off during our hot summer days? Why not venture over to the coolest new part of Downtown Milwaukee, Deer District, and play around in the new fountain installed in the middle of the plaza at Fiserv Forum. It's fun for everyone!
Check out Black Arts Fest MKE: Stop by one of the newest summer festivals in Milwaukee's slate, Black Arts Fest MKE. The Summerfest grounds will come alive with live music, delicious food and a warm sense of community and culture.
Brady Street Festival: In July, Brady Street will be rockin' all day and night for its annual street festival. Local bands will perform at four different stages throughout the street, as well as other vendors and activities. See the full details here.
Stretch out with outdoor yoga classes in the summer sun: Start your morning off with the sunshine on your face and some downward dogs! Check out OnMilwaukee's guide to yoga classes during the summer to start – or end – your days right.
Try to find the Pete's Pop truck and enjoy a popsicle on a hot summer day: Try to spot this traveling food car to enjoy a cold popsicle under the hot summer sun. These popsicles come in tons of unique flavors, from avocado to salted watermelon and banana cream. Pete's is certainly a must-try MKE gem.
Check out SIP & PURR Cafe: Milwaukee's first ever cat cafe can be found on the East Side. The cafe serves coffee, wine and food, but of course the main attraction is the separate cat lounge where customers can pet and adopt fluffy, irresistible cats. Win win!
Have a drink at The Yard at Iron Horse Hotel: The Iron Horse may be one of Milwaukee's most historic hotels, but it's not just for visitors who need a place to stay the night. Get a drink at The Yard, one of Milwaukee's best patios and the perfect location for a few after-work drinks. Check out our outdoor dining guide for more information!
Check out MAM's "Nares: Moves" exhibit: This summer, the Milwaukee Art Museum opened what is, rather astonishingly, the first retrospective show of works by British-born, New York-based artist Jamie Names. Check out almost 150 of the artist's works at the MAM, a piece of art itself.
Drive to Gilles for frozen custard: Kopp's may be the king of frozen custard around here – at least judging by our best of dining poll – but who says you can't go on an adventure to get your custard fix? Take a drive to Gilles to pick up some of the best Wisconsin has to offer in terms of the classic dairy treat. If you have a hankering for every custard offered in Wisconsin, check out our custard guide.
Tre Rivali restaurant: Visit the Kimpton Journeyman Hotel as well as their resident restaurant, Tre Rivali. The Mediterranean restaurant will have a complementary bar program run by San Antonio native Gen Longoria. Definitely don't miss out on the awesome rooftop bar and patio.
Take some cuts in the batting cages at Swing Time in Germantown: Summer is the perfect time to improve your batting skills, and Swing Time in Germantown is here to help you in your pursuit to become the next star Brewers player. With both baseball and softball cages available, Swing Time can help you hone your skills.
Pick your own fruit at Barthel's in Mequon: The quintessential taste of summer is that of a freshly picked strawberry, and at Barthel's, you can pick your own. Head out to Mequon to get your share of this season's crop to bake into a pie, throw on a shortcake or just pop into your mouth.
Camp at Bong Recreation Area: All 4,515 acres of the Richard Bong State Recreation Area await you and your sleeping bag for a day of summer camping fun. Bring your family and friends for a night under the stars in one of Wisconsin's best parks. For more information on Wisconsin State parks, check out our guide.
Try a new cider at Lost Valley Cider Co.: If regular cocktails aren't really your thing, make a date at Milwaukee's first cider-only bar, Lost Valley Cider Co. From "fruit forward" to herb and spiced, they are sure to have a cider that suits your tastes.
Rent a paddle boat at the Veterans Park lagoon: Grab your sweetie and rent a paddle boat for a fun afternoon activity in the Veteran's Park lagoon. Two-to-four people can fit in either a single or double paddle boat, so bring friends if you like.
Miniature golf: Everyone has a childhood memory of playing mini golf with their family, so why not continue that tradition this summer? Check out our miniature golf guide to find the perfect park for you.
Drive-in movie in Jefferson: If you're craving a real drive-in movie experience, take a drive to Jefferson to visit the Keno Drive-in. It's a surefire way to feel like you've been launched straight back into the '50s.
Duckpin bowling at Koz's: If bowling with big pins has gotten a bit boring, try mini-bowling at Koz's! Experience what it is like to bowl with smaller pins, a smaller ball and a smaller alley, but with a jumbo-sized amount of fun – plus the added surprise of having a pinsetter.
Take a brewery tour: Brew City lives up to its nickname with dozens of breweries new and old to explore, learn about and, of course, try their wares. Pick a favorite or a new favorite with the help of OnMilwaukee's brewery tour guide.
Check out a Timber Rattlers or Chinooks game: Have some fun at the ballpark by checking out the local teams. No, not the Brewers: the Wisconsin Timber Rattlers and the Lakeshore Chinooks! Eat some hot dogs, cheer them on and enjoy your time out in the sunshine.
Yacht Rock on a Monday night: The Milwaukee boat line will be rockin' all summer long. Hop aboard and see some of Milwaukee's local musicians while enjoying a few drinks on beautiful Lake Michigan.
Visit AXE MKE Bar: Let out some steam and head to Milwaukee's new ax bar filled with several throwing cages as well as a full bar.
Enjoy the view of the skyline from the patio at Harbor House: Come get OnMilwaukee's choice for best seafood in Milwaukee and enjoy their patio view of the city's skyline.
Download the summer pack of LocaMoji: Add some pizazz to your texts by downloading OnMilwaukee's summer pack of LocaMojis. The pack features some of Milwaukee's favorite landmarks, people and things. Be sure to download it to see for yourself!

Ride a canopied bike for four at the lakefront: Grab the whole gang and pedal your way through the lakefront! Instead of getting an individual bike for everyone, you can all pedal together under one roof. Find out how to rent one here.
Have a cocktail at the Umbrella Bar at The Rock: The Umbrella Bar is the first of its kind in the Midwest, so be sure to stop on by and enjoy beverages as well as some fresh air. There are wonderful patio views that you can enjoy at a night on the town with your friends.
Dinner with a view on the patio at Sail Loft: Eat your share of seafood by coming out for a meal or two at Sail Loft this summer. All their food is all made with local products, and you can enjoy it while taking in their lakeside view.
Attend a bonfire at Lakeshore State Park: Nothing says summer like late-night bonfires with your friends, so why not take a break from the city and head to Lakeshore State Park to enjoy a bonfire. Come out for their free monthly bonfires on the beach to enjoy the company, s'mores and more. Check out their dates here.
Swim at the Hoyt Park Pool and grab a drink at The Landing afterward: Cool off from the summer sun and take a dip at the Hoyt Park pool. Once you enjoy some fun in the water, stop by The Landing's beer garden to enjoy a drink or two (or three, if you're smart).
Bike the Hank Aaron State Trail: Take your bikes out for a spin and enjoy one of the many bike trails Milwaukee has to offer. Take in the nice Milwaukee sights as well as get some exercise. Check out Hank Aaron State Trail and more in our top trails piece here.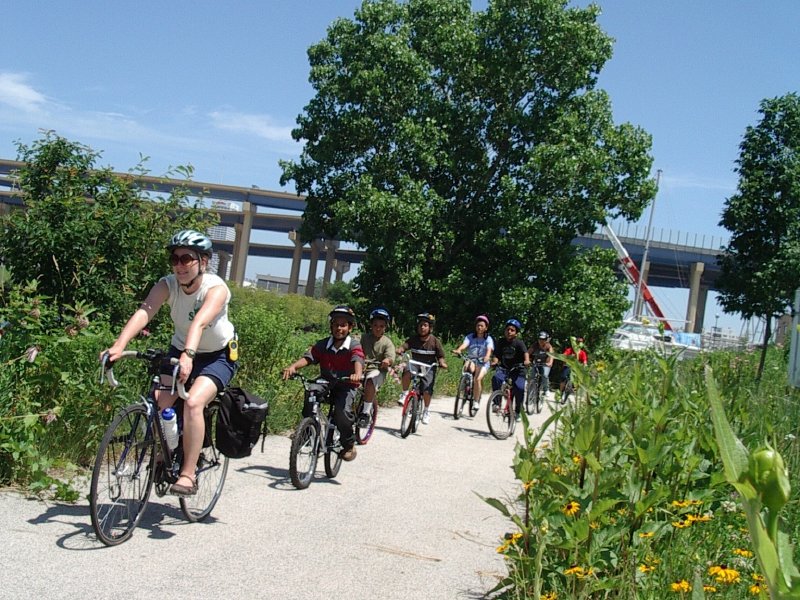 Grab a taste of MooSa's on the lakefront: A new era is underway at the lakefront as Northpoint Custard is now MooSa's, run by the owners of East Side hotspot Casablanca. Check out the new menu – featuring a tasty new burger. But save room for custard!
Enjoy brunch on the patio at Bass Bay Brewhouse: There's nothing like brunch with a side of lake views, and Bass Bay Brewhouse is exactly the place to get just that. Read up on the dining experience here, and then head over there yourself.
Take in a lunchtime concert: Take a break from the office, grab your lunch and drop by the courtyard at 411 East Wisconsin Center on Thursdays for Tunes@Noon, featuring live performances to give you just the energy you need to get your through the rest of the work day.
Hit up Greek Fest for some flaming cheese: Let's face it; the best part of Greek Fest is arguably the food. Offering everything from gyros and and kebabs to Greek sweets loukoumades (deep fried dough balls drizzled in honey), there's sure to be something to please every palate. But don't sleep on the fun carnival rides and cultural shows.
Go rock climbing: Head to Adventure Rock and see if you have what it takes to get to the top. Perfect for a gloomy summer day or even just a day you're feeling adventurous!
Check out the newest baseball team in town, the Milkmen: Playing at the new Routine Field in Franklin, the Milwaukee Milkmen are the city's brand new independent baseball team, providing an "udderly" different sports experience. Check out the team and their shiny new stadium!
Buy a Thirsty Passport or Pub Pass: Want a new way to discover bars throughout Milwaukee? Well, purchase a Pub Pass, visit the 30 bars listed and receive a free beer from each. Last year, OnMilwaukee's Molly completed the pass, so check out her experience here.
Taste the best Milwaukee has to offer: There's sure to be at least a couple appealing items on Lori's list of 100 Milwaukee foods to eat before you die, so take a look and try to consume as many as you can during these summer months.
Rent a lounge at Bradford Beach and get a piña colada: If you've only ever sat on your own dingy beach towel while at Bradford Beach, it's time to step it up. For your next visit, rent a personal lounge and treat yourself to a piña colada.
Eat brunch at Brunch: There's no better place to eat the meal that falls somewhere between breakfast and lunch at an establishment aptly named Brunch.
Belly up to the oyster bar at Barnacle Bud's: Head over to Barnacle Bud's on any Monday this summer for $5 margaritas and a plate of oysters of the perfect way to celebrate the end of your work day. More fun outdoor dining ideas can be found in our guide.
Take a ride on the Lake Express: Need to get to Michigan, but want to avoid the boring freeway? Buy a ticket for the Lake Express, the high speed ferry that connects Milwaukee and Muskegon. Check out Bobby's video blog of his own experience on the ferry to learn more.

Wheel up to the city's first food truck park: Food trucks are no stranger to Milwaukee, but Zocalo Food Park in Walker's Point marks the city's first food truck park, featuring six vendors cooking up a variety of food in a comfortable space with plenty of seating, room for live entertainment and more. It's the next step for the food truck trend!
Join a kickball league: Reminisce about your childhood kickball games by joining a kickball league this summer! Check out the Milwaukee Social Club website for more information.
Take a walk down Wisconsin Avenue for Sculpture MKE: Downtown Milwaukee always looks good – but it looks even better these days with Sculpture Milwaukee, an outdoor sculpture exhibit scattered all along the city's main drag. Take a walk and find something colorful and new – and be sure to have our Sculpture MKE guide so you don't miss any of the artwork!
Spoil your special four-legged friend at PetFest: Celebrate the end of summer with Spot, Simba or Princess Sparklepaws at PetFest down at the Summerfest grounds. Plenty of space for your pet to run around and have a blast – and for you as well!
Tour the Yerkes Observatory in Williams Bay: While heading down to Lake Geneva, you must make a stop at Yerkes Observatory to use their telescopes to check out the summer stars. Read up on the experience here.

Watch a movie in the shadow of Fiserv Forum: Sure, the Bucks may not be playing during the summer, but that doesn't mean Fiserv Forum goes dark. Instead, out in the plaza, they'll play several popular movies – because what better movie theater is there than a gorgeous summer night sky!
Relax at a Wisconsin resort: Take a break from your fast paced Milwaukee life and relax at one of Wisconsin's fine resorts. Read Bobby Tanzilo's article about Elkhart Lake here.
Tee off with foot golf: Change up the typical mini golf experience by playing with your feet! It's like the spawn of soccer and golf – but calling it goccer or solf would've been weird. Check out tee times at Milwaukee County Golf's website!
Drive out and take a hike at Holy Hill: Come out and see one of the most beautiful churches in Wisconsin. The neo-Romanesque architecture is sure to be a treat to take in, not to mention the lush woods surrounding the church and the tower that offers fantastic view.
Visit a Wisconsin cheesemaker and see the magic happen: Are you yearning to know how your favorite cheese is made? Tour a Wisconsin cheesemaker and find out. Places like Milwaukee's own Clock Shadow will be sure to satisfy your curiosities. You'll be sure to have a gouda time.
Climb rocks at Devil's Lake: Devil's Lake might be around a two hour drive but it's worth it when you see the clear tranquil lake. The lake is surrounded by black rocks which gives the body of water its name.

Take a stroll through Black Cat Alley: What was once just an East Side alley is now a unique art gallery, its walls covered with bright, thoughtful and luminous imagery. Take a walk down and see what pieces catch your eye – and maybe you'll find a secret speakeasy while you're down there.


Do the dunes at Whitefish Dunes State Park: There's no doubt that Door County is one most of the attractive places this state has to offer. If you're there, be sure to visit the Dunes for a unique Wisconsin experience.