The Great Milwaukee Summer is HERE! Your guide to what you'll be doing, where you'll be drinking, who you'll be hearing and how you'll be getting a sweet tan this summer is on OnMilwaukee. The Great Milwaukee Summer guide is brought to you by Educators Credit Union and Harley-Davidson Museum.
Looking for a way to get out and enjoy summer with your friends and family? We have ideas. From eating at a restaurant with a great patio view to enjoying local festivals to exploring the many outdoor attractions around town and more, here's everything you need for a great Milwaukee summer.
Check it out and enjoy your fun-filled summer!
Kayak down the Milwaukee River at night in boats rented from the Milwaukee Kayak Company or Urban Ecology Center: Want to see Downtown at night from a whole different angle? The Urban Ecology Center hosts several paddling programs, including one where you kayak down the Milwaukee River at night. And, if you're Downtown Milwaukee Kayak Company has you covered with daily rentals too!
Hit the NEWaukee Night Market: See impressive works of art from local artists while eating good grub at the NEWaukee Night Market. The market is held across several Wednesdays during the summer months and is a must for all of those who want to truly experience Downtown Milwaukee.
Estabrook Park Beer Garden: Enjoy a cold brew, a Bavarian pretzel and a pleasant view at the historic Estabrook Beer Garden. Estabrook was the first beer garden opened post prohibition. Of course, now there are several beer gardens around town, each with something different – and delicious – to offer, so check out a list of all your options here.
Volleyball leagues on the beach: Join a volleyball league today to show off your superior spiking skills while taking in the scenic Lake Michigan. If you can't make it to the beach, there's also a variety of other parks where you can join a league.
Sail at Milwaukee Sailing Center: See Lake Michigan from a whole new perspective when you learn how to sail onto the great lake. The Milwaukee Sailing Center will help you to develop the skill for this fun recreation.
Edelweiss boat cruise: Grab a drink and relax while voyaging down the Lake Michigan shoreline and Milwaukee River.
Drinks along the Riverwalk: Sip a beer, ale or cocktail while making your way down the picturesque Milwaukee Riverwalk. Don't know where to go? Check out our Third Ward bar guide.
Soak in a shower beer: Wisconsin may not be known for heat, but our summers can get beastly. And what more Brew City way to cool off than by knocking back a tasty, frosty beer while soaking in a steamy shower. It's a surprisingly great combination – and one of just many ways Milwaukeeans can beat the heat.
Peruse Milwaukee's many patios: What better way to soak up the summer sun than while also soaking up some tasty drinks? Milwaukee's bar scene has plenty of cool locales that offer delicious beers, cocktails and more – with delicious views of the city or calm oases from all the excitement. To help choose your next outdoor hotspot, here's our outdoor drinking guide!
Go golfing: Hit the links on one of Milwaukee County's many greens, offering fun play for golfers of all experience levels. Fore!
Booze cruise on Milwaukee River with Riverwalk Boat Tours: What's better than beer and boats? Combine the two and take a booze cruise on the Milwaukee river with you and a couple of friends. Make a reservation here.
Snack on a cream puff at State Fair: Cream puffs are as quintessentially Wisconsin as cheese curds, and there's no better place to get them than the State Fair in August. If these fluffy, creamy puffs are a treat you've never experienced, this summer is the time to do it.
Take in the world: There are so many awesome ethnic festivals that take place during the summer months, it would be a shame to miss any of them. From German Fest to Mexican Fiesta and more, there's sure to be an exciting option for everyone. Take a look at our festival guide for the lowdown on all the events.
Lakefront Brewery tour: Embrace Brew City by getting yourself some cold ones at this brewery tour. During OnMilwaukee's Bar Month, Lakefront Riverwest Stein was regularly voted best local product, so it is certainly a must-try.
Brunch at Blue's Egg (or anywhere): After a long week, there is no better way to start off your weekend than grabbing some pancakes, eggs, mimosas or bacon with your pals. No need to wake up early because brunch hours go past the a.m., so you can still get the much needed rest you deserve. Check out our guide to see where to get the city's best brunches.
Climb the North Point Lighthouse: Explore one of Milwaukee's oldest and greatest treasures! Take a tour and learn the history of this cherished landmark. Check out what OnMilwaukee's Bobby thinks about the lighthouse.
Figure out the password and visit the Safe House: Become a spy and take on a mission at Milwaukee's own Safe House! And even if you think you know all the secrets, the restaurant was revamped in 2016, so there might be new clues for you to discover since your last visit!
Walk or run on one of Wisconsin's beautiful trails: Take a break from the hustle and bustle of the city and see a more natural side of Milwaukee by taking a nice walk on one of our many trails. Here is a list of places you can take a nice stroll, so check it out!
Grab a pizza or see a concert at Anodyne Coffee: Stray away from the typical pizza shops and get some za at Anodyne Coffee, all cooked in a traditional wood-fired oven. Besides eating and drinking, you can also catch some musicians performing live throughout the summer. See the schedule here, and see what our own Lori wrote about Anodyne's pizza.

MKE Food Truck Fest: Wheel on over to the Summerfest grounds on July 22 for MKE Food Truck Fest, featuring dozens of vendors slinging their delicious work – from barbecue to tacos to desserts and much more – from their tricked-out trucks.

Sign up with the OnMilwaukee Squad: Want even more of the OnMilwaukee you love? Want exclusive access to sweet summer events and special premier occasions? Then sign up to become a member of the OnMilwaukee Squad – a great way to get the most out of OnMilwaukee and the most of your MKE summer.

Try one of State Fair's many new foods: Everybody knows about the classic Cream Puff at State Fair, but that's just scratching the surface of the culinary creations cooking up at this beloved summer tradition. Stay tuned for the full list of fantastic foodie inventions coming to the late-summer spectacular.
Rent a Bublr Bike and ride around greater Downtown: Bublr Bikes have been growing all over Milwaukee, making it easy for anyone to get one. Find one near you and take a ride!
Discovery World: Whether you're young or old, discover something new at Discovery World, Milwaukee's lakefront science and technology museum that always filled with new exhibits and events to park creativity.

Sculpture Milwaukee: Milwaukee in the summertime is a work of art in its own right – but then Downtown Milwaukee scatters a variety of beautiful and thoughtful works around the area to discover and delight. Check out this year's edition starting June 30!

Bayshore's Sounds of Summer: Jam out to the Sounds of Summer at Bayshore, featuring live local acts every Friday night in their serene green space called The Yard. Complete with food trucks and the new Sprecher Taproom, Bayshore's Sounds of Summer is a great way to beat the heat.

Hidden gems: Take a swig of Milwaukee culture by exploring all of the city's wonderful hidden gem bars. Each with their own incredible story and experience inside, these establishments are part of what makes Milwaukee great – so say a cheers to them by cheers-ing a beer at one soon!

Shuffleboard: Shuffle your way over to NorthSouth Club for the bar's popular shuffleboard leagues. Whether you're an expert shuffleboarder or you wouldn't know a biscuit from a tang, there's lots of fun to be had with this sunny summer-approved sport – plus there's drinks too! For more information, click here.

Check out Black Arts Fest MKE: Stop by one of the newest summer festivals in Milwaukee's slate: Black Arts Fest MKE, back in action on Aug. 5. The Summerfest grounds will come alive with live music, delicious food and a warm sense of community and culture.

Brady Street Festival: On July 29, Brady Street will be rockin' all day and night for the return of its annual street festival. Local bands will perform at four different stages throughout the street, as well as other vendors and activities. See the full details here.
Stretch out with outdoor yoga classes in the summer sun: Start your morning off with the sunshine on your face and some downward dogs! Check out OnMilwaukee's guide to yoga classes during the summer to start – or end – your days right.
Enjoy a Pete's Pops popsicle on a hot summer day: Try to spot this traveling food car to enjoy a cold popsicle under the hot summer sun. These popsicles come in tons of unique flavors, from avocado to salted watermelon and banana cream. Pete's is certainly a must-try MKE gem.
Check out SIP & PURR Cafe: Milwaukee's first ever cat cafe can be found on the East Side. The cafe serves coffee, wine and food, but of course the main attraction is the separate cat lounge where customers can pet and adopt fluffy, irresistible cats. Win win!
Kick it at a local soccer bar: Whether watching an international league scrape or the Women's World Cup beginning in July, fans of all teams and nations are invited to unite at Milwaukee's local soccer bars. Whether a seasoned vet or footie newbie, a match in these pubs will get you cheering.
Milwaukee Art Museum: The Milwaukee Art Museum isn't just beautiful from the outside. The actual exhibits inside are even more mesmerizing and thought-provoking, offering something for everyone – including those looking for a perfect look at the lake.
Head to Gilles for frozen custard: Kopp's may be the king of frozen custard around here – but who says you can't go on an adventure to get your custard fix? Take a quick drive to Gilles to pick up some of the best Wisconsin has to offer in terms of the classic dairy treat. If you have a hankering for every custard offered in Wisconsin, check out our custard guide.
Tre Rivali restaurant: Visit the Kimpton Journeyman Hotel as well as their resident restaurant, Tre Rivali and The Outsider, their rooftop bar and patio.
Take some cuts in the batting cages at Swing Time in Germantown: Summer is the perfect time to improve your batting skills, and Swing Time in Germantown is here to help you in your pursuit to become the next star Brewers player. With both baseball and softball cages available, Swing Time can help you hone your skills.
Pick your own fruit at Barthel's in Mequon: The quintessential taste of (late) summer is that of a freshly picked apple, and at Barthel's you can pick your own. Head out to Mequon to get your share of this season's crop to bake into a pie, enjoy as a crisp or just pop into your mouth.
Camp at Bong Recreation Area: All 4,515 acres of the Richard Bong State Recreation Area await you and your sleeping bag for a day of summer camping fun. Bring your family and friends for a night under the stars in one of Wisconsin's best parks. For more information on Wisconsin State parks, check out our guide.
Try a new cider at Lost Valley Cider Co.: If regular cocktails aren't really your thing, make a date at Milwaukee's first cider-only bar, Lost Valley Cider Co. From "fruit forward" to herb and spiced, they are sure to have a cider that suits your tastes.
Rent a paddle boat at the Veterans Park lagoon: Grab your sweetie and rent a paddle boat for a fun afternoon activity in the Veteran's Park lagoon. Two-to-four people can fit in either a single or double paddle boat, so bring friends if you like.
Check out a Timber Rattlers or Chinooks game: Have some fun at the ballpark by checking out the local teams. No, not the Brewers: the Wisconsin Timber Rattlers and the Lakeshore Chinooks! Eat some hot dogs, cheer them on and enjoy your time out in the sunshine.

MKE River Round Up: Make a splash with this very special summer music series, featuring live music performing on a boat floating down the Milwaukee River. Listen to the tunes from the shore if you must – but the best seats are on the water, grabbing by renting a kayak or boat. For more information, click here.

Visit AXE MKE Bar: Let out some steam and head to Milwaukee's axe bar filled, with several throwing cages as well as a full bar.

The view at Harbor House: Savor a delicious meal, plus an even more scrumptuous view of the city skyline, with the iconic Harbor House.
Download the summer pack of LocaMoji: Add some pizazz to your texts by downloading OnMilwaukee's summer pack of LocaMojis. The pack features some of Milwaukee's favorite landmarks, people and things. Be sure to download it to see for yourself!

Ride a canopied bike for four at the lakefront: Grab the whole gang and pedal your way through the lakefront! Instead of getting an individual bike for everyone, you can all pedal together under one roof. Find out how to rent one here.
Have a cocktail at the Umbrella Bar at The Rock: The Umbrella Bar is the first of its kind in the Midwest, so be sure to stop on by and enjoy beverages as well as some fresh air. There are wonderful patio views that you can enjoy at a night on the town with your friends.
Dinner with a view on the patio at Sail Loft: Eat your share of seafood by coming out for a meal or two at Sail Loft this summer. All their food is all made with local products, and you can enjoy it while taking in their lakeside view.
Attend a bonfire at Lakeshore State Park: Nothing says summer like late-night bonfires with your friends, so why not take a break from the city and head to Lakeshore State Park to enjoy a bonfire. Come out for their free monthly bonfires on the beach to enjoy the company, s'mores and more. Check out their dates here.
Swim at the Hoyt Park Pool and grab a drink at The Landing afterward: Cool off from the summer sun and take a dip at the Hoyt Park pool. Once you enjoy some fun in the water, stop by The Landing's beer garden to enjoy a drink or two (or three, if you're smart).
Bike the Hank Aaron State Trail: Take your bikes out for a spin and enjoy one of the many bike trails Milwaukee has to offer. Take in the nice Milwaukee sights as well as get some exercise. Check out Hank Aaron State Trail and more in our top trails piece here.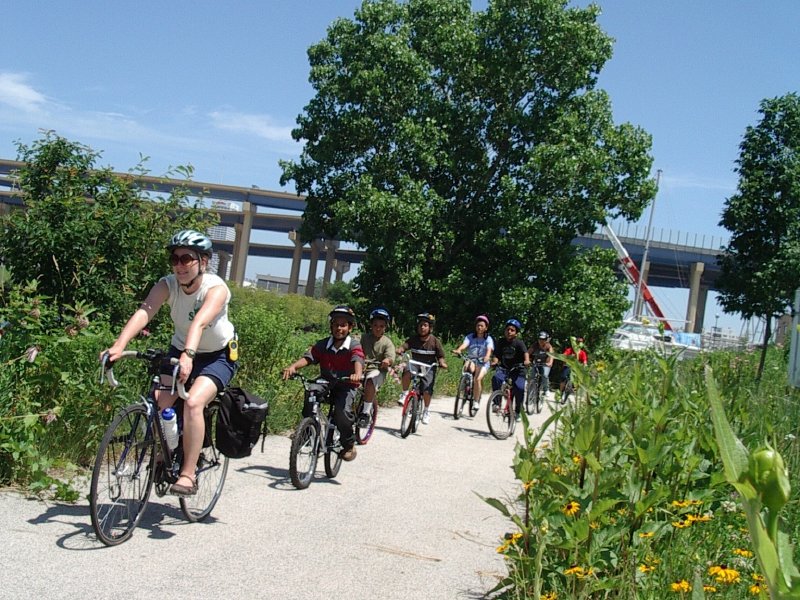 Summer movie season: Sure, you want to savor as much of the sun as possible before hibernation begins once again – but whether it's a rainy day or you just want to get out of the heat, you should find time to roll film at one of Milwaukee's local independent theaters, such as the Oriental Theatre, Downer Theatre, Avalon or Times.
Enjoy brunch on the patio at Bass Bay Brewhouse: There's nothing like brunch with a side of lake views, and Bass Bay Brewhouse is exactly the place to get just that. Read up on the dining experience here, and then head over there yourself.
Heart(beats) of the City: Make the most of your Downtown lunch by heading over to Red Arrow Park at noon on Wednesdays throughout June and July for this free live music series, with acts like The Rumskis, Extra Crispy Brass Band and more bringing the beat to the heart of Millwaukee. For this and other free live music series, click here.
Grab a pint in a peanut-mobile: Get ready for the most nuts dive bar idea ever – literally! Miller has teamed up with Planters to create a rolling dive bar pop-up in a peanutmobile. Make your reservations now for a drink at a one-of-a-kind dive bar.
Go rock climbing: Head to Adventure Rock and see if you have what it takes to get to the top. Perfect for a gloomy summer day or even just a day you're feeling adventurous!
Wheel up to the city's first food truck park: Food trucks are no stranger to Milwaukee, but Zocalo Food Park in Walker's Point marked the city's first food truck park, featuring six vendors cooking up a variety of food in a comfortable space with plenty of seating, room for live entertainment and more. It's the next step for the food truck trend!
Become a grill god: Summertime is grilling season, and whether it's a backyard hangout or an iconic AmFam Field tailgate, Milwaukee loves an excuse to man the grill. To become a true king or queen of the coals, take some tips from Usinger's president himself – and then flame on, grillmasters!
Harley Homecoming: Rev up your engines for this special Harley celebration, ringing in 120 years of the iconic brand with special events – highlighted by a multi-day music festival featuring Foo Fighters and Green Day at Veterans Park. For more info, click here.
Spoil your special four-legged friend at PetFest: Celebrate the end of summer with Spot, Simba or Princess Sparklepaws at PetFest down at the Summerfest grounds. Plenty of space for your pet to run around and have a blast – and for you as well!
Tour the Yerkes Observatory in Williams Bay: While heading down to Lake Geneva, you must make a stop at Yerkes Observatory to use their telescopes to check out the summer stars. Read up on the experience here.

Bastille Days: Milwaukee is approximately 4,000-some miles away from France – a hefty hike, to say the least. But for one weekend in July, you can travel to Paris in a few minutes thanks to Bastille Days. Hosted in Cathedral Square Park on July 13-16, the French fest features delicious food, lively live music, tasty beverages, outstanding art, vivacious vendors and even a mini-Eiffel Tower!
Relax at a Wisconsin resort: Take a break from your fast paced Milwaukee life and relax at one of Wisconsin's fine resorts. Read Bobby Tanzilo's article about Elkhart Lake here.
Music at the State Fair Main Stage: The deep-fried deliciousness at the State Fair typically steals the spotlight – but don't forget to treat your other senses as well by hitting up the Main Stage, this year featuring big-name acts like Ludacris, Shaggy and Salt-n-Pepa, For King And Country, Halestorm, Alabama, Trace Adkins and more.
Drive out and take a hike at Holy Hill: Come out and see one of the most beautiful churches in Wisconsin. The neo-Romanesque architecture is sure to be a treat to take in, not to mention the lush woods surrounding the church and the tower that offers fantastic view.
Visit a Wisconsin cheesemaker and see the magic happen: Are you yearning to know how your favorite cheese is made? Tour a Wisconsin cheesemaker and find out. Places like Milwaukee's own Clock Shadow will be sure to satisfy your curiosities. You'll be sure to have a gouda time.