'Tis Dining Month, the tastiest time of year! This means we're dishing up fun and fascinating food content throughout October. Dig in, Milwaukee!
If you're in Downtown Milwaukee for a Bucks game, a day of work, a night out with friends, or because you live there, you can find almost anything and everything to eat.
Here's a list of places to check out for a meal on the town.
600 EAST Café
600 E. Wisconsin Ave., (414) 224-6594
600eastcafe.com
[Read more]
The cafe serves breakfast, build-your-own sandwiches, wraps, coffee and other drinks. It also has a walk-up window at North Jackson Street and East Wisconsin Avenue.
AJ Bombers
1247 N. Water St., (414) 221-9999
ajbombers.com
[Read more]
Come here to enjoy some of the most beloved burgers in the city – including one featured on an episode of Travel Channel's "Food Wars" – along with some shelled peanuts and beer. You can even write your name on the wall to leave your mark.
Alem Ethiopian Village
307 E. Wisconsin Ave., (414) 224-5324
alem-ethiopianvillage.com
Delicious Ethiopian fare in the heart of East Town.
Amilinda
315 E. Wisconsin Ave., (414) 369-3683
Amilinda.com
[Read more]
Amilinda's Chef Gregory León creates cuisine with influences from Spain and Portugal, using seasonal ingredients.
Artisan Ramen
530 E. Mason St., (414) 888-8800
artisan-ramen.com
[Read more]
Milwaukee's first Downtown ramen shop sets itself apart with fresh, housemade noodles, scratch-made dumplings and a craft-your-own ramen bowl.
Avenue Bar and Grill
611 W. Wisconsin Ave., (414) 271-7327
avenuemilwaukee.com
Located in the Hilton Double Tree, Avenue Bar and Grill offers some American eats along with several TVs for some mealtime entertainment.
Bacchus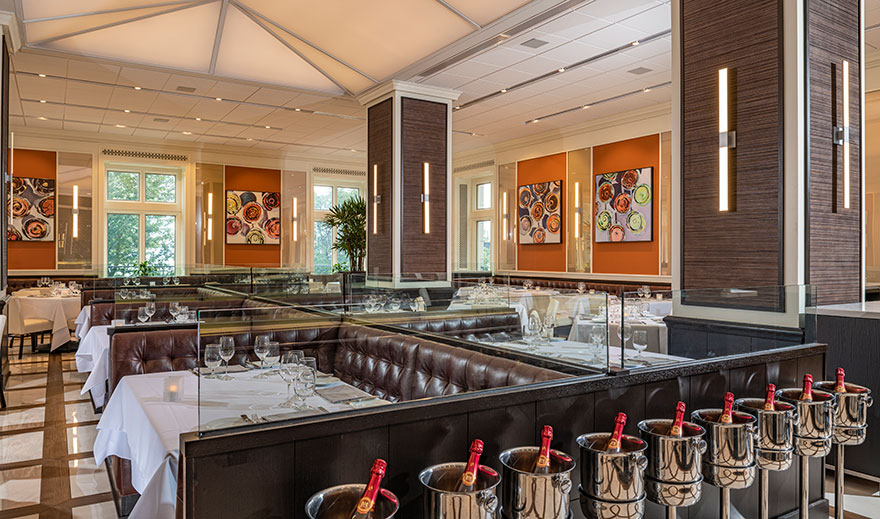 925 E. Wells St., (414) 765-1166
bacchusmke.com
[Read more]
Bacchus delivers an upscale restaurant experience, complete with an amazing view of Lake Michigan and an impressively long wine list.
BB's (Build-a-Breakfast and Build-a-Burger)
633 W. Wisconsin Ave., (414) 270-1070
bbmilwaukee.com
For those picky eaters out there, BB's might be your best option. After all, the dishes at BB's are all of your making, as you get to create your own breakfast plates or build your own delicious, juicy burgers – so really, the menu is up to you!
Benihana
850 N. Plankinton Ave., (414) 270-0890
benihana.com
Enjoy some entertainment with your entrees at Benihana, as your talented chefs cook your Japanese food on a grill right in front of you, teppanyaki-style.
Birch
459 E. Pleasant St., (414) 323-7372
birchonpleasant.com
[Read more]
Local ingredients are prepared in a wood-fired hearth in this restaurant that used to be Birch + Butcher.
Bistro 333
333 W. Kilbourn Ave., (414) 270-6130
milwaukee.regency.hyatt.com/en/hotel/dining/Bistro333.html
Enjoy some Midwestern cuisine and cocktails in this restaurant in the soaring Hyatt Regency Hotel lobby.
Bollywood Grill
1038 N. Jackson St., (414) 271-8200
bollywoodgrill.us
[Read more]
The Jackson Street Indian restaurant serves an extensive menu of Halal, curries, Tarkarian and more.
Bottlehouse 42
1130 N. 9th St. (414) 988-1550
bottlehouse42.com
[Read more]
The former Glass + Griddle, located adjacent to Milwaukee Brewing Company's taproom serves "upscale brewhouse favorites," along with craft beer and cocktails in a really beautiful space.
Brick 3 Pizza
1107 N. Old World 3rd St., (414) 224-6040
brick3pizza.com
[Read more]
Serving New York-style pizza, Brick 3 has slices upon slices for Milwaukeeans to enjoy. You can get a classic pepperoni, cheese or one of the speciality slices.
Brunch
714 N. Milwaukee St., (414) 210-5381
brunchitup.com
Brunch is ... well, all about brunch, with staples like pancakes, breakfast sandwiches, a mac and cheese omelette, Valentine coffees and more, in a bright, cheery space.
Buck Bradley's
1019 N. Old World 3rd St., (414) 224-8500
buckbradleys.com
This saloon – just a couple hundred feet from Fiserv Forum for those heading to a game or concert – features classic American food, draft beers and cocktails, so stop in and enjoy.
Buckley's
801 N. Cass St., (414) 277-1111
buckleysmilwaukee.com
[Read more]
Family owned and operated, Buckley's serves breakfast, lunch and dinner. No matter what time of day it is, you can expect to get some refined comfort food.
Cafe at the Plaza
1007 N. Cass St., (414) 276-2101
plazahotelmilwaukee.com/eat
[Read more]
Cozy diners don't get much classier than Cafe at the Plaza, a vintage 1920s cafe – complete with a lovely outdoors courtyard space – serving breakfast and lunch from 7 a.m. until 2 p.m.
Calderone Club
842 N. Old World 3rd St., (414) 273-3236
calderoneclub.net
[Read more]
Serving Italian cuisine, including made-from-scratch pasta and award-winning Neapolitan thin-crust pizza, Downtown since 1983.
The Capital Grille
310 W. Wisconsin Ave., (414) 223-0600
thecapitalgrille.com/home
This upscale Downtown restaurant, serving expertly cooked steak and seafood, with a huge wine list.
Carnevor
718 N. Milwaukee St., (414) 223-2200
carnevor.com
Grilled steaks, great wine selection and more. And who knows; maybe you'll even see a Packers player.
Carson's Milwaukee
301 W. Juneau Ave., (414) 223-3311
ribs.com
This Milwaukee outpost of a Chicago restaurant serves baby back ribs, prime rib, steaks and more on the edge of the Deer District.
Central Standard Crafthouse and Kitchen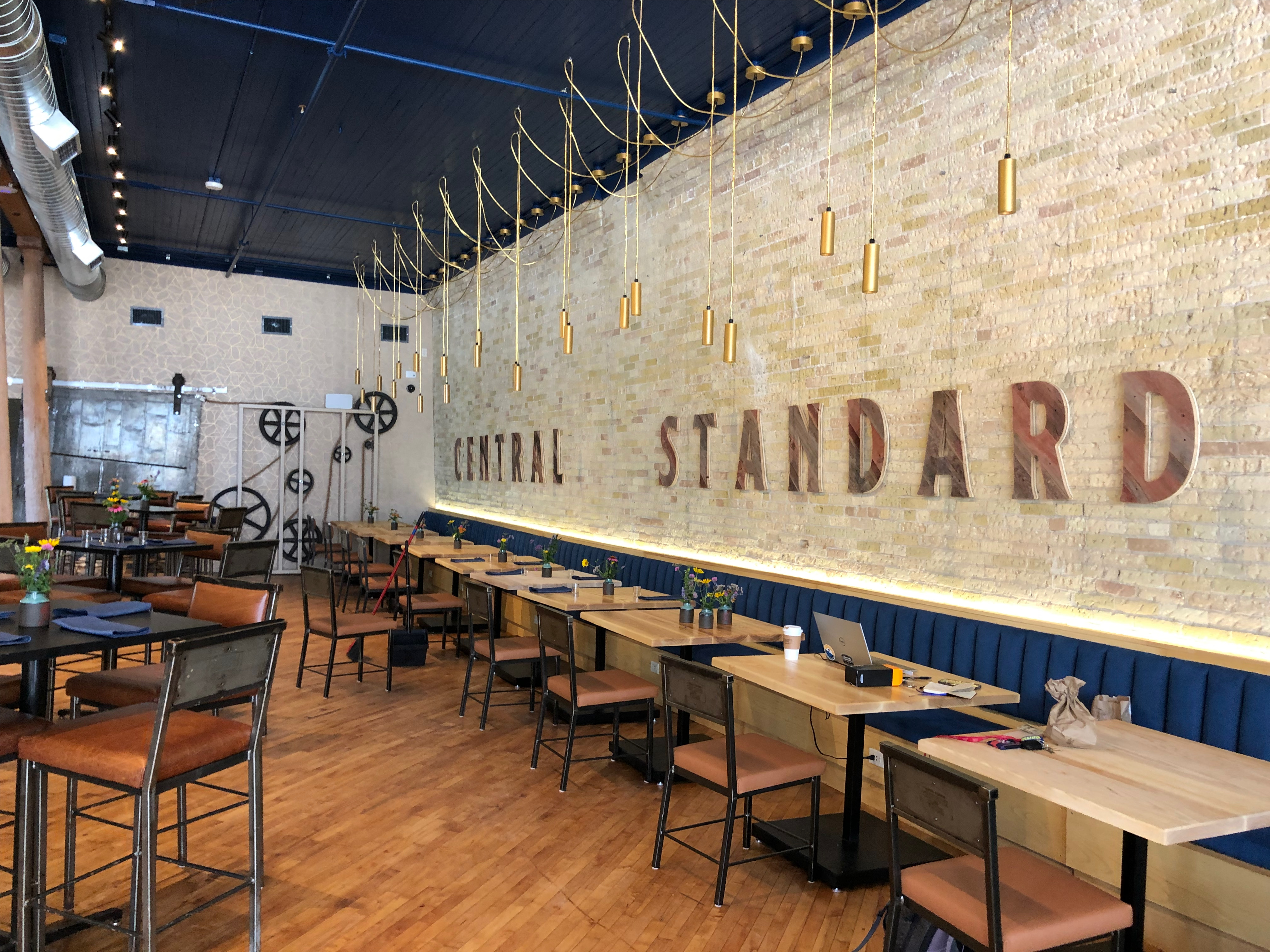 320 E. Clybourn Ave.
thecentralstandard.com/crafthouse-kitchen
[Read more]
One of Milwaukee's craft distillers has opened a small distillery, tasting room, retail store, event space and restaurant in a gorgeous 19th century cream city brick building. Pastas, steaks, burgers, salads, soup and more. Don't miss the rooftop patio.
China Gourmet
117 E. Wells St., (414) 272-1688
china-gourmet.com
China Gourmet is a low-key spot with the opposite of a low-key menu, serving more than 100 authentic traditional Chinese dishes and buffet meals. China Gourmet delivers, too.
County Clare Irish Inn & Pub
1234 N. Astor St., (414) 272-5273
countyclare-inn.com
[Read more]
From the food to the atmosphere and the music, County Clare Irish Inn & Pub aims to recreate a pub on the Auld Sod. The defending best Irish pub in the city combines cozy ambience with a menu of Irish classics, including Irish root soup, shepherd's pie, and corned beef and cabbage. The perfect place to cozy up in the Snug with a Guinness on a cold winter's night.
Cream City Cluckery
400 W. Highland Ave., (414) 422-6992
creamcitycluckery.com/menu
The new eatery's menu features chicken tenders and house-made dipping sauces alongside a small collection of classic comfort food sides such as mac and cheese, honey butter biscuits, tater tots and, for dessert, an "ooey gooey butter cake" which, for an extra bit of sweetness, will donate part of its proceeds to the Milwaukee Bucks Foundation.
Cubanitas
728 N. Milwaukee St., (414) 225-1760
getbianchini.com/new-page
[Read more]
For a taste of Cuba, look no further than Cubanitas, serving Cuban sandwiches and dishes, as well as mojitos and other mixed drinks.
Cuisine
1015 N. 6th St., (414) 297-6697
matc.edu/cuisine
To try a taste of the future, check out Cuisine, where student chefs from MATC come to serve what they've learned for your enjoyment. Its hours are limited, however; Cuisine only cooks lunch service Tuesdays through Thursdays during the semester.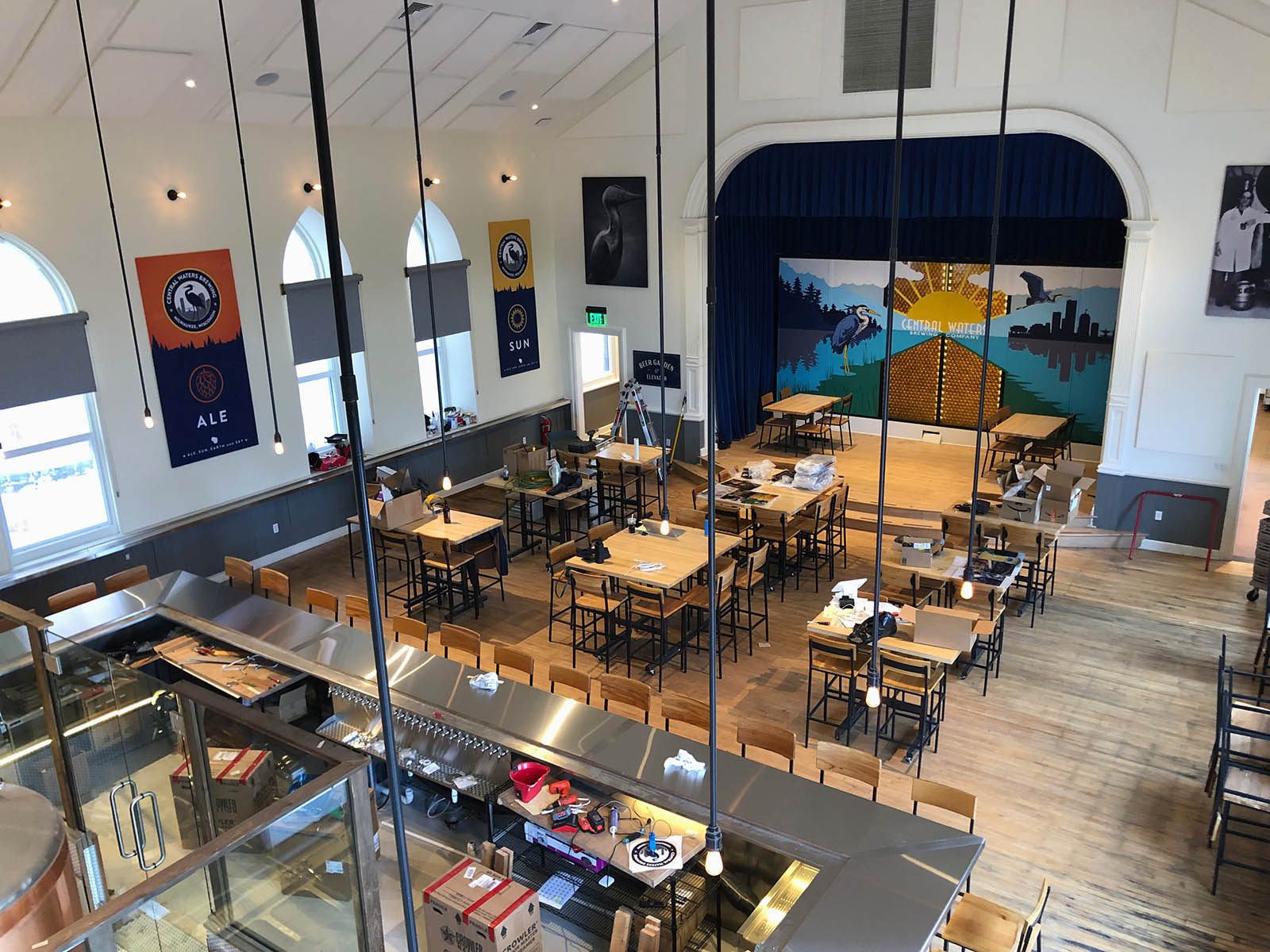 Central Waters Brewery & Taproom
1037 W. Juneau Ave.
ilovedairyland.com
[Read more]
Delicious burgers, fried chicken sandwiches and more, served in the new Central Waters Brewery and Taproom in the Brewery District at the old Pabst Brewery.
Doc's Commerce Smokehouse
754 N. Vel R. Phillips Ave., (414) 935-2029
docsbbq.net
[Read more]
Doc's, which specializes in Southern-style barbecue, is focused on hickory-smoked meats, including brisket, chicken, sausage, ribs and turkey. There's also a solid beer selection and a great range of bourbons and other whiskies.
Downtown Kitchen
777 E. Wisconsin Ave., (414) 287-0303
downtownkitchenmke.com
Located in the U.S. Bank Center, Downtown Kitchen makes for a nice lunchtime oasis in the middle of the hustle and bustle of a Downtown work day. The Bartolotta-operated restaurant serves a little of everything: soups and sandwiches, burgers from Northpoint Custard, pizza from Pizzeria Piccola, sushi and much more.
Electric Lime Taqueria
730 N. Milwaukee St.
facebook.com/electriclimetaqueria
[Read more]
Mexican fare in the heart of the Milwaukee Street dining district Downtown.
Eleven25 at the Pabst
1125 N. 9th St., (414) 935-2823
live-eleven25.com
[Read more]
This residential building's food court – open to the public – features five restaurants, including Bento Xpert, Coaches, Hidden Kitchen, Marco Pollo and Meat on the Street.
Elsa's on the Park
833 N. Jefferson St., (414) 765-0615
elsas.com/Home.html
[Read more]
Nosh on one of the best burgers in the city and delicious wings and swig a martini or two at Elsa's on the Park.
Fire on Water
518 N. Water St.
fireonwaterstreet.com
As both a bar and a music venue, Fire on Water is what the kids nowadays would call lit. The dual-level lounge features over 50 beers, HD televisions, free pool and live music every weekend, plus a menu of tasty flatbread pizzas and other bar fare.
George Webb
812 N. Old World 3rd St., (414) 278-0225
georgewebb.com
[Read more]
A Milwaukee staple, George Webb may never win any culinary awards, but its 24/7 hours and wide menu of fast, cheap and satisfying diner eats will probably win over your heart – especially late at night when your stomach's rumbling and your wallet's light.
Good City Brewing
333 W. Juneau Ave., (414) 539-4343
goodcitybrewing.com/locations/downtown
[Read more]
Located next to the Fiserv Forum, this huge modern bar with fresh local brews and classic bar menu is the perfect spot to grab some drinks and dinner before a Bucks game or before a night on the town.
Grassroots Salad Co.
607 N. Water St., (414) 249-4464
ieatgrassroots.com
Healthy, fresh made-to-order fare, including salads, wraps, juices and smoothies, as well as some breakfast items.
Gyro MKE
700 W. Wisconsin Ave., (414) 273-4976
gyro-mke.business.site
Fast-casual Mediterranean and Middle Eastern fare, including gyros, shawarma, falafel, kebabs and beef, and a variety of Mediterranean salads, as well as a build-your-own options allowing guests to choose a base of pita, rice or salad, and then add customized proteins and toppings.
Harbor House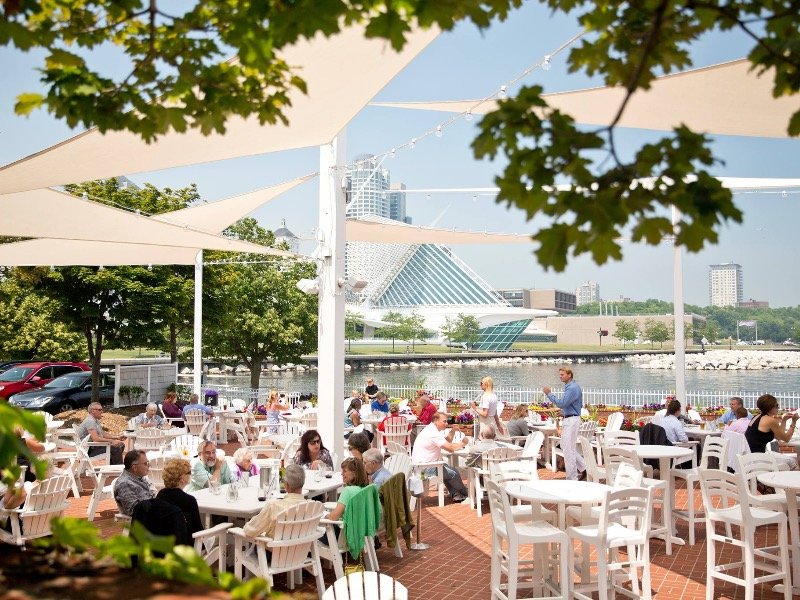 550 N. Harbor Dr., (414) 395-4900
harborhousemke.com
[Read more]
Bartolotta's Harbor House brings a diverse selection of seafood fare to Milwaukee's lakefront. The menu features an array of soups, sandwiches, fish dinners and surf and turf, as well as a raw bar and "non-swimmer" entrees, that have combined to make Harbor House regularly voted as one of the best seafood spots in the city.
The Harp
113 E. Juneau Ave., (414) 289-0700
theharpirishpub.com
[Read more]
Located on the Milwaukee River, The Harp's burgers, beer and benches make it the perfect after work location or Friday afternoon hideaway in the summer.
Ian's Pizza-Cream City
146 E. Juneau Ave., (414) 727-9200 Ext. 2
ianspizza.com
You could grab a classic, traditional slice of pizza at Ian's – maybe a pepperoni or sausage to wrap up a night on Water Street. But some might rather try one of Ian's signature oddball slices, including its fan favorite mac 'n' cheese pizza.
Interval
1600 N. Jackson St.
Intervalmke.com
[Read more]
This homey, yet elegant restaurant takes pride in its locally sourced food and creates a space for cozy conversations over fresh locally roasted coffee.
The King and I
830 N. Old World 3rd St., (414) 276-4181
kingandirestaurant.com
[Read more]
Whether dining in or staying home, the Thai noodle dishes and vibrantly flavored entrees provide a culinary trip for the taste buds.
The Knick
1030 E. Juneau Ave., (414) 272-0011
theknickrestaurant.com
[Read more]
Located inside the Knickerbocker on the Lake Hotel, The Knick serves fresh fish, pastas and salads, and many other entrees. Bonus tip: Make sure to try the Stein-style wings!
Lazo's Taco Shack
641 N. James Lovell St., (414) 988-6567
facebook.com/Lazos-Taco-Shack
[Read more]
A full menu of Mexican dishes, including breakfast, lunch and dinner, in Westown.
The Loaded Slate
1137 N. Old World 3rd St., (414) 273-5700
theloadedslate.com
[Read more]
The perfect place to catch a Bucks, Badgers, Golden Eagles, Brewers or Packers game with its lineup of taps, domestics and imports, as well as its sandwiches and burgers.
Lowcountry Seafood
1114 N. Water St., (414) 252-0015
lowcountrychicago.com/milwaukee-wi
[Read more]
The Milwaukee-area outpost of this Chicago seafood boil eatery has transformed the former Bar Louie space. Also has a large, enclosed outdoor patio.
Mader's
1041 N. Old World 3rd St., (414) 271-3377
madersrestaurant.com
[Read more]
For those wanting a taste of Milwaukee's German heritage, Mader's is a classic choice, serving classic German food since 1902. The menu has shifted to offer a few lighter items, but filling favorites like the German Sampler – featuring Wiener schnitzel, kasseler rippchen and Rheinischer sauerbraten along with potato dumplings, sauerkraut and red cabbage – are still a hit.
Major Goolsby's
340 W. Kilbourn Ave., (414) 271-3414
majorgoolsbys.com
[Read more]
A popular longtime Downtown sports bar that serves lunch and dinner, as well as specials during Bucks games and lunch specials on Tuesdays and Thursdays (includes soda, fries and choice of hamburger, cheeseburger, chicken sandwich or pulled pork sandwich). Open and screening Brewers games, college and NFL football, golf and and more on myriad HD TVs and video walls.
Mason Street Grill
425 E. Mason St., (414) 298-3131
masonstreetgrill.com
[Read more]
With half-off seconds during its Friday fish fry, Mason Street Grill might just be your new favorite spot for that weekly Wisconsin tradition. Then again, the lounge makes for good eats the other six days of the week, too, offering satisfying steakhouse dishes – often accompanied by some live jazz music. Pro tip: get the fried clam strips.
McGillycuddy's
1135 N. Water St., (414) 278-8888
mcgillycuddysmilwaukee.com
A great place to get your whiskey fix, McGillycuddy's also offers excellent Irish beers on tap and a tasty weekend brunch on Saturdays and Sundays. Plus, if you're in need of some luck, head into the beer garden and kiss the Gilly Stone, which is said to bring good fortune to those in need.
MECCA Sports Bar & Grill
1134 N. Vel R. Philips Ave., (414) 908-0401
Themeccamke.com
[Read more]
Located in the Deer District, is a haven for sports lovers to enjoy a drink with dinner before a Bucks game or to watch your the game on the huge indoor jumbo screen. Enjoy your view of the beer and the Fiserv Forum from the outdoor balcony.
Miller Time Pub
509 W. Wisconsin Ave., (414) 271-2337
millertimepub.com
[Read more]
Located inside the Hilton Milwaukee City Center, Miller Time Pub serves their well-known, big, juicy burgers to those coming and going Downtown. And, of course, it would't be Miller Time without some hometown Miller beers on tap.
Milwaukee Brat House
1013 N. Old World 3rd St., (414) 273-8709
milwaukeebrathouse.com
[Read more]
As you'd expect from the name, Milwaukee Brat House serves up a traditional Milwaukee-style brat, alongside plenty of other Milwaukee favorites, while also serving as a comfortable place to watch a game. Featured in USA Today, Food Network and Lonely Planet.
Milwaukee ChopHouse
633 N. 5th St., (414) 226-2467
milwaukeechophouse.com
[Read more]
The classic chophouse experience, complete with the white tablecloths, warm wood decor and, of course, steaks and wine.
720 N. Plankinton Ave., (414) 272-0720
mosaplaceforsteaks.com
It says it right there in the name: Mo's, located in the heart of Downtown Milwaukee, is a place for steaks. However, if you're feeling slightly less carnivorous, Mo's is also a place for seafood and sushi.
Mo's Irish Pub
142 W. Wisconsin Ave., (414) 272-0721
mosirishpub.com
[Read more]
Mo's Irish Pub offers a variety of Irish and American staples in both food and drink. You can get a shepherd's pie with a pint of Guinness, or have a cheeseburger and a Miller Lite instead. Stick around on weekends as well for live music often playing well into the night.
My Office (temporarily closed)
763 N. Milwaukee St., (414) 276-9646
[Read more]
With a low-key throwback tavern atmosphere, tasty late night cocktails and drinks, and a solid breakfast, this Milwaukee Street bar is one of the few offices you won't mind having to make a commute.
Newsroom Pub
137 E. Wells St., (414) 276-2582
safe-house.com/milwaukee-restaurant/newsroom-pub
[Read more]
A cozy watering hole for both those writing up the day's news and those simply consuming it, the Newsroom Pub offers a solid beer selection, some scrumptious food options (courtesy of the neighboring Safe House) and walls filled with the autographs of legendary newsmakers and news reporters from here and across the nation.
Oak Barrel Public House
1033 N. Old World 3rd St. (414) 897-8320
oakbarrelmilwaukee.com
[Read more]
This hearty pub and diner has classic bar food with tasty appetizers, wings, burgers, pizza, and plenty of beer, as well as a brunch.
Old German Beer Hall
1009 N. Old World 3rd St., (414) 226-2728
oldgermanbeerhall.com
Old German Beer Hall is a quintessential Milwaukee bar thanks to its big, big tap beers from the world-renowned Hofbrau Brewery in Bavaria. You can also get the usual bottled favorites, but why pass up the chance to drink a liter of beer? Plus, the kitchen is open late with the standard menu of brats and giant Bavarian-style pretzels, along with usually a couple of delicious German specialties, too.
Ouzo Cafe
776 N. Milwaukee St., (414) 272-6896
ouzocafe.com
[Read more]
For those looking for a delicious gyro Downtown, Ouzo Cafe is for you, though its menu goes far from the basic, obvious Greek cuisine picks, with a wide range of traditional and modern dishes from the Mediterranean. Plus, of course, an impressive selection of ouzos.
The Pfister Cafe
424 E. Wisconsin Ave., (414) 273-8222
thepfisterhotel.com/milwaukee-restaurants/cafe-pfister
Located in The Pfister Hotel's lobby, this cafe serves Starbucks coffee, pastries and light lunch and dinner options. A perfect quick stop for locals and travelers alike.
Proof Pizza
139 E. Kilbourn Ave., (414) 270-4433
proofpizzamke.com
[Read more]
Located in the Saint Kate Hotel. Proof Pizza is a casual counter service pizza shop, with a menu of affordable quick wood-fired pizzas and salads for lunch and dinner.
The Pub Club
1103 N. Old World 3rd St., (414) 988-5000
mke.thepubclubmilwaukee.com
[Read more]
The Pub Club offers a bit of both: a locale where you can grab a bite and a drink – either a brew or a specialty cocktail – in a comfortable atmosphere, along with a locale where you can dance the evening away.
Punch Bowl Social (temporarily closed)
1122 N. Vel R. Philips Ave., (414) 204-7544
punchbowlsocial.com/location/milwaukee
[Read more]
Punch Bowl Social not only has tasty contemporary bar food and drinks but has an arcade, karaoke, and bowling, making it the perfect spot to hangout with friends or to kill some time before the Bucks game or concert at Fiserv Forum.
Rare Steakhouse
833 E. Michigan St., (414) 273-7273
milwaukee.raresteakandseafood.com
[Read more]
The mahogany-clad Rare Steakhouse serves prime steaks, over 900 bottles of international wine selections and some dramatic flair with salads and bananas foster made tableside.
Real Chili
419 E. Wells St., (414) 271-4042
[Read more]
A late night Milwaukee food landmark, Real Chili serves up beloved bowls of chili and spaghetti – with whatever fixins you may want, from beans to sour cream and cheese – to help soak up a night on the town with a little heated kick.
Red Rock Saloon
1227 N. Water St., (414) 431-0467
redrockmilwaukee.com
Country fans are sure to catch some of their favorite local bands from the area playing on a Friday night. Red Rock also offers weekly specials, a happy hour, wings and amazing(ly huge) burgers. And after you've had your fill, take a ride on the mechanical bull. Or, better yet, maybe do that before the burgers and beer.
Rock Bottom Brewery
740 N. Plankinton Ave., (414) 276-3030
rockbottom.com/locations/milwaukee
The Rock Bottom chain of brewpubs has more than made its mark in Milwaukee. Perched upon the Riverwalk along one of its most scenic strips, Rock Bottom is a perfect stop for lunch, dinner or a quick handcrafted brew.
Rodizio Grill
777 N. Water St., (414) 431-3106
rodiziogrill.com
At this Brazilian steakhouse a variety of succulent meats comes to your table and gets carved on a spit right in front of your hungry eyes and mouthwatering face.
Rumpus Room (temporarily closed)
1030 N. Water St., (414) 292-0100
rumpusroommke.com
Check out what's the rumpus at The Rumpus Room, a refined but relaxed gastropub serving up top-notch bar fare with an impressive beer selection – including craft beer on draft, beer flights and more – and extensive craft cocktails and liqueurs.
Safe House
779 N. Front St., (414) 271-2007
safe-house.com
[Read more]
Become a spy and make going out for dinner a mission at Safe House. Start off by gaining access with the secret password, then go on a scavenger hunt before grabbing something to eat and escaping out its secret passage. It's an essential Milwaukee dining experience.
Sanford
1547 N. Jackson St., (414) 276-9608
sanfordrestaurant.com
[Read more]
Routinely appearing on best of lists across Milwaukee – as well as the nation – Chef Justin Aprahamian creates incredible, elegant New American food dishes. Aside from the regular options, Sanford also serves two special menus for adventurous eaters: an exploration menu, an ever changing journey into a particular region's cuisine, as well as a seven-course surprise tasting menu.
San Giorgio Pizzeria Napoletana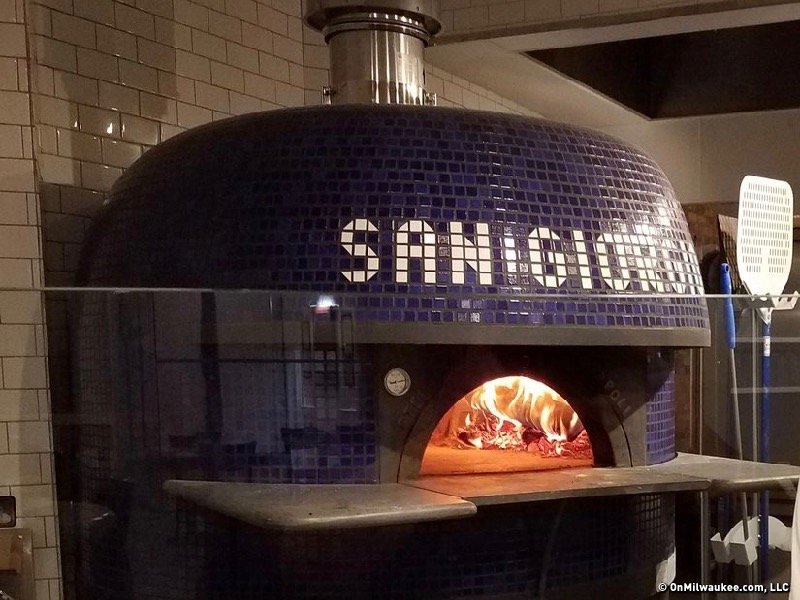 838 N. Old World 3rd St. (414) 276-2876
sangiorgiopizza.com
[Read more]
This rustic pizzeria is cooking up authentic certified Neapolitan pizza in a wood-fired stove. Also antipasti like arancini and burrata, as well as traditional desserts like tiramisu and cannoli.
Shah Jee's
770 N. Jefferson St., (414) 271-5354
228 W. Wells St., (414) 800-5575
shahjees.net
[Read more]
Shah Jee's, one of the few Pakistani restaurants in the city, is the definition of a hidden gem. Don't let its unassuming location, tucked away in what at first glance looks like a office building's basement food court area, fool you, as Shah Jee's delivers authentic, incredibly flavorful plates that are more than worth seeking out. Another Downtown location opened on Wells Street in 2019.
SportClub
750 N. Jefferson St., (414) 808-1588
facebook.com/SportClubMKE
This unique sports-themed pub is open for lunch, dinner and weekend breakfast and offers a full range of beers, Champages and craft cocktails, alongside an eclectic menu that aims to convey the best of international stadium and street food.
Stella Van Buren
550 N. Van Buren St., (414) 847-5622
stellavanburen.com
[Read more]
This hotel restaurant has a modern yet comfortable menu, with steakhouse staples like New York Strip, bone-in ribeye and skirt steak alongside Italian dishes, from classic spaghetti and meatballs to Yellowfin tuna with eggplant caponata. Virtually everything is cooked in-house, including fresh pastas made daily, sauces and desserts.
Swingin' Door Exchange
219 E. Michigan St., (414) 276-8150
swingindoorexchange.com
[Read more]
Tucked away Downtown in one of the city's most recognizable historical landmarks, Swingin' Door Exchange is a friendly, neighborhood saloon serving filling American favorites and tasty spirits. And what kind of cozy Milwaukee pub would it be if it didn't offer a Friday fish fry.
Taco Mike's
1001 N. Old World Third St., (414) 763-3325
tacomikes.com
The fast casual spot, which serves up a simple menu of tacos and sides, is headed up by Chef Mike Holz, the executive chef for the Brunch restaurants Downtown and in Brookfield.
Third Coast Provisions
724 N. Milwaukee St., (414) 323-7434
Thirdcoastprovisions.com
[Read more]
This upscale seafood eatery brings you fresh oceanic flavors while you get to hangout here in the Midwest. From oysters to seafood paired dishes, Third Coast Provisions prepares tasty classic dishes with a contemporary twist.
Third Street Tavern
1110 N. Old World 3rd St., (414) 897-8137
thirdstreettavernmke.com
The new bar and restaurant, located in the former home of Cantina Tequila and Taco Bar combines an old school comfort food menu with a full bar and classic arcade games in a visually refreshed space.
Trio Restaurant
1023 N. Old World 3rd St. (414) 800-6240
trio1023.com
This tri-level restaurant serves delicious gourmet burgers, wraps, tacos and more. The games and ping pong are located on the second floor which is the perfect place to unwind after a long week. It also boasts a stellar rooftop.
Truth Lounge
1111 N. Old World 3rd St., (414) 988-5200
facebook.com/truthloungemke
[Read more]
Truth Lounge offers a menu of pub fare like wings, nachos and pizza.
Tua Pasta
100 E. Wisconsin Ave., (414) 988-4016
tuapastatp.com
[Read more]
There's no menu at Tua Pasta, instead guests customise their own dishes from a selection of toppings and watch their dishes being prepared from start to finish.
Vagabond
1122 N. Edison St., (414) 223-1122
vagabondmke.com
[Read more]
Located just off of Water Street, Vagabond provides a blast of retro Americana with its Airstream design, neon-lit exterior and wall of old school speakers. And that's all before you take a bite of its heightened street food menu of tacos, tortas and small plates.
Victor's
1230 N. Van Buren St., (414) 272-2522
victorsbarmilwaukee.com
[Read more]
Love it or loathe it, Victor's is a Milwaukee legend – though more as a dance club than as a dining hotspot. However, the food deserves some of the spotlight, especially the fish fry, homemade bread, steaks and seafood bisque.
Ward's House of Prime
540 E. Mason St., (414) 223-0135
wardshouseofprime.com
For those craving steak but not at the typically outrageous steakhouse price, there's Ward's House of Prime, featuring an upscale experience will a reasonable final bill – and, of course, some dynamite meats.
Water Street Brewery (temporarily closed)
1101 N. Water St., (414) 272-1195
waterstreetbrewery.com
[Read more]
One of the first brewpubs in Milwaukee, Water Street Brewery features brewing on premises and a variety of seasonal and specialty beers, including seasonal fresh berry beers. Serving appetizers, sandwiches and nightly entrees, there's something here for everyone.
Waterfront Deli
761 N. Water St., (414) 220-9300
milwaukeewaterfrontdeli.com
Looking for a perfect lunch break spot? Waterfront Deli might be the ticket, featuring deli sandwiches, soups and brunch options. Plus, if you're dining in on the second floor, you get to have your meal brought to you by a impressive basket delivery system.
Who's on Third
1007 N. Old World Third St., (414) 897-8373
whosonthirdmke.com
[Read more]
Who's On Third offers plenty of TVs to watch the games – not to mention proximity to the Deer District for access to the ones taking place nearby – and tasty pub grub, including popular wings.
Xankia
222 W. Wells St., (414)-817-0241
banhminhuy.com
[Read more]
Xankia has earned a strong following thanks to its eight Vietnamese bahn mi sandwich options, along with several equally tasty pho and noodle dishes on its menu.
Zarletti
741 N. Milwaukee St., (414) 225-0000
zarletti.net
[Read more]
Straddling fine dining and casual cuisine is no easy feat, but restaurateur Brian Zarletti appears to have hit on the right combination for his Italian Milwaukee Street eatery. Specializing in the country cooking of Northern Italy – Piemonte, Emilia-Romagna and Tuscany – Zarletti also offers more than 75 choices on its wine list.
Born in Brooklyn, N.Y., where he lived until he was 17, Bobby received his BA-Mass Communications from UWM in 1989 and has lived in Walker's Point, Bay View, Enderis Park, South Milwaukee and on the East Side.
He has published three non-fiction books in Italy – including one about an event in Milwaukee history, which was published in the U.S. in autumn 2010. Four more books, all about Milwaukee, have been published by The History Press.
With his most recent band, The Yell Leaders, Bobby released four LPs and had a songs featured in episodes of TV's "Party of Five" and "Dawson's Creek," and films in Japan, South America and the U.S. The Yell Leaders were named the best unsigned band in their region by VH-1 as part of its Rock Across America 1998 Tour. Most recently, the band contributed tracks to a UK vinyl/CD tribute to the Redskins and collaborated on a track with Italian novelist Enrico Remmert.
He's produced three installments of the "OMCD" series of local music compilations for OnMilwaukee.com and in 2007 produced a CD of Italian music and poetry.
In 2005, he was awarded the City of Asti's (Italy) Journalism Prize for his work focusing on that area. He has also won awards from the Milwaukee Press Club.
He can be heard weekly on 88Nine Radio Milwaukee talking about his "Urban Spelunking" series of stories.